There is not much I love more than a simple and easy crock pot recipe. This Crock Pot Chicken Alfredo Casserole Recipe can be assembled in no time at all and has quickly become a family favorite in my household!
Easy Crockpot Chicken Alfredo Pasta:
You are going to love this super simple crock pot chicken Alfredo recipe with jar sauce!
This recipe is crazy simple to make but is packed with flavor. This crock pot chicken Alfredo pasta casserole recipe is my go to for a busy weeknight, a lazy weekend or if we are having guests over.
A Good Crock Pot is a must!
I also really like this crockpot as well. I use this all the time and it's great.
Being able to lock the lid is my favorite feature on this slow cooker. I often use this crock pot if I'm transporting food somewhere like to a friend's house or a potluck dinner.
Another favorite is this programmable crock pot for when I am am not at home all day. I love coming home to a nice meal ready and waiting on me!
I also like to use crock pot liners to make clean up a breeze. These are worth every penny and save a ton of time.
Ingredients:
All my recipes have simple ingredients that I bet you either already have in your pantry or you have heard of and this recipe is no different. Here is what you'll need to create this crock pot chicken Alfredo casserole recipe.
Boneless Skinless Chicken Breasts, Cook the Chicken and then Shred
Alfredo Sauce ( I really like Bertoli brand but definitely use your favorite type)
Minced Garlic or garlic powder
Salt and Pepper
Penne Pasta
Shredded Mozzarella Cheese
Parmesan Cheese
Parsley (optional)
See, I know you already have all these items or can easily find them in your favorite grocery store.  Let's learn how to make this easy and simple chicken Alfredo pasta in crock pot recipe.  
How to Boil Chicken and Shred
You can buy a rotisserie chicken and shred the chicken for an easy way to make this dinner. However we have the perfect post on How to Boil Chicken Breasts that is just as easy. Plus it is a great way to save money.
How do you make easy
chicken alfredo casserole?
First in a large mixing bowl, combine the Alfredo sauce, water, salt, pepper and minced garlic.
Next stir in the penne pasta until the pasta is completely coated in the sauce recipe that you created.
Then spray your favorite slow cooker with a non stick spray so that serving this recipe will be easier.
After this, carefully place half the pasta mixture in the bottom of the crock pot and then place half of the cooked chicken on top.
Next top with 1 cup of the mozzarella cheese and ⅛ cup pf the grated parmesan cheese.
Then add the pasta mixture again (use whatever is left), layer on top with the remaining chicken and then top with the cheeses again (the same measurements).
Cover and cook on low for approximately 2 ½ to 3 hours. You can also try cooking on high for only 1 1/2-2 hours. Cooking time will vary.
After it slow cooks, top the entire casserole with 1 more cup of mozzarella cheese (because cheese makes everything taste better!).
Place the lid back on to allow this cheese to melt. Finally, top with the fresh chopped parsley and serve immediately.
Best chicken to use:
Now I am using cooked chicken in this recipe to make it a very simple meal. In my family I like to cook chicken in huge batches, freeze it, and save it for simple dinner ideas. This would be exactly that!
However, you can easily cook your chicken in the crock pot.
To cook your chicken in the crockpot, I would put the chicken breasts in the crock pot with approximately ½ cup of chicken broth. Then you can cook on low for 6-8 hours or cook on high for 3-4 hours until the chicken shreds easily.
Next shred the chicken and then continue on with the recipe like I have it written. Either way, I think you will find a delicious dinner idea for those days when you just don't really want to cook.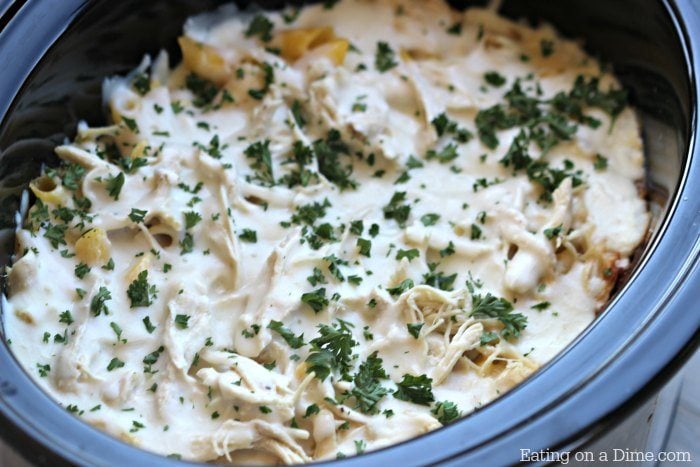 Side dish options:
I like to keep things simple when I prepare this recipe. Generally, I serve this with a broccoli side dish.
Do you know that you can steam broccoli in the microwave? You can also make slow cooker chicken Alfredo with broccoli by mixing in the cooked broccoli to this casserole recipe.
My kids also love enjoying and helping me make these garlic bread cheese sticks. They are delicious and super fun to make as they are made with string cheese! You'll definitely want to make these too when you enjoy this chicken Alfredo recipe.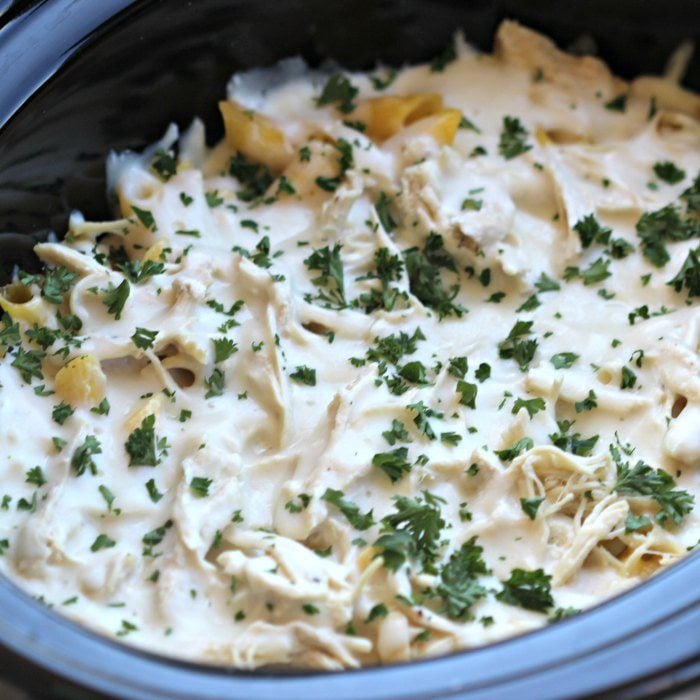 How to bake Chicken Alfredo Casserole:
If you would prefer to bake your chicken alfredo casserole, it is just as easy and you use the same ingredients.
Preheat oven to 375 degrees. Coat your pan with a cooking spray to prevent your casserole from sticking.

On your stove top, heat your skillet to medium high heat. Once you have your skillet medium heat add your alfredo sauce, cooked chicken, and the remaining seasoning and heat together.

Cook the noodles while your sauce is heating.

Once your noodles are done cooking, mix together with the alfredo mixture.

Top with cheese and bake for 20 minutes uncovered.
This chicken alfredo bake is easy to make!
Print your Crock Pot Chicken Alfredo Casserole recipe below:
Crock pot Chicken Alfredo Casserole Recipe
Try this easy crock pot chicken Alfredo casserole recipe – This Chicken Alfredo pasta in the crock pot is delicious and packed with flavor! Try it today.
Ingredients
3

boneless skinless chicken breasts

(cooked and shredded)

(2) 15

oz

Jars of Alfredo sauce

(I really like Bertoli brand)

1

cup

water

1

Tablespoons

minced garlic

1

teaspoon

salt

1

teaspoon

pepper

16

oz

penne

uncooked

3

cups

Mozzarella cheese

(shredded)

1/4

cup

parmesan cheese

chopped parsley

(optional)
Instructions
In a mixing bowl, combine the Alfredo sauce, water, salt, pepper, and minced garlic.

Stir in the uncooked penne pasta until evenly coated.

Spray a 6 quart crock pot with non stick spray.

Place half the penne and alfredo mixture in the bottom of the crock pot.

Place half the chicken on top.

Top with 1 cup of Mozzarella cheese and an ⅛ cup of parmesan cheese.

Layer the remaining penne mixture, then the remaining chicken, another cup of mozzarella cheese, and the parmesan cheese.

Place the lid on top and cook on low for 2 ½ to 3 hours.

Remove the lid and top with another cup of mozzarella cheese.

After it melts. Sprinkle with some parsley (optional) and serve.
Recipe Notes
Serve this crock pot Alfredo pasta with a side salad or our easy microwave broccoli and dinner is done.
Nutrition Facts
Calories
786
kcal
,
Carbohydrates
62
g
,
Protein
40
g
,
Fat
39
g
,
Saturated Fat
20
g
,
Cholesterol
176
mg
,
Sodium
1831
mg
,
Potassium
420
mg
,
Fiber
2
g
,
Sugar
4
g
,
Vitamin A
430
IU
,
Vitamin C
0.7
mg
,
Calcium
351
mg
,
Iron
1.5
mg
Variations for Chicken Alfredo Casserole:
There are lots of different ways that you can change this recipe to make it your own and make it one of your family favorite recipes too! You can add chicken and make blackened chickened alfredo recipe .
First, the easiest way to alter this recipe is to change the noodles that are used in this casserole recipe. You can use fettuccine noodles to make a delicious fettuccine Alfredo meal for your family. Also, you can use gluten free noodles as well if you have a gluten intolerance.
In addition, you can make your own Alfredo sauce with heavy whipping cream or cream cheese if you prefer this over the pre-made jarred sauce. Also, you can use marina sauce as well to make a different meal with this recipe. Either would taste amazing in this simple recipe.
As mentioned before, you can also mix in your favorite vegetables to add a nice green variety to this meal.
I hope you try this recipe soon and please leave us a comment letting us know what you think!
More easy casserole recipes: