This post may contain affiliate links. If you make a purchase through links on our site, we may earn a commission.
Easy to make jello popsicles with only 2 ingredients are the ultimate summer treat! These homemade popsicles are delicious and they do not drip!
I don't know what it is, but there is just something about a popsicle on a hot summer day! Kids love homemade popsicles in the summer and I love making them and getting the kids involved, too! These kid friendly Jell-O Popsicles were a hit! They taste so good and they are super easy to make!

Not only is there very little work involved in making these homemade popsicles with jello, but there's one more thing that makes them perfect. They don't drip!
Seriously….
Jell-O Popsicles don't drip.
It is pretty awesome because as it thaws it turns into regular old jell-o. I mean, I guess if it took you all day to eat them, like hours, upon hours then they might drip. But our kids can devour these jello pops in minutes so they don't drip and make a huge mess like most popsicles do!
As you can see from the picture above, the popsicle is almost done and it still isn't dripping! That's a win-win!
These frozen treats are a game changer for moms with little kids. The worst part about giving little kids popsicles is the dripping and the huge mess made by happy kids. Now, you can have happy kids, and happy moms without a mess to cleanup.
Mine loved them. Seriously loved them! Yes, we have twins… super cute twins, and they both approved of these homemade popsicles, but they especially loved the orange flavor.
I was able to snap this beautiful picture of my daughter who was loving the strawberry Jell-O popsicles.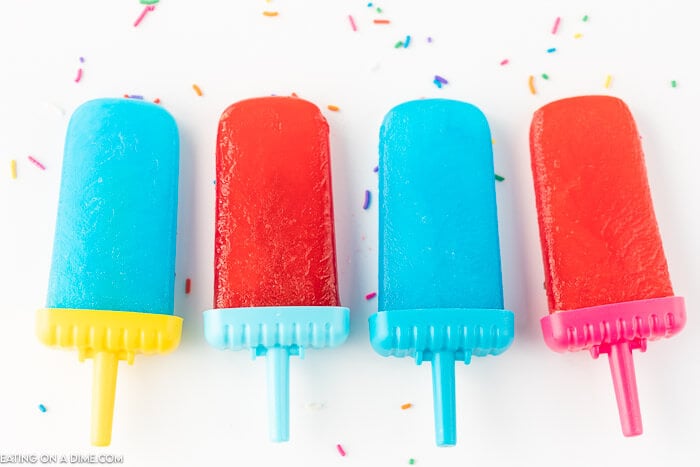 Jello Popsicle variations:
With a recipe this simple, it leaves the door wide open to change it up from time to time.
Add small pieces of chopped fruit for added flavor and as a sneaky way to get more fruit in!
Use multiple flavors of jello in one popsicle! Simply pick a couple of different flavors of Jello that compliment each other. After you've mixed them up, fill your molds almost halfway up with the first flavor and allow to set up slightly. Remove from freezer and top with the second flavor. Layer red and blue jello for the perfect 4th of July treat!
Make a low-carb popsicle by using sugar-free jello and splenda (or your favorite low carb sweetener) in place of the sugar.
Add an extra pop of flavor to your homemade popsicles by mixing together Jello and kool-aid. Simply mix jello, kool-aid and sugar together with the boiling water and proceed with the rest of the directions.
If you do not have popsicle molds, you can use paper kitchen cups and insert popsicle sticks in the Jello when you put them in the freezer. Tear away the paper cups when you're ready to serve.
Ingredients:
Package of Jell-O (any flavor)
Water
Sugar

How to make Jello Popsicles:
1. First you need popsicle molds. I used these Ikea popsicle molds and this recipe filled up 10 popsicles with these molds. Since each popsicle mold is a different size it is hard to determine how many you will get if you use a different mold. Amazon has several other popsicle molds on sale, but I really liked the Ikea ones because they are a little smaller. Some of the bigger molds just seemed too big for my kids. This was the perfect sized treat for them.
2. Once you have your molds, bring 1 cup of water to a boil.
3. After the water has come to a rolling boil, stir the package of jell-o and the sugar into the boiling water. Stir all of the ingredients to combine.
4. Then stir in one cup of cold water.
5. Lastly, pour into popsicle molds and freeze over night. Truly, they should be done in a few hours if you want to eat them later in the day. To me that was the hardest part of making popsicles, waiting for them to freeze! When you're ready to eat them, run the popsicle mold under warm water to loosen the frozen popsicle from the mold and enjoy!
Print your jello popsicle recipe below:
Super Easy Jell-O Popsicles – only 2 ingredients!
Easy to make jell-o popsicles. How to make popsicles easily with Jell-O. These homemade popsicles are delicious and they do not drip! The best DIY Popsicles
Ingredients
1

package

Jell-O

(3 oz. package)

2

cups

water

1/4

cup

sugar
Instructions
Bring 1 cup of water to a boil.

Stir in the package of jell-0 and the sugar. Stir to combine until the jell-O and sugar are dissolved in the water.

Stir in one cup of cold water.

Pour into your Popsicle molds and freeze for at least 4 hours but overnight is preferred.

When ready to eat run the popsicle mold under warm water to loosen them from the mold, remove and enjoy!
Recipe Notes
These will last in the freezer for 6-9 months.  
Nutrition Facts
Calories
52
kcal
,
Carbohydrates
13
g
,
Protein
1
g
,
Sodium
42
mg
,
Potassium
1
mg
,
Sugar
12
g
,
Calcium
2
mg
,
Iron
1
mg
More easy popsicle recipes: