This post may contain affiliate links. If you make a purchase through links on our site, we may earn a commission.
Satisfy that sugar craving when you make easy cake mix chocolate chip cookies. With only 4 ingredients, you can enjoy ooey gooey chocolate in minutes.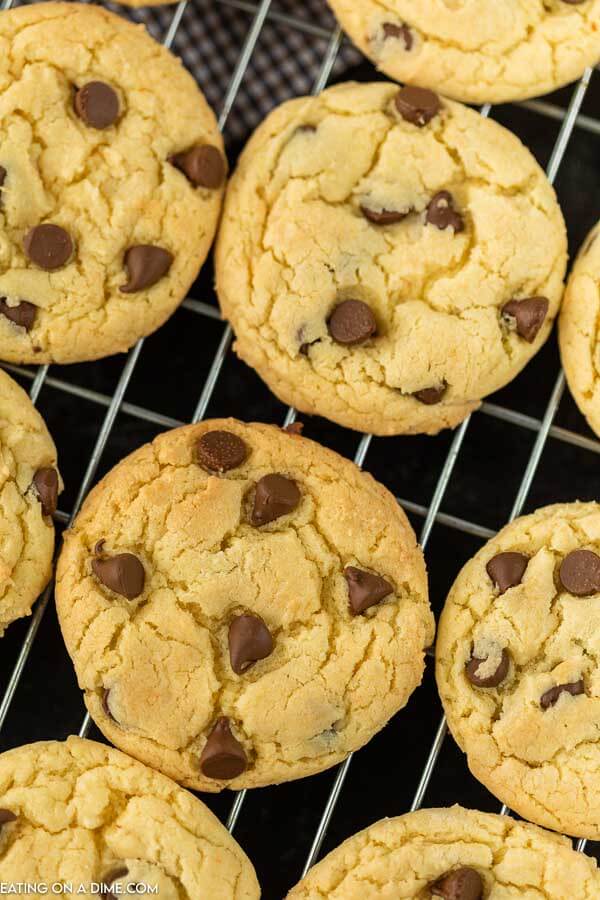 Cake mix chocolate chip cookies
After our 4 ingredient chocolate peanut butter cookies were a hit, I thought I would share our family's favorite cake mix chocolate chip cookie recipe because they also only have 4 ingredients.
Cake mix cookies are a staple in our family because as many of you know… I am a much better chef than a baker. It is impossible to mess up these cake mix cookies.
Seriously anyone can make these and even the kids can help.
Can you tell I like to make things easy on myself?
All you need is oil, eggs, a cake mix, and chocolate chips to make this delicious cake mix chocolate chip cookie recipe. They are easy to make, but they taste great.
Ingredients:
Yellow Cake mix
Vegetable oil
Eggs
Chocolate Chips
How to make cake mix chocolate chip cookies:
First, preheat the oven to 375 degrees.
Second, combine all of the ingredients in a mixing bowl except the chocolate chips. Now, the batter will be thick but that is normal.
Next, add the chocolate chips and gently fold them in.
Finally, spoon the cookies on baking sheets and leave about 2 inches between each cookie.
Bake until the edges start to brown. This normally takes 8-10 minutes. The cookies don't take long!
Let the cookies cool slightly before removing from the cookie sheet. If you remove too soon, they can crumble. After a few minutes, transfer the cookies to a cooling rack.
More ideas:
Substitute white chocolate chips instead of milk chocolate.
Peanut Butter morsels taste great combined with the chocolate. Try doing a ¼ cup of each.
Dark chocolate chips make another good substitution.
Try other types of cake mix instead of yellow cake mix. Try chocolate, strawberry, devil's food, lemon and more.
Tips:
Now most cake mix cookies recipes turn out "crumbly" which are great but since I wanted this recipe to taste more like "homemade" chocolate chip cookies I added more oil. It was perfect and they turn out delicious every time. In fact, my daughter just took them to school for her birthday and everyone loved them!
We save time by using stainless steel scoops! This is much easier than using two spoons and faster too. Plus, I like how each cookie is uniform. You can also try using an ice cream scoop but they are often too big.
I have had mine for several years and I use them for all types of baking. I bought the 3 pack and used the smallest of the 3 scoops for these cake mix chocolate chip cookies (and almost all my cookies) and they were just the right size for adults and kids.
You can use the other sizes for meatballs or to scoop muffin or cupcake batter. I have enjoyed my set over the years. They definitely get plenty of use. I think you will be glad you go them.
How to store:
The cookies need to be stored using an airtight container. This will keep them soft and chewy.
Print the recipe for yellow cake mix chocolate chip cookies:
Cake mix chocolate chip cookies
Cake mix cookies are the best! Make this Cake mix chocolate chip cookie recipe. These cake mix mix chocolate chip cookies are easy and taste great!
Ingredients
1

Yellow Cake mix

1/2

cup

oil

2

eggs

1/2

cup

chocolate chips
Instructions
Preheat oven to 375 degrees.

Combine all the ingredients (except chocolate chips) in a bowl. The batter will be thick.

Fold in the chocolate chips.

Spoon onto cookie sheets leaving about 2 inches between cookies.

Bake for 8 to 10 minutes until they start to brown SLIGHTLY on the edges.

Allow them to cool slightly before taking them off the cookie sheet. Finish cooling on a cookie rack.
Recipe Notes
This recipe is easy to make, only requires 4 ingredients, and tastes great.
Nutrition Facts
Calories
94
kcal
,
Carbohydrates
13
g
,
Fat
4
g
,
Saturated Fat
3
g
,
Cholesterol
9
mg
,
Sodium
109
mg
,
Potassium
10
mg
,
Sugar
7
g
,
Vitamin A
20
IU
,
Calcium
35
mg
,
Iron
0.4
mg
Check out these easy cookies recipes:
More easy cake mix cookies: