This post may contain affiliate links. If you make a purchase through links on our site, we may earn a commission.
I'm calling this recipe Lazy Day Crockpot Ravioli Lasagna because it is perfect for that lazy day, when you know you have to cook, but you really don't want to! You will love this easy meal.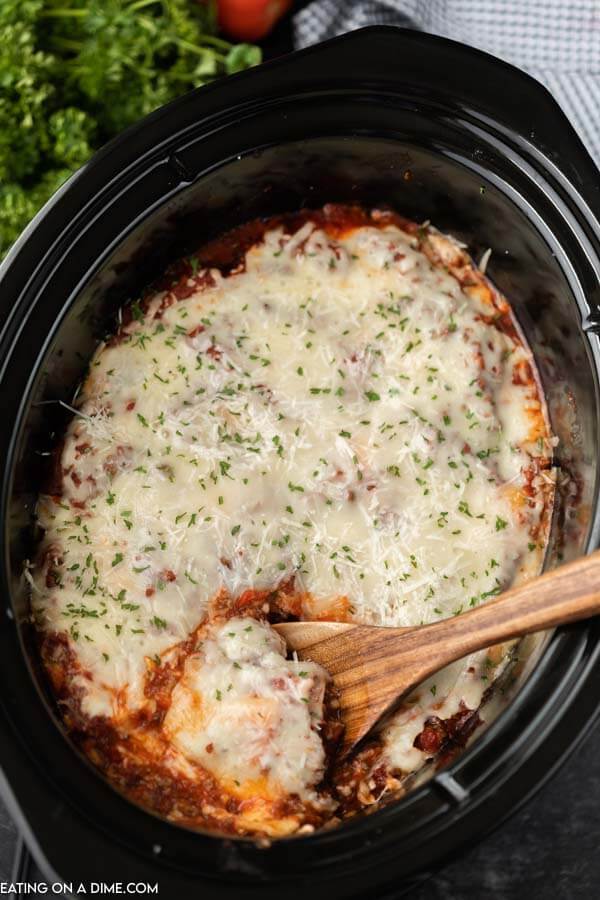 This quick and easy crockpot ravioli lasagna will give you a delicious dinner on your table without tons of work. You get the joy and the taste of a classic lasagna without all the work.
This quick and simple crock pot recipe is now on our regular rotation list! It's one of my family's favorites and I hope you try it soon!
Check out this Slow Cooker Lasagna and White Lasagna Soup Recipe.
No Lasagna Noodles Needed:
Have you tried cooking lasagna noodles in the crock pot? I tried using dried lasagna noodles in the crock pot and they never turn out right. They tend to still be crunchy or the lasagna noodles become very mushy.
Then I discovered using frozen ravioli instead and it has been a game changer for my family. They cook perfectly in the crock pot. It saves me time and money, plus my sanity.
I can ensure that I will be feeding my family a good meal that taste good too.
A Good Crock Pot is a must!
I have a large family which means I have a lot of crock pots too. I probably use a crock pot 3-4 nights a week so I wanted to make sure that I had one that consistently cooked meals perfectly and was reliable.
Out of all the slow cookers that I currently own (that's 3 if you're counting), I really love my Instant Pot Aura.
My favorite feature about this crock pot is that it has a cooktop feature which allows you to also brown meat in the same crock pot for recipes that require that.
It is so handy to just have the one pan to clean and it's easy to clean as the removable insert has a non stick quality.
Crockpot Lasagna with Ravioli:
This is my go-to recipe when my family wants lasagna. Using cheese ravioli's saves me so much time as the crock pot does all the work for me. The ravioli's replace having to layer with pasta and ricotta cheese. Plus I like to put the cheese on top and it cooks with everything else, giving that cheesy topping.
I don't have to use separate pans to cook the noodles. Everything goes into the crockpot for an easy, filling dinner.
Variations to Ravioli Lasagna Crock pot:
Ravioli – Frozen ravioli works best with this recipe. We used the cheese filled ravioli but you can use other kinds. Try the spinach and cheese filled or the sausage and cheese filled. I think they both would add in so much flavor.

Try Ground Sausage – We typically use ground beef in this recipe. But if I have some Italian Sausage or even breakfast sausage, I will add this to my ground beef. We love the extra flavor it brings.

Frozen Meatballs – We also have added frozen meatballs to this crockpot.

Spaghetti Sauce – Instead of Crushed tomatoes, you can use a jar of spaghetti sauce or tomato sauce. Any flavor will work.

Add in some onion and garlic to add some more flavor. I like adding them to my meat when I am cooking it.

Spinach – To sneak in those veggies, add in some fresh spinach with sauce. We love the flavor it gives and spinach has so many health benefits.

Ground Turkey – You can use ground turkey instead of ground beef if you prefer. I usually mix the two together if I want to add in some ground turkey.
Ingredients:
Frozen Cheese Ravioli
Ground Beef
Crushed Tomatoes – You can also use marinara sauce.
Italian Seasoning (Homemade Italian Seasoning Recipe)
Garlic Salt
Mozzarella Cheese
Parmesan Cheese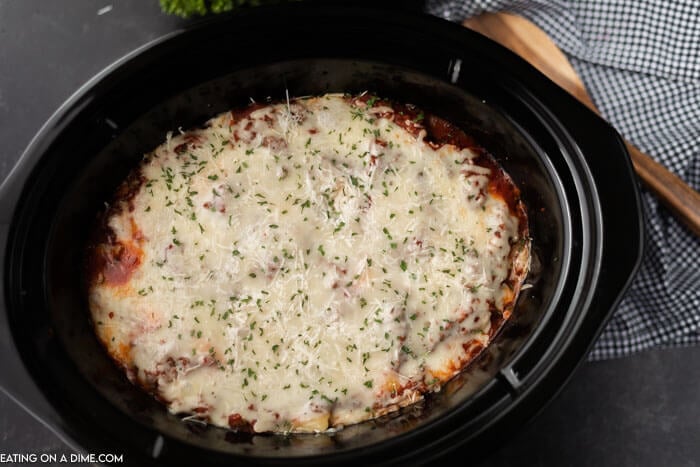 How do you make Crockpot Ravioli Lasagna?
Brown Ground Beef – First, in a large skillet brown the beef. You'll want to brown the beef completely and drain off the remaining fat in the skillet.
Add in tomatoes and seasoning – Next, in the same skillet (we don't want tons of dishes), stir in the crushed tomatoes and seasonings until thoroughly combined with the cooked beef.
Scoop some meat sauce in your crock pot – Then in your favorite crock pot cover the bottom with some of this delicious meat sauce you just created. We like to spray crock pot with cooking spray.
Top with a layer of raviolis and cheese – Next place a layer of ravioli across the bottom of the slow cooker on top of the pasta sauce. Then cover these raviolis with a layer of the mozzarella cheese.
Add until all ingredients layered in crockpot – Continue this same process until all the meat sauce and ravioli are used. It's ok to use the frozen ravioli. You do not have to thaw them prior to making this recipe.
Top with meat sauce – Ensure that a layer of the meat sauce is on top.
Add a topping of cheese – Finally top with one last layer of the mozzarella cheese and parmesan cheese. The cheese mixture will blend so well while it is cooking.
Cook ingredients – Then in your 6 or 8 quart crock pot cover and cook on low in the slow cooker for 4 hours. Cooking time will vary based on when cheese is melted.
Rest after cooking – Once it's done cooking, turn off your crock pot and let the meal sit for about 15 to 30 minutes before you cut and serve this delicious lazy day lasagna recipe!
Can I use Refrigerated Style Raviolis instead of Frozen?
We recommend using Frozen Raviolis but you can use fresh. I would just decrease the cooking time by 1 hour.
Should I Thaw the Raviolis?
No, you do not need to thaw the raviolis. That is why I love this recipe so much because very little prep time is needed.
What do you serve with this lasagna?
This lazy day slow cooker lasagna recipe is so good, you can easily serve with your favorite side salad and crusty garlic bread or garlic bread cheese sticks. Yummy!
You could also serve this delicious recipe with your favorite vegetable side dish. I love cooking broccoli in the microwave because I can have a healthy and delicious side dish prepared in no time at all for my family.
Can you Freeze Lazy Lasagna?
I think my love of freezer cooking is almost as strong as my love of slow cooking! I have a large family so freezer cooking ensures that I get dinner on the table every single night for my family.
This recipe can be easily converted into a quick and easy freezer meal to stock your freezer for those busy nights.
If you enjoy freezer cooking as much as I do, I encourage you to check out our Lazy Day Cooking Club. This club is a freezer cooking meal plan that provides you with great recipes, instructions on how to freeze and all the ingredients that you need for great crock pot recipes.
This club takes away the stress of deciding what's for dinner and gets dinner on your table in less time by teaching you the joy of freezer cooker!
How Can I Make this Vegetarian?
Yes, you can. Just omit the ground beef. You can add in some additional vegetables such as zucchini and you won't miss the meat.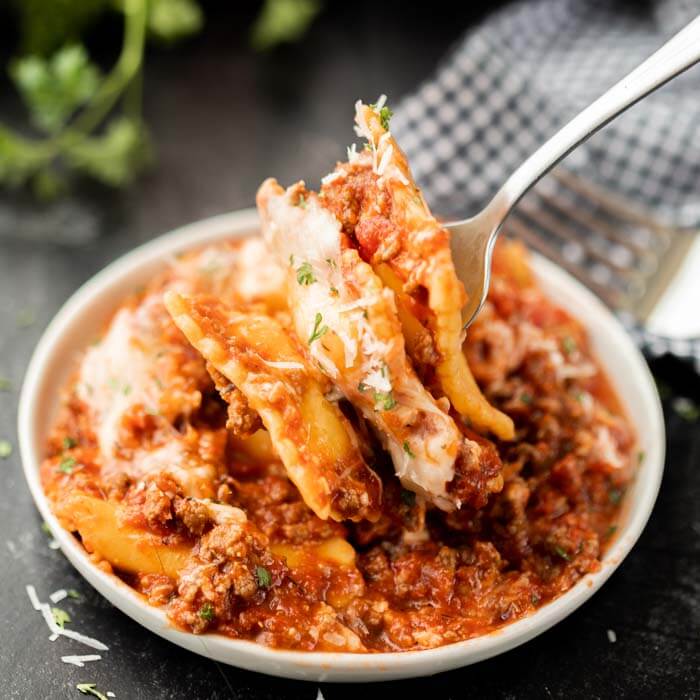 How to store Lazy Crock Pot Lasagna:
This Lazy Day Slow Cooker Ravioli Lasagna makes a large portion. So we normally have leftovers even with my large family. You can refrigerate in an airtight container for about 4-5 days. This is a perfect leftover meal that you can enjoy the next night.
It also freezes great too! We like to keep in individual containers so they make an easy lunch for my husband. He loves when we have lasagna leftover as it makes the perfect lunch.
How to Reheat Crock Pot Lasagna with Ravioli:
When you are ready to serve your leftovers, place them in a microwave safe dish and reheat. You can also reheat on your stovetop.
If heating in the microwave, start by heating in 1 minute intervals.
Print this Lazy Crockpot Lasagna recipe below:
Lazy Day Crock pot Lasagna Recipe
This is our lazy day crock pot lasagna recipe. You are going to love this fun twist on a traditional lasagna with this easy crock pot lasagna.
Instructions
In a large skillet brown the beef completely and drain off any remaining fat.

Stir in all the cans of tomatoes, and seasonings.

In a 6 quart crock pot, cover the bottom with some of the sauce.

Then place a layer of ravioli across the bottom.

Then place a layer of the mozzarella cheese.

Continue this until all the meat sauce and the ravioli is used.

You want to end with the meat sauce on top.

Then top with the leftover mozzarella cheese and add the parmesan cheese on top.

Cook on low for 3-4 hours.

Turn off and let it sit for about 15 minutes before you serve. Cut and serve. Serve with your favorite side salad and crusty garlic bread.
Recipe Notes
Refrigerate the leftovers in an air tight container for up to 5-7 days.  
Nutrition Facts
Serving
8
ounces
,
Calories
516
kcal
,
Carbohydrates
39
g
,
Protein
32
g
,
Fat
25
g
,
Saturated Fat
11
g
,
Cholesterol
101
mg
,
Sodium
1648
mg
,
Potassium
528
mg
,
Fiber
4
g
,
Sugar
7
g
,
Vitamin A
510
IU
,
Vitamin C
11.4
mg
,
Calcium
455
mg
,
Iron
10.2
mg
Check out these other easy crock pot recipes!