If you are looking for Easy Ground Beef Recipes with Few Ingredients we have gathered our favorites. These recipes are easy and delicious.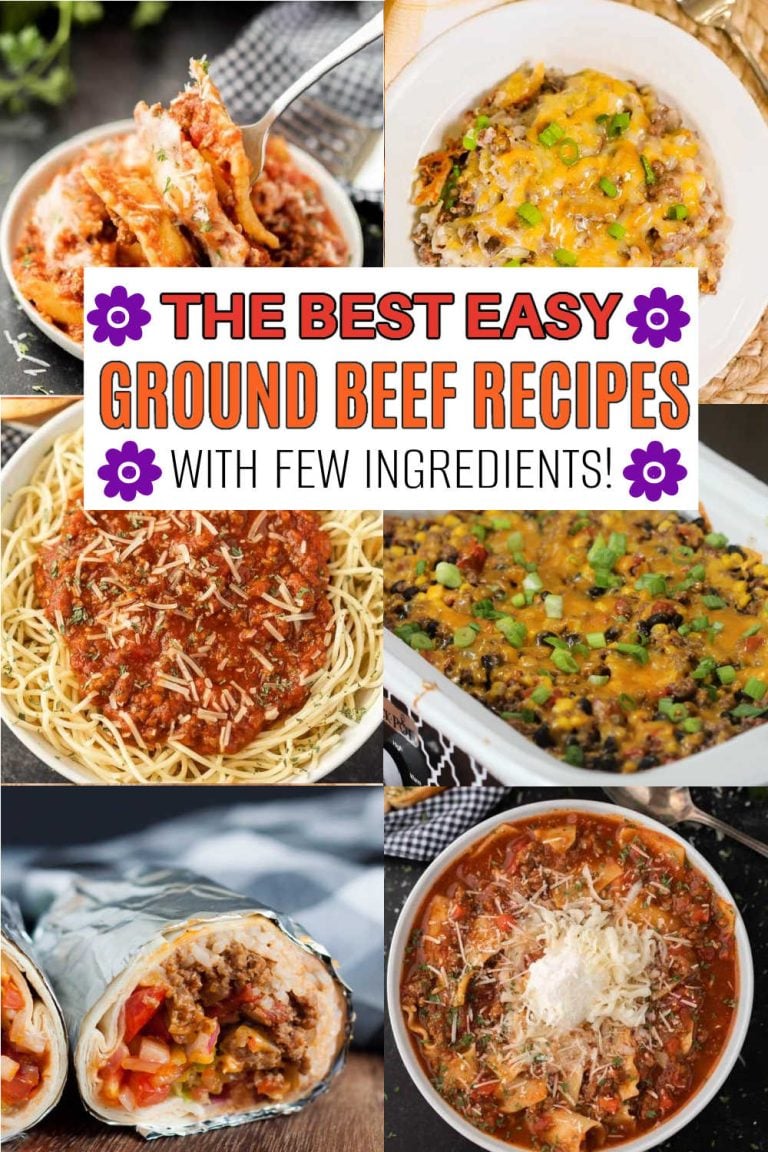 Easy Ground Beef Recipes with Few Ingredients:
We love easy recipes and these 35 ground beef recipes are some of our favorites. Our favorite part is that these recipes do not require a lot of ingredients and they are easy to make.
From easy lasagna recipes to beef stroganoff these recipes will become your family favorites in no time. If you have a lot of ground beef frozen, make one of these easy ground beef recipes. They are perfect for an easy dinner idea.
Easy Hamburger Meat Recipes with Few Ingredients:
These 35 ground beef recipes are budget friendly and your probably already have most of the ingredients.
1. Lazy Day Crock Pot Lasagna Recipe:
This quick and easy crockpot lasagna will give you a delicious dinner on your table without tons of work. You get the joy and the taste of a classic lasagna without all the work.
2. Ground Beef Tacos:
You only need 3 ingredients to make this delicious ground beef taco recipe. Top with your favorite toppings and you have an easy weeknight meal.
3. Crock Pot Beef Noodle Casserole:
There is just something so nice about coming home to dinner ready and waiting. This Crock Pot Beef Noodle Casserole is so easy to put together and a favorite around here.
4. Cheeseburger Tator Tot Casserole Recipe:
This is easy hamburger casserole is a crowd pleaser and the kids go crazy over it.
5. Egg Roll in a Bowl Recipe:
Make a meal out of egg rolls when you make the best egg roll in a bowl recipe. You can enjoy all that you love about traditional egg rolls but without the guilt.
6. Best Crockpot Spaghetti Sauce Recipe:
This spaghetti sauce is absolutely amazing. Plus, the slow cooker makes it just so very simple and does all the work for you.
7. Easy Crock Pot Lasagna Soup Recipe:
We love making this lasagna soup recipe. It is all the flavors of our favorite Italian dish but in a soup.
8. Crock Mexican Taco Casserole:
Make a new for Taco Tuesday and try this Mexican Taco Casserole. It is the perfect crock pot meal with all the beef and rice flavors.
9. Hamburger Hashbrown Casserole:
This Hashbrown Hamburger Casserole Recipe is delicious and easy to make. The ground beef and hash browns are mixed together and cooked until the Hashbrowns are cooked to perfection.
10. Easy Ground Beef Enchiladas Recipe:
Our entire family goes crazy over Mexican food and you can't go wrong with enchiladas. This recipe is super fast and easy making it the perfect meal for busy weeknights.
11. Beef Burrito Recipe:
These Skillet Beef Burrito are the perfect weeknight meal. Wrap them in foil and take them on the go.
12. Quick & Easy Walking Tacos Recipe:
We love making walking tacos when we are feeding a crowd. Ground beef and Doritos make the perfect weeknight dinner.
13. Texas Toast Sloppy Joes:
Sloppy Joes is an easy ground beef dinner idea. My family loves sloppy joes and topped over a Garlic Texas Toast it is sure to please a crowd.
14. Homemade Spaghetti Sauce:
My family loves homemade spaghetti. It really is the best comfort food. Spaghetti is a meal that can be enjoyed all year long.
15. Crock Pot Frito Chili Pie:
This simple dish gets even better when you use the crock pot instead of a baking dish. Come home to dinner ready and waiting and enjoy a great meal.
16. Dorito Taco Salad:
My family loves making this Easy Doritos Taco Salad. It is loaded with all of taco favorites but in a salad form. Plus the added crunchiness of cheesy Doritos.
17. Cracker Barrel Meatloaf Recipe:
Meatloaf is the best comfort food. This copycat Cracker Barrel Meatloaf is one of our favorite ways to make meatloaf.
18. Ground Beef Tostada:
Easy and delicious ground beef tostada recipe.
19. Crock Pot Cowboy Chili Recipe:
This hearty chili is the perfect ground beef recipe with easy ingredients.
20. Cowboy Casserole:
This hearty and creamy casserole is easily on our meal plan weekly.
21. Homemade Hamburger Helper:
Dinner is a breeze with this simple to make homemade hamburger helper.
22. Skillet Lasagna:
Quick and Easy lasagna recipe with simple ingredients.
23. Crock Pot Ground Beef Stew Recipe:
We love stew recipes and this is a nice change from recipes we normally make.
24. Bacon Cheeseburger Casserole:
Everyone loves a good cheeseburger so I thought why not turn it into a casserole for everyone to enjoy.
25. Spaghetti Pie:
Layers of meat and cheese blended with melted cheese turn plain spaghetti into something amazing.
26. Crockpot American Goulash:
This goulash recipe is something our family enjoys all year long.
27. Crockpot Chili:
Chili is something my family looks forward to and this classic slow cooker chili recipe is exactly what they want.
28. Crockpot Taco Soup:
You only need a few simple ingredients to make this delicious soup.
29. Oven Nachos:
This is one of our favorite dinners and my kids go crazy over these nachos.
30. Air Fryer Meatballs:
This delicious air fryer meatballs recipe does not disappoint.
31. Poor Man's Steak:
We love recipes that are easy to make, with not a lot of ingredients.
32. Easy Shepherd's Pie:
Shepherd's Pie is easily made with ground beef, frozen vegetables and simple seasoning in about 20 minutes. This recipe is easy to make in a casserole dish.
33. Ground Beef Taco Dip:
This taco dip has amazing layers of ground beef, cream cheese, salsa, lettuce, tomatoes and more.
34. Easy Taco Wonton Cups:
These bite size taco cups are the perfect game day food.
35. Easy Lasagna Recipe:
This is the best lasagna recipe and it is easy to make.
More Easy Beef Recipes: