This Homemade Spaghetti Sauce Recipe is very easy to make. This spaghetti sauce is made with easy pantry ingredients and it taste amazing. Skip the store bought sauce and make this spaghetti sauce at home.
Homemade Spaghetti Sauce Recipe:
My family loves homemade spaghetti. It really is the best comfort food. Spaghetti is a meal that can be enjoyed all year long. It is great for a weeknight meal or served for a big family get-together.
When we make this pasta sauce we always plan on doubling the batch. It freezes great and reheats perfectly. We actually think it taste better the second time around.
The combination of all the ingredients really make this homemade sauce come together perfectly.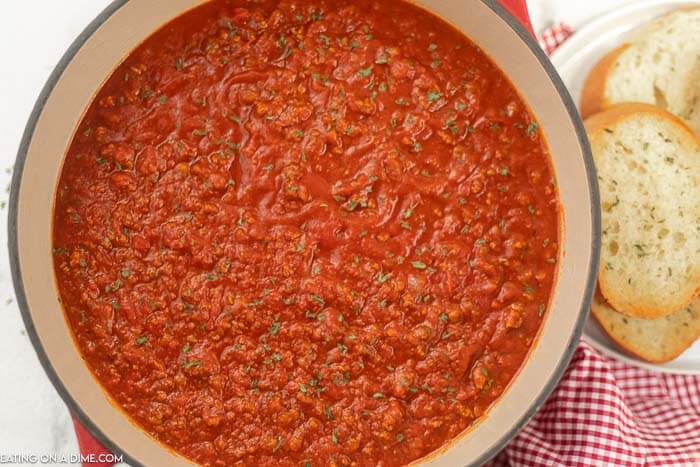 What is the difference between Marinara and Spaghetti Sauce:
The difference between marinara and spaghetti sauce has a slight difference in the ingredients you add. They are both tomato base but it has to do with the spices that you add to the sauce.
Marinara sauce usually has an added spice of garlic and basil. Spaghetti sauce has onion and oregano.
Secret Ingredient!
One of my favorite ingredient to add to our spaghetti sauce is the Italian ground sausage. Yes, you can definitely make this sauce without Italian sausage but we think it adds so much flavor.
If you want to add in some extra heat, you can use spicy Italian sausage or they even have sweet Italian sausage. This adds a little sweetness to the sauce.
Ingredients:
Ground Beef
Italian Ground Sausage
Onion – diced into small pieces
Minced Garlic
Crushed Tomatoes
Tomato Sauce
Tomato Paste
Bay Leaves
Italian Seasoning
Sugar
Salt and Pepper
Beef Broth
How to make Homemade Spaghetti Sauce:
Brown the ground beef and sausage with the chopped onion in a large pot or dutch oven.
Drain off any excess grease. Then add in the minced garlic and mix together the onions and garlic. Cook for 1 minute until the garlic aromatic.
Then stir in all the remaining ingredients.
Bring the mixture to a boil. Then reduce the heat to medium to low and simmer uncovered for 30 minutes. Stirring occasionally. Then remove the bay leaves.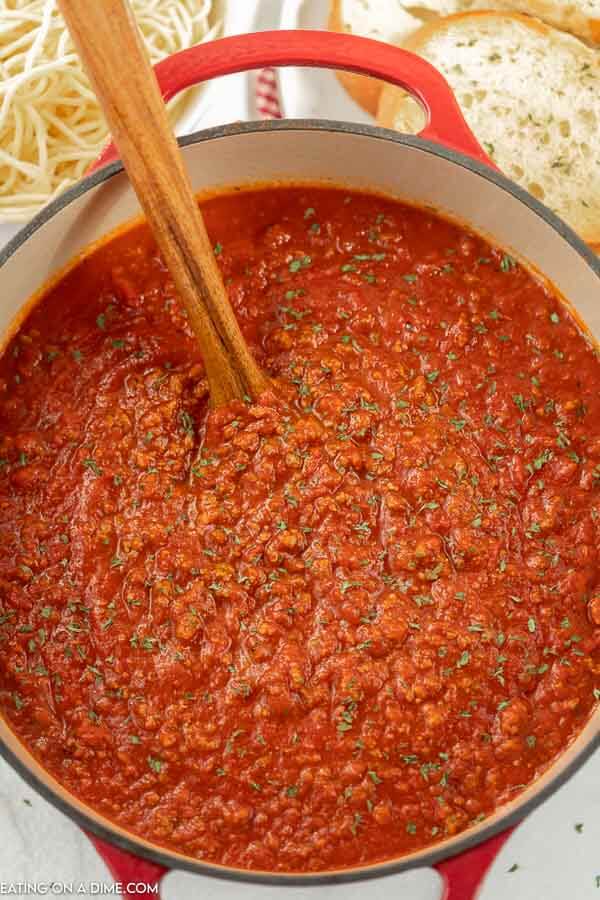 Serve over your favorite type of pasta and enjoy!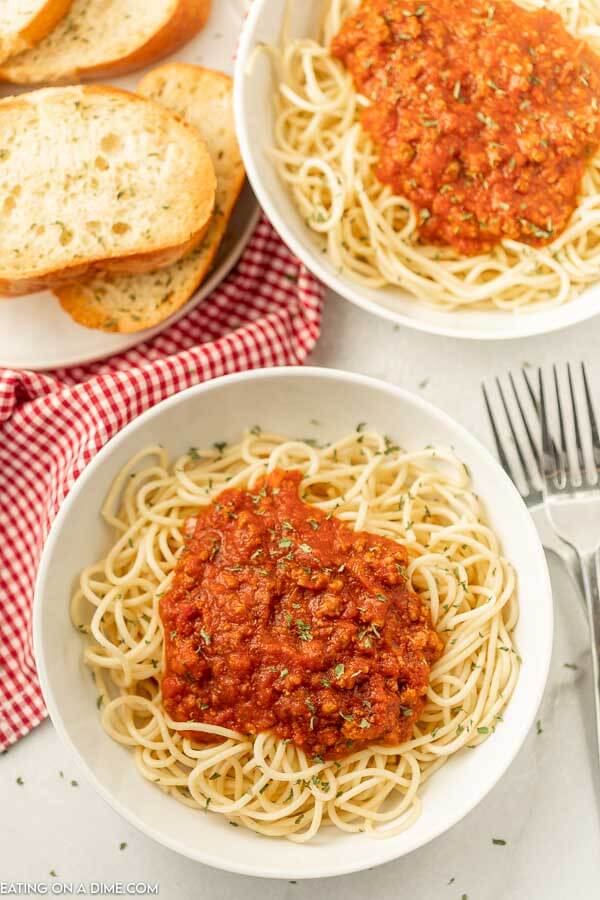 How to thicken:
If you find that your spaghetti sauce is not as thick as you like, let your sauce simmer on low heat uncovered. This will allow the liquid to thicken a little more.
If you are in a hurry, you can add in a little cornstarch and water mixture. But we find just letting it simmer for a little longer does thicken the sauce.
Check out How to Thicken Spaghetti Sauce for more tips.
How to make Spaghetti Sauce from Fresh Tomatoes:
If you would rather use fresh tomatoes rather than canned tomatoes, you can easily make the switch in this recipe.
First thing to do with your fresh tomatoes is to peel the tomatoes and remove the stems.
To easily peel the potatoes you will need to blanch them by putting them in boiling water. You will boil them for about 1-2 minutes.
Once you remove them from the boiling water immediately place in a ice bath for a water bath.
The skin can easily been removed.
You will then chop and cook as the recipe indicates.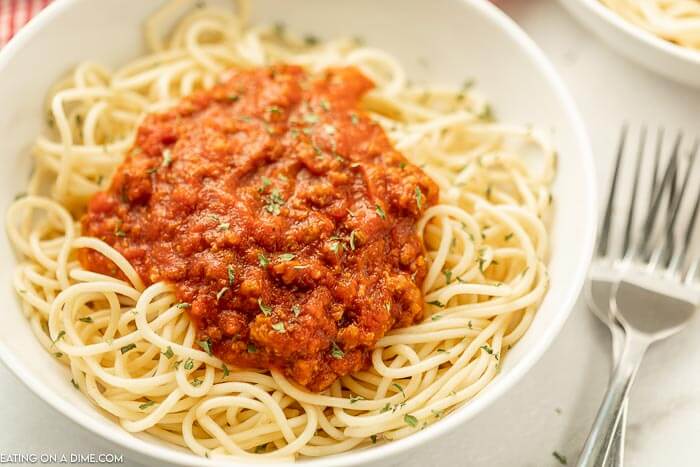 Spaghetti Sauce Variations:
If we have fresh herbs, we love to add in some fresh basil. It will really enhance the flavor.
If you are serving this spaghetti sauce with spaghetti noodles, we usually add in about a tablespoon of olive oil. This helps to prevent the noodles from sticking.
We also like chopping up some bell peppers and cooking them in the meat. The kids don't even know they are eating them since they are cooked softly.
Some other vegetables we love to add is chopped zucchini or mushrooms. For a little sweetness, toss in some shredded carrots.
This sauce is even good if you omit the meat.
You can also use different types of meat – Ground Turkey, Ground Pork, or Ground Chicken. Try mixing the meat so combine the flavors.
Serving this sauce with meatballs is a great addition to this sauce.
How to use leftover Spaghetti Sauce:
There are many ways you can use leftover spaghetti sauce. Here are some of our favorites:
We use the leftover spaghetti sauce to serve it with different noodles. The first night we serve it over spaghetti noodles and then the next night we do rigatoni noodles.
Use it as a dipping sauce for pizza night, mozzarella sticks, or cheese ravioli's. We love to do a snack night and having a spaghetti sauce for dipping with a our favorite snack foods.
Use it the sauce to make your favorite Lasagna.
How to freeze spaghetti sauce:
This makes a large batch of spaghetti sauce. You can easily half the recipe to make less or freeze the leftovers for a future meal. This spaghetti sauce freezes great. Because my family is large, I try to estimate how much my family is going to eat of the spaghetti sauce.
This makes it nice to prepare the freezer bags. This makes it easy to reheat since it is the right amount of spaghetti sauce my family will eat.
Once we have filled the ziplock freezer bags I will place them on a baking sheet flat. Then we place in the freezer. Once they are frozen then it is easier to move around your freezer.
Check out Can you Freeze Spaghetti Sauce to learn more.
What to serve with spaghetti sauce:
You can definitely serve this spaghetti on its own. But we love to serve with some of our favorite sides:
Substitute the pasta for zucchini noodles to make it low carb. We also like using spaghetti squash. They are both great options and the great thing my kids will even this substitute.
We love making this Crusty Artisan Bread. It is so easy to make and looks like you got it from a bakery.
Serve with a nice big green salad.
Steam some broccoli for an easy healthy side dish.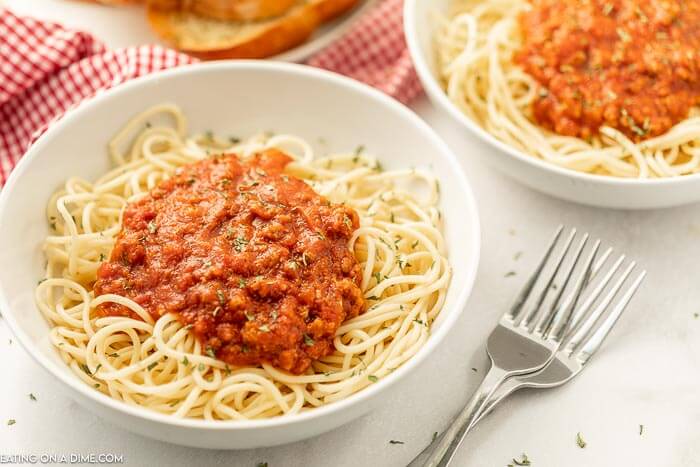 Can you make this in the crock pot?
Yes, you can. We love making Spaghetti Sauce in the Crock pot. We prepare the meat sauce in the morning before we head out to work and the sauce is done when we get home.
We simply prepare the meat by cooking in a large skillet. Then add all the ingredients to the crock and cook on low all day.
If I know it is going to be a busy night, I will even prepare my noodles the night before so my kids can reheat a serving of the noodles and top with this amazing spaghetti sauce.
Storing and reheating instructions:
If we are going to eat the spaghetti sauce in the next few days, we will store in the refrigerator. It stores great in an airtight container for 3-5 days.
To reheat, we simply put in on the stovetop to reheat. You can also reheat in the microwave but heat in 1 minute intervals to ensure that it is heated thoroughly.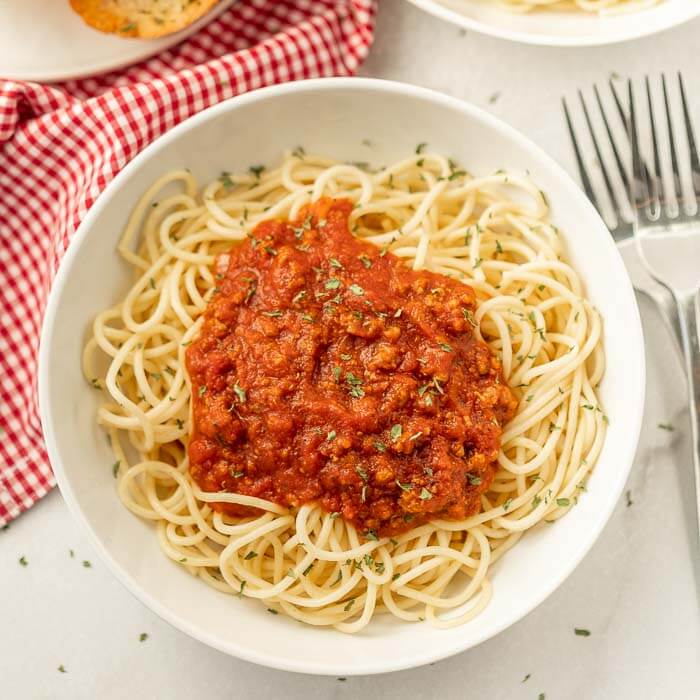 Homemade Spaghetti is a crowd pleaser!
Yes we do the traditional grilling out or a large pot of chili when we have friends and family over. But we also love serving this homemade spaghetti sauce recipe. Everyone loves it and is very budget friendly.
We love making a large pot of this spaghetti sauce and then having different types of pasta. We also add in bread and salad and your meal is complete.
So next time you are planning a large gathering, serve a spaghetti bar. Trust me you can go wrong when serving this easy comfort food.
Make a batch for a friend!
Homemade spaghetti is the perfect meal to provide for someone that might be having surgery or just because. It usually is my go-to meal when I know I need to prepare a meal for a friend.
I keep the sauce in large jar for easy storing and prepare different types of noodles for their family. I also pick up a bag salad and a loaf of French Bread. It travels easy and they can easily reheat.
When you are looking for a meal to share with a friend, make this easy spaghetti meat sauce.
Print recipe here for Homemade Spaghetti Sauce:
Homemade Spaghetti Sauce
This Easy Homemade Spaghetti Sauce Recipe from scratch can be made on a stove top in under an hour. It is so easy to make and loved by all.
Ingredients
1

lb

Ground Beef

1

lb

Italian Ground Sausage

1/2

Onion

diced into small pieces

1

Tbsp

Minced Garlic

4

cans Crushed Tomatoes

15 oz each

2

cans

Tomato Sauce

15 oz each

1

can

Tomato Paste

6 oz

2

Bay Leaves

1

Tbsp

Italian Seasoning

1

Tbsp

Sugar

1/2

tsp

Salt

1/2

tsp

Pepper

1/2

cup

Beef Broth
Instructions
Brown the ground beef and sausage with the diced onion in a large stock pot or dutch oven.

Drain off any excess grease. Then add in the minced garlic. Cook for 1 minute until the garlic aromatic.

Then stir in all the remaining ingredients.

Bring the mixture to a boil. Then reduce the heat to low and simmer uncovered for 30 minutes. Then remove the bay leaves.

Serve over your favorite type of pasta and enjoy!
Nutrition Facts
Calories
619
kcal
,
Carbohydrates
38
g
,
Protein
32
g
,
Fat
40
g
,
Saturated Fat
15
g
,
Polyunsaturated Fat
4
g
,
Monounsaturated Fat
18
g
,
Trans Fat
1
g
,
Cholesterol
111
mg
,
Sodium
2213
mg
,
Potassium
2025
mg
,
Fiber
9
g
,
Sugar
24
g
,
Vitamin A
1673
IU
,
Vitamin C
45
mg
,
Calcium
172
mg
,
Iron
9
mg
More Spaghetti Recipes: