This post may contain affiliate links. If you make a purchase through links on our site, we may earn a commission.
Enjoy light and fluffy pancakes when you make this Blueberry pancakes recipe. It is so easy to make homemade pancakes. This is the best blueberry pancakes recipe.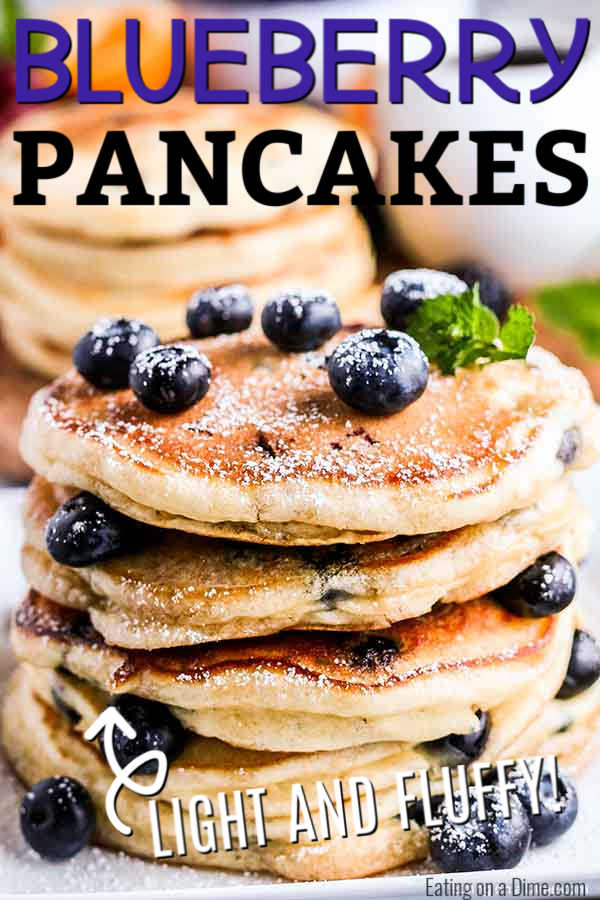 Blueberry pancakes recipe
It seems that pancakes are always a hit when it comes to recipes. Our family loves these for breakfast, brunch and even dinner. This blueberry pancakes recipe only requires a few ingredients and they turn out so light and fluffy.
The blueberries really give the recipe the perfect amount of flavor. Yum!
Save money and make these easy blueberry pancakes.
The store bought pancake mixes add up. They are not cheap and don't last very long. If you have a large family, it especially does not last long at all.
This homemade pancake recipe is so simple and will you save a bunch of money. Plus, it tastes better too.
It is a win-win all around. Save money and get delicious pancakes that are east to make. 🙂 This is a great example of feeding a family on a budget with amazing food!
What do you need to make blueberry pancakes recipe?
You can use either a griddle or a large cast iron skillet for this easy pancake recipe. Another little tip that makes pancake making a breeze is to use a cast iron griddle.
It fits over two burners which allows you to make several pancakes at once. I love it because it doesn't take up any more room on my counter like an electric griddle will. Also, it stores easily in my pantry.
The griddle is so nice to make multiple pancakes at once If you have a bunch of hungry kiddos that are eagerly waiting, this sure makes life easier
In addition, I use a large baking scoop to pour my pancake batter. This helps to make all of the pancakes uniform and all of them the same size.
Ingredients needed for the best blueberry pancakes:
all-purpose flour
granulated sugar
baking powder
salt
egg
milk
vegetable or canola oil
blueberries, fresh or frozen
How to make blueberry pancakes:
In a large measuring cup or mixing bowl, whisk together flour, sugar, baking powder and salt.
Next, add egg, milk and oil. Mix well.
Stir blueberries into batter.
Add non-stick cooking spray to griddle and heat to medium-high (350 degrees F)
Scoop batter onto hot griddle. Cook until golden brown, about 4-5 minutes
Flip and cook on other side until brown. So easy!
Keep reading for the full recipe. It is so quick and easy to make.
What to serve with blueberry pancakes?
Serve immediately with butter, syrup, powdered sugar or blueberry sauce. We like to eat these hot and as soon as they come off the griddle.
This easy homemade pancake syrup is so simple to make and delicious with blueberry pancakes. Learn how to make whipped cream in minutes and top your pancakes with it. Yum!
I also like to serve the blueberry pancakes with scrambled eggs or sausage or bacon. It is a great way to get in some protein and the combination of salty and sweet is delicious.
You can also serve with melted butter and warm maple syrup. My kids like more fresh blueberries on top of the fluffy pancake. So good!
Everyone will absolutely love these homemade blueberry pancakes.

Tips for freezing pancakes:
We actually freeze pancakes and waffles for quick breakfasts. It makes meals so easy and saves us money too when we make homemade pancakes and waffles.
It really isn't anymore trouble to make a double or triple batch to put in the freezer. This is one of my easiest ways to help you save money and TIME. Just freeze your homemade waffles and pancakes!
I love that the kitchen only gets messy once but I get to stock the freezer with lots of great meals for breakfast. This makes it possible to enjoy homemade waffles or pancakes during the weekday.
Your family can easily enjoy homemade pancakes on busy school mornings thanks to this make ahead and freeze method.
Stock up on blueberries in season!
We love to stock up on blueberries in the Summer when they are the cheapest. You can freeze them and use them during the year.
This is a great way to enjoy delicious blueberry pancakes all year long at a great price. By purchasing the blueberries on sale and freezing them, you can enjoy the pancakes at the lowest price all year.
Little tips like this add up to make a big difference in your grocery budget. We try to save whenever we can and it sure helps! You might also like Easy Blueberry Pie Bites Recipel.
Print the best blueberry pancakes recipe below:
Blueberry Pancakes
Enjoy light and fluffy pancakes when you make Blueberry pancakes recipe. It is so easy to make homemade pancakes. Try the best blueberry pancakes recipe.
Ingredients
1

cup

all-purpose flour

1

tablespoon

granulated sugar

3

teaspoons

baking powder

½

teaspoon

salt

1

large egg

¾

cup

milk

2

tablespoons

vegetable or canola oil

½

cup

blueberries

fresh or frozen
Instructions
In a large measuring cup or mixing bowl, whisk together flour, sugar, baking powder and salt

Add egg, milk and oil, mix well

Stir blueberries into batter

Add non-stick cooking spray to griddle and heat to medium-high (350 degrees F)

Scoop batter onto hot griddle

Cook until golden brown, about 4-5 minutes, flip and cook on other side until brown

Serve immediately with butter, syrup, powdered sugar or blueberry sauce
Nutrition Facts
Calories
165
kcal
,
Carbohydrates
22
g
,
Protein
4
g
,
Fat
7
g
,
Saturated Fat
1
g
,
Cholesterol
30
mg
,
Sodium
220
mg
,
Potassium
284
mg
,
Fiber
1
g
,
Sugar
5
g
,
Vitamin A
89
IU
,
Vitamin C
1
mg
,
Calcium
128
mg
,
Iron
1
mg
Try these other pancake recipes:
Find more easy and delicious breakfast recipes: