This post may contain affiliate links. If you make a purchase through links on our site, we may earn a commission.
Once you learn how to make whipped cream, it is so simple and tastes much better than store bought. This whipped cream recipe is easy to make and tastes great!
How to make Whipped Cream
You actually only need 2 ingredients to make whipped cream. There are a lot of recipes that suggest adding vanilla and a few other ingredients, but really there is no need.
This is a very basic but delicious recipe. Why complicate thing when just 2 ingredients turns out so fabulous?
Give this a try and see how great it tastes!
How to use homemade whipped cream:
Whipped cream is one of those things that just plain tastes better when you make it from scratch. However, whipped cream seems like it is so hard to make.
The opposite is actually true. It only takes a few minutes to make this delicious recipe.
We use whipped cream on a lot of different things. From ice cream to Oreo Dirt Cake, the possibilities are so tasty!
Strawberry Shortcake and Pumpkin Pie are other delicious ideas to use whipped cream. You are going to love the difference from store bought cool whip.
Homemade whipped cream is so easy and tastes much better.
Other ideas include:
Ice Cream Sundaes and more!
The ideas are endless for this amazing and easy recipe but these are some favorites.
Let us know when you try this. We love to see pictures of your creations!
I really think this tastes so much better than store bought. Once you try this, you will see how it really takes your dessert to the next level!
With only 2 ingredients, you can't go wrong with this recipe. It is so easy that anyone can make this!
Even the kids can help!
Ingredients for homemade whipped cream:
Sugar
Heavy Whipping Cream
How to make homemade whipped cream:
Now it is time to combine the ingredients into a bowl and whisk. Once you combine the ingredients, you can either whip the cream by hand or use a mixer. Just use the one you prefer.
Either a hand held mixer or a Kitchen Aid Stand Mixer with whisk attachment will work. Just use a cold bowl and whisk to make the whipped cream.
I have done it both ways and they both work great.
Now you know how to make whipped cream from scratch!
It really is that easy and you can have homemade topping that is so creamy and delicious any time you want! I love giving my family delicious recipes like this and knowing exactly what is in them.

How to make whipped cream with milk:
You can use 2/3 cup whole milk and ⅓ cup melted butter instead of whipping cream. I have used this in a pinch when I wanted homemade whipped cream but didn't have heavy whipping cream.
The butter is used for fat content that is needed to make the whipped cream thicken. Since milk does not have a high enough fat count, the butter added to the milk does the trick.
You an easily make this work even if you do not have heavy cream to use. Give it a try and you will how easy this is!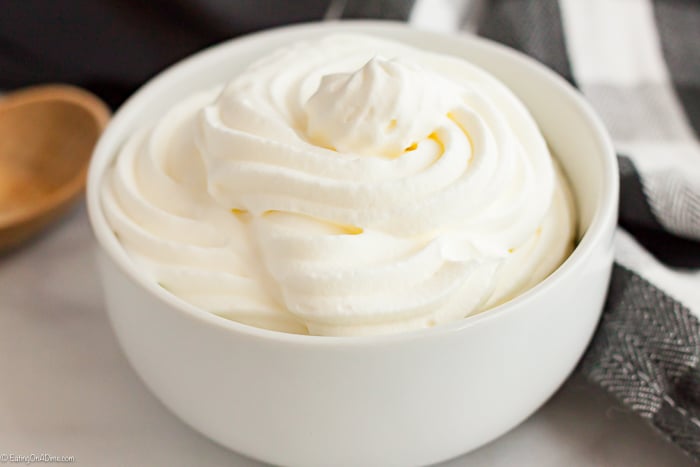 Can you make whipped cream with half and half?
Half and Half with a tablespoon of melted butter can be used as a heavy whipping cream in most recipes. However, this mixture will not whip as the fat content is not high enough in half and half.
Try making homemade whipped cream today!
The flavor is so rich and creamy. Once you try homemade, you won't go back to store bought. Since it is so easy and only takes 2 ingredients, it takes just minutes to make!
Use it to top your favorite dessert for a real treat. It is so amazing. If you love ice cream, try making sundaes with this amazing treat.
I literally look for any excuse to make this! We made cookies recently and I made some to add to cookie sandwiches. You can't go wrong!
You might also like it in hot cocoa or hot chocolate for an extra creamy drink. Top your ice cream with. I could go on and on because there are tons of yummy ideas!
I used to think it was complicated to make whipped cream at home and since it was so cheap at the store, what was the point? Now, I know! Not only is it SO easy but it tastes so much better than anything you can buy.
The flavor is just something you will love. It is so creamy and rich and full of flavor. You will definitely taste how it is a ton better than store bought.
This is a must try and will take all of your other recipes to the next level. You can transform cake mixes by adding some homemade topping to each piece and wow!
Truly this is so easy and a great way to add a homemade touch to any of your favorite desserts!
It is so easy and now you know how to make whipped cream.
No need to be hesitant to make this when it is so simple. Skip the store bought stuff and make this at home.
Just a few minutes on medium high speed and you will have mountains of delicious topping for all of your dessert recipes. I promise you will never go back to store bought cool whip again.
This delicious homemade topping also holds its shape much better than store bought. It looks so pretty on cream pie recipes, pumpkin pie, ice cream and more!
Add a couple of tablespoons to your favorite dessert and taste the difference. In less than 15 minutes, you will have an amazing topping that everyone will love.
This thick recipe is perfect for piping and making your desserts look extra special. You will love it and it so much better than normal whipped cream.
Print this homemade whipped cream recipe below:
Homemade Whipped Cream Recipe
How to make whipped cream with only 2 ingredients and in just a few minutes. This is frugal and actually tastes better than the store bought.
Instructions
Make sure mixing bowl and cream are very cold (I like to put in the freezer for about 15 minutes).

Put sugar into the mixing bowl and add whipping cream.

Whisk until the cream gets stiff peaks.

Use within 8 hours.

Re-wisk if it starts to flatten out. It is that easy!
Nutrition Facts
Calories
76
kcal
,
Carbohydrates
3
g
,
Protein
1
g
,
Fat
7
g
,
Saturated Fat
5
g
,
Cholesterol
27
mg
,
Sodium
8
mg
,
Potassium
15
mg
,
Sugar
2
g
,
Vitamin A
292
IU
,
Vitamin C
1
mg
,
Calcium
13
mg
More cooking from scratch and cooking basics recipes:
Next time you are making dessert, try this whipping cream recipe and impress your family!