We have deemed this the BEST Homemade Pancake Mix and Waffle mix that there is. You can save a ton of money when you make this easy pancake mix and it tastes amazing!
Homemade Pancake Mix
We always used the box mixes to make our pancakes and waffles. However, those are really expensive when you think about what is actually in the box. Most of it is flour!
Well, your problems are solved! You don't have to be a perfect chef to make delicious pancakes.
The best part is that you can make the same delicious pancakes for your family for half the cost (without using coupons!).
Make sure you have a good griddle for this homemade pancake mix recipe
Now if you love to cook pancakes, I highly recommend you have a good griddle. It makes cooking huge batches of pancakes a breeze.
You can also learn how to make waffles with pancake mix.
I love this belgian waffle maker that we use for our Belgian waffles, but any of these that are on sale here should work great.
It is also works as a tasty homemade waffles mix!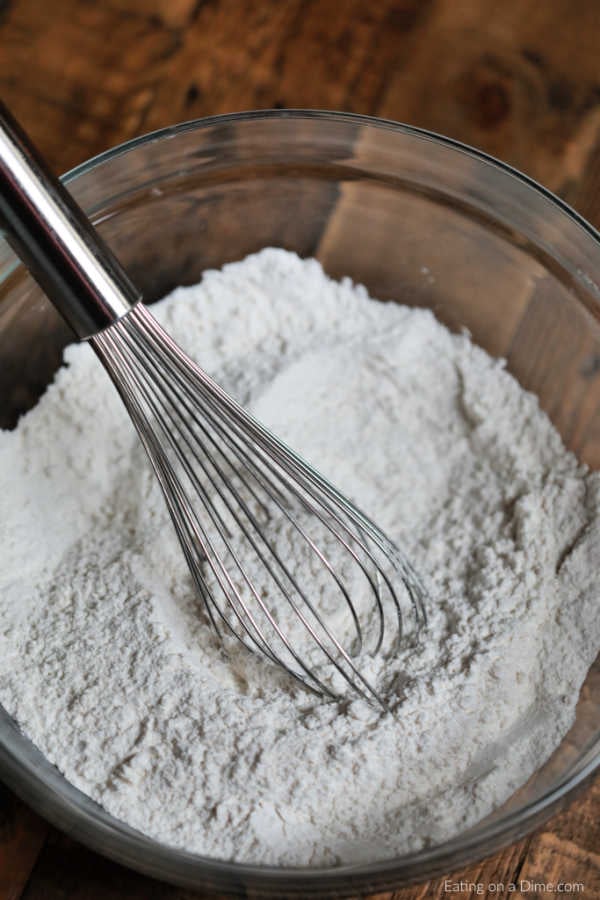 We love to use this dry pancake mix recipe and freeze pancakes and waffles.
My family cooks pancakes in huge batches and then freezes them for easy breakfasts. This is a great way to save time and money.
It is so easy to make extra and freeze while you are cooking some anyway.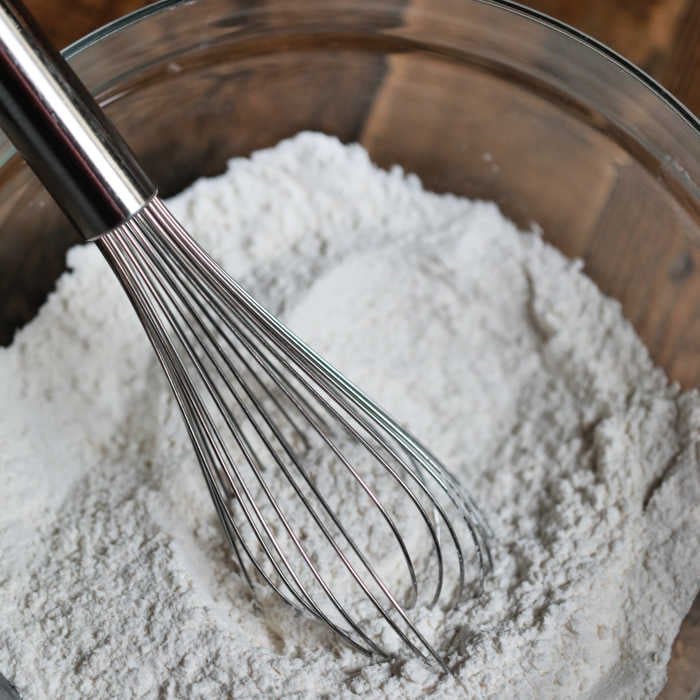 What is pancake mix made of?
flour
baking powder (make sure it is not old)
salt
sugar
How do you make pancake mix from scratch?
This is such an easy recipe. You just mix all of the ingredients in a freezer bag. Simple!
Make sure to spray your griddle or waffle maker with cooking spray first!
This is the best pancake mix!
Your family will love when you make pancakes and waffles!
Now you know how to make pancake mix!
It is so easy and will save you time and money.
How to store homemade instant pancake mix?
We just store ours in the same ziplock bag used to mix it in. One less thing to clean up! You could also use a mason jar or other airtight container.
Pancake mix instructions:
Take pancake mix and add milk and eggs. Mix everything together and put on griddle or in waffle maker waiting until bubbles form and golden brown.
Keep reading for the full recipe.
Tip for this easy waffle mix or homemade pancake mix:
Write the instructions on the storage bag with the dry ingredients. You will never be without the directions and it is so convenient.
Feel free to substitute gluten free flour. You can also use wheat flour or a mixture of white and wheat flour.
What to add to pancake mix to make it taste better?
This is optional but you can add 2 tablespoons of melted butter and a teaspoon of vanilla to the waffle batter. They will be light and fluffy!
Is waffle mix the same as pancake mix?
Yes! They are the same and can be used for whichever you prefer.
We like both pancakes and waffles so it is so convenient to be able to use this mix for both.
What is the difference between pancake and waffle batter?
There really isn't any difference. The only only difference you might find is how they are prepared.
Sometimes, the waffles take more butter on the waffle iron. If you need the waffle batter more thin, just add a little more liquid.
Now you know how to make waffle batter!
This is one of our favorite waffle maker recipes. If you are looking for a waffle recipe no milk, you could omit in this recipe and try water.
However, the milk really makes this such a fluffy waffle recipe. We have even used buttermilk to make this buttermilk waffle recipe.
The flavor is amazing and they pancakes and waffles are so fluffy and delicious. This makes the perfect waffle!
Everyone will love this easy waffle recipe for waffle maker!
Since I have a big family, I just double the recipe above and wrote that on my freezer bag, because I will never make less than 2 servings. In fact I generally make 4 times the amount above in one setting because I freeze pancakes for future use.
If you prefer a crispy waffle recipe, just pop them in the toaster oven or broil them in the oven.
Make sure to add lots of maple syrup to the yummy and fluffy pancake and waffles. 🙂
Get started making homemade waffles and pancakes today with this easy waffle mix.
Homemade Pancake and Waffle Mix
This recipe is the easiest and the BEST Homemade Pancake and Waffle mix. It is very easy to make and will save you a ton of money.
Keyword:
Homemade Pancake and Waffle mix
Ingredients
9

cups

flour

(you can also used whole wheat flour -just only do half or less of whole wheat flour)

7

tablespoons

baking powder

(make sure it isn't old)

2

tablespoons

salt

1/3

cup

sugar
Instructions
Mix all the ingredients in a freezer bag. There you have it! You just made your very own pancake mix.

On the bag, write the following directions so you don't forget how to make your pancakes:

"Take 1 1/2 cups of pancake mix, pour in bowl; in separate bowl, mix 1 1/4c milk and 1 egg. (optional – Add 2 tablespoons of melted butter and a teaspoon of vanilla).Then pour liquids into mix. Mix well and pour onto hot griddle. "

Yes, it is that simple! Enjoy! (You can use this same recipe for waffles too! )
Nutrition Facts
Homemade Pancake and Waffle Mix
Amount Per Serving
Calories 739
Calories from Fat 18
% Daily Value*
Fat 2g3%
Sodium 2342mg102%
Potassium 1615mg46%
Carbohydrates 161g54%
Protein 19g38%
Calcium 635mg64%
Iron 9.8mg54%
* Percent Daily Values are based on a 2000 calorie diet.
I hope you enjoy it and it helps you save more money!

Don't forget – you can make a BIG batch of waffles and pancakes and actually freeze them! Find out how here.
Enjoy light and fluffy pancakes when you make this Blueberry pancakes recipe.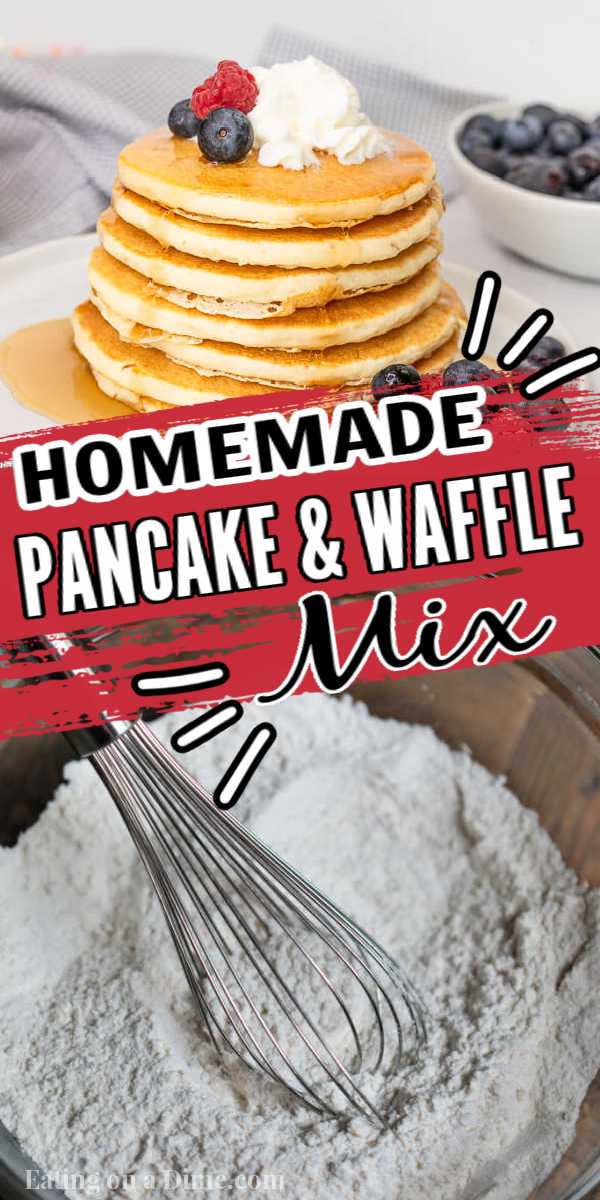 Enjoy cake in minutes when you make this easy recipe for Cake mix waffles.
Check out these other delicious, homemade items: