This post may contain affiliate links. If you make a purchase through links on our site, we may earn a commission.
We have deemed this the best Homemade Pancake Mix and Waffle mix that there is. You can save a ton of money when you make this easy pancake mix and it tastes amazing.
Homemade Pancake Mix
We always used the box mixes to make our pancakes and waffles. However, those are really expensive when you think about what is actually in the box. Most of it is flour!
Well, your problems are solved! You don't have to be a perfect chef to make delicious pancakes.
The best part is that you can make the same delicious pancakes for your family for half the cost.
Equipment Needed:
Storage bags or a mixing bowl is needed to make this mix.
Then to cook pancakes, I highly recommend you have a good griddle. It makes cooking huge batches of pancakes a breeze.
To make waffles, I love this Belgian waffle maker that we use for our Belgian waffles, but any of these that are on sale here should work great to make your favorite type of waffles.
How to Freeze Pancakes and Waffles:
My family cooks pancakes in huge batches and then freezes them for easy breakfasts. This is a great way to save time and money.
It is so easy to make extra and freeze while you are cooking some anyway.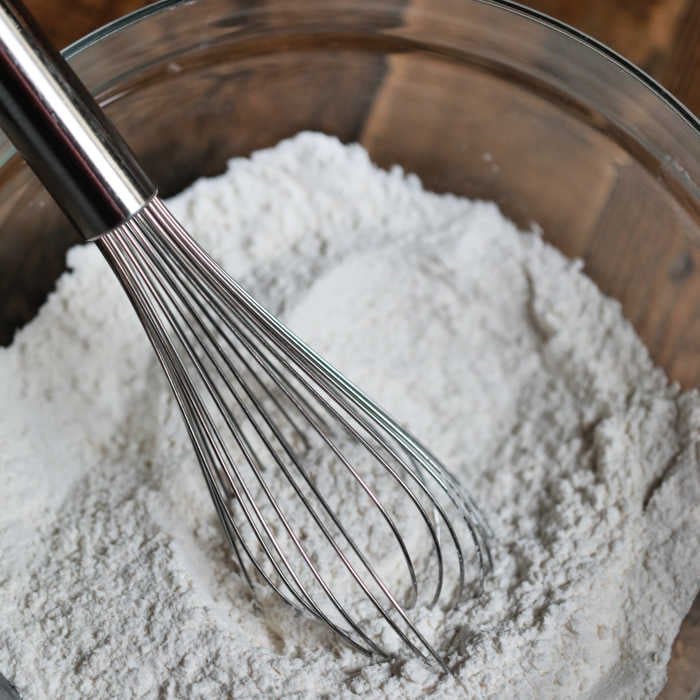 Ingredients for Pancake Mix:
You only need 4 ingredients to make homemade pancake and waffle mix. This recipe is easy and will save you tons of money too.
All Purpose Flour
Baking Powder (make sure it is not expired)
Salt
Sugar
Can you use baking soda instead of baking powder?
Yes, you can use baking soda in this mix instead of baking powder. If you do this, you'll need to use buttermilk to make the batter instead of milk.
If you don't have buttermilk at home, you can make your own by mixing 1 cup regular milk with 1 Tbsp lemon juice. Then let this combination sit for 10 minutes to make it sour before using.
Also, only use 5 Tablespoons of baking soda instead of baking powder in this recipe.
If you decide to use baking soda, you will need to make the pancakes with the buttermilk or homemade buttermilk to add an acid to a mixture. This will ensure that your homemade pancakes are still fluffy.
How do you make pancake mix from scratch?
This is such an easy recipe. Mix the flour, sugar, baking powder and salt together in a large mixing bowl or in a storage bag. You can easily add all the ingredients to a bag and shake to combine them all together.
Then store the bag in the pantry and your homemade mix is ready for whenever you want to make homemade pancakes or waffles.
Make sure to spray your griddle or waffle maker with cooking spray first!
How to store homemade instant pancake mix?
We just store ours in the same ziplock bag used to mix it in. One less thing to clean up. You could also use a mason jar or other airtight container.
Store this mix in a cool dry place in your pantry. As long as the mix is stored correctly, it will last for up to 12 months. Also make sure you check out Does Pancake Mix Go Bad.
Pancake mix instructions:
Take 1 ½ cups of pancake mix, pour in bowl. In separate bowl, mix 1 ¼ cup milk and 1 egg. Then pour liquids into mix.
Mix until just combined. The batter will be lump.
Then scoop the mixed batter onto a hot griddle using a ¼ cup measuring cup. Cook for 1-2 minutes until bubbles form in the batter. Flip the pancakes and cook the other side for 1-2 minutes.
Serve warm and then enjoy! It's really that easy to make these easy homemade pancakes.
Tips for this easy recipe:
Write the instructions on how to make pancakes on the storage bag with the dry ingredients. This way, you will never be without the directions and it is so convenient to make pancakes in the morning.
Make a double or triple batch. Since these dry ingredients last for a year, make a large batch so you can easily make pancakes or waffles for your family in no time at all.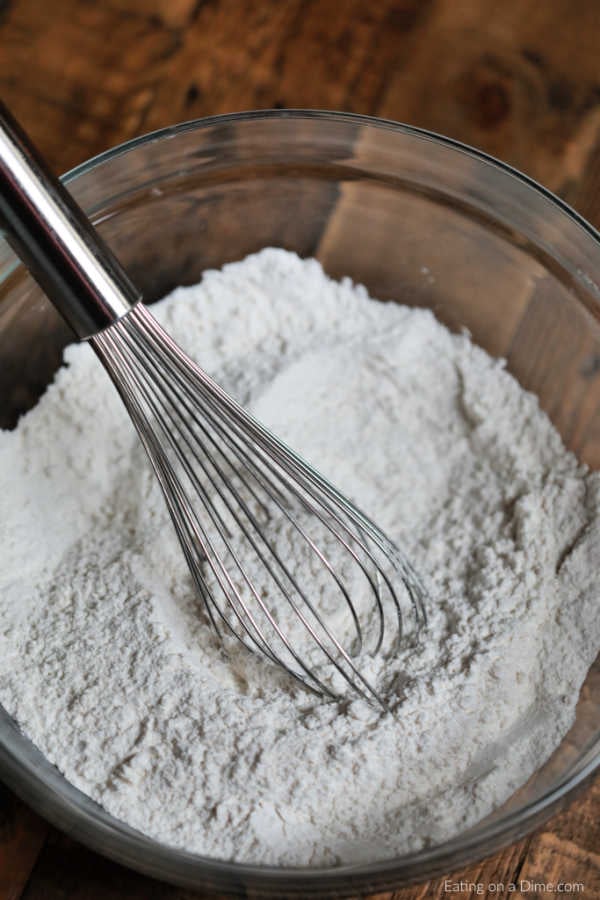 What to add to pancake mix to make it taste better?
You can add 2 tablespoons of melted butter and a teaspoon of vanilla extract to the milk egg mixture before adding it to the dry ingredients.
This will make the pancakes even more fluffier!
What is the difference between pancake and homemade waffle mix?
There really isn't any difference. The only only difference you might find is how the batter is prepared.
Sometimes, the waffles take more oil on the waffle iron. If you need the waffle batter more thin, just add a little more liquid.
How to make Waffle Mix:
Pancake mix and waffle mix are essentially the same. This recipe can be used for whichever you prefer.
To make waffles, after the batter is mixed. Pour the batter into a hot waffle iron and cook until the waffles are golden brown.
We like both pancakes and waffles so it is so convenient to be able to use this mix for both.
Variations to this recipe:
Use Gluten Free Flour – If you are on a gluten free diet, you can use one to one gluten free flour in this recipe instead of all purpose flour.
Use water instead of Milk. – If you are on a diary free diet, you can use water instead of milk to make the batter. The pancakes and waffles will not be as fluffy as when milk is used but will still taste great.
Make eggless Pancakes. – You can use applesauce or mashed bananas instead of eggs in this easy pancake recipe. Use ¼ cup of either of these to replace each egg. If you use mashed bananas your pancakes will have a slight banana flavor.
How to Make Pancakes and Waffles Fluffy:
Use fresh ingredients. Make sure that the ingredients that you use to make this mix are not expired and are fresh. Old ingredients will make flat pancakes.
Do not Over mix. Make sure that you do not over mix your batter when making pancakes or waffles.
Use oil not butter to grease your pan. Butter can easily burn so I always make sure to use grease to oil the waffle oil or griddle.
Homemade pancake and waffles toppings:
Now that you have made the best homemade pancake and waffles, here are some of our favorite topping ideas!
Whipped Cream and Chocolate Chips – Kids love topping homemade waffles with something a little extra sweet.
Cinnamon and Sugar – My daughter loves topping waffles with this mixture.
Fresh Berries – Fruit is always amazing on these as well.
What to serve with pancakes or waffles?
I love serving these pancakes or waffles from my favorite fruit salad and bacon.
Learn how to cook bacon in the oven. This is my favorite way to make bacon because it's easy and doesn't make as big as a mess.
Print this recipe here:
Homemade Pancake and Waffle Mix
This recipe is the easiest and the BEST Homemade Pancake and Waffle mix. It is very easy to make and will save you a ton of money.
Instructions
Mix all the ingredients in a freezer bag. There you have it! You just made your very own pancake mix.

On the bag, write the following directions so you don't forget how to make your pancakes:

"Take 1 ½ cups of pancake mix, pour in bowl; in separate bowl, mix 1 1/4c milk and 1 egg. (optional – Add 2 tablespoons of melted butter and a teaspoon of vanilla).Then pour liquids into mix. Mix well and pour onto hot griddle. "

Yes, it is that simple! Enjoy! (You can use this same recipe for waffles too! )
Nutrition Facts
Calories
739
kcal
,
Carbohydrates
161
g
,
Protein
19
g
,
Fat
2
g
,
Saturated Fat
1
g
,
Sodium
2342
mg
,
Potassium
1615
mg
,
Fiber
5
g
,
Sugar
12
g
,
Calcium
635
mg
,
Iron
9.8
mg
Check out these other delicious, homemade items: