Learn how to make Crockpot Spiral Ham in the slow cooker for an easy and delicious meal idea. Whether you are serving ham for a big holiday dinner or Sunday lunch for your family, this recipe makes it so easy.
Crockpot Spiral Ham
Have you ever made this Crock pot Ham recipe? I know that cooking a spiral ham is fairly easy because it is already precooked.
Check out this video to see how to make this 4 Ingredient Crock Pot Ham Recipe!
However, tossing a spiral ham in your crockpot in the morning and letting it sit all day is even easier! This make Easter dinner, Christmas dinner, and even Thanksgiving dinner a breeze.
Cooking ham in the crock pot is a great way to free up your oven in the crock pot. Plus it tastes amazing!
You are going to love this easy crock pot spiral ham recipe. See all our other Crock pot recipes here.
We love using out slow cooker to make meal time a breeze. Our family can enjoy a great dinner with very little effort.
Everyone will love this Crock pot Ham Recipe!
It is so delicious and flavorful. Once you start using the slow cooker for ham, you will never use the oven again.
The ham is just so tender and packed with the best flavor. You will love this combination of brown sugar, pineapple juice and more.
Your dinner guests will rave about this ham and you will love how easy it is to make. Spend less time in the kitchen and more time with your family.
This ham will definitely become a family favorite. We love it!
What all do you need to make this Slow cooker spiral ham?
Spiral Sliced Ham
Brown Sugar
Maple Syrup or Honey
Pineapple Juice
See how simple this is?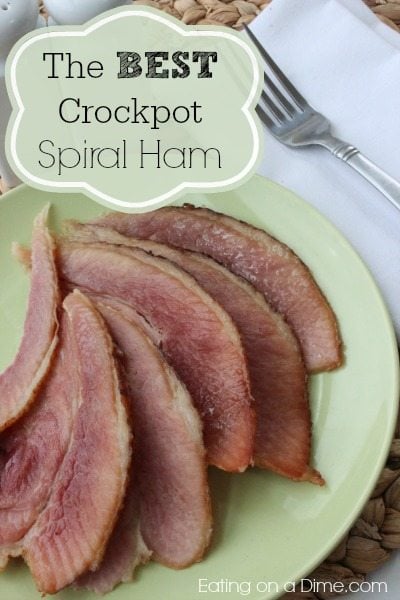 How to cook a spiral ham in the crockpot?
Take a store bought pre-cooked spiral ham (my family especially likes the inexpensive ones from Aldi). Place the Crock Pot Spiral Sliced Ham flat side down like the picture above.
Once your precooked ham in crockpot, smother it with brown sugar and pour syrup and pineapple juice over it. It is that simple!
You can't mess up this delicious recipe for fully cooked ham in crockpot.
If your cannot put the lid down on your crockpot, cover it with foil to keep the heat in. Then place the lid on the top to keep the foil down.
Warming a precooked ham in crockpot is so easy! You can also slow cook ham in oven overnight. You can  cook overnight for a brunch.
This recipe is really that easy. Keep reading for the full recipe.
Easter is just around the corner – you can toss this in your oven before you head to church. Dinner will be calling you by the time you get home. YUM!
How do you keep a spiral ham from drying out?
You won't have to worry about your ham drying out. By cooking in the crock pot, the ham stays so moist and delicious.
This recipe will not dry out. Yum! No need to use glaze packets with this delicious and simple recipe.
Your family will love this cured ham. The syrup and pineapple juice make the best spiral cut ham. So flavorful!
Are all spiral hams precooked?
Spiral hams are generally precooked making this process even easier. The slow cooker makes it even more simple to make a holiday ham.
You could also try using the instant pot.
Make sure you have a good slow cooker to make this Crockpot spiral ham.
If you are in the market for something new, I really love my Ninja cooker. The nice thing about this is you can brown the meat in the same slow cooker if you are making a recipe that calls for that.
It is so handy to just have the one pan to clean. It has become of my favorite kitchen appliances.
I also really like this crockpot as well.  I use this all the time and it's great.
My favorite feature is that you can lock the lid down. This is awesome for when you need to take the crockpot somewhere.
I often use the slow cooker to take dishes to potluck events and this feature is amazing! There are several others on sale here.
Another favorite is this programmable crock pot  for when I am am not at home all day. I love coming home to a nice meal ready and waiting!
I also like to use crock pot liners to make clean up a breeze. These are worth every penny and save a ton of time.
We are all about simple and this sure is a time saver.
Here are a few delicious side dishes to serve with this Crockpot Spiral Ham:

Print this Crock pot ham recipe below:
Crockpot Spiral Ham
Crock pot Ham Recipe is easy to make. Slow cooker ham is perfect for the holidays and frees up your oven. Try this crock pot spiral ham today!
Course:
Crock Pot, Main Course
Keyword:
Crockpot Spiral Ham
Ingredients
7-8

lb

Spiral Sliced Ham

1

cup

Brown Sugar

1/2

cup

Maple Syrup or Honey

1

cup

Pineapple Juice
Instructions
Unwrap ham and place flat side down in a large slow cooker. Throw away glaze packet and any plastic pieces that cover the bone.

Rub brown sugar over the sides.

Pour on syrup and pineapple juice.

Cook on low for 4 hours.

Baste ham with the juices from the bottom of the slow cooker occasionally while it is cooking and right before you serve it.
Recipe Notes
Slow cooker ham is perfect for the holidays and frees up your oven.
Nutrition Facts
Crockpot Spiral Ham
Amount Per Serving (16 g)
Calories 577
Calories from Fat 297
% Daily Value*
Fat 33g51%
Cholesterol 123mg41%
Sodium 2360mg103%
Potassium 618mg18%
Carbohydrates 24g8%
Protein 42g84%
Vitamin C 2.1mg3%
Calcium 29mg3%
Iron 1.9mg11%
* Percent Daily Values are based on a 2000 calorie diet.
Are you planning an Easter Dinner at your home? We have some great Easter menu ideas and recipes that you can make easily at home.
Find more easy crock pot recipes below: