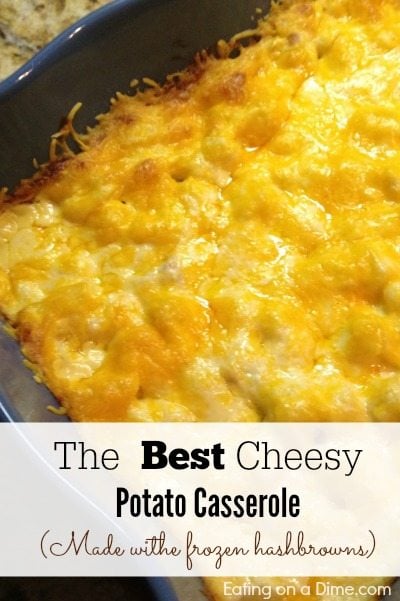 Are you ready for a delicious cheesy potato casserole?
This isn't the best  side dish option for a regular weeknight meal, but it is perfect for any holiday or gathering. Since Easter is Sunday, I wanted to share our favorite cheesy potato casserole. I bring it to our Christmas eve parties and it is now requested year after year. It isn't the healthiest dish in the world, but it is delicious! It is also very EASY to make. No peeling or chopping, because I use hashbrown potatoes! If you can mix and dumb, then you can make this cheesy potato casserole
You will have to try out this recipe this weekend!

It is very easy to make!
My favorite part is how easy it is to make. Since you are not peeling or slicing real potatoes, you can have this in the oven in under 10 minutes. Plus you can also combine it the day before, so all you have to do is plop it in the oven the next day!
Next time you are needing a delicious dish for Easter, Christmas, Thanksgiving, any holiday, a BBQ, or any potluck, remember this recipe!
Make a microwave baked potato in only minutes. The results are amazing!
Make this easy Slow Cooker Scalloped Potatoes recipe and never buy the store bought packaged scalloped potatoes again.
The Best Cheesy Potato Casserole
Ingredients
1 package of frozen hashbrowns (they can be shredded, the can be diced, they have have the peppers in them... any kind you want)
1 can of cream of chicken soup
1 can of milk (just fill up the canned soup with milk)
½ onion chopped (this is optional) - you can add anything from bacon to bell peppers
2 cups of shredded cheddar cheese
1 (8 ounce) container sour cream (I have even used a half of container and it is good)
Instructions
Preheat oven to 350 degrees F.
Spray a 9x13 pan with nonstick spray.
Take your frozen hashbrowns and break them up in the bag.
In a large bowl combine the onion (or whatever else you want to include), 1 cup of cheese, the milk, and the cream of chicken soup and sour cream. Stir to combine.
Mix in the hasbhrowns and stir to coat.
Pour into a 9x13 pan. Top with the remaining cheese.
Bake covered in preheated oven for 40 -50 minutes. I take the foil off the last 10 to 15 minutes so the cheese gets nice and brown.