This post may contain affiliate links. If you make a purchase through links on our site, we may earn a commission.
Let's get excited about this super easy Crockpot Cheesy Potatoes. Next time you have a pot luck or a family dinner, you really need to make this super simple crock pot cheesy potato recipe. Everyone will go crazy for it!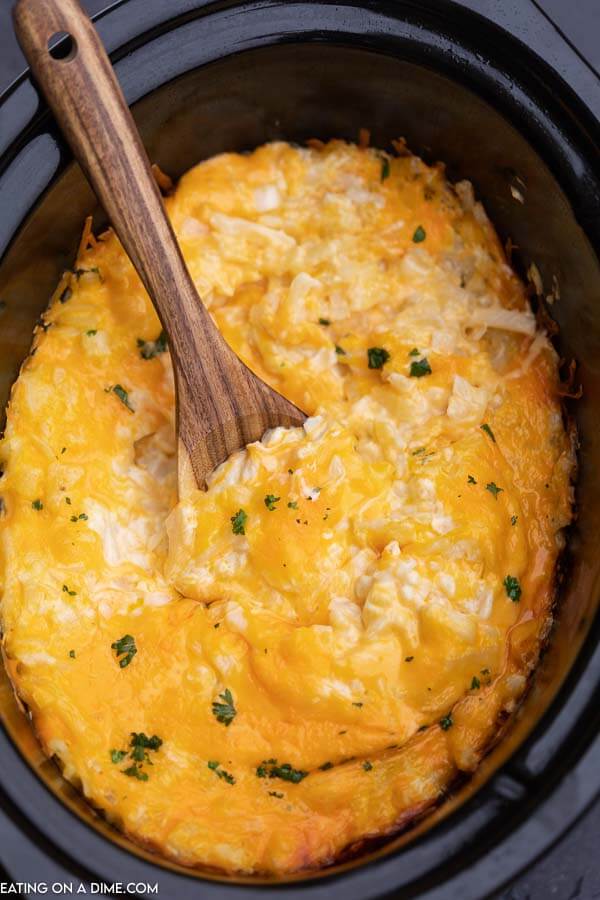 Slow Cooker Cheesy Potatoes:
This recipe was created as I really wanted to make my easy cheesy potato casserole recipe for a family dinner but I was out of oven space with everything else I was making.
That's when I thought of my crock pot. So I gave it a try and was amazed by the results. This crock pot cheesy potatoes recipe tasted just like the one made in the oven,
My family loved this recipe and I hope you do too. This recipe is perfect to make your the summer holidays and barbecue. You can enjoy a delicious cheesy potato casserole without heating up your kitchen! You might also like Au Gratin Potatoes Crock Pot Recipe.
Another family favorite is Crockpot Carrots. Also check out this 5 Ingredient Corn Casserole Recipe.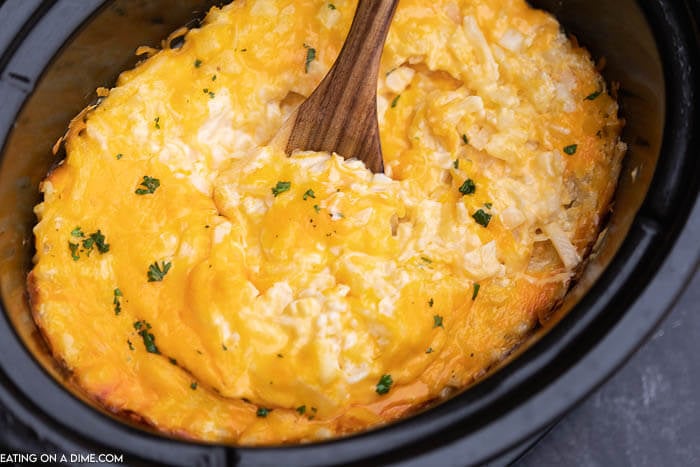 Cheesy Potatoes or Slow Cooker Funeral Potatoes?
I have heard this recipe called both of these before. Essentially this is a cheesy potato casserole but I believe people started calling them funeral potatoes but it's the perfect pot luck dish because everyone loves them.
Whatever you call them, they are not only easy to make but delicious too! They are definitely a crowd please at family dinners, holidays and pot lucks too.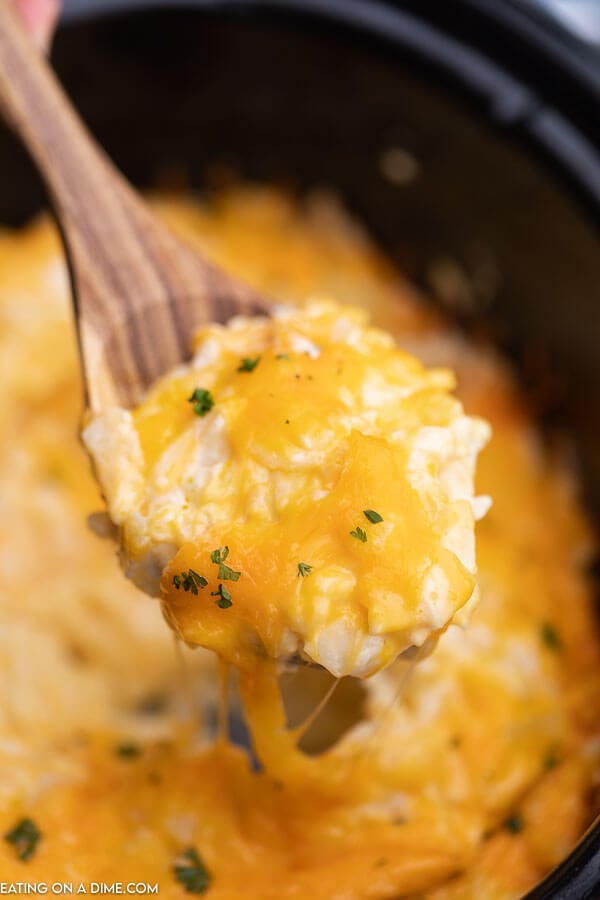 You'll need a crock pot for this recipe!
Now first, I highty suggest you invest in a crock pot casserole slow cooker. I bought mine on Amazon and it is amazing!
It allows you to cook your favorite casseroles without heating up your kitchen. Or you can make your favorite casseroles in the oven, and then keep them warm in the crock pot making this perfect for pot lucks and parties!
I have used mine a few times and I know I'll be using them a lot in my future. However, you don't need a casserole crock pot to make this recipe.
I made mine in a traditional 6 quart crock pot and it worked perfectly! You can also double this recipe and it'll still fit in a 6 quart crock pot.

Ingredients:
Frozen Hash Brown Potatoes (either shredded or diced works but I used shredded for this recipe)
Cream of Chicken Soup
Milk
Onion
Shredded Cheddar Cheese
Sour Cream
That's all you need to make this delicious and easy cheesy hashbrown potatoes crockpot recipe.
How to make crockpot cheesy potatoes:
You are not going to be believe how easy it is to make this easy crock pot potato side dish recipe.
First spray the inside of a 6 quart crock pot with nonstick spray. This will make the clean up very easy and will make serving these cheesy potatoes even easier.
Next take your frozen hash browns and break them up in the bag. This is easier to do while they're in the bag and helps them cook more thoroughly once they're added to the slow cooker.

Then in a medium size mixing bowl, whisk together the cream of chicken soup, milk and sour cream.
Next stir in the hash browns, onions and 1 cup of the cheese. Use a large spoon instead of a whisk to stir these ingredients in so that the hash browns don't turn to mush when mixing them in.
After all the ingredients are combined, pour this mixture into the crock pot. Then top with the remaining cheese. This is what gives the casserole that nice cheesy top, so don't skip this step! If you're worried about it being too cheesy then just use ½ cup of cheese to top the casserole.
Cover the crock pot and cook on low for 4-5 hours or for 2-3 hours on high until the potatoes are tender.
After the cooking time, serve with a large spoon and enjoy!
Check out this quick how to video:
Cheesy potato recipe tips:
I usually use frozen potatoes for this recipe because it's convenient and frozen hash brown potatoes are pretty inexpensive. However, you can use fresh potatoes for this recipe if you prefer.
Also, you can make this a complete meal but staring in cooked shredded chicken or browned ground beef or sausage. I have done this a few time and they alway turn out great!
Plus staring in green chilis or diced peppers would be delicious in this recipe to give this cheesy potato casserole a spicy kick!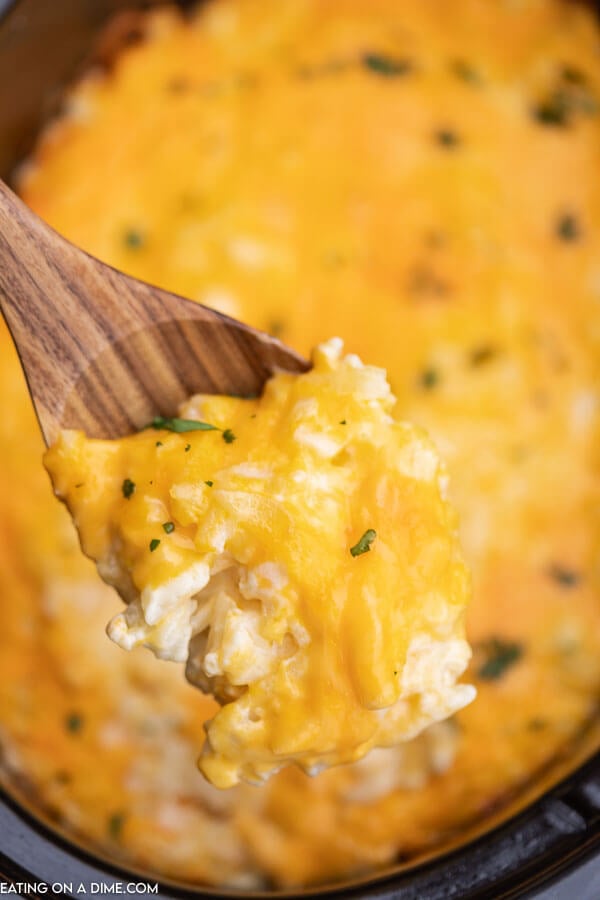 Crock Pot Cheesy Potato Casserole Recipe
You are going to love this quick and easy crock pot cheesy potato casserole recipe. Finally a delicious casserole that won't heat up your kitchen!
Instructions
Break up the frozen hash browns in the bag.

In a large bowl, whisk together the cream of chicken soup, milk and sour cream.

Stir in the hash browns, onions and 1 cup of the shredded cheese.

Pour this mixture into the crock pot and top with the remaining shredded cheese.

Cover and cook on low for 4-5 hours or on high for 2-3 hours.
Recipe Notes
I usually use shredded hash browns for this recipe, but you can also use diced hash browns or the hash browns with green peppers and onions mixed in.  
Refrigerate leftovers in an air tight container for 5-7 days.  Top with a small amount of melted butter when reheating to add moisture back to the casserole when reheating.  
Nutrition Facts
Calories
204
kcal
,
Carbohydrates
16
g
,
Protein
8
g
,
Fat
13
g
,
Saturated Fat
7
g
,
Cholesterol
34
mg
,
Sodium
334
mg
,
Potassium
280
mg
,
Fiber
1
g
,
Sugar
2
g
,
Vitamin A
386
IU
,
Vitamin C
6
mg
,
Calcium
191
mg
,
Iron
1
mg
More easy Potato Recipes to Try:
Try these Crock Pot Side Dish Recipes: