Dress up plain pork chops with this amazing recipe and you will see why everyone loves these oven baked pork chops! No one will ever say that pork chops are boring after they try this recipe loaded with flavor.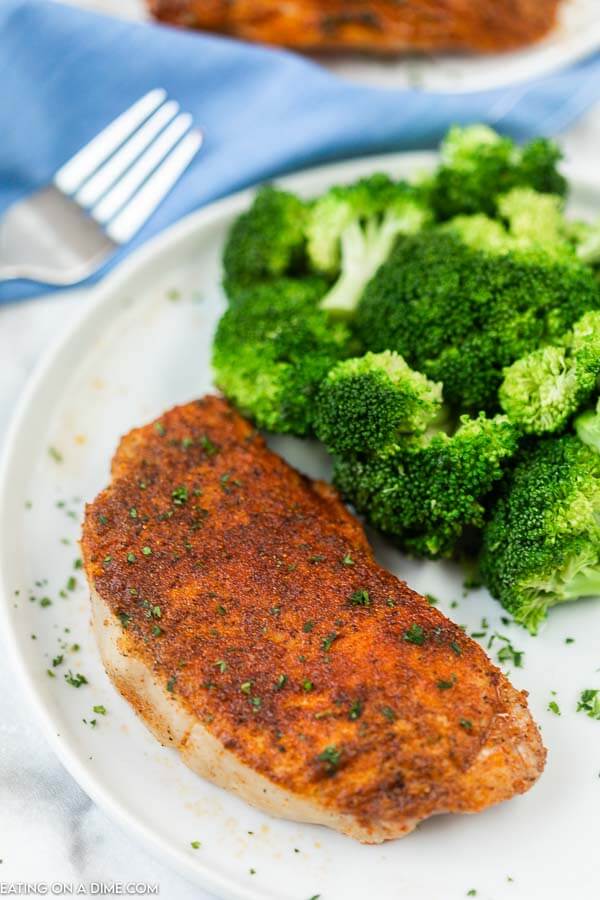 Oven Baked Pork Chops:
You are going to be amazed at how simple this recipe is and how flavorful each bite tastes. You only need a few basic seasonings that you probably already have and you can make this for dinner. The flavor combination really jazzes up plain pork chops to make the best dinner.
We love cooking pork chops. They really make an easy dinner idea. They are easy to cook rather you are grilling them, baking or putting them in your crockpot. These pork chops come out so juicy and tender and everyone loves them.
Simple ingredients and simple process, everyone in your family will love this Oven baked pork chop recipe.
Easy Dinner idea:
We have pork chops at least once a week. My family really likes that we add this recipe to our menu each week. We tend to make a lot of chicken recipes so they are always pleased with the change.
With these simple ingredients, I can make this recipe any night of the week. It turns out so flavorful and mouth watering and within 30 minutes will leave your family feeling full and happy.
Not only can you bake or grill these porks chops, but you can use your iron skillet. They turn out so good and juicy. This is the way my grandmother always made pork chops.
Juicy Pork Chop Tips:
Make sure to bake your pork chops at high temperature. This helps it to caramelize the texture of the pork chops and locks in the juices.
Try not to overcook your pork chops. Using a meat thermometer helps reach the perfect temperature of 145 degrees. Plus make sure you check them to ensure that you are not overcooking them.
The main key to achieve a juicy pork chop is letting it rest for around 10 minutes before slicing. I also place a piece of foil lightly on the pork chops.
I like to buy at least 1-inch thick pork chops to ensure that they do not dry out. We have bought thin ones and they dried out very quickly.
My family loves boneless pork chops but you can also use bone-in pork chops.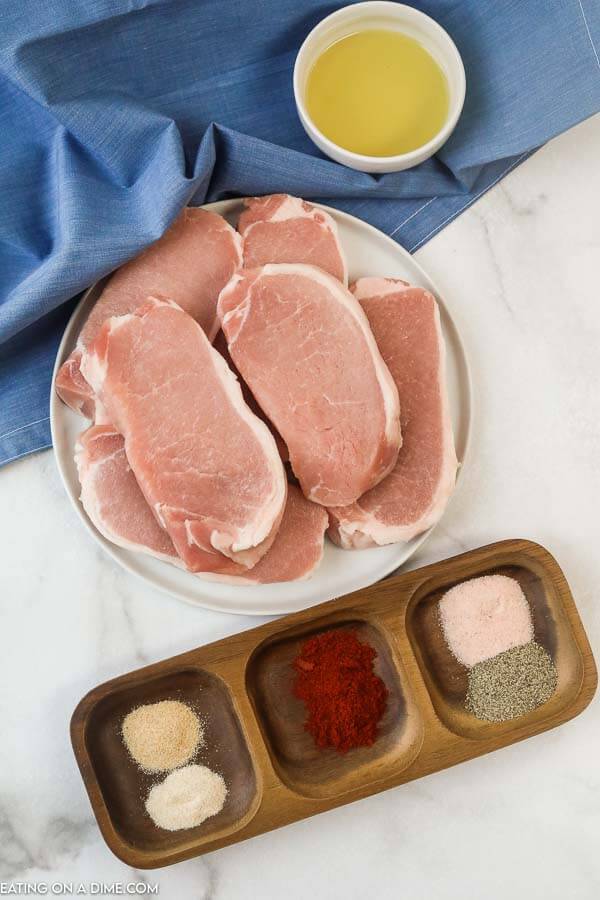 Ingredients:
Pork Chops – you can also try using pork tenderloin. Either option is delicious.
Extra Virgin Olive Oil
Salt and Pepper
Paprika
Onion Powder
Garlic Powder
How to make oven baked pork chops
First, go ahead and preheat your oven to 400 degrees.
Second, get your baking sheet ready. I used a 9×9 baking dish and sprayed it with cooking spray.
Next, put the pork chops in the baking dish.
You will need a small bowl to mix together the seasoning. Make sure everything is well combined.
Then pat pork chops dry with a paper towel.
Then drizzle the olive oil all over the pork chops. I like to use a basting brush to make sure it is spread around really good.
Now sprinkle the seasoning ,including the black pepper, you mixed together on top of the pork chops. Use your basting brush again to spread it all over the meat.
How long does it take for a pork chop to cook?
It does not take long at all to bake. I bake my pork chops at 400 degrees. Normally about 15 to 20 minutes is all it takes. Just make sure the internal temperature is 145 degrees in the pork.
I usually check the pork chops about the 15 minute mark. Pork chops cook quickly if not watched closely.
We like to have a meat thermometer to always check our meat for doneness. With pork chops we always make sure the internal temperature is 145 degrees in the pork.
Cooking Time Varies:
Keep in mind that cooking times may vary depending on how thick your pork is. This may require adjusting your cooking time. For reference, the pork chops I used were about 1″ thick.
Make sure to let it sit for at least 5 minutes and then serve. It is important not to skip this part and allow the pork chops time to rest. It only takes a few minutes and is worth it.
Variations Ideas:
I like to prepare homemade seasoning. They are easy to make and I know exactly what is in the seasoning. This would be the perfect seasoning to prepare ahead of time. This seasoning works well on chicken or steak as well.
You can use a pork tenderloin instead of boneless pork chops.
This meal can also be prepared as a sheet pan meal. We love making sheet pans to make a meal. I load the pan with vegetables and meat.
After I prepare my pork chops with the season, I will sprinkle the vegetables with the pork seasoning. It is so easy to make and one pan to clean up.
Should Pork Chops be baked covered or uncovered?
If you do not cover the pork chops, the meat will have a crispier outside coating. We prefer it this way!
However, covering with foil will result in the moisture being trapped and the meat being more juicy and tender. Just do what your family prefers the most.
Why I love Pork Chops:
Within about 20 minutes, I can sit down with my family and have a healthy delicious meal that everyone will love.
Easy spices that I always have in my pantry and they turn out so good on these boneless pork chops.
Pork Chops are budget friendly. Pork Chops are really easy to make and turn out so juicy and flavorful if you cook them just right.
The sauce that the pork chops make is so good. I love to serve this as a side so we can either dip or pour over our veggies. This is a must that my family always look forward to.
Pork Chops are perfect for any diet that you are on. Porks Chops are a lean meat that is low in calorie but high in protein.
Pork Chops are perfect on the grill. Instead of making steak or chicken, I love to mix things up and grill some pork chops.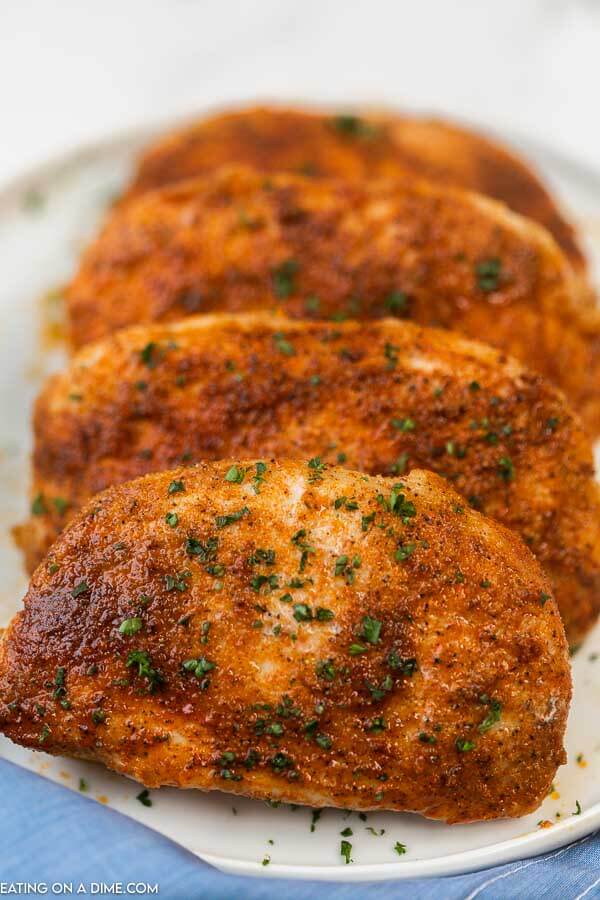 Boneless Pork Chops in Oven:
It is so fast and easy. You will love this any night of the week! This baked pork chops recipe is so juicy and tender.
Considering this can be ready in under 20 minutes, you will love having this on the menu plan for busy weeks. Not only will it save you time but money as well.
I bet you can't get take out or zip through and get fast food in that amount of time and get back home. Make this delicious meal instead!
Everyone will love it. This is a great example of a meal that you can prepare during the week with very little work.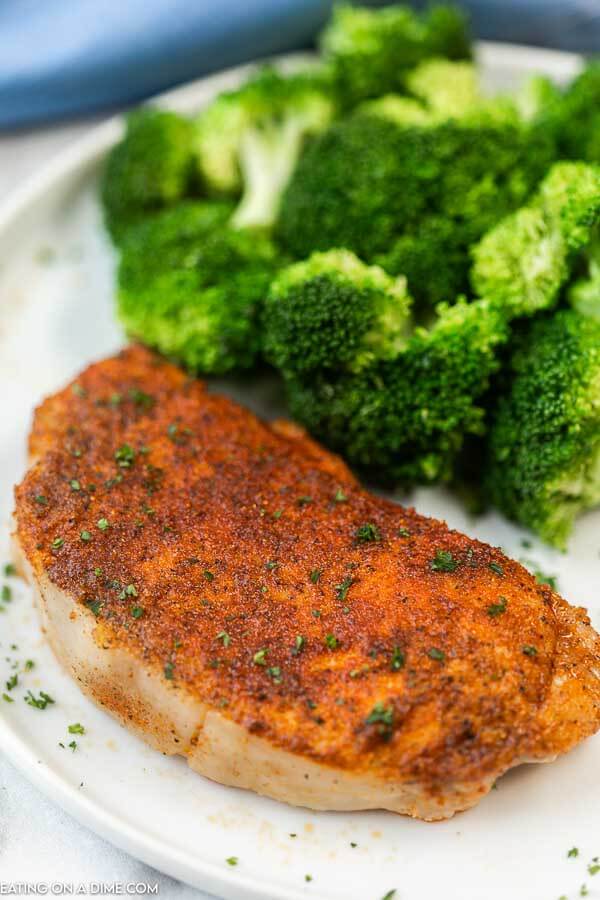 Side dishes for pork chops:
Broccoli- We like to steam broccoli in the microwave. It takes only minutes and everyone loves it.
We also like Roasted green beans for another easy veggie idea.
Grilled Asparagus or roast asparagus is so good and a healthy side dish.
Quick and Easy Weeknight Macaroni and Cheese– one pot and easy! We love homemade macaroni and cheese.
Salad- You can't go wrong with a quick and easy side salad.
Potatoes – Bake Potatoes, Mashed Potatoes, Sweet Potatoes and Buttered Potatoes would be a great side.
A side of rice pilaf is always a perfect side that goes well with pork chops.
See Best Pork Chop Sides for more side dish ideas
This is the best way to bake pork chops!
I love one pot meals because they are so easy. This recipe does not disappoint. Cleanup is a breeze and everyone loves this meal.
Tips:
I use a 9×9 baking dish to make this casserole in. You can see the one I used and then tons more here to choose from. It's the perfect size to bake about 4 to 6 pork chops. Plus, I just love pretty casserole dishes.
This is also a great meal to take someone that just had a baby or just someone that could use a nice meal. I like using one of these foil pans and you won't have to worry about getting your dish back.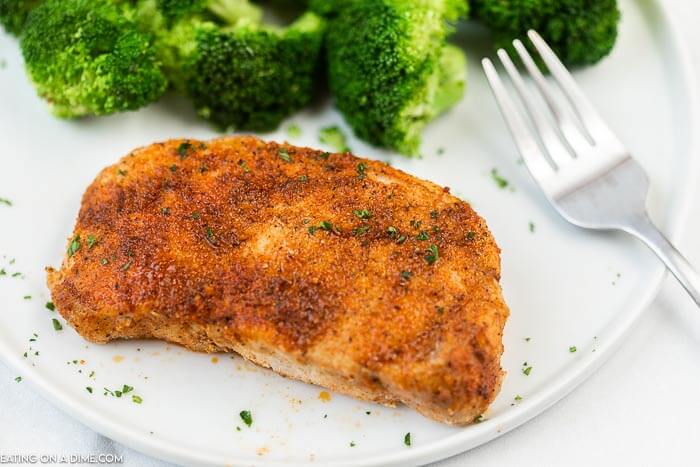 Print your oven baked boneless pork chops recipe below: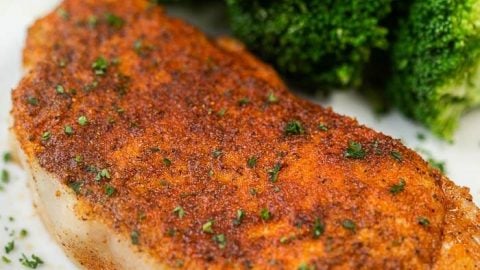 Simple Oven Baked Pork Chops Recipe
Try this simple baked pork chops recipe. This oven baked pork chops recipe is full of flavor. It is the best way to bake pork chops!
Instructions
Place the pork chops in the baking dish. Drizzle the olive oil over the top and use a basting brush to cover the pork chops with the olive oil.

Sprinkle the seasoning mixture on top and use the basting brush to cover the pork chops with the seasoning mixture.

Bake for 15-20 minutes until the pork reaches an internal temperature of 145 degrees F. Then let sit for 5 minutes and serve warm.
Recipe Notes
This cook time is based on approximately 1 inch thick pork chops.  Thinner pork chops will cook quicker and thicker pork chops will need additional cooking time to reach an internal temperature of 145 degrees F.  
Nutrition Facts
Calories
252
kcal
,
Carbohydrates
1
g
,
Protein
29
g
,
Fat
14
g
,
Saturated Fat
4
g
,
Trans Fat
1
g
,
Cholesterol
90
mg
,
Sodium
453
mg
,
Potassium
517
mg
,
Fiber
1
g
,
Sugar
1
g
,
Vitamin A
171
IU
,
Vitamin C
1
mg
,
Calcium
13
mg
,
Iron
1
mg
More easy pork chop recipes