Baked Stuffed Pork Chops will be a hit for dinner. The meat is tender and stuffed with a savory cheese blend. The meal looks fancy but it is simple to make.
Baked Stuffed Pork Chops
This tasty recipe takes pork chops up a level with the delicious cheese in the middle. Once you make stuffed pork chops, you will see how easy it is. Each bite is the perfect combination of flavorful pork and creamy cheese filling.
The delicious cheese blend also has spinach in it for so much flavor. It is an easy way to get your family to eat more veggies.
Make these spinach stuffed pork chops today for an amazing dinner. This recipe is really fabulous.
I think you will be pleasantly surprised with this easy dinner. It takes only 15-20 minutes from preparation to table.
It is easy enough for a busy weeknight meal but special enough for holidays and other occasions.
Ingredients:
Boneless Center Cut Pork Chop (thick cut)
Cream Cheese, softened
Shredded Parmesan Cheese
Spinach, chopped
Thyme Leaves
Oregano
Salt and pepper
Olive Oil
How to make stuffed pork chops:
Preheat the oven. The oven should be set at 350 degrees F.
Slice the pork chops.

Gently cut a pocket into the the pork chops lengthwise to the fat line for the filling.
Combine the cheese mixture. Mix together the cream cheese, parmesan cheese, spinach, thyme and oregano in a small bowl. The mixture will be thick but this is normal.
Stuff the pork chops with the cheese mixture. Stuff each of the pork chops evenly with the cream cheese mixture.
Secure the meat. Close the edges of the pork chops. It is easiest to do this with 2 toothpicks on each pork chop.
Season the pork chops thoroughly. Sprinkle the seasoning on the outside of the pork chops with the salt and pepper.
Get out a cast iron skillet. Preheat it the skillet over medium high heat.
Heat the olive oil. Once, you have heated the oil in the cast iron skillet, place the pork chops directly on the cast iron pan. Cook for 2 minutes per side.
Bake the pork chops. Move the pork chops to the oven and bake for 5 to 7 minutes until the pork reaches an internal temperature of 145 degrees F. The cook time will vary based on the thickness of the pork chops.
Allow to rest. Remove the pork and put on a plate. Let it rest for 5 to 10 minutes. Then serve warm and enjoy!
Jump to recipe below for complete details including nutritional content with saturated fat information.
What to serve with baked stuffed pork chops
For more ideas, try some of these side dishes for pork chops.
How long does it take to cook pork chops?
Stuffed pork chops will take a little bit longer to cook than plain pork chops. After being seared for about 2 minutes per side, they are baked for 5 to 7 minutes.
This will vary based on the size of the pork chops and how thick they are. It is wise to keep a close eye on the meat while baking to prevent overcooking them.
What should the internal temperature of stuffed pork chops be?
The internal temperature needs to be 145 degrees. It is important to make sure it is cooked thoroughly before serving.
We use a digital meat thermometer and it is super easy. Make sure to insert the meat thermometer into the pork and not the filling when checking the internal temperature.
How to prevent pork from drying out?
Sear the pork chops prior to baking. This step in the recipe helps to lock in the moisture. It only takes a few minutes in the skillet but helps tremendously.
Allow the meat to rest after cooking. Don't be tempted to cut into the pork chops as soon as they come out of the oven. Allowing the meat to rest will keep all of the juices and moisture inside. This in turn helps to keep the meat moist and not dry.
Can you make this in advance?
You can make the cheese mixture and stuff the pork chops in advance. Make sure to cover and place in the fridge.
Cook within 24 hours.
Tips for making baked stuffed pork chops:
Meat thermometer is a must. It is easy to use this and you can be certain the meat is fully cooked. Use an instant read meat thermometer to make sure that the pork chops are cooked to a safe temperature.
Keep a close eye on the pork. Watch the pork carefully while it cooks. The cream cheese will get soft and some might run out while cooking.
Boneless pork chops work best. It is much easier to use boneless pork loin chops in this recipe. If you decide to use bone in pork chops, keep in mind they will take longer to cook.
Use a sharp knife. Using a dull knife will make it difficult to split the meat prior to stuffing with the cheese. Make sure that you use a well sharpened knife.
Don't overcook the pork chops. Keep a close eye on them as oven times can vary. You do not want to cook them too long and dry out the meat.
Cooking time varies. The thickness and size of your pork chops will determine how long the meat will cook.
Don't overfill the pork chops. While tempting, do not add extra cheese filling. It will spill out while baking and be very messy and difficult to handle.
Variation:
Baking dish. If you do not have a cast iron skillet or oven proof skillet to use, transfer the meat. You can finish cooking the pork chops in a baking dish or baking sheet.
Stuffing mixture. You can use stuffing mix instead of cheese for the filling. It is also delicious and an easy change to try. I like to do this when we have stuffing leftovers.
Other seasoning. Feel free to try other types of seasoning in the cheese mixture. I think onion powder and garlic powder would taste great.
Grilled pork chops. Instead of the oven, you can grill the meat. Prepare as normal and make sure to place the toothpicks inside.

Grill using medium heat for about 4 to 5 minutes per side. Make sure the internal temp is 145 degrees.
How to store leftovers:
Place inside an airtight container and refrigerate. Just make sure to allow them to cool completely before storing.
They will last up to 3 days in the fridge.
Can you freeze?
Yes, you can freeze stuffed pork chops. Allow them to cool and place inside a freezer container or bag.
They can be frozen up to 3 months. When you are ready to eat, allow to thaw in the fridge the night before.
You can reheat in the oven until warmed all the way through. The microwave is another option. I just prefer using the oven to reheat these stuffed pork chops.
Another option is to freeze the pork chops prior to cooking.
Simply, prepare as normal but do not brown or bake. Once you have stuffed the pork chops, wrap in plastic wrap. Then wrap again in foil.
Place inside a freezer container up to 3 months. When ready to cook, allow to thaw in the fridge overnight.
When ready to cook, let the meat come to room temperature and then cook as normal. If you meal plan, this is a great recipe to use.
It is freezer friendly and turns out great. I suggest doubling the recipe. Make one for dinner and one for the freezer.
Since you have all the ingredients out anyway, it isn't any more work. Give it a try. You will be so glad to have more of this in the freezer for another great meal.
Try this for a great dinner.
I used to be intimidated by stuffed pork chops. However, now I know how easy it is to make.
Give it a try and see how quick and easy it really is. Plus, it tastes so yummy. The cheesy middle is a game changer.
I think your family will really enjoy this meal. Once you make it, this recipe will likely be on the permanent menu plan. It is that amazing and super easy to make.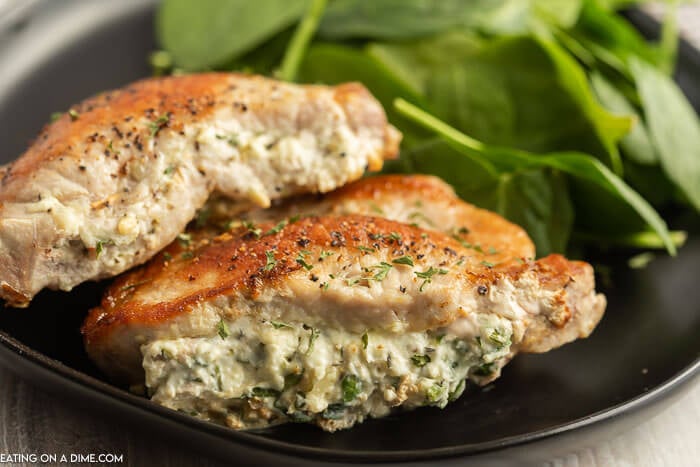 Print this Oven baked Stuffed Pork Chops recipe: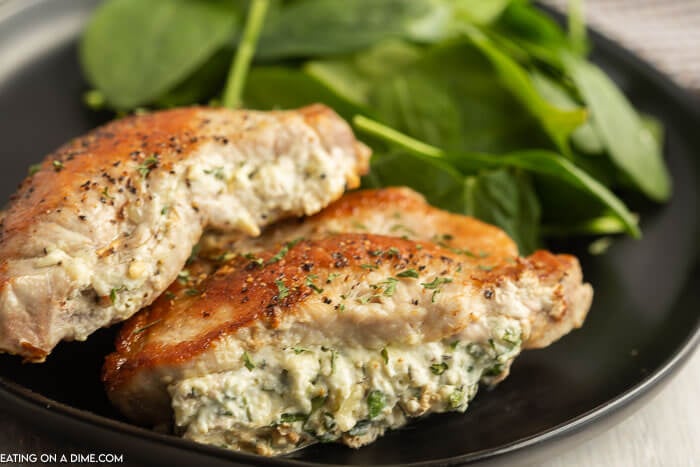 More pork chop recipes: