Crock Pot Teriyaki Pork Chops Recipe is incredibly simple and loaded with flavor. The pineapple and teriyaki sauce combine for a meal that is simply delicious! It's the perfect meal for a busy day. Let the slow cooker do all the work!
Crock Pot Teriyaki Pork Chops Recipe
Give this tasty and yummy meal a try! It's so nice coming home to dinner ready and waiting. We love meals that are made in the crockpot. Teriyaki pork chops are so tender and delicious. The sweet pineapple with the soy sauce and teriyaki make this meal oh so good!
It's great served over rice. Do you know how to freeze rice? It's so easy to grab from the freezer and reheat in minutes. This is another way I make life easier around here! Little tricks like this help to get dinner on the table fast so we can just sit and talk about the day.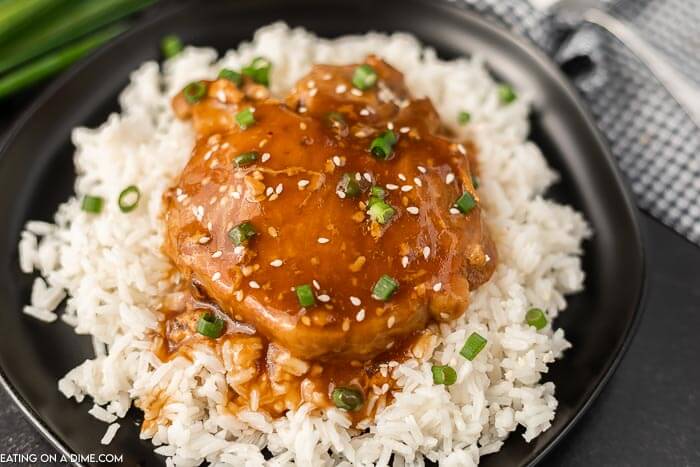 Teriyaki Pork Chops are perfect served as is.
However, if you feel like you need something green, a nice salad or side of broccoli go well. Learn how to steam broccoli in the microwave to make this even easier! My kids that are not the biggest fan of broccoli like to pour some of the delicious teriyaki sauce over the broccoli. It's so yummy! Plus, I love knowing they are getting some veggies and I didn't have to listen to a bunch of arguing. 🙂
Crock Pot Teriyaki pork chops recipe is so good and quite fabulous. I love it because we get the soy sauce and the teriyaki sauce for free or almost free all the time. This makes the recipe so budget friendly. Life is so busy and we often find ourselves running to take out or to the nearest restaurant to dine out. Whew can that add up! You will love making this quick and easy meal in the crockpot. Not only is it very inexpensive to make but SO yummy. The entire family will love this dish.
Ingredients for Slow Cooker Teriyaki pork chops:
Pork Chops
Teriyaki Sauce
Minced Garlic
Cornstarch
How to make Pork Teriyaki Recipe:
1. Place pork chops in the crockpot. Can be frozen, or not.
2. Season with the minced garlic. Pour the teriyaki sauce over the top.

3. Then mix the cornstarch into the cold water. Stir this mixture into the crock pot. Cover and cook on high for 15 minutes to thicken the sauce.
Cover and cook on high for 5-6 hours or on high for 2.5-3 hours. Make sure internal temperature is 145 degrees F.
If you are in the market for a new crockpot, this one is my favorite. I use this all the time and it's great. My favorite feature is that you can lock the lid down. This is awesome for when you need to take the crockpot somewhere. I often use the slow cooker to take dishes to potluck events and this feature is amazing! There are several others on sale here.
Another favorite is this programmable crock pot for when I am am not at home all day. I love coming home to a nice meal ready and waiting!
I also like to use crock pot liners to make clean up a breeze. These are worth every penny and save a ton of time. If you do not use liners, you might want to spray your crock pot with cooking spray.
I also really like my Ninja cooker. The nice thing about this is you can brown the meat in the same slow cooker. It is nice to just have the one pan to clean. It has become of my favorite kitchen appliances.
Whatever you use, this meal will be amazing!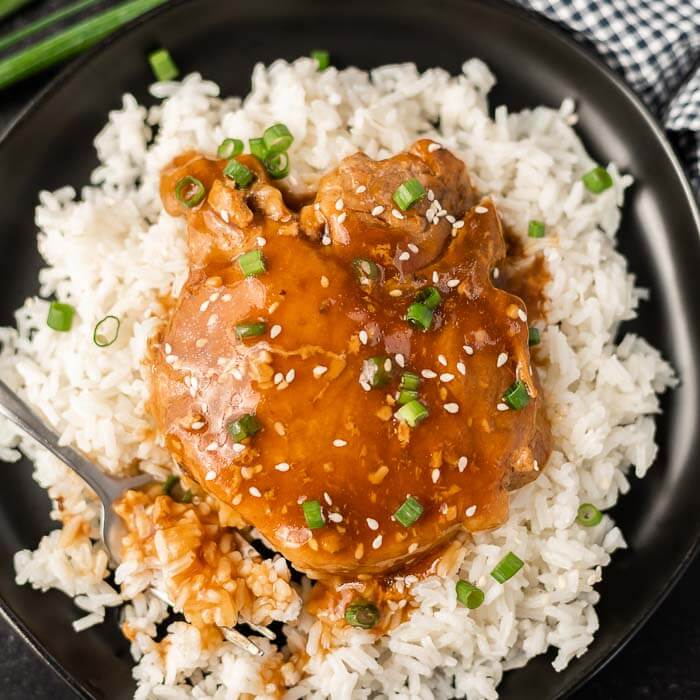 Print this Slow Cooker Teriyaki pork recipe below: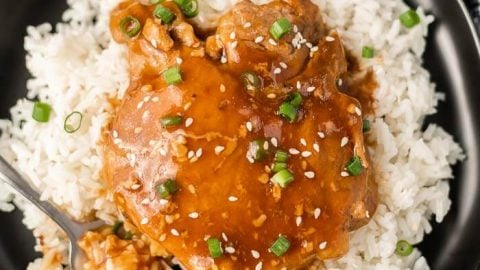 Crockpot Teriyaki Pork Chops Recipe
Crock pot teriyaki pork chops recipe is simple and delicious! Your family will gobble this up. Teriyaki pork chops with pineapple make an amazing meal. Try this Pork teriyaki recipe for a quick meal. Slow cooker teriyaki pork chops is loaded with flavor. Slow cooker teriyaki pork recipe is budget friendly!
Ingredients
6

pork chops

(bone in)

1

cup

teriyaki sauce

1

tsp

minced garlic

2

Tbsp

cornstarch

1/2

cup

cold water
Instructions
Place your pork chops in the crockpot. Sprinkle the minced garlic on top.

Pour the teriyaki sauce on top.

Cover and cook on low for 5-6 hours or on high for 2.5-3 hours until the pork reaches an internal temperature of 145 degrees F.

In a small bowl, combine the cornstarch and cold water together. Stir this mixture into the crock pot. Cover and cook on low for 15-20 minutes to thicken the sauce.

Serve the pork chops over rice with the sauce on top and enjoy!
Recipe Notes
*Be careful not to overcook the pork.  Use a meat thermometer to make sure the pork is cooked to the proper temperature. 
*Refrigerate the leftovers in an air tight container for up to 4-5 days.  
*You can also thicken the sauce with flour instead of cornstarch if you prefer.  
*You can top with green onions and sesame seeds if you prefer.  
Nutrition Facts
Serving
4
g
,
Calories
392
kcal
,
Carbohydrates
15
g
,
Protein
48
g
,
Fat
14
g
,
Saturated Fat
5
g
,
Polyunsaturated Fat
2
g
,
Monounsaturated Fat
6
g
,
Trans Fat
1
g
,
Cholesterol
135
mg
,
Sodium
2858
mg
,
Potassium
915
mg
,
Fiber
1
g
,
Sugar
10
g
,
Vitamin A
8
IU
,
Vitamin C
1
mg
,
Calcium
34
mg
,
Iron
2
mg
I actually made this the first time without any pineapple. However, as we were eating it I thought it would be fabulous to add it in. I would definitely suggest adding it if you have some. But no worries if you do not! It's just as tasty without the pineapple. The sauce is delicious. We spoon the yummy sauce over the white rice. Our kids gobbled this one up! It's also really pretty to put a few pineapple slices on top when serving. Drizzle a little olive oil. Yum! Sometimes, I add a little brown sugar. This recipe is easy and delicious!
Also, it's totally optional but it's really yummy to marinade the meat for about 30 minutes prior to placing in the slow cooker.
If you are looking for more easy and delicious crock pot dinner ideas, try Crockpot Pepper Steak Recipe. This recipe is very easy to make yet simply packed with flavor. Our entire family loves this Chinese pepper steak recipe and we have put it on the family favorite rotation list! It's better than take out!
Be sure to check out all of our delicious Crock Pot Recipes here.
Check out these other delicious slow cooker recipes: