This post may contain affiliate links. If you make a purchase through links on our site, we may earn a commission.
Crockpot Teriyaki Pork Chops Recipe is incredibly simple and loaded with flavor. The teriyaki sauce and the minced garlic combine for a meal that is simply delicious! It's the perfect meal for a busy day. Let the slow cooker do all the work.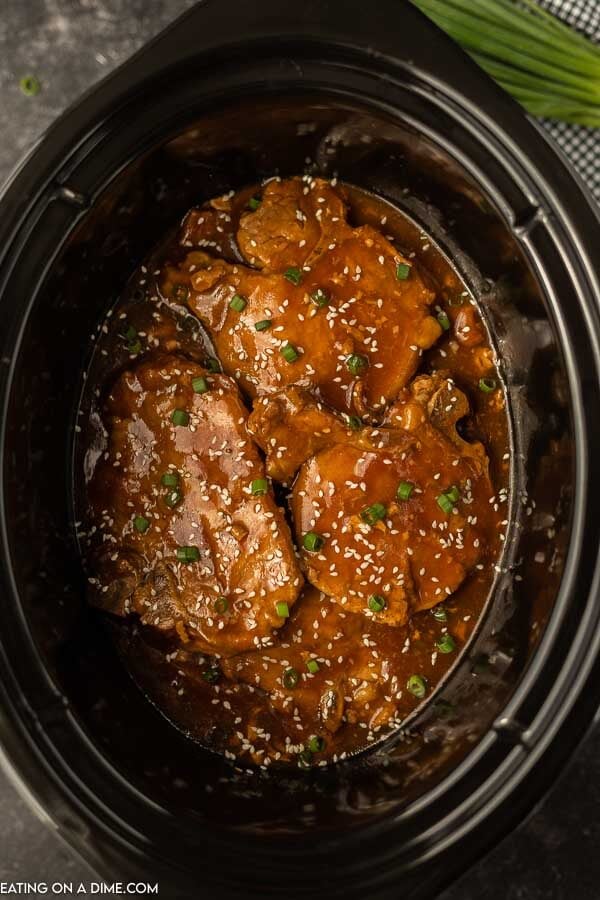 Crockpot Teriyaki Pork Chops Recipe
It's so nice coming home to dinner ready and waiting. We love meals that are made in the crockpot. Teriyaki pork chops are so tender and delicious. The teriyaki sauce combined with the garlic cooked on top of the meat makes them so flavorful.
Crockpot Teriyaki Pork Chops is an easy meal to prepare. We cook a lot of chicken at my house, so when my family knows this meal is being put in the crock pot, they look forward to dinner.
We love that this recipe only takes a few ingredients and everything goes into the crock pot. Makes this the perfect meal for a busy evening. Slow Cooker recipes are the best. You might also like our Grilled Teriyaki Pork Chops.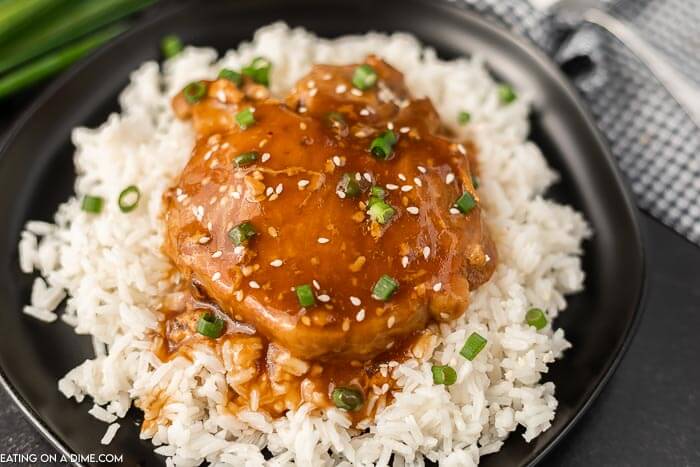 Teriyaki Sauce is perfect served as is:
These Crockpot Pork chops cooked in the teriyaki pork chops marinade results in the most tender and flavorful pork chops you will ever eat. We make this recipe with the bone-in pork chops as we think the bone give the pork chops more flavor.
The flavor that the Teriyaki Sauce gives the meat is next level. This meal can be thrown to gather in minutes and served with a side of rice and veggie. We make sure we get every last drop of the teriyaki sauce. Check out all our Crock Pot Pork Recipes.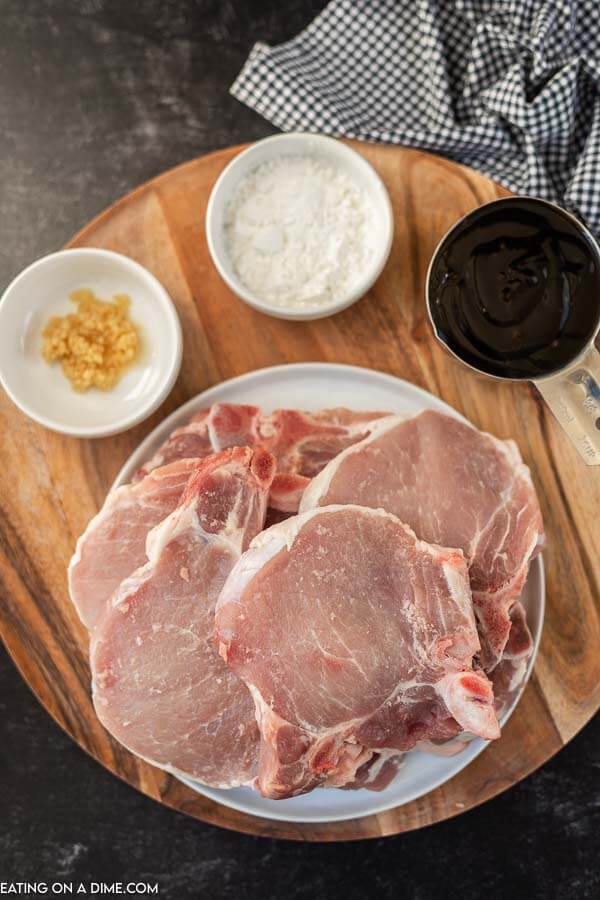 Teriyaki Pork Chops Ingredients:
Pork Chops
Teriyaki Sauce
Minced Garlic
Cornstarch
How to make Crockpot Teriyaki Pork Chops:
Place the meat in the crockpot. The meat can be frozen or thawed out.
Season with the minced garlic. Pour the teriyaki sauce over the top.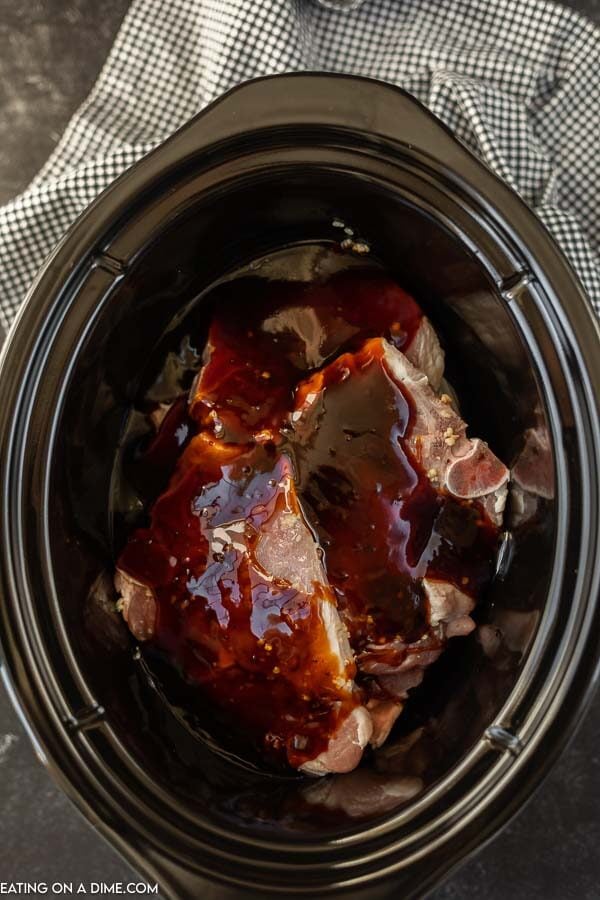 Cover and cook on high for 5-6 hours or on high for 2.5-3 hours. Make sure internal temperature is 145 degrees F. Cook time could vary.
Then mix the cornstarch into the cold water in a small bowl combine ingredients. Stir this mixture into the crock pot.
Cover and cook on high for 15 minutes to thicken the sauce.
Serve and enjoy over white rice.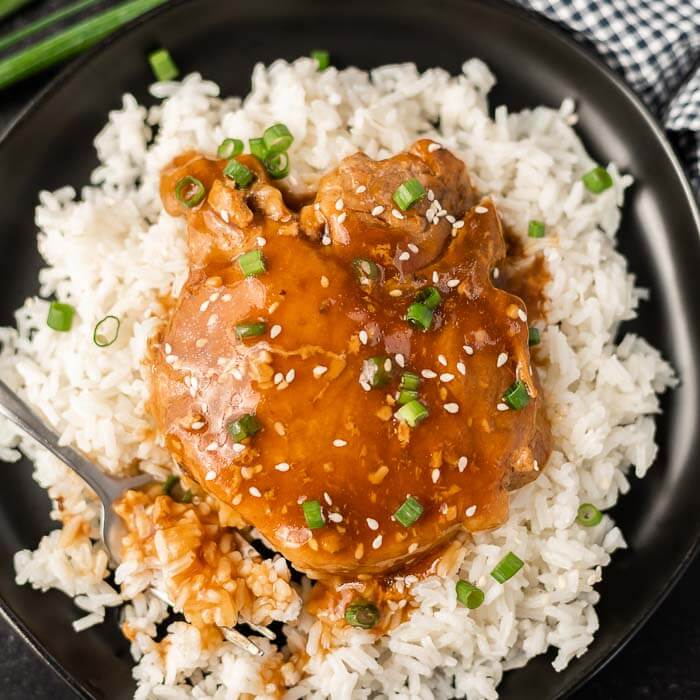 Variation Ideas for Crockpot Teriyaki Pork Chop Recipe:
Add in some Pineapple – This recipe would be great with some pineapple slices added to it. The combination of the teriyaki sauce with the pineapple really brings out the yummy flavor. I also like to sprinkle a little brown sugar on top.
Marinate the Meat – Also, it's totally optional but it's really yummy to marinade the meat for about 30 minutes prior to placing in the slow cooker. Then place the marinated pork chops in the crock pot.
Change the Protein – Teriyaki Chicken is a great alternative if you prefer. The chicken breast still come as flavorful and tender.
Use BBQ Sauce – Using BBQ Sauce instead of teriyaki gives you the sweet and spicy flavor.
Cream of Soups – This recipe would be great with cream of chicken or mushroom soups. Just substitute the teriyaki sauce with one of these soups and the meal is so creamy. If you need a little more liquid, pour in some chicken broth.
Add in Soy Sauce – We love soy sauce. Adding it with the teriyaki sauce makes this almost an Asian Recipe taste.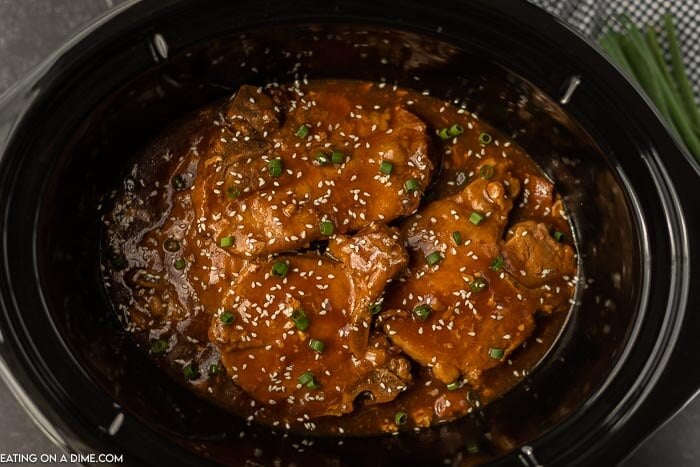 What to serve with Teriyaki Pork Chops:
Serve with Rice – It's great served over rice. Do you know how to freeze rice? It's so easy to grab from the freezer and reheat in minutes. This is another way I make life easier around here! Brown rice works great too.
Add a Vegetable – We love steamed or roasted broccoli or a side dish of cooked carrots.
Mashed Potatoes – My family loves mashed potatoes and this is a great option with this meal. The teriyaki sauce poured over the potatoes makes a great meal.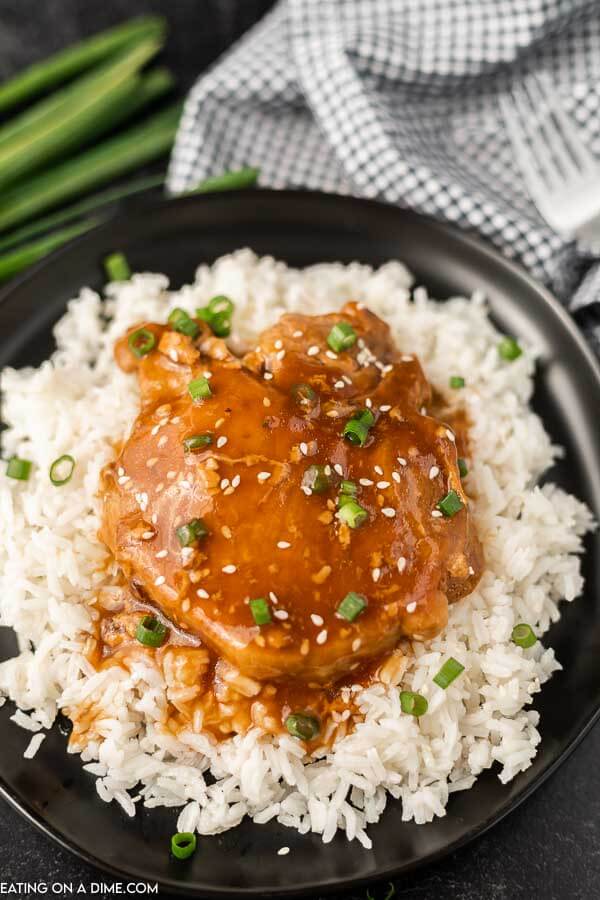 Tips for the best Teriyaki Pork Chops:
Use thicker Bone-in Pork Chops – Using bone-in results in amazingly tender and juice meat. The bone keeps the meat insulated so that it holds in the juice.
Boneless Pork Chops – Boneless Chops will work, just make sure they are thick as the thin pork chops cook to fast resulting in the pork chops drying out.
How to Store Leftovers:
This is a great meal for storing leftovers. We like to place the meal in individual containers as they make an easy lunch the next day. It saves my husband going through the drive-thru which saves time and money.
Make sure to place in air tight microwave safe container. Then once you are ready to reheat, place in the microwave and heat in 1 minute intervals until heated.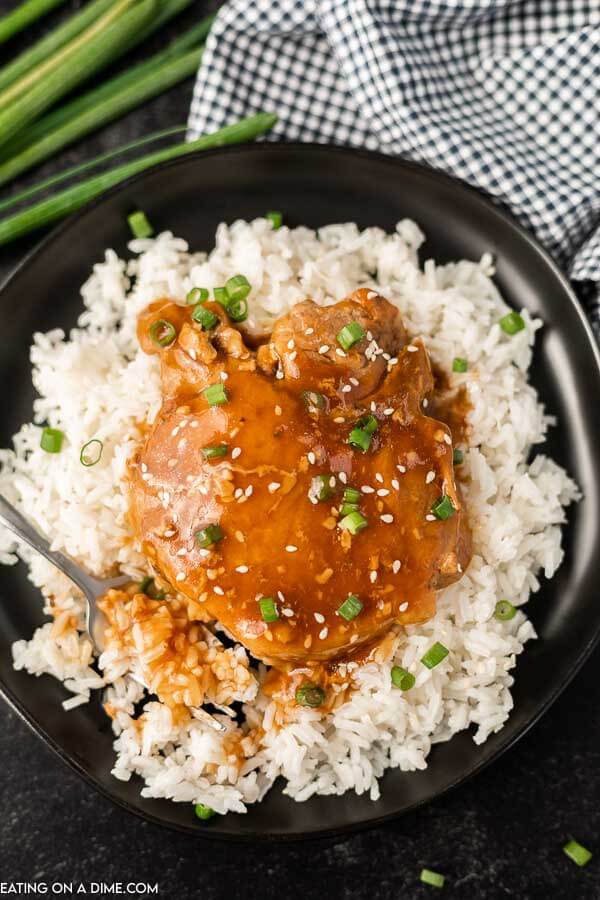 Print this Slow Cooker Teriyaki pork recipe below: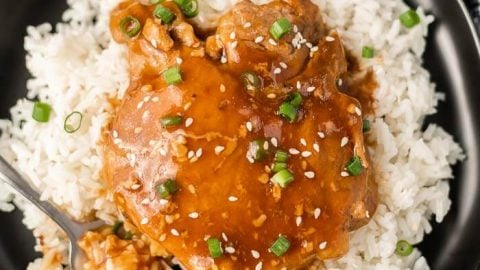 Crockpot Teriyaki Pork Chops Recipe
Crockpot teriyaki pork chops recipe is simple and delicious! Teriyaki pork chops with pineapple make an amazing meal. It is a family favorite.
Instructions
Place your pork chops in the crockpot. Sprinkle the minced garlic on top.

Pour the teriyaki sauce on top.

Cover and cook on low for 5-6 hours or on high for 2.5-3 hours until the pork reaches an internal temperature of 145 degrees F.

In a small bowl, combine the cornstarch and cold water together. Stir this mixture into the crock pot. Cover and cook on low for 15-20 minutes to thicken the sauce.

Serve the pork chops over rice with the sauce on top and enjoy!
Recipe Notes
*Be careful not to overcook the pork.  Use a meat thermometer to make sure the pork is cooked to the proper temperature. 
*Refrigerate the leftovers in an air tight container for up to 4-5 days.  
*You can also thicken the sauce with flour instead of cornstarch if you prefer.  
*You can top with green onions and sesame seeds if you prefer.  
Nutrition Facts
Serving
4
g
,
Calories
392
kcal
,
Carbohydrates
15
g
,
Protein
48
g
,
Fat
14
g
,
Saturated Fat
5
g
,
Polyunsaturated Fat
2
g
,
Monounsaturated Fat
6
g
,
Trans Fat
1
g
,
Cholesterol
135
mg
,
Sodium
2858
mg
,
Potassium
915
mg
,
Fiber
1
g
,
Sugar
10
g
,
Vitamin A
8
IU
,
Vitamin C
1
mg
,
Calcium
34
mg
,
Iron
2
mg
More Crock Pot Pork Chops Recipe: