This post may contain affiliate links. If you make a purchase through links on our site, we may earn a commission.
Crock Pot BBQ Pulled Pork is easy to make and the BBQ Pulled Pork comes out so flavorful and tender. This is the perfect recipe for your next holiday party or game day get together.
Crock Pot BBQ Pulled Pork
Pulled Pork is super easy in the slow cooker. The meat gets so tender that you can shred it with a fork. Plus, the flavor is really amazing from being slow cooked all day. Come home to a great meal thanks to this simple recipe.
From family dinner to parties, this can go along way on a budget. This is our go-to meal when you are serving for a large party as it makes a large serving. You will save a ton of money making this at home and we think it tastes better.
If your family is loves BBQ as much as mine, they are going to love this slow cooker pulled pork recipe. This recipe can be served multiple ways and great leftover.
Easy BBQ Pulled Pork
This is one my favorite meals. This is a great recipe to meal prep with. I love making this on a Sunday and serve it multiple ways during the week.
Sandwiches – We love to have Pulled Pork Sandwiches. We serve them on Hawaiian Rolls or Hamburger buns.
Bake Potatoes – Bake some Potatoes and top them with this BBQ Pulled Pork.
Mashed Potatoes – I love it BBQ Pulled by it self with some mash potatoes.
We like to setup a bake potato bar with all the toppings and everyone can make their own creation. This is a perfect meal in my house as we are all coming and going with sports practice. Everyone loves it and they get a complete meal.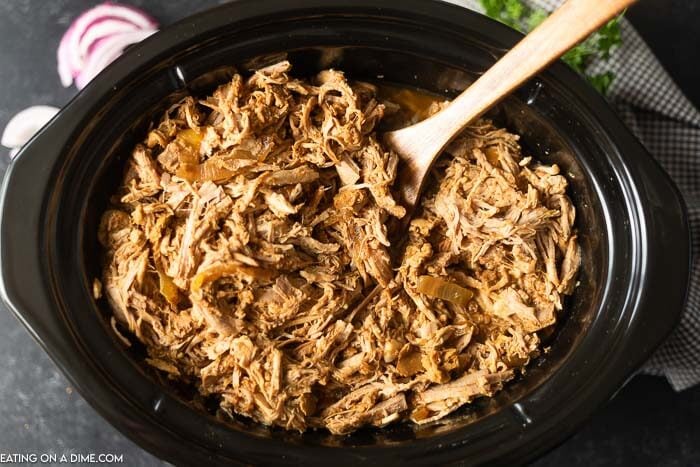 Ingredients:
Pork Shoulder
White Onion – I like to chop mine in small pieces.
Brown Sugar
Minced Garlic
Salt and pepper
Cayenne Pepper or Chili Powder (Check out our Best Cayenne Pepper Substitute for ideas)
Barbecue Sauce – You can use your favorite BBQ sauce or try homemade BBQ
Apple Cider Vinegar
Chicken Broth
This all comes together for a fabulous meal everyone will enjoy. Your friends and family will love this pork shoulder.
The end result is that BBQ Pulled Pork taste amazing and it will smell so good while it cooks. We love that the crockpot does all work.
How to make crock pot bbq pulled pork
First, put the pork shoulder in the crock pot.
Add all of the seasonings- brown sugar, garlic, salt, pepper and cayenne pepper. Rub the spice blend in good and make sure the entire pork shoulder is coated.
Second, top with the sliced onions. Now, add the barbecue sauce all over the top.
Next, pour the apple cider vinegar and the chicken broth on top of the pork shoulder.
Finally, cover and cook. I prefer to cook on low for 8-10 hours but you can cook on high for 4-5 hours if you prefer.
The pork just needs to be tender and can shred easily with a fork.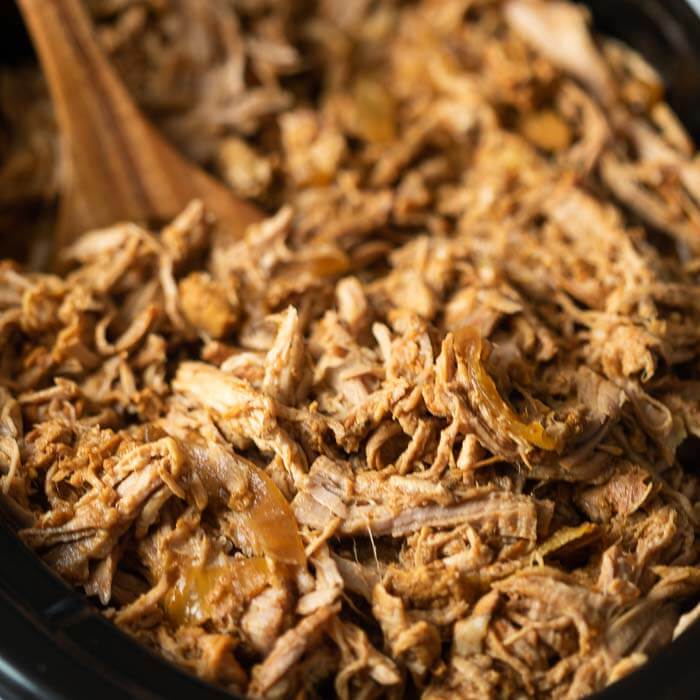 How long to cook Pulled Pork in the Crock Pot?
Cooking times could vary depending on how big or small your pork is. If your pork doesn't fall apart when you put in a fork in it, then I would keep it in a little longer.
Cook on Low 8-10 hours
Cook on High 4-5 hours
What kind of Pork to use?
We love using a Pork Shoulder when making this recipe. I just always make sure that the pork is boneless when selecting. But any of these would work:
Shoulder Roast
Pork Butt
Boston Butt
Picnic Roast
What to serve with Crock Pot Pulled Pork?
The options are endless when you are selecting your sides for this recipe.
I like to make sandwiches with hamburger buns or rolls. You can make sliders for children or if you need a smaller portion for parties. The pork is really delicious so you could even it alone. This is a great option if you are trying to reduce carbs.
Check out Pulled Pork Sides for more ideas.
Can you freeze crock pot bbq pork leftovers?
Yes! Just use a freezer bag or storage container. I actually will often buy a larger pork shoulder just to have leftovers. If you are short on space in your freezer, I would use bags so they can lay flat.
It is so handy to grab a container from the freezer for a quick lunch or dinner during the week. We have even been able to bless others with a meal during busy weeks because we already had it ready to go in the freezer.
Pulled pork lasts about 3 to 4 days in the fridge and freezing extends the shelf life by months. If you use freezer containers, the pork should last 6 months in the freezer.
I also like to use these Hands-Free Baggy Rack Storage Bag Holders. They are so helpful and it is like having another set of hands in the kitchen.
Tips for Slow cooker bbq pulled pork recipe:
Fat separator – This will help you get rid of any excess grease easily. You can very quickly remove the fat from the bbq sauce. This is a really handy kitchen gadget. It saves a bunch of time and you can do this in minutes.
Hand mixer- This meat is tender enough to use a fork to shred. However, I like to use my hand mixer to shred the meat. It's very quick and you can shred the pork shoulder super fast. Plus, I like the texture of the meat.
Variations to the BBQ Pulled Pork:
Did you know that you can pour a can of Root Beer or Dr Pepper on your pork roast and it comes out amazing?
You can follow the same recipe but simple add in a can of Root Beer or Dr Pepper for a variation of this pull pork recipe.
We have served it with the same sides with sandwiches and everyone loves it.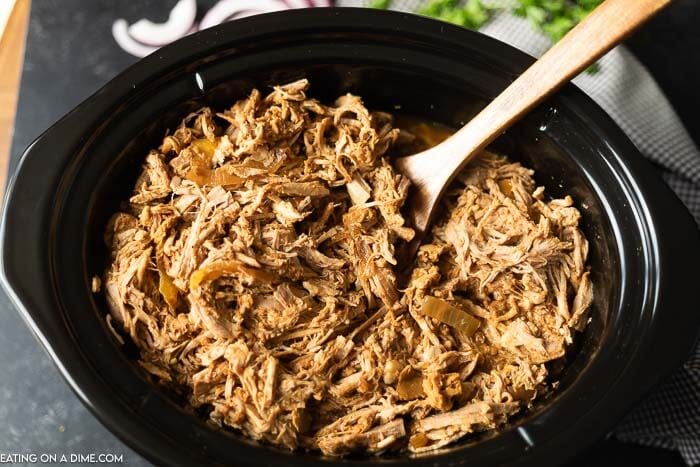 Print this bbq pulled pork crock pot recipe below:
Crock pot Pulled Pork Recipe
Crock pot bbq pulled pork is tender, flavorful and so easy. This recipe makes a lot and you can enjoy on sandwiches, over potatoes and more.
Instructions
Place the pork shoulder in the crock pot.

Season it with the brown sugar, garlic, salt, pepper and cayenne pepper.

Top with the sliced onions and pour the barbecue sauce over the top.

Then top with the apple cider vinegar and the chicken broth.

Cover and cook on low for 8-10 hours or on high for 4-5 hours until the pork shreds easily.

Shred the pork and serve it over buns or over potatoes or rice.  Enjoy!
Nutrition Facts
Calories
359
kcal
,
Carbohydrates
37
g
,
Protein
28
g
,
Fat
10
g
,
Saturated Fat
3
g
,
Cholesterol
93
mg
,
Sodium
1240
mg
,
Potassium
685
mg
,
Fiber
1
g
,
Sugar
30
g
,
Vitamin A
222
IU
,
Vitamin C
4
mg
,
Calcium
54
mg
,
Iron
2
mg
More easy bbq recipes: