I'm excited to share with you my all time favorite crock pot baked beans recipe. I call it a lazy day recipe because you practically don't have to do anything to make it! You mix together a few ingredients, toss it in the crock pot, and you have delicious baked beans to enjoy!
I have the new crock pot casserole dish and I'm loving it! I bought mine on Amazon, and it is perfect for the Holidays but I'm really loving it in the Summer.
My family can still enjoy all our favorite casserole recipes without ever turning the oven on. That is awesome because who doesn't crave comfort food even when it is hotter out side?
If you end up purchasing a  crock pot casserole dish , make sure you try some of these other recipes that I have made in mine:
Ok, ok. Let's get back to this amazing crock pot baked beans recipe that you can make. If you don't have a crock pot casserole dish that is ok. You can make this yummy baked beans recipe in a regular 6 quart crock pot as well.
Ingredients:
3 cans of pork and beans (drained)
¾ cup of BBQ sauce (any brand)
¼ cup of brown sugar
1 fresh Jalapeño chopped (remove seeds if you want less heat)
¼ onion diced (use a chopper)
10 slices of Bacon
How to make Crock pot Baked beans recipe:
Spray the inside of your crock pot casserole dish with non-stick cooking spray.
In a mixing bowl, combine the pork and beans, the bbq sauce, brown sugar, jalapeños and diced onions. Mix well.
Chop half the bacon into pieces. I like to fry the bacon slightly before adding it in. Fold in the chopped bacon.
Pour the mixture into the crock pot casserole dish.
Place the whole slices of bacon on the top of the pork and beans.
Place lid on top and cook on high for 2 hours or low for 4 hours.
Allow to sit for 15 minutes slightly uncovered and serve. (the longer it sits the thicker the beans get)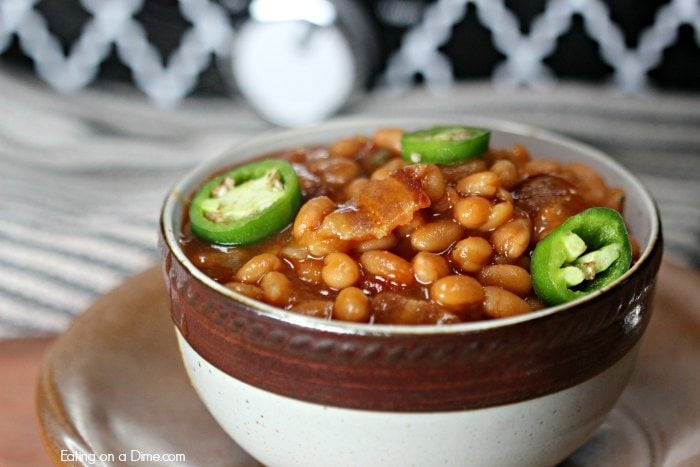 Print the recipe below:
Lazy Day Crock Pot Baked Beans Recipe
Ingredients
3 cans of pork and beans (drained)
¾ cup of BBQ sauce (any brand)
¼ cup of brown sugar
1 fresh Jalapeño chopped (remove seeds if you want less heat)
¼ onion diced (use a chopper)
10 slices of Bacon
Instructions
Spray the inside of your crock pot casserole dish with non-stick cooking spray.
In a mixing bowl, combine the pork and beans, the bbq sauce, brown sugar, jalapeños and diced onions. Mix well.
Chop half the bacon into pieces. I like to fry the bacon slightly before adding it in. Fold in the chopped bacon.
Pour the mixture into the crock pot casserole dish.
Place the whole slices of bacon on the top of the pork and beans.
Place lid on top and cook on high for 2 hours or low for 4 hours.
Allow to sit for 15 minutes slightly uncovered and serve. (the longer it sits the thicker the beans get)
Try these other crock pot recipes: