This post may contain affiliate links. If you make a purchase through links on our site, we may earn a commission.
Try making Grilled Vegetables Foil Pack for an easy and delicious side dish idea They are healthy, frugal and so simple to prepare.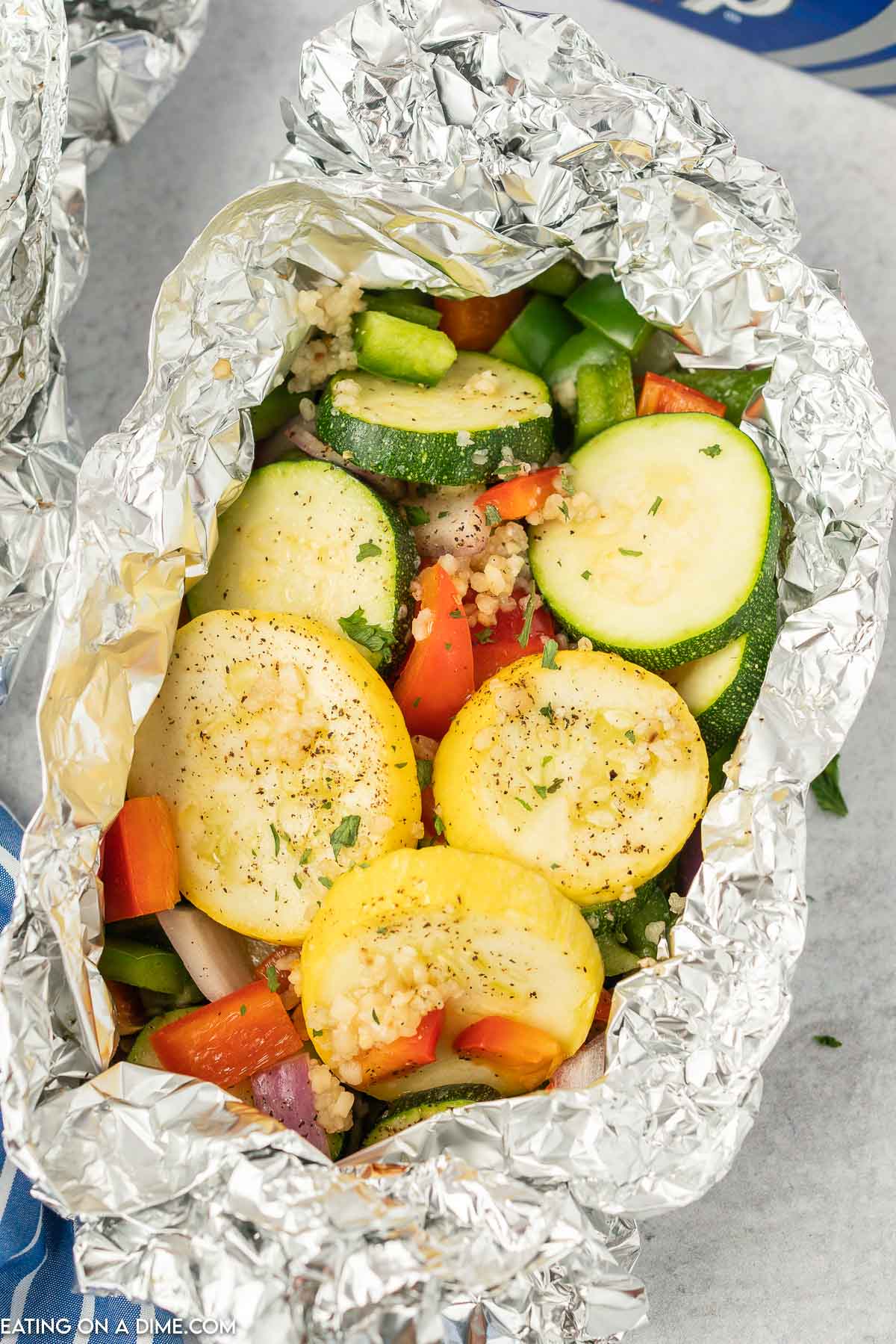 Grilled Vegetables in Foil Pack
We love making these simple and easy Grilled Vegetables Foil Packs. They are so versatile that you can make it your own.
My favorite part is how healthy it is! I have made these several different ways, and they all turned great.
If you have family members that love onions but some that do not, just omit the onions from their foil pack. This is such an easy recipe and you don't need a grilling basket!
If you loved our Grilled Zucchini Foil Packs Recipe or Grilled Brussel Sprouts in Foil, you will definitely love Grilled Vegetables Foil Pack. We love to grill and the flavor is amazing.
Another favorite is grilled corn on the cob.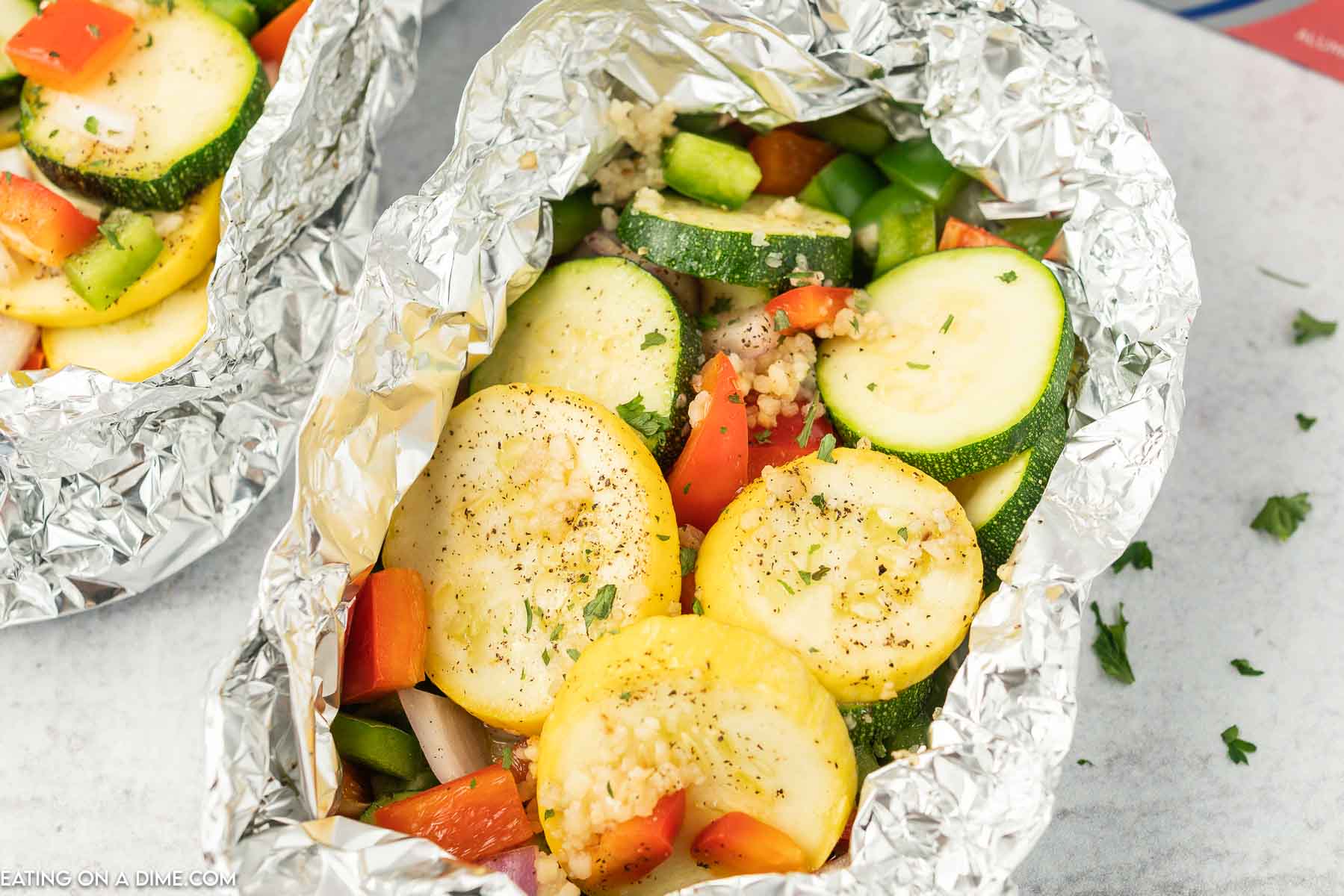 Foil Wrapped Veggies make clean up a breeze!
We love foil pack recipes and during the Summer they are on constant rotation around here. Whether we are making Foil Pack Grilled Potatoes or Foil Packet Bacon Ranch Chicken Recipe, dinner time is so easy with these foil pack recipes.
There is literally no clean up at all which is amazing and you just can't beat the flavor from the grill. No need to heat up the kitchen during those hot summer months when you can just cook dinner on the grill!
What are the best vegetables to grill?
Zucchini
Squash
Bell pepper
Onion
Mushroom
Sweet potatoes
Brussel sprouts
Grilled Carrots
Grilled asparagus
Everything is better on the grill and clean up is so easy. We even love Grilled Green Beans.
Plus, the kitchen stays cool during those hot summer months.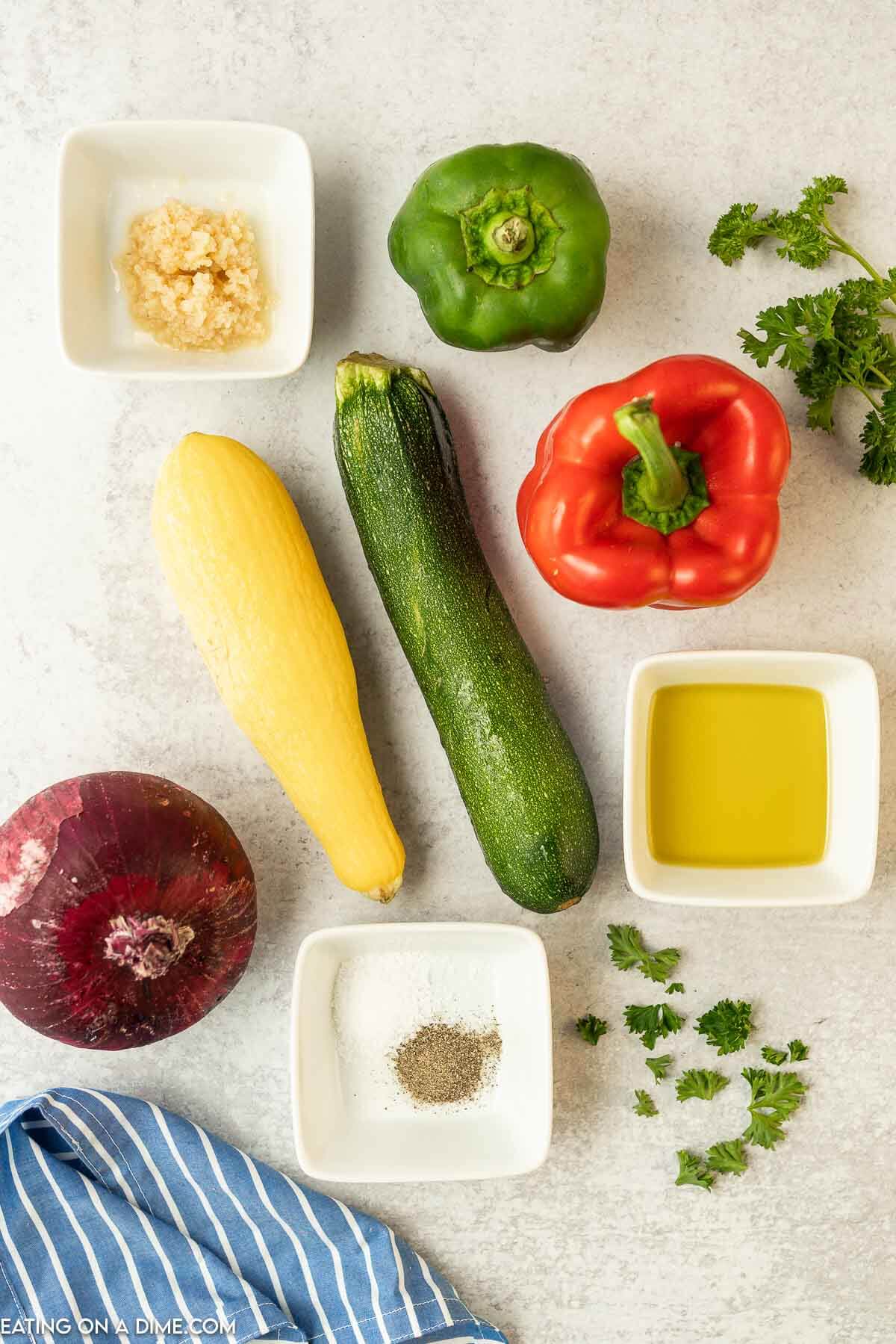 Ingredients for Easy Grilled Vegetables
zucchini
summer squash
red onion
red bell pepper
green bell pepper
salt and pepper
minced garlic
olive oil
We have also used seasoned salt before for a change. That is the beauty of this recipe because it is so simple to change and enjoy different ways.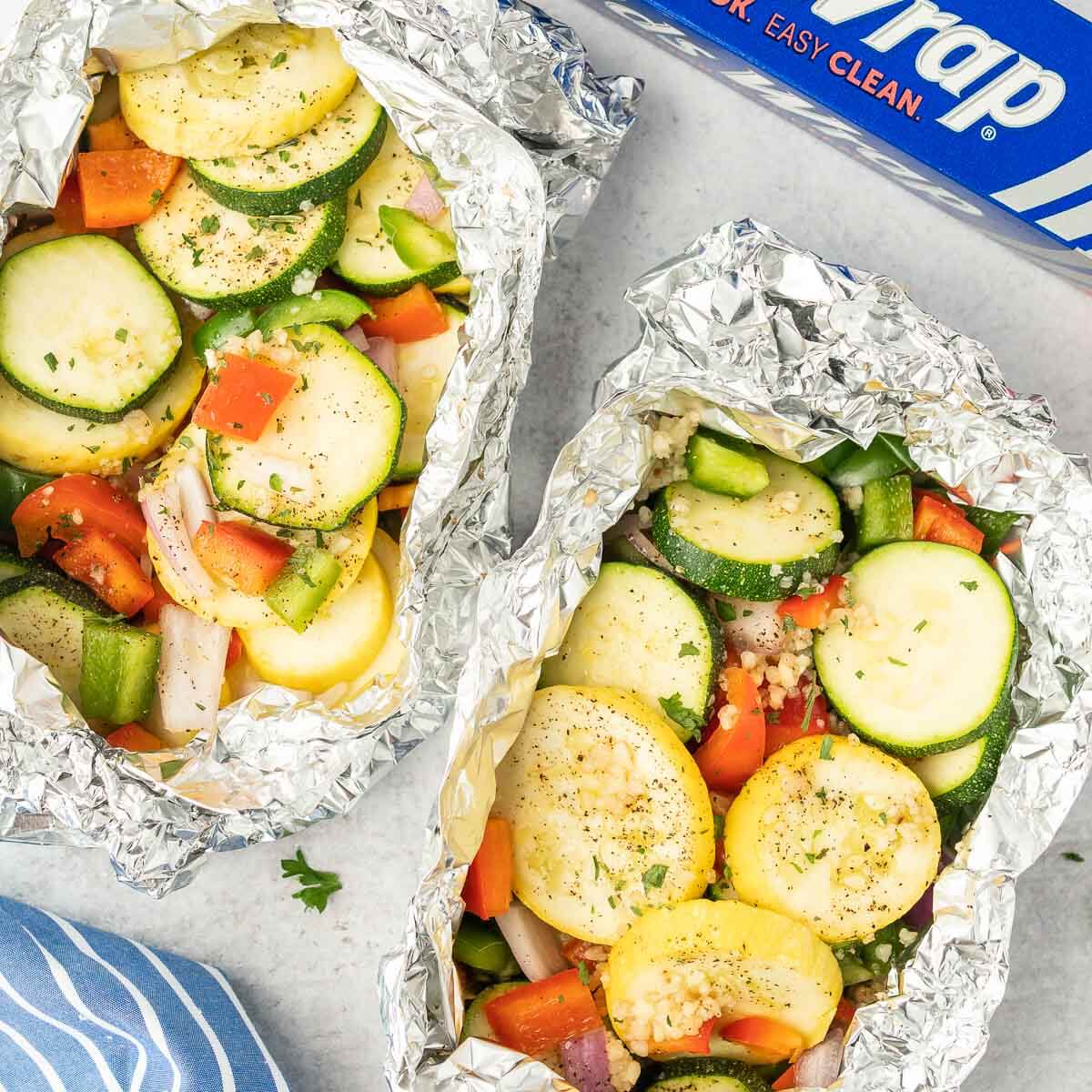 How to grill vegetables in foil with olive oil:
This is a very simple recipe without any pans to clean up.
Prepare the vegetables. Cut and slice the veggies.
Place on foil. You simply put the veggies on the foil and mix together with the olive oil and seasonings. I love that everything can be done on the foil so there is literally no clean up later.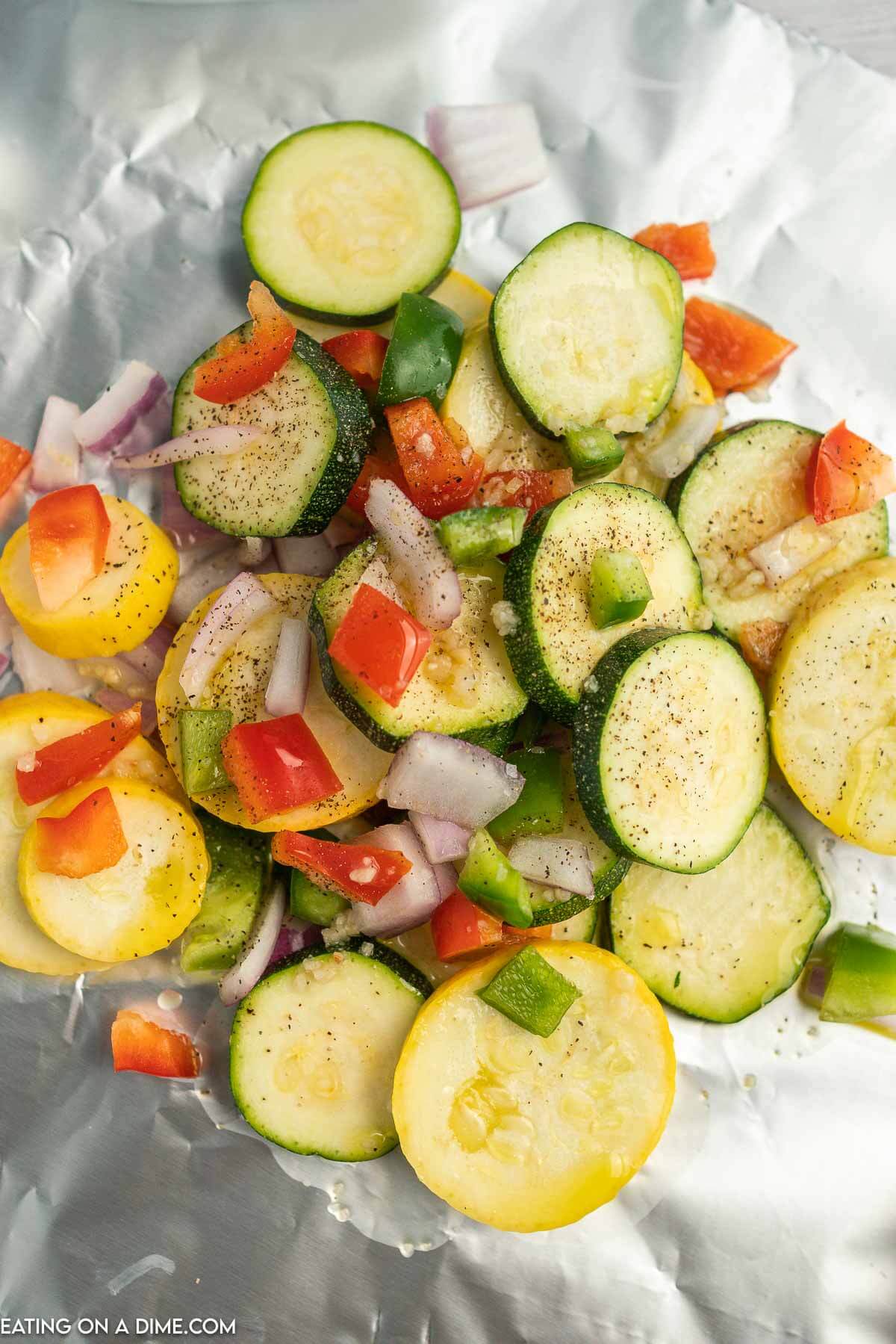 Fold the aluminum foil. Fold up the packet so that it creates a foil packet.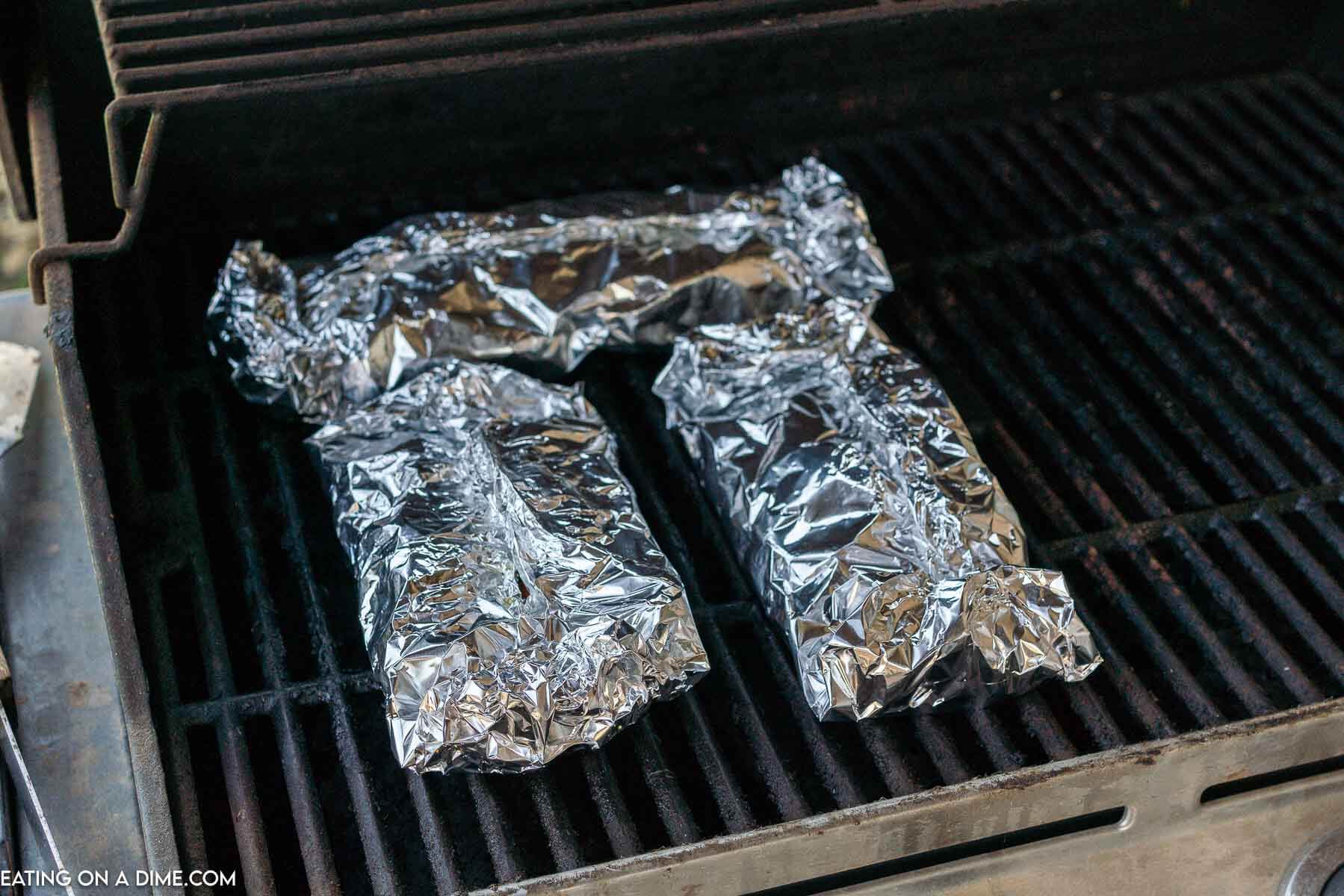 Grill the veggies. Grill just for a few minutes using medium high heat. It normally takes about 5 to 8 minutes. The veggies will have the best smoky char flavor from being grilled.
How to store leftovers:
Place the veggies in an airtight container. Refrigerate up to 5 days.
Another option is to use individual portion containers to store the grilled vegetables. This will make it so easy to grab on the go for an easy lunch to pair with chicken and more.
How to reheat:
The vegetables can be reheated using the microwave until heated through. You can also use the oven if you prefer.

Tips for grilled summer vegetables in foil:
Prevent soggy vegetables. The vegetables continue to cook after you remove the foil pack from the grill. Go ahead and open up the packet quickly and remove it right before it is done, so you don't end up with soggy vegetables.
Serve immediately. I like to eat the vegetables when they are still slightly crispy so make sure to open the packet if you prefer the same.
Foil. We recommend using heavy duty foil to make the veggie packets. This will prevent any breakage.
Grill marks. You can place the veggies directly on the grill grates if you desire to have the grill marks. Then grill about 4 minuters per side. I would slice the veggies in large pieces so they do not fall.
Can you make vegetables grilled in foil in advance?
You can go ahead and cut the veggies and prepare the foil packets. Then fire up the grill and cook when ready.
If I know I am going to be busy, I often make these the night before. It saves time the next day when ready to grill.
Seasoning ideas:
Garlic Powder. We love garlic flavor and often use garlic powder, minced garlic or garlic salt.
Fresh Herbs
Cheese. Sprinkle Parmesan cheese on the foil packs once they are cooked. Other tasty options include: Colby, Provolone and Mozzarella.
Italian Seasoning. Sprinkle this with a little oil or butter and blend into the veggies.
Oil. We used olive oil but you can use vegetable or avocado oil with the vegetables.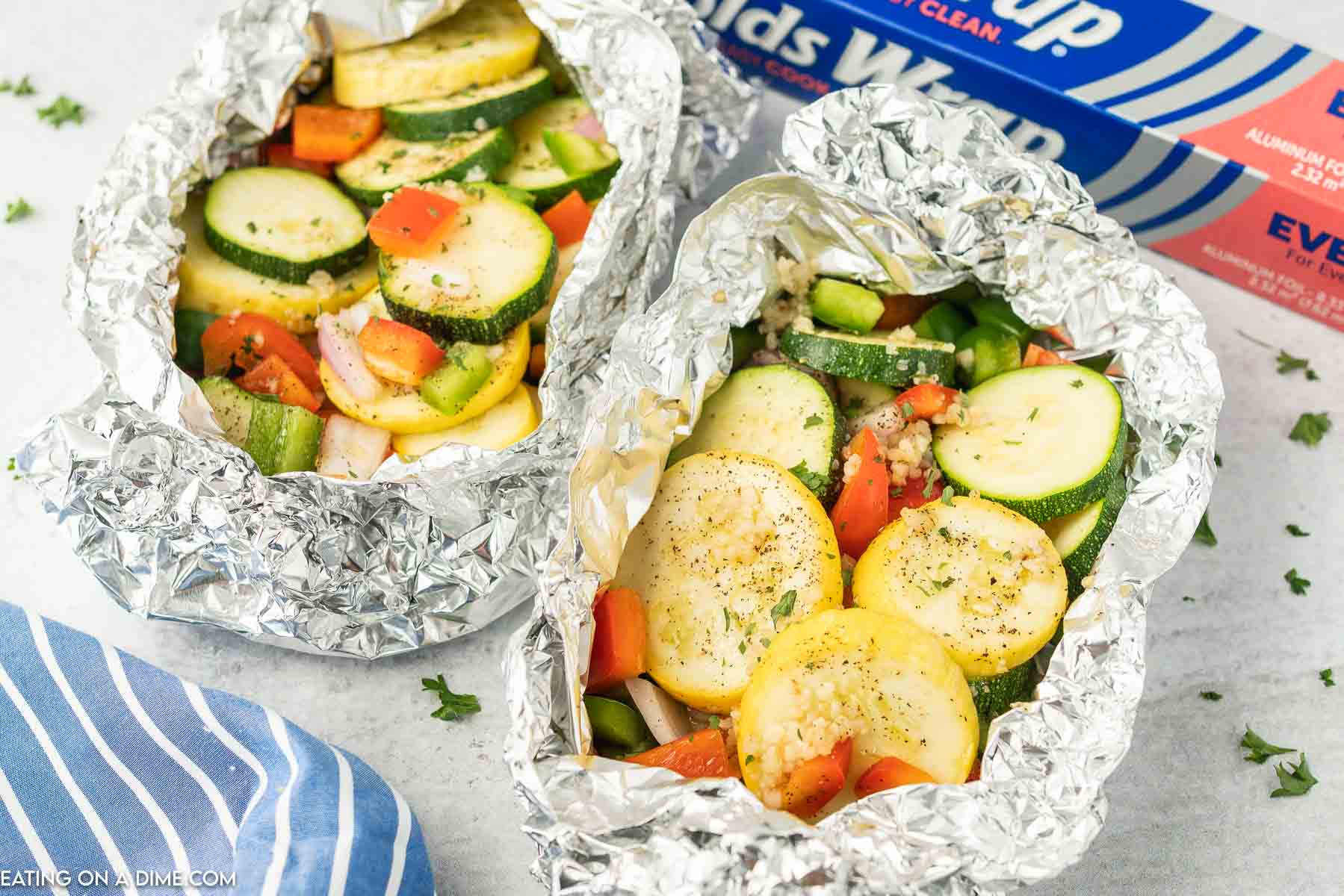 How to bake foil pack vegetables:
Preheat oven. It should be set to 350 degrees.
Prepare vegetables. Wash and slice veggies.
Add the seasoning. Use a large bowl to toss together the veggies, oil and seasoning.
Put on a baking sheet. Arrange the veggies in a single layer on a baking sheet.
Bake. Place in the oven bake at 375 degrees for 20-25 minutes or until the vegetables are tender.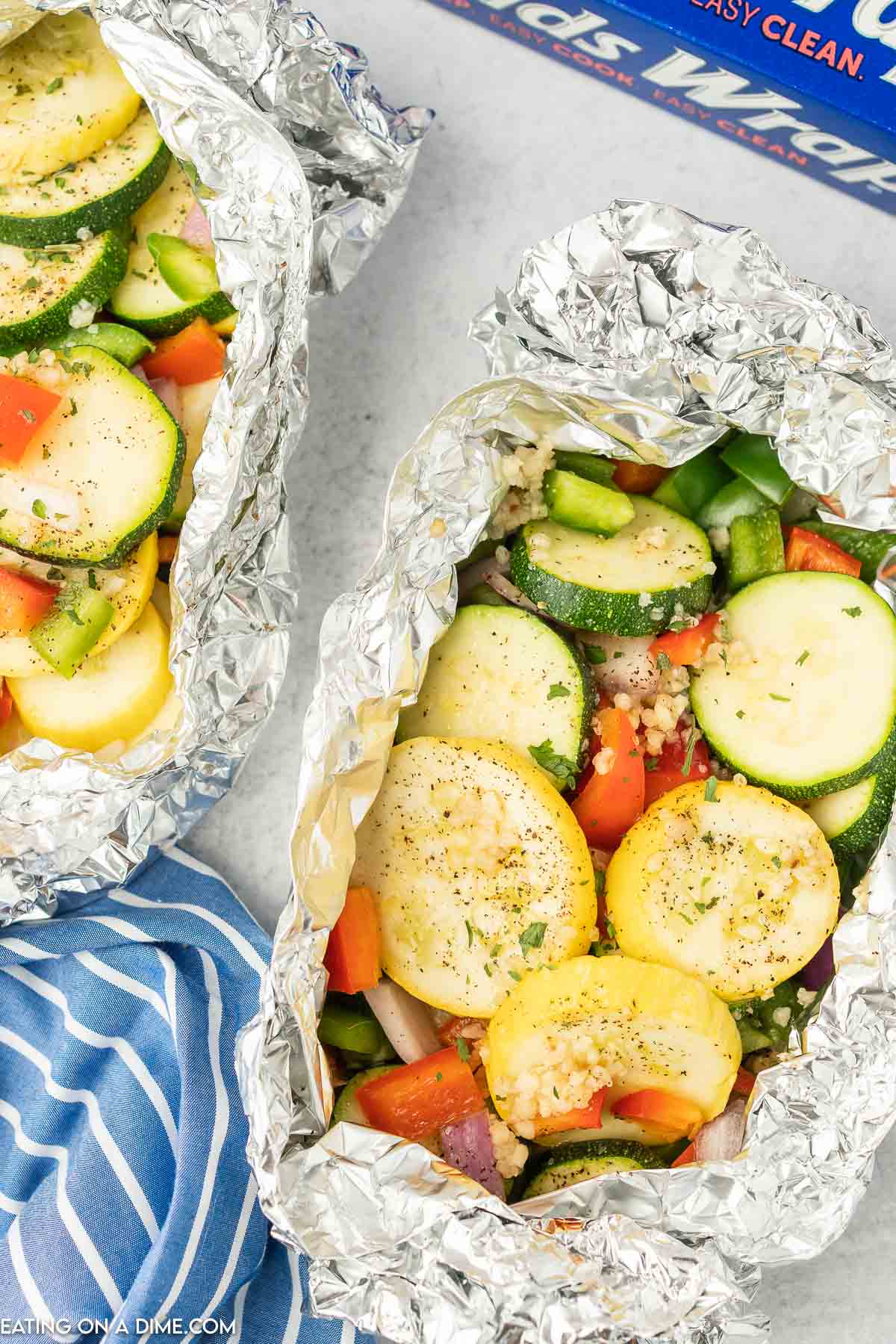 Try delicious Grilled Vegetables in foil.
This is an easy and tasty way to use veggies in the Summer when they are plentiful. Our family loves veggies cooked this way.
It is budget friendly and easy to prepare. I love how simple it is to adapt based on what you have on hand. Make this today for a super easy side dish the entire family will love.
Print this Grilled Vegetables foil pack recipe below:
Grilled Vegetables in Foil Pack Recipe
Try making Grilled Vegetables Foil Pack for an easy idea to add to your grilling or baking recipes. They are healthy, frugal and so simple to prepare.
Ingredients
1

zucchini

(thickly sliced)

1

yellow squash

(thickly sliced)

½

red onion

(cut into chunks)

1

red bell pepper

(cut into chunks)

1

green bell pepper

(cut into chunks)

1

teaspoon

salt

1

teaspoon

pepper

2

teaspoon

minced garlic

1

tablespoon

olive oil
Instructions
Lay out a large sheet of foil.

Mix the vegetables together on the foil.

Then drizzle with the olive oil.

Sprinkle with salt, pepper, and minced garlic on top of the vegetables.

Fold up the foil, making a foil packet.

Preheat the grill over medium high heat (approximately 400 degrees F). 

Place packets on the grill for about 5 to 8 minute flipping once in the middle until the vegetables are tender.

Carefully unwrap the foil packet and then the vegetables are ready to serve and enjoy!
Recipe Notes
*Refrigerate any leftovers in an airtight container for up to 5 days. 
*You can use any type of cooking oil that you prefer in this recipe.  
Nutrition Facts
Calories
47
kcal
,
Carbohydrates
5
g
,
Protein
1
g
,
Fat
2
g
,
Sodium
395
mg
,
Potassium
260
mg
,
Fiber
1
g
,
Sugar
3
g
,
Vitamin A
825
IU
,
Vitamin C
53.6
mg
,
Calcium
15
mg
,
Iron
0.4
mg
More foil packet recipes!
Try these grilled side dishes: