This post may contain affiliate links. If you make a purchase through links on our site, we may earn a commission.
Grilled Green Beans Recipe are the perfect and easy side dish. If you have foil and a grill you can make some delicious side dishes and fresh green beans are no different.
Grilled Green Beans in Foil are Delicious and Easy!
My family loves Grilled Broccoli and Grilled Brussel Sprouts so I just knew they would love grilled beans in foil. There is just something about grilling vegetables. The flavor is different and the texture is a little bit crispy.
Even my reluctant husband and kids that normally shy away from vegetables, love this side dish recipe. I use heavy duty foil and clean up is so easy. I'm telling you, grilling is the way to go because your kitchen stays clean!
The easy ingredients and simple process makes this side dish to any meal. The green beans come out full of flavor and very tasty.
These Grilled Green Beans are an easy Side Dish Recipe!
We love to grill out our fresh vegetables. They always come out so full of flavor and we love the charred, smokey flavor that the grill gives them. Grilled Green Beans is our favorite to grill.
If I have not convinced you to try fresh green beans, then you can do this with canned. Just drain them and shorten the cooking time in half. My husband was surprised by how delicious these were and he's officially a fan of grilled green beans now.
Truly, you will love these green beans. Once you try them you will understand. They are tender but a little crunchy and the grill just gives them the best flavor.
All you need is Heavy Duty Foil:
My favorite part of this recipe is that you don't need a fancy grill pan or grill basket to make these grilled green beans recipe. I love just using foil to make this easy side dish.
The foil helps steam the green beans on the grill which softens them more than compared to green beans that were placed not wrapped on the grill.
Ingredients:
Fresh Green Beans
Olive Oil, Non Stick Spray, or avocado oil
Salt and Pepper
Foil
How to Make Grilled Green Beans:
Preheat Gas Grill – Preheat the Gas Grill to 400 degrees.
Prepare Green Beans – Clean and cut the ends of the fresh green beans.
Add Green Beans to Foil – Place them on a sheet of foil.
Season the Green Beans – Add olive oil (or non stick spray) and Season with Salt and pepper. Then toss to coat the beans in the oil. You can toss them in a large bowl but I just toss them in the foil to save on dishes!
Wrap Green Beans in Foil – Fold into a aluminum foil pack. Heat your grill to medium high heat.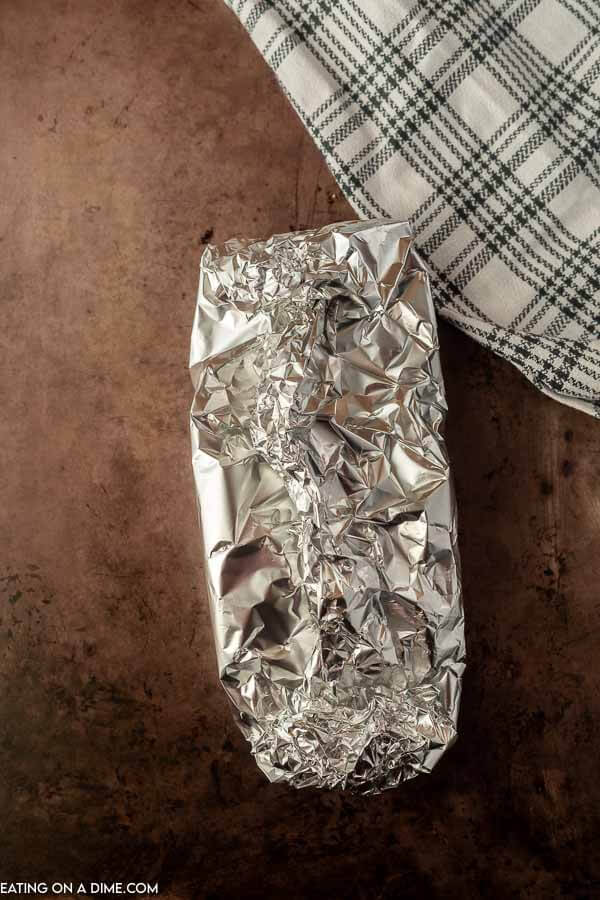 Cook Green Beans – Place the foil packet on direct heat. Close the lid on the grill. Cook for 5-8 minutes on each side on direct flames.
Check Green Beans for doneness – Carefully open the foil packet and make sure that a bean is done. Since everything is protected in your foil packet, you don't have to worry about how you place the packet on the grill grates.
Serve and Enjoy – Serve as a side to your favorite chicken, beef, steak or pork chops.
Add-ins to the Foil Pack:
We love to add in other vegetables and meats with the green beans. Cooking everything on the grill allows for an easy clean up. Grilling season is my favorite time of the year.
Add sliced squash, chopped carrots, broccoli, and new potatoes.
Chop up bacon and add to the foil back for added flavor.
Slice up summer sausage or bratwurst to the green bean foil pack.
How to Trim Green Beans:
Get about 15 green beans and place on a cutting board. Line the green beans up in a uniform manner lengthwise. It doesn't have to be perfect.
Take a Sharp Knife and with one holding the green beans and then cut the end off the green beans. I try to get right above the tip and cut.
Then line up the other end of the green beans and cut the other side of the green beans.
What to Serve with Green Beans:
These are fantastic with Balsamic Pork Tenderloin, Slow Cooker Whole Chicken, Easy Baked Tilapia and more!
Grilled Green Beans is also perfect with grilled chicken and grilled hamburgers. Add a side of rice or grilled potatoes and your meal is complete.
Tips for Grilling Green Beans:
We love that these grilling green beans don't require any fancy equipment. If you have a grill basket, you can use it but you will miss out on the charred green beans. You can easily place the green beans directly on the grill grates for an amazing side dish.
Preheat Grill – Make sure your grill is preheated to grill the green beans perfectly.
Trim Green Beans – Trim and seasoning your green beans to make the full of flavor.
Don't over grill – Grilling the green beans only takes about 5 to 8 minutes on each side.
How long do you Grill Green Beans for?
Grilled green beans do not take long to grill. With a temperature of 400 degrees, it will take about 5 to 8 minutes on each side.

Variation Ideas for Green Beans cooked on the Grill:
I love this grilled green bean recipes and you can easily change it up to make it your own!
Here are a few of my ideas:
Top with Fresh Lemon Juice, Lime Juice or soy sauce once the beans are cooked.
Use Kosher Salt instead of regular Salt in this recipe
Season with Cajun Seasoning to give the green beans a slight kick
Season with Garlic Salt, Black Pepper and Parmesan Cheese
Print your Grilled Green Bean Recipe Below:
Grilled Green Bean Side Dish Recipe
Do you need a quick side dish everyone will love? Try these tasty Grilled Green Beans. This side dish recipe is so simple and clean up is a breeze!
Instructions
Preheat the grill to 400 degrees F.

Clean and cut the ends of the fresh green beans

Place them on the center of a piece of foil.

Drizzle the olive oil over the green beans and season them with the salt, pepper and garlic powder.

Fold the foil into a foil pack around the green beans.

Place the foil packet on direct heat. Close the lid on the grill. Cook for 5-8 minutes on each side on direct flames. Carefully open the foil packet and make sure that a bean is done.

Remove from the grill and serve.
Recipe Notes
Store any leftover green beans in an airtight container in the refrigerator for up to 5 days. 
You can also make these foil pack green beans in the oven.  Bake the foil pack on a baking sheet in the oven at 400 degrees F for 20-25 minutes (flipping halfway through the cook time) until the green beans are tender.  
Nutrition Facts
Calories
45
kcal
,
Carbohydrates
6
g
,
Protein
1
g
,
Fat
3
g
,
Saturated Fat
1
g
,
Polyunsaturated Fat
1
g
,
Monounsaturated Fat
2
g
,
Sodium
199
mg
,
Potassium
164
mg
,
Fiber
2
g
,
Sugar
2
g
,
Vitamin A
522
IU
,
Vitamin C
9
mg
,
Calcium
29
mg
,
Iron
1
mg
More Green Beans Recipes:
More Grilled Side dish recipes