This post may contain affiliate links. If you make a purchase through links on our site, we may earn a commission.
Our family loves grilling recipes, especially easy ones like this grilled chicken kabob recipe. The chicken on this recipe turned out so juicy and packed with flavor. Plus, it's very simple to make!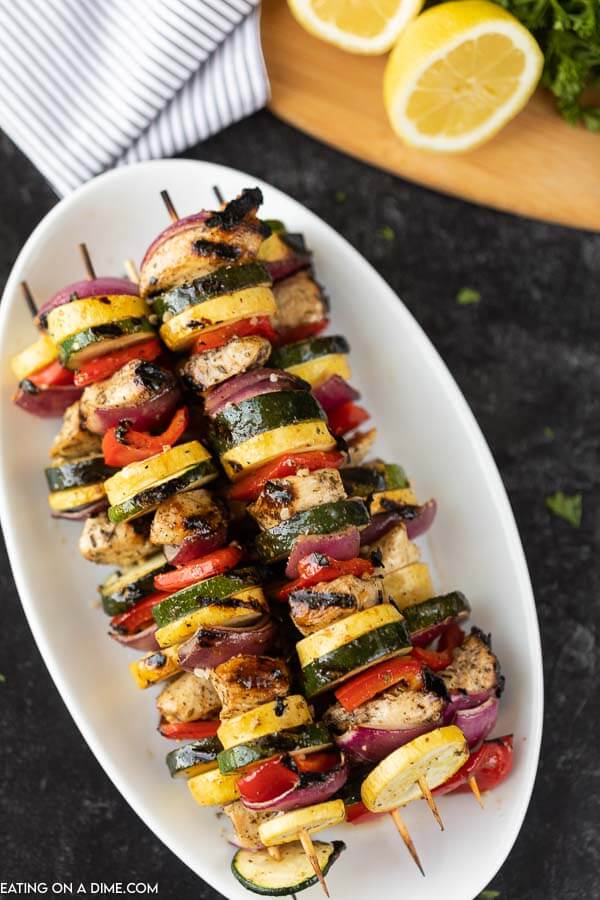 Grilled Chicken Kabob recipe
The best part about chicken kabobs is that you decide what you put on them. I love how easy it is to customize this chicken kabob recipe so that everyone is happy.
I can make it and you can make it and we have two completely different recipes. It is a win all around! If you like kabobs, you might also like our shish kabob recipe.
This is great served with Grilled Green Beans. It's also great with Parmesan Grilled Corn on the Cob. Clean up is a breeze when you cook on the grill!
Plus, the kitchen stays cool and mess free. Everyone is happy and the meal is so delicious.
Ingredients:
Chicken Breasts
Olive Oil
Red Wine Vinegar
Honey
Minced Garlic
Italian Seasoning
Salt and Pepper
Red Onion
Zucchini
Squash
Lemon
Let's make the marinade.
Whisk together in a large mixing bowl the olive oil, vinegar, honey, minced garlic and seasonings. Set aside.
How to grill chicken kabobs:
First, get the veggies and chicken ready. Cut the chicken into small pieces but not too small. I like to keep them chunky so they don't fall off the skewers. Cut the veggies and set them aside.
Tip: Go ahead and soak your skewers in water for 20 minutes if you are using wooden ones. This will prevent them from burning on the grill. before you grill the so they don't burn
Second, marinade in the chicken kabob marinade for 30 minutes to 3 hours. The longer the better for the flavors to really soak in.
Next, preheat the grill so it gets nice and hot.
Add the chicken to skewers (you can use wooden skewers but we bought some metal skewers on Amazon and they're great). At this point, you can also add other ingredients like the red onion, zucchini, squash and red bell peppers.
How long to grill chicken kabobs:

Grill on the grill, rotating them often for about 15 minutes until chicken is cooked through. We use grilling tongs so we didn't burn our hand. I have also heard that these grilling mitts work great.
The time may vary slightly depending on how large you cut the pieces of chicken and how thick each piece is.
Serve with your favorite sides!

More ideas to add to your chicken kabobs recipe:
Jazz up this chicken kabob recipe and make it your own. I thought I would give you a few ideas to jazz up these kabobs your way.
Mushrooms
Sweet sausage
Spicy sausage
Fresh jalapeños
Zucchini or Summer Squash
Bell Peppers
Onions or red onions
Steak bites
What else would you add to your grilled chicken kabobs?
I bet pineapple would be amazing too. Fruit is so tasty grilled! It really adds to the sweet and savory aspect. Yum!
Here are some easy side dish recipes:
Chicken Skewers are the best!
It doesn't have to take a ton of time to make something delicious. These simple chicken skewers are fantastic and only take a few minutes to prepare.
They are also inexpensive to make and can be made to please everyone. I have a few family members that only want chicken on their skewers. Some want extra vegetables.
This is the perfect recipe to please everyone and is sure to be a hit!
It's so easy!
We make these frequently because they are so simple. It's also a great way to stretch the meat if you are feeding a crowd.
Chicken kabobs are perfect for a party because with all the yummy veggies, it really goes a long way. Plus, it takes very little time to prepare and cook.
Don't spend all your time in the kitchen! This recipe will have you out and about with your guests. Yeah!
If you are in the market for a new gas grill, there are several grills on sale. We actually purchased ours online and it's so handy having the grill delivered to your door steps!
No struggling with trying to fit the grill in your shopping cart and then again in your car! Plus, unloading it all over again at home! We use our gas grill frequently.
I also love that it keeps the kitchen clean.
Print this grilled chicken kabob recipe below: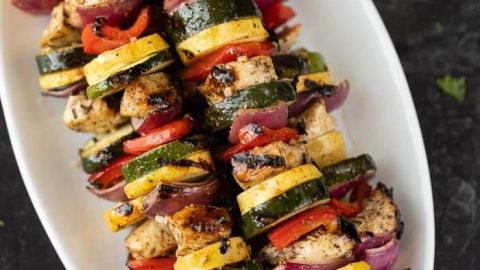 Easy Grilled Chicken Kabob Recipe
Easy Grilled Chicken Kabob Recipe. Only 2 ingredients needed for this marinade for grilled chicken kabobs.This is the best grilled BBQ Chicken Kabob recipe.
Instructions
Cut the chicken into 1-2 inch pieces. Whisk together the olive oil, vinegar, honey, garlic, Italian seasoning, salt and pepper.

Marinade the chicken with the sauce ingredients either in a bowl or a large ziplock bag. Marinade for at least 30 minutes but no more than 2 hours as the vinegar will break down the chicken.

Soak the skewers in water for at least 20 minutes.

Preheat the grill to a medium high heat and spray the grill with a non-stick cooking spray or brush the grates with olive oil to prevent the kabobs from sticking to the grill.

Prepare the kabobs by threading the chicken and veggies onto the wooden skewers until all the chicken and veggies are on the skewers.

Grill the kabobs for approximately 10-15 minutes (turning every few minutes to cook evenly) until the chicken reaches an internal temperature of 165 degrees F and the veggies are the tenderness that you prefer.

Remove the kabobs from the grill to a serving plate and serve the lemon over the top of the kabobs.
Recipe Notes
Refrigerate the leftovers in an air tight container for up to 5 days.  
Nutrition Facts
Serving
10
g
,
Calories
377
kcal
,
Carbohydrates
14
g
,
Protein
26
g
,
Fat
24
g
,
Saturated Fat
5
g
,
Trans Fat
1
g
,
Cholesterol
73
mg
,
Sodium
663
mg
,
Potassium
671
mg
,
Fiber
3
g
,
Sugar
8
g
,
Vitamin A
1238
IU
,
Vitamin C
72
mg
,
Calcium
57
mg
,
Iron
2
mg
More easy kabob recipes:
Try these other grilled chicken recipes: