This post may contain affiliate links. If you make a purchase through links on our site, we may earn a commission.
Are you ready for a simple, but amazing recipe? This Bacon Wrapped Asparagus Recipe will not disappoint and has the most amazing flavor.
Grilled Asparagus Wrapped in Bacon:
Even if you are not a fan of asparagus you need to make this. I know you will love it. Your entire family will love it. After all, who doesn't want to enjoy their veggies with bacon wrapped around it?
We love bacon wrapped vegetables and placed on the grill. Check out these other family favorite recipes. Bacon Wrapped Corn on the Cob and Bacon Wrapped Brussel Sprouts are easy and made with simple ingredients.
Make asparagus wrapped in bacon on grill for an easy side dish. You can even make Grilled Asparagus Bacon Wrapped in the oven. This is a crowd favorite side.
Should Asparagus be soaked before Grilling?
There is no need to soak the asparagus before grilling. All we do is wash and trim the asparagus before placing on the grill.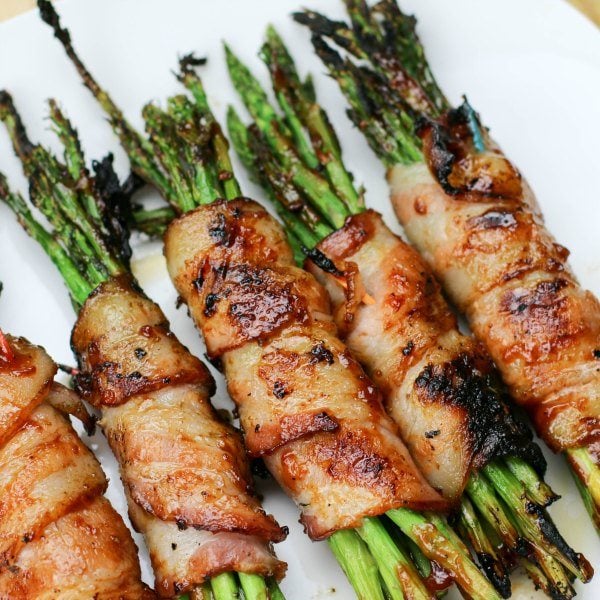 Ingredients
Bacon
Barbecue Sauce of choice (We make homemade BBQ sauce but you can certainly just use store bought.)
Asparagus Spears
Equipment needed
How to Cook Bacon Wrapped Asparagus on the grill:
This is such a simple recipe. You can make this with very little work.
Step 1 – Prepare Asparagus – Just rinse the asparagus and remove the bottom parts of the stalk.
Step 2 – Cut Pieces of Bacon – Get the bacon ready by slicing it in half.
Step 3 – Wrap the Asparagus – Take 5-6 asparagus stalks and wrap bacon around them securing with a tooth pick. Just keep doing his until you have used all of the asparagus.
Step 4 – Brush with BBQ Sauce – Now it is time to brush on the barbecue sauce. My kids like to help with this part.
Step 5 – Spray Grilling Basket – Spray your grilling basket with cooking spray and add the asparagus bundles. Place asparagus seam side down on grill.
Step 6 – Grill Asparagus – Grill on medium heat for just a few minutes or until the bacon is crispy. Salt and pepper to taste. I like extra black pepper and a dash of garlic powder on my asparagus.
Tips for Grilling Bacon Wrapped Asparagus:
Grilling Asparagus – You can put the asparagus directly on the grill grates but I don't recommend it. They can fall and it just makes it so much easier to have the basket.
Trim Asparagus – Prepare the asparagus by trim the woody ends off the ends of the asparagus. We like to trim with a sharp knife on a cutting board.
Cut Bacon – Cut the bacon in half and then wrap around the asparagus. Secure the bacon with a toothpick.
Watch Asparagus Closely – Stay close by when grilling the bacon wrapped asparagus as they can burn easily.
Cooking Time – Cooking time will vary, we will usually cook the asparagus until tender and the bacon is crisp. We recommend cooking the asparagus on a hot grill for best results.
Recipe Variations:
Sauce – We like to baste the asparagus with BBQ sauce, but you can substitute it with honey or syrup.
Turkey Bacon – If you prefer, you can use Turkey Bacon instead of regular bacon to make this bacon recipe.
Seasoning – Feel free to add seasoning to this asparagus bacon wrapped recipe. Salt and pepper, garlic, or Italian Seasoning are always good options.
How to Cook Bacon Wrapped Asparagus in the Oven:
If the weather does not permit or maybe you just don't fill like grilling, cook the asparagus in the oven. It is such an easy side dish.
Place the bacon wrapped asparagus onto a baking sheet lined with foil. You can add olive oil to the asparagus before placing in the oven.
Bake in a preheated oven to 400 degrees F for 7-10 minutes until the bacon is crispy.
Flip the asparagus halfway through the cook time so that the bacon cooks evenly.
For the last minute, we like to broil the bacon wrapped asparagus to get the bacon extra crispy.
You do not want the asparagus soggy so only leave them in the oven long enough to cook the bacon for it get crispy. This usually takes 10-12 minutes.
Print Bacon Wrapped Asparagus Recipe: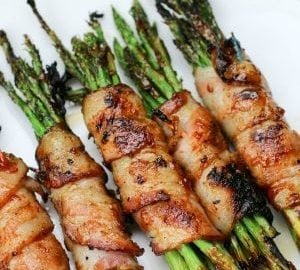 Bacon Wrapped Asparagus Recipe
Easy bacon wrapped asparagus recipe. Asparagus wrapped in bacon is easy to make and tastes amazing with this easy recipe.
Ingredients
1

package

bacon

½

cup

barbecue sauce of choice

1

pound

asparagus
Instructions
Rinse asparagus

Remove bottom parts of stalks (varies 1-2 inches)

Remove bacon slices from package and slice in half

Take 5-6 asparagus stalks and wrap bacon around them securing with a tooth pick. Repeat until all asparagus is used.

Next lather bacon with barbecue sauce

Fire up your grill

Coat a grilling basket with non-stick spray

Line the basket with the asparagus bundles

Grill on medium heat for 5-6 minutes each side or until bacon is crisp.
Recipe Notes
Bacon makes everything better. You will love this bacon wrapped asparagus!
Nutrition Facts
Calories
217
kcal
,
Carbohydrates
8
g
,
Protein
6
g
,
Fat
17
g
,
Saturated Fat
5
g
,
Cholesterol
29
mg
,
Sodium
440
mg
,
Potassium
212
mg
,
Fiber
1
g
,
Sugar
5
g
,
Vitamin A
390
IU
,
Vitamin C
2.6
mg
,
Calcium
18
mg
,
Iron
1.2
mg
Try these Other Asparagus Recipes: