This post may contain affiliate links. If you make a purchase through links on our site, we may earn a commission.
Learn how to steam broccoli in microwave. This easy and healthy side dish takes only 3 minutes!

How to steam broccoli in microwave
My friend Kasey taught me this easy trick on how to steam broccoli in the microwave. The best part… it took only 3 minutes to make!
Now, I know most of you know that I am all about easy. From 20 minutes meals and 4 ingredient cookies, I love everything in the kitchen to be easy.
I've always steamed by broccoli on the stove, but not anymore. Steaming broccoli in the microwave is EASIER and takes half the time for perfectly steamed broccoli.
We love serving this with Pineapple Chicken Recipe.
How to microwave broccoli:
Wash and chop your fresh broccoli to bite size pieces.
I actually do this right when we get home from the grocery store. Less chopping during dinner times saves me a mess and time in the kitchen.
Add the broccoli to a microwave save dish and cover the bowl with a lid. I try to avoid plastic wrap in the microwave so make sure to use a microwave safe lid.
I used my trusty corningware that has lasted for years. For our family I used a 1 ½ quart dish and it worked great. If you are cooking just a single serving then use a smaller container.
Note: Some recipes call for 1 inch of water to be in the bowl. The microwave brings the water to a boil to steam the broccoli. However, I have tested it and found it isn't needed.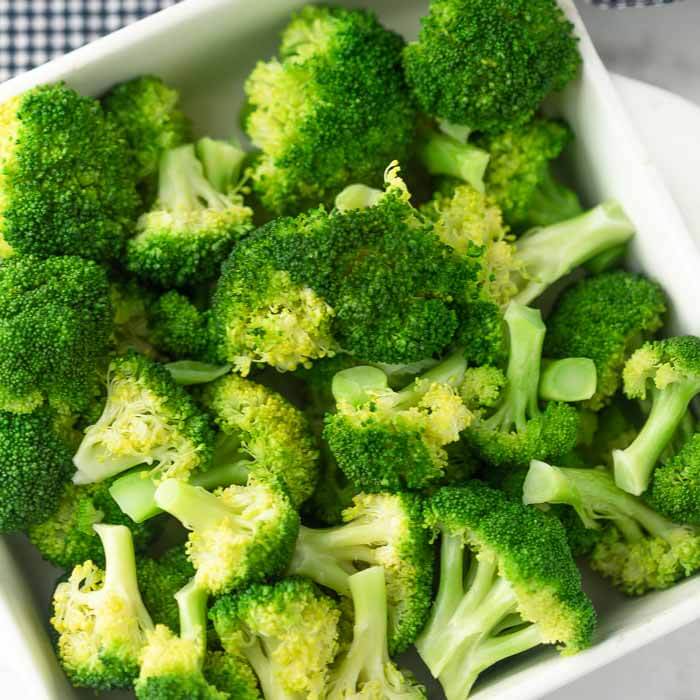 How long to steam broccoli in microwave:
Place the lid on and microwave on high for 3 minutes until the broccoli is tender. This worked perfectly for our 1.5 quart dish that was pretty much full.
If you are cooking less adjust your time. If you are cooking one serving (about a cup of chopped) then it should just take just 1 to 2 minutes to cook.
Remove from microwave and season accordingly. We love just salt and pepper. You can also add olive oil or cheese sauce if you prefer.
Now you know how to cook broccoli in microwave!
Grab some chopped broccoli florets and enjoy steamed broccoli in minutes. Cooking broccoli is so easy.
No need for a steamer basket. Just grab a microwave safe bowl.

It is really that easy!
Now whether you want an easy side dish with lunch or an easy side dish with a crock pot recipe you are set to have a delicious vegetable on your table in under 3 minutes…. no excuses!
This is the easiest way to cook broccoli and it's bright green and crisp tender every time.
What goes with steamed broccoli?
The ideas are endless with this delicious side dish. It is so easy and we like to keep everything else simple as well.
Some of our favorites include:

Buy broccoli fresh, not frozen and you will save more money. We eat it the most when it is in season so it is cheaper. Broccoli tends to be cheaper in the winter months.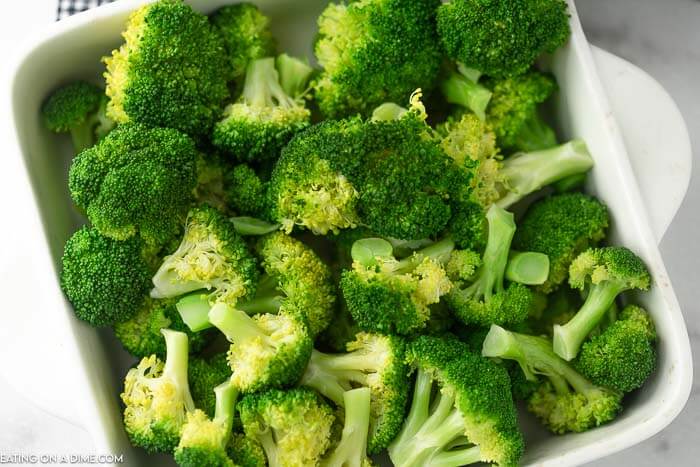 How to Store the Leftovers:
Refrigerate the leftovers in an air tight container for up to 3-4 days. The broccolis does get a little softer when it's store so I prefer fresh.
Reheat it in the microwave in 20 second intervals until heated through.
Can you use frozen broccoli?
Yes, you can use frozen broccoli in this recipe. You may need to adjust the cook time based on the size of the broccoli florets.
I still do not add water when using frozen broccoli for this recipe.
Try and it and let us know what you think!
Let us know how this turns out for you. I really think you will love how easy this is and how the broccoli turns out.
This is such an easy way to cook broccoli.
Print this easy broccoli recipe:
How to Microwave Broccoli
Learn How to Steam Broccoli in the Microwave in under 3 minutes. It just takes 3 minutes with no water to make the perfectly steamed broccoli.
Instructions
Place the chopped broccoli in a microwave safe bowl with a lid. If you don't have a container, you can use a microwave safe bowl and cover it with a plate. That's what I did and it worked great!

Cook in the microwave for 3-4 minutes until the broccoli is the tenderness that you desire.

Remove the broccoli from the microwave, season with the salt and pepper and enjoy!
Nutrition Facts
Calories
104
kcal
,
Carbohydrates
20
g
,
Protein
9
g
,
Fat
1
g
,
Saturated Fat
1
g
,
Sodium
391
mg
,
Potassium
961
mg
,
Fiber
8
g
,
Sugar
5
g
,
Vitamin A
1894
IU
,
Vitamin C
271
mg
,
Calcium
143
mg
,
Iron
2
mg
You might like these other broccoli recipes:
Try these other easy side dish recipes: