This post may contain affiliate links. If you make a purchase through links on our site, we may earn a commission.
This grilled broccoli recipe is simple and delicious without much work. The texture is amazing with perfectly crispy edges.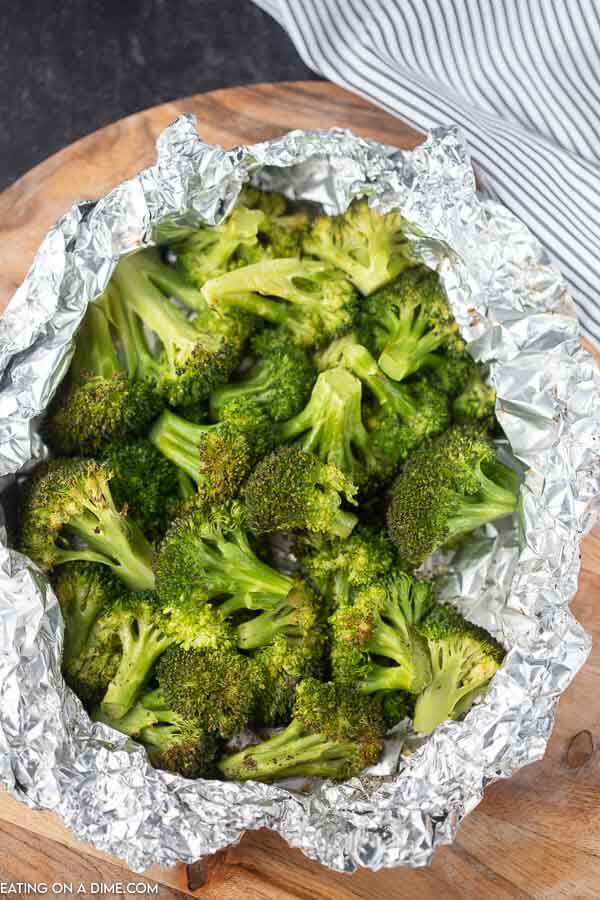 Grilled broccoli recipe
We have grilled just about everything so I decided to give broccoli a try. I am so glad I finally tried it on the grill!
This easy Grilled broccoli recipe was easy, fast and delicious. The broccoli is packed with flavor from being grilled and the crispy edges just make it so much better!
In fact, even the kiddos that do not normally like broccoli enjoyed this easy side dish. The texture is just different so give it a try even if broccoli isn't your favorite.
The best part… no clean up! My secret is to use heavy duty foil! It holds up really well and makes clean up a breeze. If you use regular foil, I would double it so it does not break. That is one mess you don't want to clean up.
We also love to make Grilled Green Beans because they are SO good! My picky kids' can't get enough of these! I also learned how to grill corn on the cob and they love that too!
There is just something about the grill. Everything tastes better.
Easy grilled broccoli is a must try!
Trust me that you are going to love this…..even the kids! We like ours a little crispy so I grill it a little longer. You could just as easy reduce the time for your preference.
I find the kids like it better when it's crispy so that' s just what we do. It's the perfect side that doesn't take long, requires no clean up and is so easy. It can't get any easier!
What goes with this side dish?
We love it with this Easy Grilled Chicken Kabob Recipe or Brown Sugar Baked Chicken. It really goes with just about anything!
Ingredients:
How to grill broccoli:
First, spray non stick cooking spray on the foil.
Chop the broccoli into small pieces and put on foil.
Sprinkle salt and pepper over the broccoli. Add the butter on top. If you prefer any other seasonings, add them now.
Finally, make a foil pack by folding the edges.
Put on the grill to medium heat for about 5 minutes per side. If you don't like it so crispy, reduce the cooking time. It is easy to adapt to your taste.
FLAVOR VARIATIONS:
I thought I would give you a few ways to jazz up your broccoli for an even more fun side dish. The ideas are truly endless with broccoli and you can make so many different flavor combinations.
No matter how you like your broccoli, you have to try it on the grill.
TIPS FOR THE PERFECT BROCCOLI:
Print this Easy Grilled Broccoli Recipe below:
Easy Grilled Broccoli Side Dish recipe
You will love how easy this Grilled Broccoli Side Dish recipe is. The entire family will love this easy grilled broccoli recipe! It's packed with flavor!
Instructions
Spray a large piece of aluminum foil with a non-stick cooking spray.

Chop up your broccoli into bite size pieces and place on the center of the aluminum foil.

Season with salt and pepper and top with butter.

Fold the foil around the broccoli to make a foil pack.

Grill over medium high heat for approximately 8-10 minutes (flipping part way) depending on how tender you like your broccoli.
Recipe Notes
This broccoli can also be cooked in the oven at 400 degrees F for approximately 10-12 minutes until the broccoli is the tenderness that you prefer.  
Nutrition Facts
Calories
60
kcal
,
Carbohydrates
5
g
,
Protein
2
g
,
Fat
4
g
,
Saturated Fat
2
g
,
Trans Fat
1
g
,
Cholesterol
10
mg
,
Sodium
252
mg
,
Potassium
242
mg
,
Fiber
2
g
,
Sugar
1
g
,
Vitamin A
589
IU
,
Vitamin C
67
mg
,
Calcium
38
mg
,
Iron
1
mg
More easy grilled side dish recipes: