This post may contain affiliate links. If you make a purchase through links on our site, we may earn a commission.
Cheese sauce for pretzels is so easy to make. Use this delicious sauce for pretzels, broccoli, nachos and more.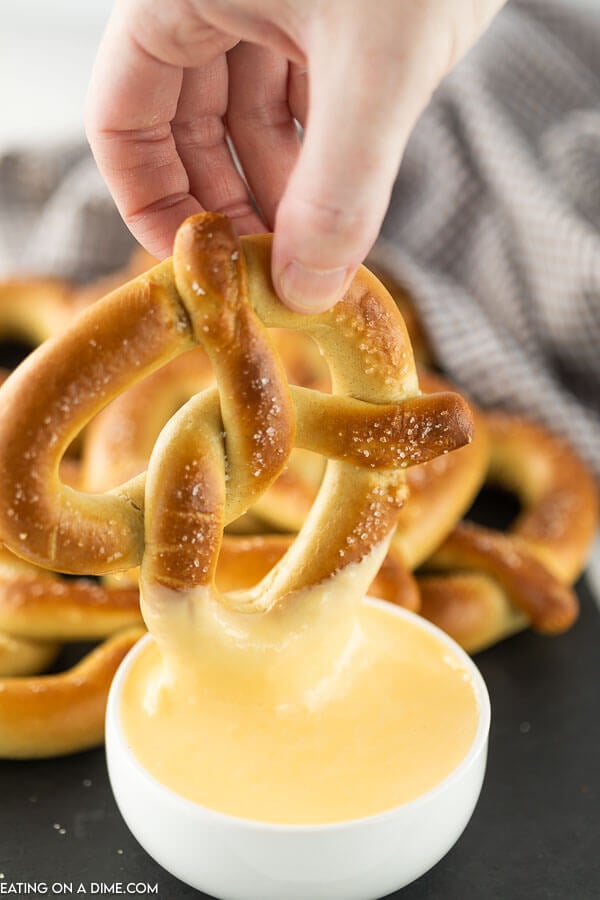 Cheese sauce for pretzels
As promised, yesterday I shared our family's favorite snack – Homemade pretzels bites. The kids devour them. I'm all about that dipping sauce so of course cheese dip is a must.
I made it and it worked perfectly for the homemade pretzel bites. In fact…. it was wonderful and tasted just like Auntie Anne's cheese sauce that they give you with their pretzels!
This simple and easy recipe completely solves the problem of delicious creamy cheese sauce for your pretzels. Once you try this cheese sauce recipe, you will never buy store bought cheese sauce again.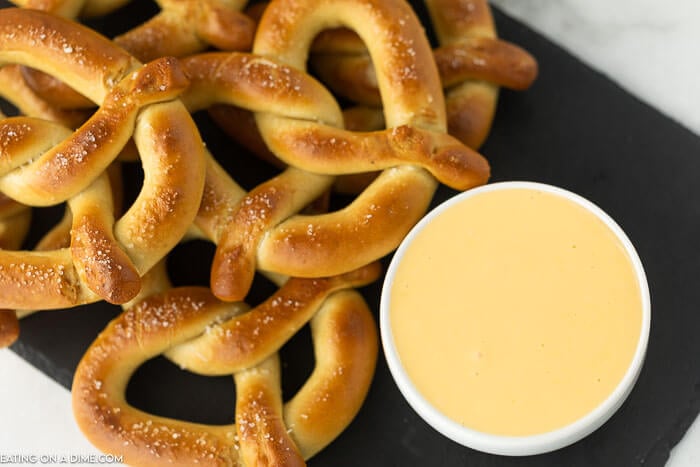 Perfect appetizer for Game Day!
We love to have friends and family over to watch the big game. We may not always know what is going on with the game, but we really are more concerned with the food.
This cheese sauce is always the hit of the party. It is usually the first item gone as everything that we are serving can be dipped in it.
Plus with these simple ingredients and simple process I always have the ingredients on hand to make this cheese dip.
Let's make pretzel cheese sauce!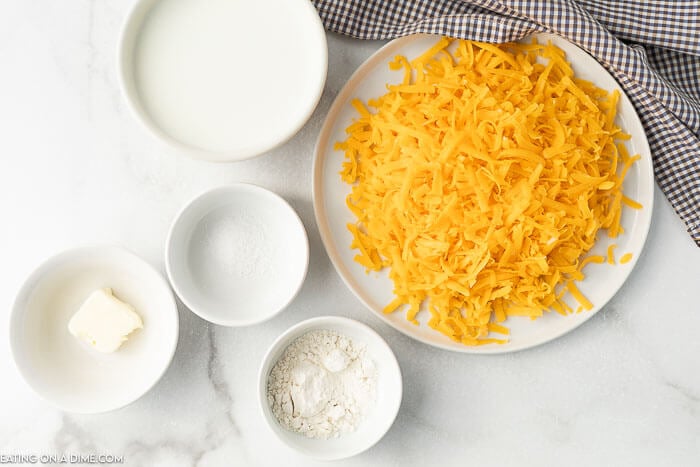 Ingredients for easy cheese sauce
Butter – Either unsalted or salted butter works for this recipe.

Flour – I use unbleached all purpose flour.

Whole Milk – I have found that whole milk works the best but you can use low fat if that's all you have on hand. Heavy whip will also work in this recipe.

Shredded Cheddar Cheese – I like to use sharp cheddar cheese. I recommend shredding your own cheese so that this cheese dip is creamy and smooth.

Salt – Don't skip the salt as it brings out the flavor in all the other ingredients.
How to make cheese sauce for pretzels:
First, melt the butter in a saucepan over medium heat.
Second, whisk in the flour and keep whisking for about a minute until a thick paste forms.
Next, gradually add the milk and whisk. Let this mixture cook uncovered until it has thickend.
Now, remove from heat and add the cheese and salt.
Whisk this all together, stirring constantly, until the cheese has completely melted and the mixture is smooth.
The cheese sauce is best served right away with your favorite soft pretzels or soft pretzel Bites.
Make Beer Cheese Dip
You an also make an easy beer cheese dip with this recipe. Simply substitute half of the milk with your favorite beer.
Can you use different type of cheese for this recipe?
Yes, you can make this recipe with your favorite type of cheese to make this recipe your own.
Generally, I make it with cheddar cheese for more of a traditional flavor but this recipe would be great with white cheddar, Monterey Jack or Pepper Jack Cheese as well for a little kick.
No matter what type of cheese you use for this recipe, I recommend shredding it yourself so that it melts evenly.
Tips for pretzel cheese dip:
If the cheese sauce is too thick, add in more milk gradually until the cheese sauce is the consistency that you prefer.

You can add cream cheese to the mixture for a richer consistency. I would start with a tablespoon when you add the shredded cheese.

Add a dash of hot sauce or cayenne pepper if you like things spicy.

Now if you are going to make a big batch, I highly recommend a double boiler to melt your cheese. It will go much smoother and will melt more evenly. Trust me… I've learned from experience!

Mustard cheese dip: Add a Tablespoon or two of mustard.

Crock Pot– Normally we will make this dip in the double boiler, and then we like to keep it warm in a mini dipper crockpot. We just love them because it keeps the dip warm and smooth.

Serve with Chips – These are great with pretzels, but we also love it drizzled over fritos, spicy chips, or tortilla chips.
How to Store Leftovers:
Store the leftovers in an air tight container in the refrigerator for up to 1 week.
The cheese sauce will harden as it sits, so I recommend adding a small amount of milk when reheating the sauce to thin it back out and make it smooth and creamy again.
Can I freeze this?
I do not recommend freezing this cheese dip recipe as the texture from frozen will be different as well as the flavor.
How to make ahead and reheat?
You can definitely make this cheese sauce ahead of time and reheat. If we do have leftovers, we put it in air tight container and place in the refrigerator.
Then either place it in the microwave or on the stove to reheat. Just continue stirring while you are reheating so that there is no cold spots.
How to keep warm?
We like to put this cheese sauce in the crock pot to keep warm. This is great way to serve it if you have a family get together or a game day party.
Everyone loves this cheese sauce and there are so many items you use it for. Rather it is for dipping or topping your favorite vegetables.
More ways to use this cheese sauce recipe:
This delicious sauce isn't just for pretzels. It is delicious on many different things.
Give it a try. You won't be disappointed.
This is the best cheese sauce for pretzels!
I think you will agree once you try this cheese dip recipe. Once you make this, you will see why it is one of our favorite dipping sauces.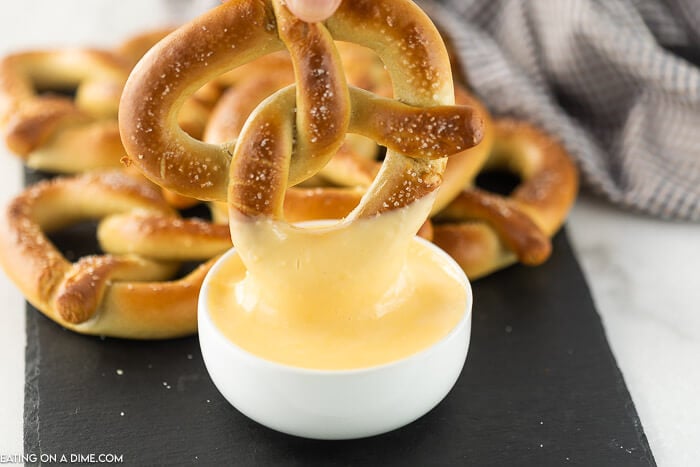 Make cheese dipping sauce for pretzels!
It is better than anything store bought and super easy to make. You can make a ton for a fraction of the price of the grocery store.
You most definitely will save money compared to buying those small containers of cheese sauce at the pretzel store.
Give it a try and let us know how it turned out. I think you and your family will really enjoy it.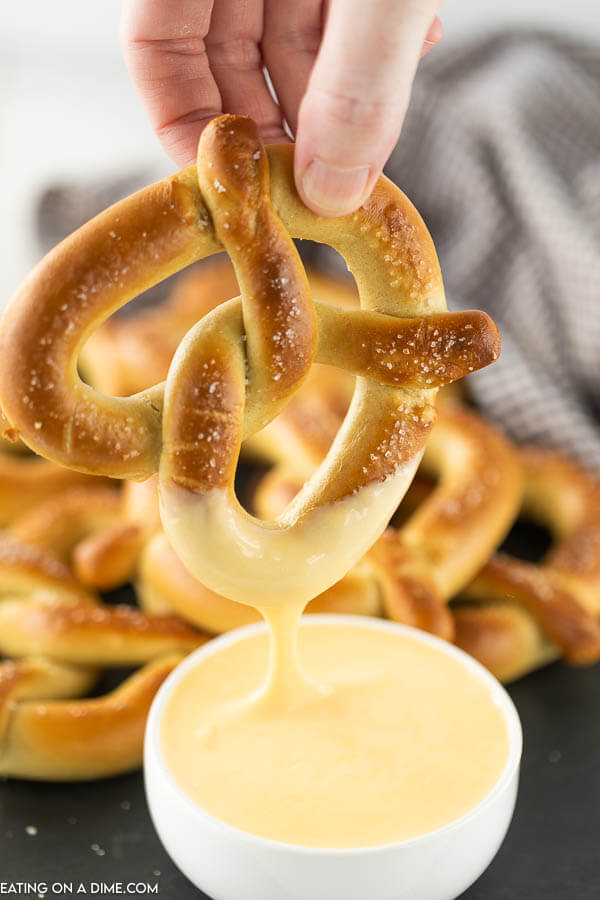 Print this Easy Pretzel Cheese dip recipe:
Cheese Sauce for Pretzels
Best Recipe for Cheese Sauce for Pretzels – only two ingredients to make this cheese – perfect for dipping your soft pretzels.
Instructions
Melt the butter in a large saucepan over medium heat.  Whisk in the flour and continue whisking for approximately 1 minute until a thick paste is formed.

Then gradually whisk in the milk and cook uncovered until the mixture has thickened.

Remove the pan from the heat and then whisk in the cheddar cheese and salt. Whisk until the cheese is melted and the mixture is smooth.

Serve immediately and store leftovers in an air tight container in the refrigerator for up to one week.
Recipe Notes
If the cheese sauce is too thick, add in more milk gradually until the cheese sauce is the consistency that you prefer.  
Nutrition Facts
Calories
122
kcal
,
Carbohydrates
3
g
,
Protein
6
g
,
Fat
9
g
,
Saturated Fat
6
g
,
Cholesterol
29
mg
,
Sodium
345
mg
,
Potassium
72
mg
,
Sugar
2
g
,
Vitamin A
313
IU
,
Calcium
182
mg
,
Iron
1
mg
More easy dips to try: