This post may contain affiliate links. If you make a purchase through links on our site, we may earn a commission.
This 4 ingredient Pepperoni Pizza Dip is one of the easiest dips around! You will wish you knew about this pizza dip a long time ago! It is the perfect low-carb version of pizza!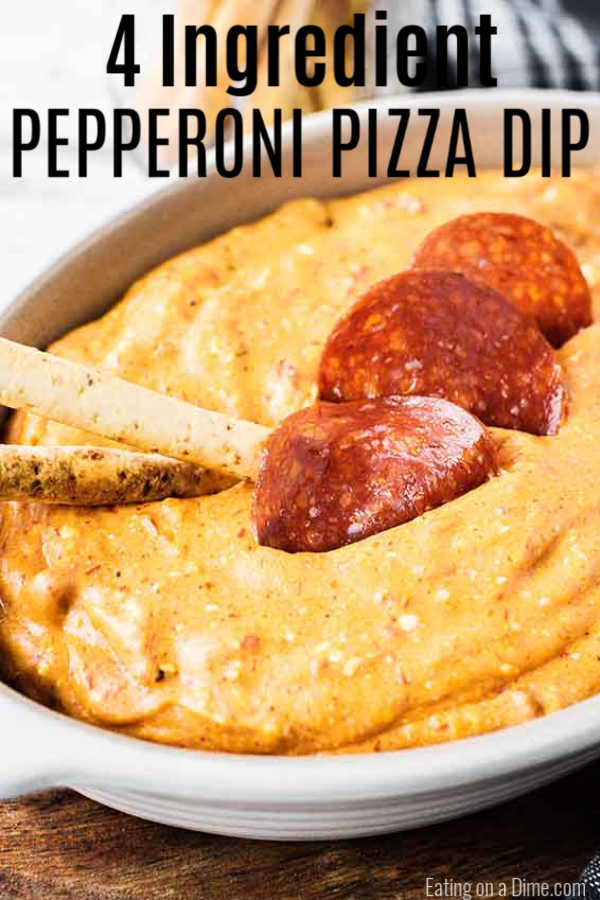 Kids love pizza, so it stands to reason a easy pizza dip recipe would be a big hit as an after school snack. Who am I kidding? I'm pretty sure I enjoy pizza night just as much, if not more than my kids do!
Pizza Dip takes everything you love about pizza and makes an easy, irresistible dip! Fortunately, this tasty Pizza Dip makes a warm, gooey and delicious dip that is just as easy to throw together as it is yummy.
You might also like Crockpot Buffalo Chicken Dip, Crack Dip or Crack Chicken Dip. We also love making this Rotel Dip Recipe.



This Pizza Dip is very frugal and a large dip that can last for days, getting rewarmed in the microwave and served throughout the week. That is, if you end up with leftovers! It makes the perfect after school snack, especially have sports practices!
Everyone loves a good appetizer! I'm pretty sure I could eat appetizers as a meal in and of themselves.
This pepperoni pizza dip is no different! One bite is all it took for me to fall in love and declare this dip as my new favorite!
I mean, how can you really go wrong with melted cheese and your favorite pizza toppings?!
What's in Pizza Dip?
One of my favorite things about this easy pizza dip is that it requires minimal ingredients. Most of them you probably already have handy. The base of this dip is cream cheese mixed with your favorite pizza toppings and of course, more cheese!
What to Serve with Pizza Dip?
Pepperoni Pizza Dip pairs nicely with a salad for a light dinner. You can also make a meal out of this pizza dip by serving it spread atop french bread. Or you could serve it with a variety of different appetizers for a finger food-themed meal.
Some of our favorite appetizers are Homemade Mozzarella Cheese Sticks, Easy Buffalo Chicken Crescent Ring Recipe, and this Bacon Wrapped Little Smokies Recipe.
Additionally, this dip is a great low-carb lunch! Serve it with sliced green peppers, parmesan cheese crisps, or even pepperoni chips! You can even use this dip as a filling to stuffed mushrooms – yum!
It is everything you love about a pizza, just without the crust!
Variation ideas to Pizza Dip
This pizza dip is so versatile! You can make multiple different versions of this dip for a pizza dip bar or for picky eaters. My kids love this dip just topped with pepperoni, but you can definitely add crumbled sausage, black olives, mushrooms, and your other favorite pizza toppings can go into this cream cheese dip base as well.
If you prefer, you can skip the store bought pasta sauces and create your own. I would suggest using a large can of crushed tomatoes and seasoning it with a little bit of garlic and oregano or Italian seasoning. For a more authentic homemade marinara, stir in a tablespoon of olive oil and about 1/3- ½ cup of grated Parmesan or Romano cheese.
Hide Veggies in this pizza dip!
It is so easy to "hide" veggies in this dip and give kids an extra dose of hidden nutrition. Shhh…. no one will know! You can make this dip for the kids for after school, but football season is coming up too!
Think about making it for parties as well and add some onions and garlic to make it more appealing to adults ( but really we all think this pizza dip is just about perfect as is!).
Can I Make Pizza Dip in a CrockPot?
We normally make this dip in the oven in a glass pie pan, and then we like to keep it warm in a mini dipper crockpot. Truthfully, I can't get enough of my mini crockpot! It keeps the dip warm and smooth.
But, you can skip the oven altogether and make crockpot pizza dip in the crockpot! Simply put all of the ingredients in the crockpot and cook on high for 1 hour. Once everything is melted and combined, turn crockpot to low and serve when you're ready!
Ingredients for Pepperoni Pizza Dip:
8 oz brick of cream cheese
1 cup shredded pizza cheese (can substitute a cup mozzarella or a combination of mozzarella and parmesan cheese)
14 oz Jar of your favorite pasta sauce or marinara sauce
½ cup pepperoni (or another favorite pizza topping)
Italian seasoning and garlic powder (Optional)
How to make Pepperoni Pizza Dip:
Preheat oven to 400 degrees.

Spread the cream cheese in the bottom of a pie plate or baking dish.

Cover with pasta or marinara sauce.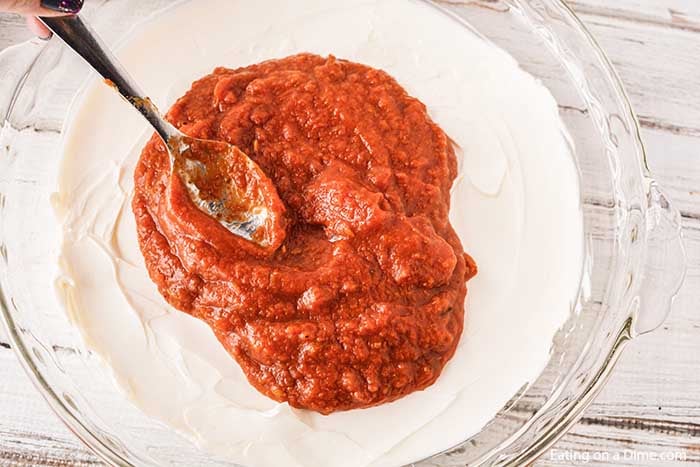 Sprinkle the mozzarella cheese on top.

Add the pepperoni or other favorite pizza toppings. If you're preparing this dip ahead of time for a party, you can cover and refrigerate it now. Just remember to bring it back to room temperature before baking.
Bake uncovered for 20 to 25 minutes.

Serve with pita chips, breadsticks, sliced baguette, tortilla chips, sliced green bell peppers, etc..

Print this Pepperoni Pizza Dip below:
Pepperoni Pizza Dip
Pepperoni Pizza Dip will be an instant hit! Don't wait for your next party to enjoy this creamy pizza dip! It is the perfect low-carb version of pizza!
Ingredients
8

ounces

Cream cheese

1

Cup

shredded mozzarella cheese

14

oz

pizza sauce

½

cup

pepperonis
Instructions
Preheat the oven to 400 degrees Fahrenheit.

Spread the cream cheese in the bottom of a pie plate or baking dish.

Pour the pasta sauce on top of the cream cheese in the pan.

Sprinkle the shredded cheese on top and then top with the sliced pepperonis.

Bake uncovered for 20 to 25 minutes.

Serve warm with your favorite dippers and enjoy!
Recipe Notes
Refrigerate the leftovers in an airtight container for up to 5 days.  
Nutrition Facts
Calories
151
kcal
,
Carbohydrates
4
g
,
Protein
5
g
,
Fat
13
g
,
Saturated Fat
7
g
,
Polyunsaturated Fat
1
g
,
Monounsaturated Fat
4
g
,
Trans Fat
0.1
g
,
Cholesterol
37
mg
,
Sodium
419
mg
,
Potassium
172
mg
,
Fiber
1
g
,
Sugar
2
g
,
Vitamin A
552
IU
,
Vitamin C
3
mg
,
Calcium
85
mg
,
Iron
1
mg

Pizza Pocket Recipe is so delicious and better than any of those store bought pizza snacks.
This homemade flatbread pizza recipe will be fun for the whole family!
If you love this easy pizza dip recipe, try these other Dip Recipes:
Love Pizza? Try these other great pizza recipes:
Also, I hope you try these easy lunch and after school snack ideas: