This Crockpot Buffalo Chicken Dip is packed with great flavor and easy to make since the slow cooker does all the work! It is perfect for parties, Game Day and more.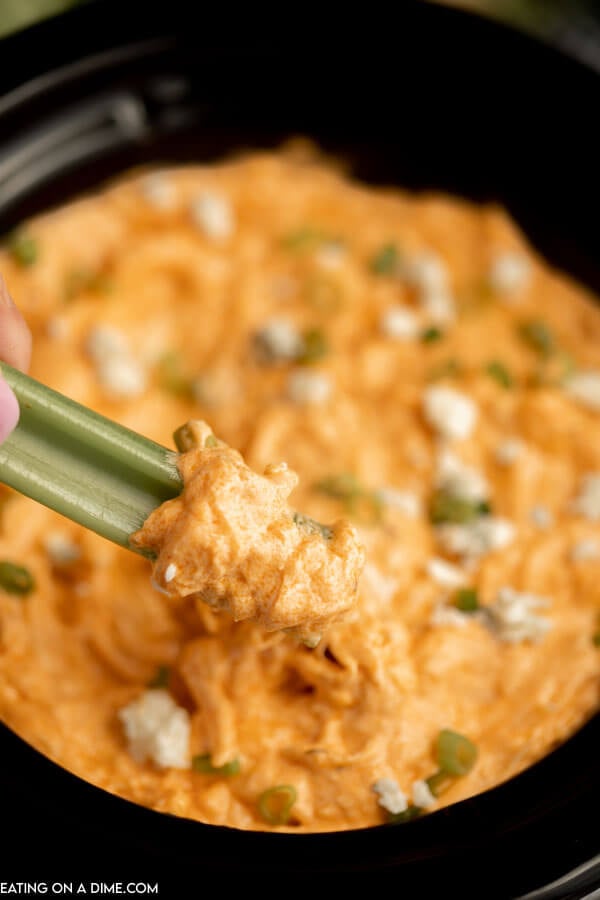 Crockpot buffalo chicken dip Recipe
This crock pot buffalo chicken dip recipe is our go-to appetizer for watching any game. Football is in full swing at our house and food is right up there on necessities for football season.
Buffalo chicken wings are always super popular among the football food, so we decided to make a dip so we could enjoy it even more on game day.

5 Ingredients:
Cooked Shredded Chicken (How to Boil Chicken Breasts)
Buffalo Wing Sauce (Any brand will work, like Red Hot Buffalo Sauce)
softened Cream Cheese
Ranch Dressing or Blue Cheese Dressing
Shredded Cheddar Cheese
That's all you need to create this easy and delicious dip recipe. It's only 5 ingredients but when they are combined together, the results are amazing.
You won't be going home with any leftovers after your next tailgate or pot luck.

How to make buffalo chicken dip in the crockpot:
First, place the cooked chicken, cream cheese, ranch, buffalo sauce and shredded cheese into the crock pot.
Now that you have put the ingredients into the slow cooker, mix everything together to combine thoroughly.
Finally, just cook on low until the cheese is melted and the dip is hot and bubbly.
Once the dip is ready, stir and serve.
What to dip in Buffalo Chicken Dip
This easy buffalo chicken dip is delicious with almost anything. However, these are our favorite foods to dip in Buffalo Chicken Dip.
Tortilla chips
Ritz crackers
Pita Chips
Celery sticks
Carrots
Cauliflower
Broccoli
Snap Peas
You can easily serve this with whatever you have on hand.
Variations:
Stir in Sour cream: In addition, you can create crockpot buffalo chicken dip with sour cream by mixing in approximately 8 oz of sour cream at the end of the crock pot cooking time.

This makes the dip even more creamy but does cut down on some of the buffalo flavor so I only recommend this addition if you are sensitive to buffalo sauce flavor.

Add Blue Cheese: Sprinkle blue cheese crumbles on top and diced green onion.

Reduce The Hot Sauce: If you are sensitive to spice, use ¼ cup Buffalo sauce instead of the regular ½ cup. This will help lessen the spice without sacrificing the buffalo flavor.
Easy Buffalo Chicken Dip Recipe crock pot
I love using my slow cooker on game day. I can easily throw all the ingredients in the crock pot in the morning and this delicious dip is ready by the time the game starts.
It's easy and delicious! Everyone always expects me to make this at each Super bowl party, holiday and more.
This dip is definitely a crowd favorite.
You'll need a good slow cooker.
I make it in our small 1.5 quart slow cooker when I make it for just my family, because it is the perfect size. This crock pot is great for my favorite dip recipes.
It's generally pretty inexpensive too so if you like to throw parties, you definitely have to get one.
However, if you are making it for a crowd I recommend that you double the recipe and then you will want to use a 3 quart crock pot or a standard size crock pot.
Can you bake this buffalo chicken dip recipe?
Yes, this dip can be baked if you prefer.
Preheat the oven to 350. Combine everything in a bowl. Put the buffalo chicken dip mixture in a baking dish.
Bake at 350 degrees for about 15 minutes or until it is heated through. The dip should be hot and bubbly.
Tips for making Buffalo chicken dip in a crock pot:
Use Rotisserie Chicken – If you don't have time to make and shred chicken, I recommend that you use a rotisserie chicken. This saves a ton of time and still makes the dip taste delicious.

Make it ahead of time – Also, you can definitely make this dip ahead of time. I have made this dip the night before and stored it in a baking dish in the refrigerator. The next day, I just put the dip in the oven or crock pot to warm is back up to serve.

You can bake it – You can put it on a low oven setting and it'll take 20-25 minutes to warm is up or turn the oven up and it'll be nice and bubbly in under 10 minutes for your guests to enjoy!

Prepare it on the Stove – If you are short on time, melt everything together in a pan on the stove over medium heat. Then transfer it to the crock pot to stay warm.

Serve with Ranch – If you are making this for a party, I would serve with ranch on the side. That way if people are sensitive to spice, they can dip in ranch as well to help offset the spice.
Don't make this recipe too complicated.
Give it a try!
Our family loves this simple dip recipe. It is is perfect for tailgating, watching football, and any party gathering. It will always be a hit. This is just one of our crock pot side dish recipes. Find more Crockpot Side Dishes.
I hope you try it soon and please leave me a comment to let you know what you think!
Print this slow cooker buffalo chicken dip recipe:
More Buffalo Chicken recipes
T

ry more easy dip recipes: