If you love Buffalo Sauce and Boneless Chicken then these Air Fryer Boneless Chicken Wings are for you. Easy seasoning, and air fried to perfection.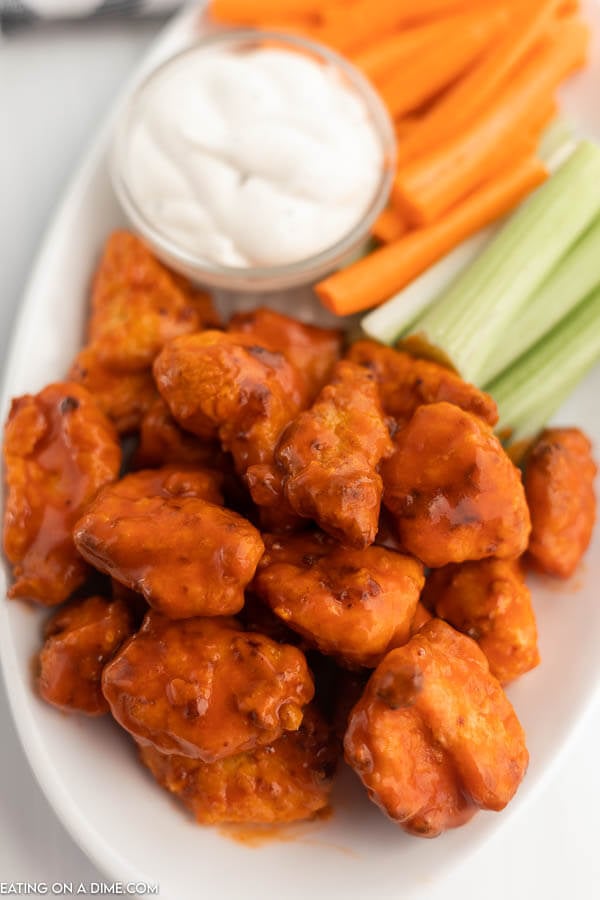 Boneless Chicken Wings Air Fryer Recipe:
Air Fryer Boneless Chicken Wings are my kids favorite snack. My kids love buffalo sauce and they use it for everything. From a dipping sauce to these boneless chicken wings, my kids can't get enough.
The easy seasoning and buffalo sauce make these boneless chicken wings so full of flavor. We love that you don't have to marinate the chicken or use a deep fryer like our Boneless Chicken Wings recipe to get that crispy texture.
Serve them as an appetizer for a game day treat or as a dinner night in with a side a vegetables.
Why you will love these Boneless Chicken Wings:
Boneless Chicken Wings are good anytime – We love to have them for an after school snack or as a meal. We love that they are bite size and easy to eat.
Healthier Version – No need to need to deep fry the wings. You will still get that crispy texture and juicy chicken.
Easy Ingredients – These boneless chicken wings are easy to make with simple ingredients. In about 15 minutes you can have a healthy snack prepared.
Ingredients:
Boneless Skinless Chicken Breast, diced into 1 inch chicken nugget pieces
Eggs
All-Purpose Flour
Cayenne Pepper
Paprika
Garlic Powder
Salt
Pepper
Buffalo Sauce – You can even make Homemade Buffalo Sauce.
How to Make Boneless Chicken Wings in the Air Fryer:
Add Chicken to Egg Mixture – Whisk the eggs together in a shallow bowl. Place the chicken bites in the eggs and toss to coat them thoroughly.
Mix together Flour Seasoning – Then in a large zip lock bag, mix together the flour, cayenne pepper, paprika, garlic powder, salt and pepper.
Cover the chicken with the Flour Mixture – Then work in batches and place the chicken pieces from the eggs (drip off any excess eggs from the chicken) into the flour mixture. Seal the bag and allow air to stay in the bag.
Shake Bag until chicken is covered – Then shake the bag to thoroughly coat the chicken in the flour mixture.
Prepare the Air Fryer – Preheat the air fryer to 370 degrees F. If your air fryer does not have a preheat option, then run the air fryer for 5 minutes at 370 degrees F.
Spay Air Fryer with Oil – Then spray the air fryer basket with olive oil or avocado oil.
Add Chicken to Air Fryer – Place the chicken in a single layer (you will need to work in batches) in the air fryer basket and spray the top of the chicken with olive oil or avocado oil.
Air Fry Chicken – Cook for 5 minutes at 370 degrees F. Flip the chicken and spray it with more olive oil or avocado oil. Cook for 5-7 more minutes until the chicken reaches an internal temperature of 165 degrees F. Cooking time will vary.
Toss with Buffalo Sauce – Then place the chicken in a large bowl, pour the buffalo sauce on top and toss to coat.
Serve and Enjoy – Then serve with your favorite dipping sauces and enjoy!
Does the Air Fryer make the Wings Crispy?
Essentially, the air fryer moves air quickly over food similar to broiling it in an oven that it gives the food a similar tastes to food that has been fried in oil. It is crispy and delicious without all of the oil!
The air fryer doesn't require a large amount of oil like a traditional fryer requires so foods cooked in the air fryer generally have less calories and less fat than fried foods.
How to make Frozen Boneless Chicken Wings in the Air Fryer:
You can easily prepare the frozen boneless chicken in the air fryer. You would skip the steps in the recipe that shows you how to prepare the fresh chicken. Then you would heat in the air fryer and toss with buffalo sauce.
We do recommend making fresh boneless chicken wings as they taste better, but using a frozen ones is a quick to get you chicken wing fix.
What to Serve with Boneless Chicken Wings:
When we serve boneless chicken wings there are many dips and sides that we serve. Most of the time when we have these chicken wings for dinner, we call it a snack dinner. Here are some of my favorite sides:
Dipping Sauce – Ranch and Blue Cheese are the common dipping sauce that we like.
Vegetable Tray – If you make hot buffalo wings, having celery and carrots provides relief from the heat.
Pizza – Make homemade pizza and serve it with your wings.
Quesadilla – Quesadilla's and potato skins are usually included when we have snack dinner.
See Best Sides for Chicken Wings for more ideas.
What are the Best Chicken Wing Flavors?
Buffalo Wing Sauce – Using a buffalo sauce to cover the chicken is a family favorite. You can make your own or use the jar stuff. You can also use hot sauce to add some heat to your wings.
Ranch Seasoning Mix – Dry Ranch Seasoning Mix as a dry rub is my daughter's favorite.
Teriyaki Sauce – If you are wanting a sweeter version, toss you buffalo wings with teriyaki sauce.
Barbecue Sauce – Barbecue Sauce is always a crowd pleaser. You can even make Homemade BBQ Sauce with simple ingredients.
How to Store:
Refrigerate any leftover chicken in an air tight container for up to 5 days. To reheat, place the chicken back in the air fryer and cook for 1-2 minutes until heated through and the chicken is crispy again.
Air Fryer Boneless Chicken Wings are a Crowd Pleaser:
Once you have tried Air Fryer Boneless Chicken Wings, you will love how they taste. You can toss the wings in hot sauce, buffalo sauce, barbecue sauce and more.
This boneless chicken wings recipe is a great starter recipe for the air fryer and only takes a few minutes.
Print Recipe here for Air Fryer Boneless Chicken Wings:
More Easy Air Fryer Recipes: