Find out the best sides for chicken wings with these 23 easy recipes. Learn what to serve with chicken wings.
What to serve with chicken wings?
If you are looking for ideas besides carrot sticks and celery sticks, we have so many delicious sides to try. Chicken wings are easy to make so we think the sides should be too.
The entire meal should be low key and effortless. Whether you are making wings for Game Day or family dinner, these recipes will be a hit.
You can't go wrong with sweet potato fries, mac and cheese or fried pickles. All of these and more would make delicious side dishes.
Side dishes for chicken wings
If you are looking for finger foods or comfort food dishes, there are options to please everyone.
We have included classic options and new favorites. There are lots of tasty fried choices as well healthier sides to choose from. This list has all the best recipes to choose from.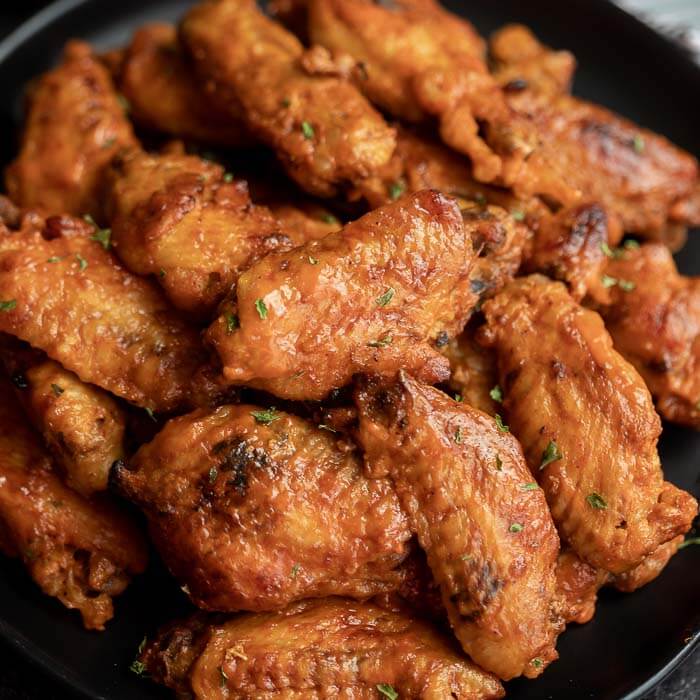 Best sides for chicken wings
Let's get started with 23 of the best sides to serve with chicken wings. There are options for everyone. You will also find cooking options that include the air fryer, crock pot and more.
You will never get bored with so many tasty options on this list of sides.
1. Fried Onion Rings
Make these classic homestyle onion rings for a tasty side dish. They are so crispy and easy to make for a quick side dish.
2. Deep Fried Pickles
This is one of our favorites to serve with chicken wings. They are tart and crunchy while being perfect for dipping in blue cheese.
3. Homemade French Fries
French Fries made from scratch taste amazing and much better than store bought. This is a popular option to serve with chicken wings. Plus, you can make this super fast.
4. Sweet Potato Fries Recipe
Change things up and make sweet potato fries to serve as a side dish. They are sweet and crispy for the best side. We love sweet potatoes and fries make a delicious pairing.
5. Homemade Mozzarella Cheese Sticks
Skip the frozen cheese sticks and make homemade mozzarella sticks instead. It is very simple and even better with marinara sauce for dipping. Once you try these from scratch, you will be hooked.
6. Homemade Ranch Dip
Serve bowls of ranch dip or ranch dressing with chicken wings for dipping. The flavor combination is yummy and makes the perfect dipping sauce. The coolness of the ranch helps to balance the heat of wings.
7. Homemade Cornbread Recipe
Cornbread helps to balance out the hot and spicy flavor of wings. It is super easy to make homemade cornbread to serve with chicken wings. Homemade is much better than the box mixes.
8. One Pot Macaroni and Cheese
Anyone can easily serve mac and cheese with this easy one pot meal. Get this side on the table in only 15 minutes. Each bite is so creamy and cheesy.
9. Macaroni Salad Recipe
Pasta salad is a classic side dish with spicy chicken wings, buffalo chicken and more. Try adding cherry tomatoes and other fresh veggies to the salad. It is filling and tasty.
10. Old Fashioned Potato Salad
If you are craving comfort food, potato salad is the way to go. It is so creamy and easy to season with just salt and pepper. You can easily feed a crowd with this budget friendly and delicious side.
11. The Best Coleslaw Recipe
Keep things light and fresh with this easy coleslaw recipe. It is tangy and sweet for an amazing recipe. Make this in advance to save time.
12. Corn on the Cob
Boil corn on the cob in just minutes for a super quick and tasty side. This is so easy and perfect for busy weeknights. Slather with butter for the best flavor.
13. Bacon Wrapped Stuffed Jalapeno Poppers Recipe
You only need 3 ingredients to make Stuffed Jalapeno Poppers. It is creamy with a spice of heat. The entire recipe is so fast and easy to prep and cook.
14. Creamy Cucumber Salad
The dill flavor combines with the creamy dressing for the perfect cucumber salad. It is so tangy and perfect to balance out the spiciness of hot chicken wings. Cucumbers are plentiful and make this salad light and frugal.
15. Crock Pot Buffalo Chicken Dip
Serve up chicken dip in this easy slow cooker recipe. It isn't just an appetizer but perfect to serve as a side. It is so creamy and has the perfect amount of heat.
16. Homemade Garlic Bread
Every meal needs a side of bread. This homemade garlic bread does not disappoint. It is also freezer friendly to make busy weeknights easier.
17. Loaded Mashed Potatoes
Turn plain mashed potatoes into a loaded casserole. It is packed with sour cream, cheese, bacon and more. Turn leftovers into something new with this easy recipe.
18. Crack Dip
There is so much to love about this creamy dip. It is packed with bacon, cheese and more. We love to make this for parties alongside wings.
19. Easy Fried Rice Recipe
Load up rice with veggies and more for a filling dish. It is flavor packed and a popular choice to go with chicken wings.
20. Garlic Bread Cheese Sticks Dip
These decadent cheese sticks are so ooey gooey and delicious. Serve bread sticks alongside wings and dipping sauce.
21. Microwave Sweet Potatoes
If you are getting tired of baked potatoes, try cooking sweet potatoes. They are so sweet and ready in only 5 minutes. The combination of sweet and savory with the wings is delicious.
22. Easy Caesar Salad Recipe
Keep things light with this simple Caesar Salad. It is perfect to pair with wings for a healthier option.
23. Twice Baked Potatoes
Stuffed Potatoes are so easy to make and frugal as well. Choose your favorite toppings and mix them together in these twice baked potatoes.
Now you know what to serve with wings.
These sides for wings are so easy and will definitely be a hit. From parties to movie night, these side dishes make a complete meal everyone will love.
All of these options are easy to prepare and require just a few ingredients. Make your grocery list and get ready to enjoy some fabulous sides.
Let us know which recipes you decide to serve with chicken wings. You can't go wrong with any of these wonderful options.
Best Chicken Wing Recipes
More what to serve with ideas: