Enjoy this easy Fried Rice Recipe in less than 10 minutes making it perfect for busy weeknights. Make this in less time than it takes to get take out and you will save money too!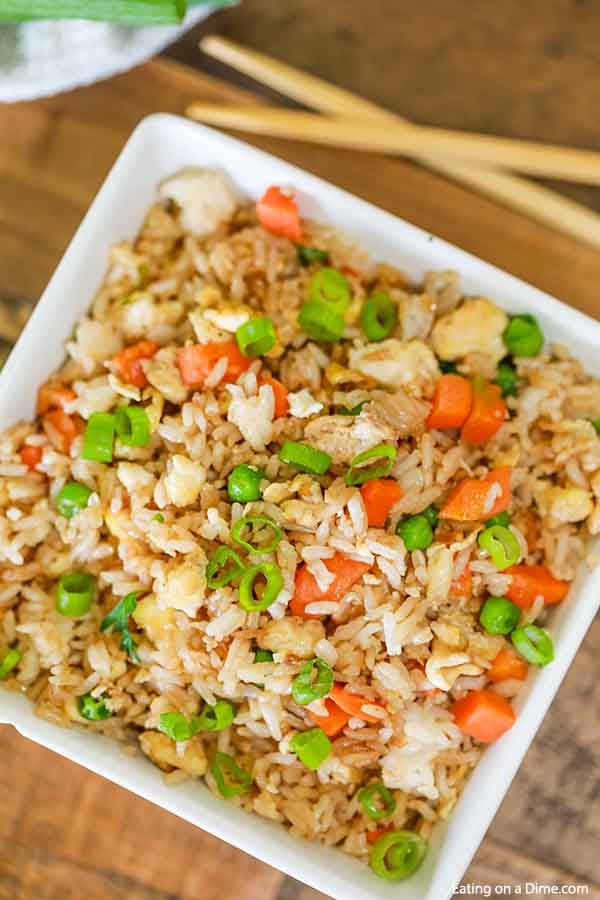 Easy Fried Rice Recipe:
Learn how to make this delicious fried rice recipe in just minutes. Your family can enjoy authentic fried rice with very little work. Our entire family loves fried rice but take out gets expensive especially for a large family like ours.
Now, you can make this fried rice so fast that it is quicker than take out. This is a game changer and your family will go crazy over this rice.
We recently showed you how to make this delicious Shrimp Fried Rice Recipe and everyone loved it. Another favorite around here is Chicken Fried Rice.
My favorite thing about this recipe is it can be customized to what you have on hand. This is a great recipe.
Skip Take Out!
It is so quick and easy and everyone will love it. You will love how easy clean up is and the entire recipe is super easy. If you love to get Chinese take out as much as we do, give this recipe a try. Not only will you save money but time as well.
Since we have been making this recipe, no one even asks to get take out anymore. It is that good and everyone really enjoys it.
I think your family will love it too.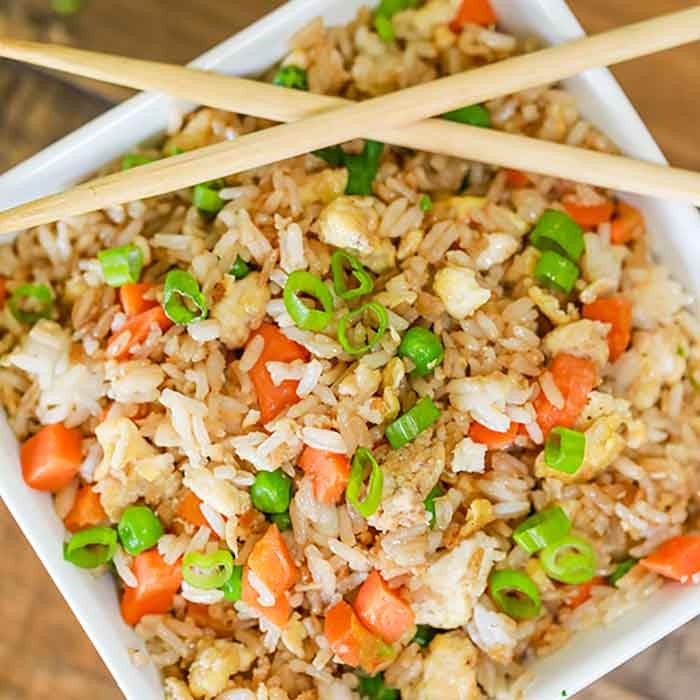 Budget Friendly Fried Rice:
Not only is this recipe tasty but it is budget friendly too. Rice is so inexpensive and helps to stretch other more expensive ingredients you might add.
This is a basic fried rice recipe but you can easily add meat if you prefer. You can easily feed a crowd or large family on a budget with this recipe.
The flavor is amazing and each bite is loaded with amazing ingredients.
Ingredients for Fried Rice:
Sesame Oil
Vegetable Oil
Cooked Rice
Soy Sauce
Salt and Pepper
Frozen Peas and Diced Carrots Blend
Eggs
How to make fried rice:
Grab a large skillet and pan fry the veggies in the oil until soft. Push the vegetable mixture to the side of the skillet.
Add the eggs and scramble eggs.
Now it is time to stir in the rice, soy sauce and other seasonings.
Stir rice and veggie together really well and cook until the rice is heated through.
We like to top with sliced green onion but that is optional. This recipe is the best stir fry dinner.
Can you freeze Fried Rice:
Yes, you can. This is the perfect meal to freeze and have on hand for an easy side dish or meal. Just simply put in a freeze safe container and store in the freeze.
Once we are ready to serve, thaw and reheat until warm on your stove.
What to serve with Fried Rice?
You can serve fried rice as the main meal or as a side to some of your favorite Chinese inspired meals. Try some of our favorites:
Egg Drop Soup
Chicken Teriyaki
Egg Rolls
Sweet and Sour Chicken
Can you reheat Fried Rice:
Yes, you can. If we have a lot of leftover rice, I will put it back in my sauce pan and reheat. This ensure that the rice is heated thoroughly.
If you are just reheating a small portion, I put it in a Microwave Safe Dish and reheat in the microwave.
How long does Fried Rice last?
As long as it is in an airtight container, your Fried Rice will last about 5-7 days in the refrigerator. If I am not freezing it, I will put it in individual containers. My husband loves taking the leftovers to work each day.
Fried Rice is so good leftover.
Tips for making Fried Rice:
You can make this recipe even easier by learning how to freeze rice. I love to grab the rice from the freezer in the morning and when we come home it is all ready to enjoy.
Sometimes we also add onion and peppers to the fried rice. One of our favorite time saving tips is to use a small food chopper or food processor to quickly and easily chop onions. If you do not have one of these, I highly recommend them.
It is best to use cold rice. We plan ahead and when we have this recipe on the menu for the week. I make a batch of rice and place in the refrigerator. This makes this recipe even easier as you already have the rice prepared.
If you prepare your rice the day of cooking, simply put the cooked rice on a baking sheet and cover and place in the refrigerator for about 30 minutes.
What type of rice is used for fried rice?
Typically white rice but you can use brown rice if you prefer. We are big fans of using what we have on hand or can get on sale at the grocery store.
Rice really comes together for the best meal and takes on a variety of flavors. It is an amazing way to feed your family for less while still enjoying the best food.
Easy Fried Rice Variations:
When making this homemade fried rice recipes the options are endless on what can be added to this recipe. Here are some of our favorites:
Try making Chicken Fried Rice for a really delicious and easy one pot meal. This is a great way to use leftover chicken that you might have.
Use your leftover pork for an amazing pork fried rice.
Steak or Ground Beef sauté in makes this recipe so good.
We have even added in some Shrimp. This is my sisters favorite way to eat fried rice.
If I have some vegetables that are about to go bad, I toss them in to get in some extra vegetables. My kids do not even know the difference. We love to make vegetable fried rice.
This recipe is the best!
Turn plain white rice into delicious homemade fried rice with this recipe. It is a great side dish or even a main meal if you add some protein.
You can use leftover rice to make this fried rice recipe. We do this all the time! I think it is actually better with day old rice. All of the fried rice seasoning really makes it so flavorful and amazing.

For another easy recipe, try this delicious 15-Minute Parmesan Couscous recipe today.
Print this easy fried rice recipe below:
Easy Fried Rice Recipe
Enjoy this easy Fried Rice Recipe in less than 10 minutes making it perfect for busy weeknights.  Make this rice in less time than it takes to get take out.
Ingredients
2

tablespoon

sesame oil

2

tablespoon

vegetable oil

4

cups

cooked rice

cooled

3

tablespoon

soy sauce

1

teaspoon

salt

1

teaspoon

pepper

2

cups

frozen peas and diced carrots blend

3

larges eggs

light beaten
Instructions
In a large skillet, pan fry the carrots and the peas in the skillet with the oil for about 3-5 minutes or until soft.

Slide the vegetables to the side and pour in the eggs.

Scramble the eggs.

Then stir in the rice, soy sauce, salt, and pepper.

Stir for a few minutes until rice is heated through.

Top with sliced green onions.
Nutrition Facts
Calories
281
kcal
,
Carbohydrates
36
g
,
Protein
8
g
,
Fat
12
g
,
Saturated Fat
5
g
,
Cholesterol
82
mg
,
Sodium
960
mg
,
Potassium
177
mg
,
Fiber
2
g
,
Sugar
1
g
,
Vitamin A
4551
IU
,
Vitamin C
5
mg
,
Calcium
37
mg
,
Iron
1
mg
Try these other delicious Chinese recipes: