No need to get take out when you can make this delicious and easy Slow Cooker Mongolian Beef. The flavors blend together for the best dish that the entire family will love.
Slow Cooker Mongolian Beef
We love getting Chinese take out but it really gets expensive for our family. Now, we make this instead and save a ton of money while enjoying a really great dinner.
The crock pot does all the work so that dinner time is a breeze. Crock pot mongolian beef is so tasty and really satisfies that craving for Chinese food.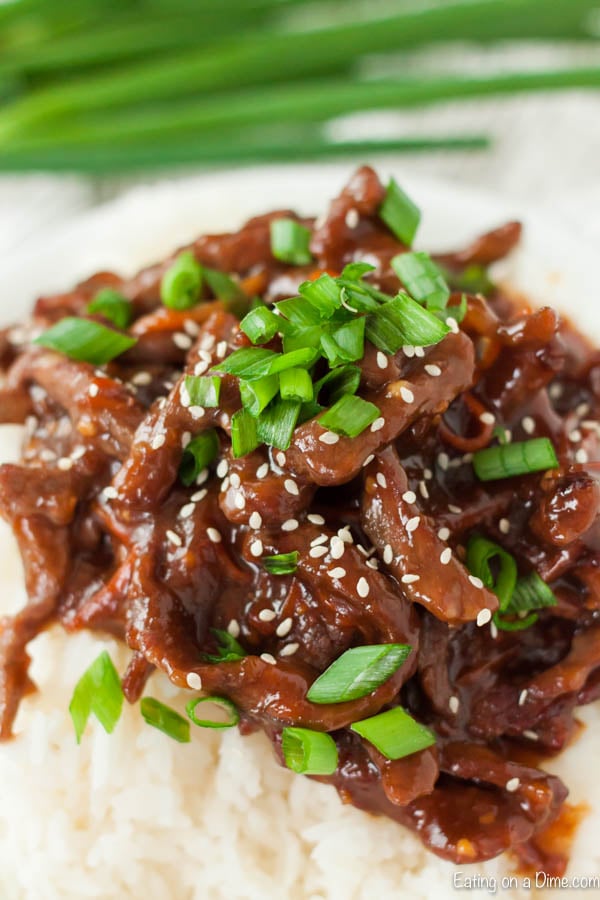 You need a good slow cooker for this Mongolian beef crock pot recipe.
We love crock pots around here. I have several and they get tons of use.
If you are in the market for something new, I really love my Ninja cooker. The nice thing about this is you can brown the meat in the same slow cooker for recipes that call for that.
It is so handy to just have the one pan to clean. It has become of my favorite kitchen appliances.
I also really like this crockpot as well.  I use this all the time and it's great.
My favorite feature is that you can lock the lid down. This is awesome for when you need to take the crockpot somewhere.
I often use the slow cooker to take dishes to potluck events and this feature is amazing! There are several others on sale here.
Another favorite is this programmable crock pot  for when I am am not at home all day. I love coming home to a nice meal ready and waiting!
I also like to use crock pot liners to make clean up a breeze. These are worth every penny and save a ton of time.
You can also make Instant Pot Mongolian Beef Recipe if you have a pressure cooker.
WHY IS IT CALLED MONGOLIAN BEEF?
This dish actually originated in Taiwan and the name refers to Mongolian BBQ, a style of food and not a place.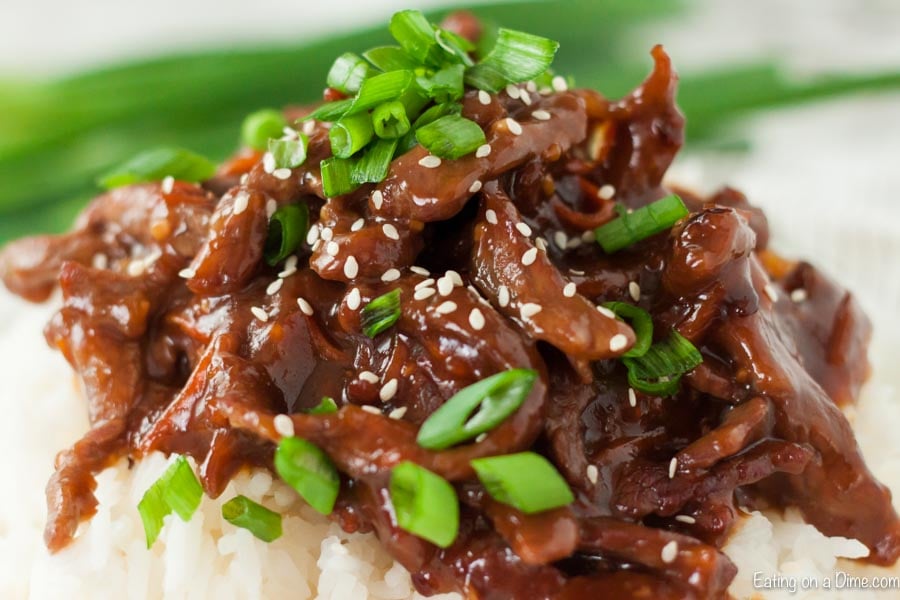 What all do you need to make Mongolian Beef Slow Cooker Recipe?
Flank Steak
cornstarch
minced garlic
Soy Sauce
Water
Brown Sugar
Carrots
green onions and sesame seeds, for garnish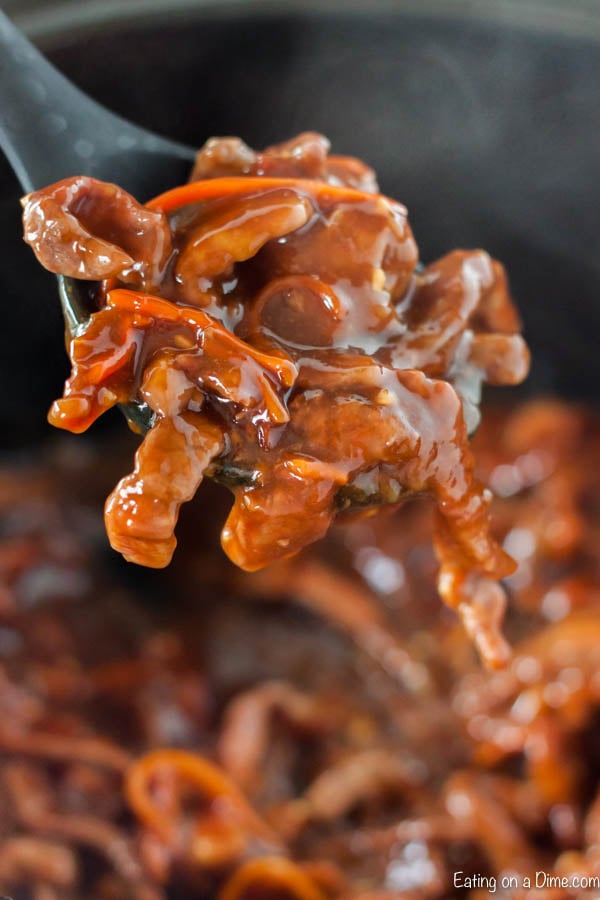 HOW DO YOU MAKE SLOW COOKER MONGOLIAN BEEF?
Cut the flank steak into think strips and add to a large ziplock bag with cornstarch.
Shake it together really good and put the meat in the crock pot.
Now add the garlic, brown sugar, carrots and other seasonings to the slow cooker.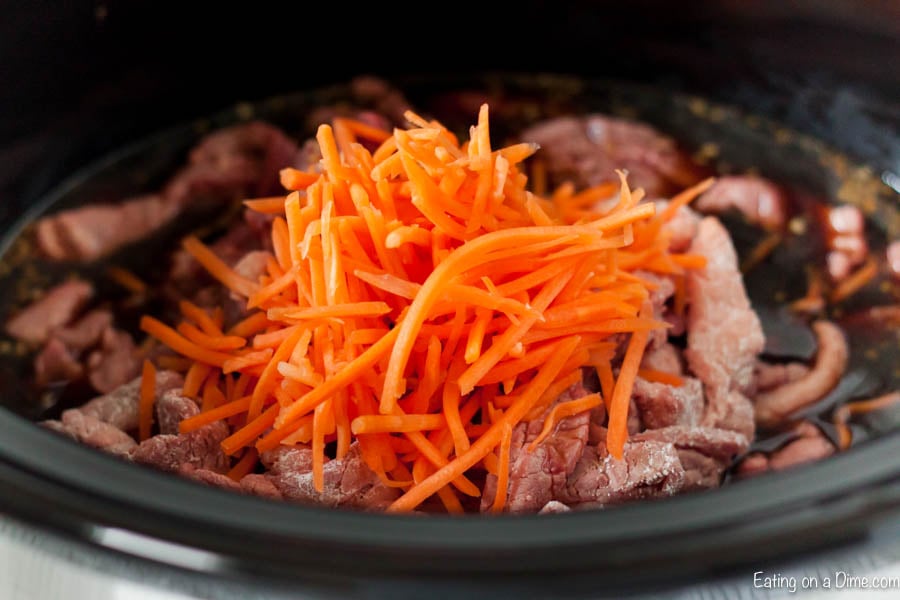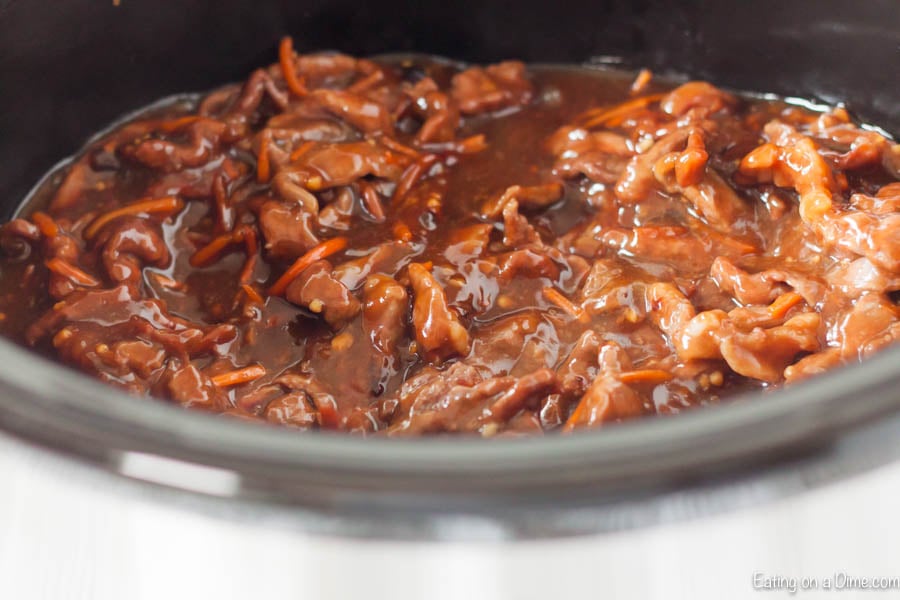 Stir everything together and let the slow cooker do all the work.
Keep reading for the full recipe.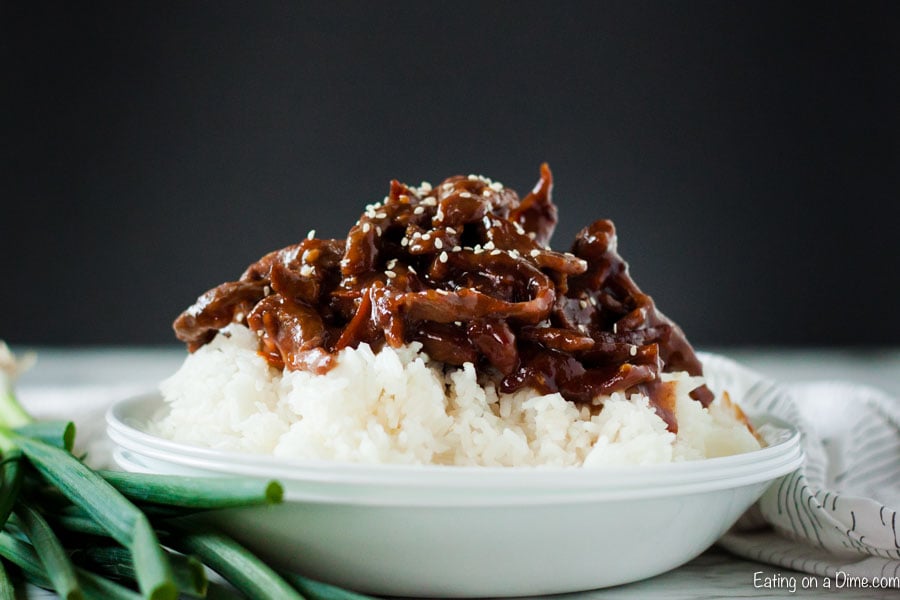 What to serve with slow cooker Mongolian beef:
Serve over rice and garnish with the green onions and sesame seeds.
Did you know that you can also cook rice in the slow cooker?  I like to cook a ton of rice in my crock pot and then freeze it for recipes like this one.
This way I always have some cooked rice on hand for recipes that require it or for a quick side dish in not time at all.
Freezing rice is so easy and saves me tons of time in the kitchen.
You can also steam broccoli in the microwave for a quick and easy side dish. It is so simple and really delicious with Mongolian Beef.
You might also like this amazing oven roasted parmesan asparagus recipe.  It's ready in just minutes!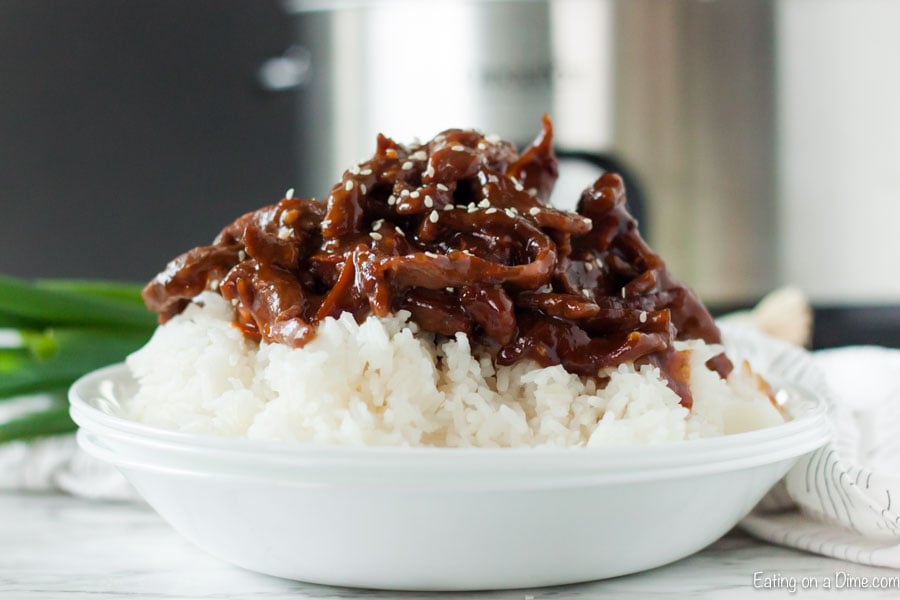 Can I make any substitutions in this Slow Cooker Mongolian beef?
We generally use flank steak but you can try using round steak or skirt steak.  I like to use what I can purchase on sale at the grocery store or already have in the freezer.
Just use what you have. The great thing about this recipe is how versatile it is.
It is easy to modify for what you have on hand and this really helps your budget. By cooking like this, it really helps me to save money on groceries. It is a huge help to our budget.
I cut our grocery bill by 50% off by following these 8 Tips for for Saving Money on Groceries by Menu Planning! Save that money for something else!
If you do not prefer red meat, you can also make this with chicken instead.  Follow the same process and slice the chicken breasts or thighs to make a delicious instant pot Mongolian chicken meal.  
If you have a gluten allergy, coconut aminos can be used instead of the soy sauce in this recipe.  Coconut Aminos still has that great soy sauce taste but is a gluten free product so you can still enjoy this great Mongolian beef recipe in the crock pot.
In oder to shred the carrots quickly, I use this vegetable grater.   However, if you do not like carrots, you can use broccoli instead to make a delicious instant pot beef and broccoli recipe for your family to enjoy.
If you prefer spicy dishes, you may also add red pepper flakes to this beef dish to add some kick to this Mongolian beef recipe.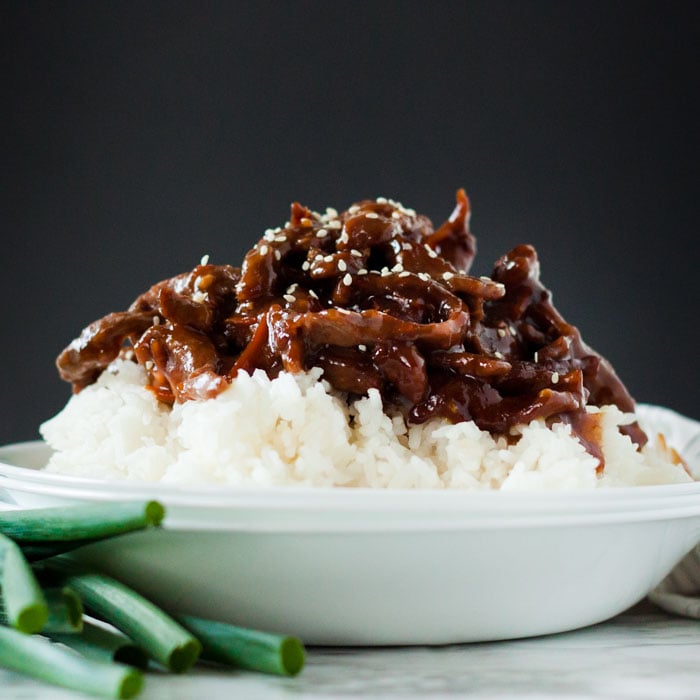 Try this Slow Cooker Mongolian Beef Recipe today!
You will love having such an easy recipe to prepare for your family.  It really helps having something that is so easy to prepare during busy week nights.
Dinner time does not have to be hectic when you have easy and delicious recipes like this one to cook. It really helps to avoid the temptation as well from eating out or getting take out to bring home.
Knowing you can come home and have dinner waiting in the slow cooker really takes the stress out of meal time. You will love this meal!
The garlic coating the meat really gives this an amazing flavor and one of our favorite slow cooker meals.  Even the kids love it so that is saying something.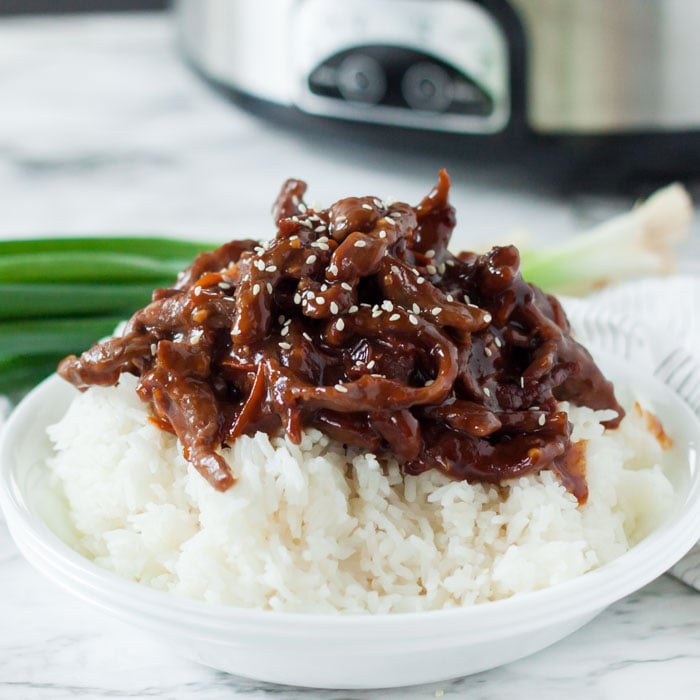 Print this slow cooker Mongolian beef recipe below:
Slow Cooker Mongolian Beef
No need to get take out when you can make this easy Slow Cooker Mongolian Beef. The flavors blend together for the best dish that your family will love.
Keyword:
Slow Cooker Mongolian Beef
Ingredients
2

pounds

Flank Steak

1/3

cups

cornstarch

2

teaspoons

minced Garlic

¾

cups

Soy Sauce

¾

cups

Water

¾

cups

Brown Sugar

1

cup

shredded Carrots

green onions and sesame seeds

for garnish
Instructions
Slice flank steak into thin strips.

In a ziplock bag add flank steak pieces and cornstarch. Shake to coat.

Place in the slow cooker.

Add minced garlic, soy sauce, water, brown sugar and carrots to slow cooker. Stir ingredients.

Cook for high 2-3 hours or on low 4-5 hours until cooked throughout and tender.
Recipe Notes
You can this dish over rice and garnish with green onions and sesame seeds.
Nutrition Facts
Slow Cooker Mongolian Beef
Amount Per Serving
Calories 366
Calories from Fat 72
% Daily Value*
Fat 8g12%
Cholesterol 91mg30%
Sodium 1725mg75%
Potassium 682mg19%
Carbohydrates 37g12%
Protein 36g72%
Vitamin A 3565IU71%
Vitamin C 1.2mg1%
Calcium 67mg7%
Iron 3.3mg18%
* Percent Daily Values are based on a 2000 calorie diet.
No need to get take out when you can make this delicious and easy chicken fried rice recipe at home.
Crock Pot Bourbon Chicken Recipe is slow cooked to perfection with a thick and delicious honey bourbon sauce.
The kids love this Crock pot sesame beef recipe and the beef is so tender and flavorful.
MORE ASIAN RECIPES YOU'LL LOVE:
More easy crock pot beef recipes to try: