We love making Instant Pot Mongolian Beef Recipe when we're craving our favorite Chinese dishes. The flavors in this meal are delicious and making it in the Instant Pot will get dinner on the table in less than 20 minutes.
You need a pressure cooker for this easy M
ongolian Beef Instant Pot Recipe.
I currently have an Instant Pot brand pressure cooker and I absolutely love it. The 8 quart Instant Pot is the perfect size for my family as I have a large family with eight kids.
My sister has a family size of 4; therefore, the 6 quart Instant Pot works perfectly for her family.
If you have been on the fence as to whether or not you want to try the Instant Pot, I highly recommend jumping in and giving it a try. It has completely changed dinner time in my house and has helped us continue to avoid the drive through line.
My favorite feature of the pressure cooker is that you can easily take frozen food to a beautifully cooked meal in no time at all. Simply toss all the ingredients into the Instant Pot and dinner will be ready before you know it.
Those days when you forget to take something out of the freezer or wait until the last minute for dinner, the instant pot is your saving grace.
I am not exaggerating when I say it truly has changed the way I cook dinner in my house.
Also, these Instant Pot Accessories make pressure cooking a breeze. We just love to pressure cook.
What do I need to make I
nstant Pot Mongolian Beef
?
2 Pounds Flank Steak
⅓ Cups Cornstarch
2 Teaspoons Minced Garlic
¾ Cups Soy Sauce
1 Cup Water
¾ Cups Brown Sugar
1 Cup Shredded Carrots
Green Onions and Sesame Seeds (garnish)
What substitutions can I make with this P
ressure Cooker Mongolian Beef?
For the steak, I generally use flank steak. However, you can also use round steak or skirt steak. I like to use whichever is on sale. One time I used stew meat in this recipe when I didn't have time to the thinly slice the meat and it worked out great as well.
If you do not prefer red meat, you can also make this with chicken instead. Follow the same process and slice the chicken breasts or thighs to make a delicious instant pot Mongolian chicken meal.
If you have a gluten allergy, coconut aminos can be used instead of the soy sauce in this recipe. Coconut Aminos still has that great soy sauce taste but is a gluten free product so you can still enjoy this great Mongolian beef recipe instant pot recipe.
In oder to shred the carrots quickly, I use this vegetable grater. I also use this to grate cheese and it works perfectly. However, if you do not like carrots, you can use broccoli instead to make a delicious instant pot beef and broccoli recipe for your family to enjoy.
If you prefer spicy dishes, you may also add red pepper flakes to this beef dish to add some kick to this Mongolian beef in instant pot recipe.
How do I make easy instant pot Mongolian beef?
First you slice the meat into thin slices. Once you have sliced the meat, you then coat the meat with the cornstarch by adding both to a ziplock bag and shaking the bag until the meat slices are thoroughly covered.
Next you add to the corn starch coated meat to the pressure cooker and add all the other ingredients to on top and stir them together to combine.
Add the lid and set the Instant Pot to the sealing position. Cook on high pressure for 8 minutes and then due a natural release for approximately 10 minutes.
After this 10 minutes, do a quick release to release the rest of the pressure in the Instant Pot.
Keep reading for the entire recipe for Instant Pot Mongolian beef.
What is the difference between a quick release and a natural release on a pressure cooker?
There are 2 different ways to release pressure in an Instant Pot. There is the quick release process and the natural release way.
For a quick release, once the pressure cooking time is completed, you switch the value on the lid from the sealing option to the venting option. This causes steam to be released from the pressure cooker immediately and the steam will shoot through this value to release the pressure in the Instant Pot.
In order to do a natural release, you wait and do not move the value on the top of the lid. After the cook time, I set another timer for the natural release time and do not touch the pressure cooker during this time.
Once this natural release time has completed (this time is 10 minutes for this recipe), I move the value on the top of the lid to the venting option to do a quick pressure release for the remaining pressure in the pressure cooker.
What do you serve with M
ongolian beef in Instant Pot?
I usually serve this easy instant pot Mongolian beef over rice with steam broccoli. Here is a great and simple recipe for how to make brown rice in the pressure cooker. You'll never cook rice on the stove top again after using the Instant Pot.
Also, I love steaming broccoli in the microwave as it makes a delicious side dish that my entire family loves in very little time. You all know that I love quick and easy recipes!
If you love asparagus as much as I do, I also recommend that you try this amazing oven roasted parmesan asparagus recipe. It's ready in less than 15 minutes and tastes amazing. This simple recipe tastes great with this instant pot Mongolian beef flank steak meal.
To make this a Keto instant pot Mongolian beef recipe, I would omit the brown sugar and use coconut aminos instead of soy sauce so you are not having the extra sugar. Then I would serve over cauliflower rice for an amazing low carb dinner to enjoy.
How do I pressure cook meat in instant pot?
Pressure cooking is not just for chicken. Anything that you normally prepare in a slow cooker can be cooked in a pressure cooker as well. Since the meat in this recipe is thinly sliced, it takes no time at all to prepare in an Instant Pot.
Cooking meat in an Instant Pot can tenderize the meat just like it would in a crock pot.
The cooking time to cook meat in a pressure cooker would depend on the cut and size on the meat. Since this flank steak is thinly sliced, this recipe only requires 8 minutes. A large cut of meat would require more time in order to prepare perfectly.
How do I sauté beef in the Instant Pot?
I love the sauté feature on the Instant Pot. It's one of my favorite options.
If you prefer for your meat to be browned for this easy instant pot Mongolian beef recipe, you can cook this meat after it has been coated with the corn starch on the sauté feature on the Instant Pot.
This option is just like cooking the meat on a pan on your stove top so you'll want to add some cooking oil as well. Once you are done browning the meat, you can easily switch to the pressure cooker option to finish this great recipe.
This feature is great as you can still use one pan to finish this recipe and the removable insert in the Instant Pot is dishwasher safe.
How do you thicken a sauce in a pressure cooker?
Once the recipe is completed, you can thicken the sauce easily if it's not as thick as you would prefer. I prefer to thicken my sauces with a cornstarch slurry.
In order to make this cornstarch slurry, I mix 2 tablespoons of cornstarch with approximately ½ cup of cold water. It's important that the water is cold as cornstarch will clump immediately if mixed with warm water.
Once the corn starch is fully dissolved in the cold water, change your setting on your Instant Pot to the sauté option that we discussed earlier.
Next, slowly stir in your corn starch slurry with your instant pot Mongolian beef and cook for approximately 15-20 minutes. The sauce will thicken as it continues to cook on this feature.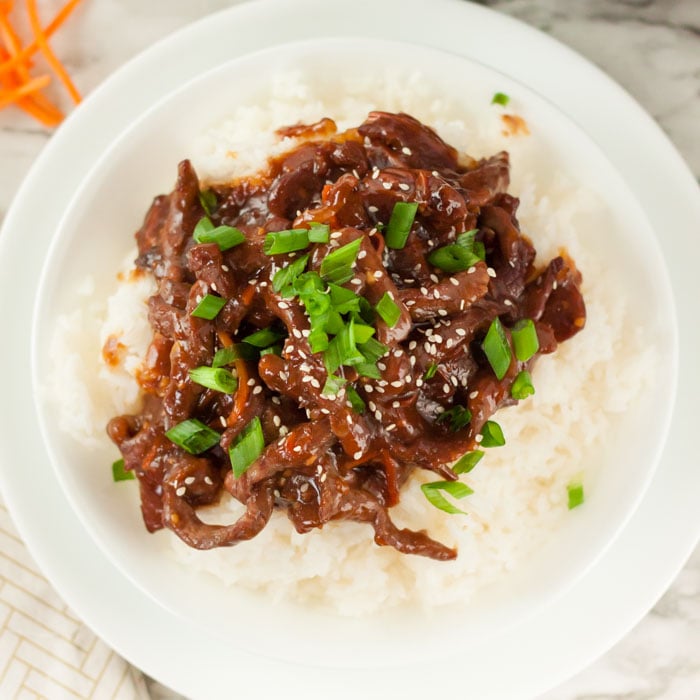 Can you freeze this M
ongolian beef instant pot recipe?
I love cooking once and eating twice. It's my goal anytime I cook in the kitchen and freezing cooking makes this so easy to do!
There are 2 options if you are wanting to freeze this Instant Pot Mongolian beef recipe.
The first option it that you can put all the ingredients that go into the pressure cooker in a freezer bag. You can freeze these items and then get them out when you're ready to prepare this meal.
You can put the entire contents of the bag in the instant pot frozen and it will be turned into a great meal in no time at all.
The second freezing option is to make a double batch of this recipe and freeze the left overs. The frozen leftovers can be heated up on the stove top for a second meal for your family.
If you enjoy freezer cooking as much as I do, I encourage you to check out our Lazy Day Cooking Club. This club is a freezer cooking meal plan that provides you with great recipes, instructions on how to freeze and all the ingredients that you need for great crock pot recipes.
This club takes away the stress of deciding what's for dinner and gets dinner on your table in less time.
Print this M
ongolian Beef Instant Pot Recipe
below:
Instant Pot Mongolian Beef Recipe
Your family will love this Chinese Mongolian Instant Pot Beef Recipe. The pressure cooker makes this a quick and easy meal that everyone will love.
Ingredients
2

pounds

Flank Steak

1/3

cups

cornstarch

2

teaspoons

minced Garlic

¾

cups

Soy Sauce

1

cup

water

¾

cups

Brown Sugar

1

cup

shredded Carrots

green onions and sesame seeds

for garnish
Instructions
Slice flank steak into thin strips.

In a ziplock bag add flank steak pieces and cornstarch. Shake to coat.

Place in the Instant pot.

Add minced garlic, soy sauce, water, brown sugar and carrots to the Instant pot. Stir ingredients.

Add the lid and set the valve to sealing.

Set the pressure to high for 8 minutes.

When finished allow it to do a natural release for 10 minutes.

Then do a quick release to release the rest of the pressure.

Stir and serve over rice.
Recipe Notes
Garnish with green onions and sesame seeds.
Nutrition Facts
Calories
365
kcal
,
Carbohydrates
37
g
,
Protein
35
g
,
Fat
7
g
,
Saturated Fat
3
g
,
Cholesterol
90
mg
,
Sodium
1725
mg
,
Potassium
681
mg
,
Sugar
28
g
,
Vitamin A
3565
IU
,
Vitamin C
1.2
mg
,
Calcium
67
mg
,
Iron
3.3
mg
More Instant Pot Recipes: