This post may contain affiliate links. If you make a purchase through links on our site, we may earn a commission.
Let's talk about how to make this easy Instant Pot Brown Rice recipe. You all know I have been loving my instant pot lately and I have been cooking up a storm making all kinds of electric pressure cooker recipes with my new Instant pot.
Pressure Cooker Brown Rice
Cooking brown rice use to be a chore around here because it took 45 minutes to cook on the stove. I would cook up a huge batch, have to baby it on the stove and then it would make a large mess on the stove too!
With this super easy pressure cooker brown rice recipe, I can have brown rice in the instant pot which is made in half the time and I don't have to watch it closely which is always a win for me! Plus…trust me, the rice will turn out perfect every time I made this easy recipe.
And if you don't have an Instant Pot, learn how to make brown rice in the microwave here. You can even make white rice in the microwave.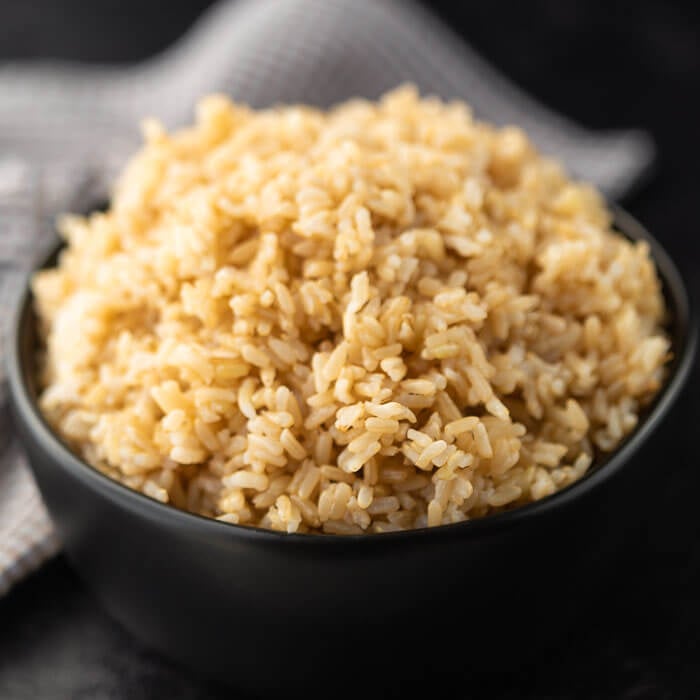 The pressure cooker used for this recipe
Now you will need an electric pressure cooker for this recipe. I personally have an Instant Pot and I love it.
I have the 8 quart Instant Pot for my family of 10 and this size is perfect for us. My sister has a family of four and the 6 quart Instant Pot works perfectly for them. So I recommend getting one based on your family size to make sure your recipe quantities can fit into the insert.
I seriously do love it. However, there are other great electric pressure cookers that will work great for this recipe too.

How to season brown rice?
Do you need some different ways to Seasoned Brown Rice Recipes? Here are some of my favorite ways?
Add in some garlic salt – So easy and it is full of flavor
Sprinkle with salt and parmesan cheese. You might think this sounds like an odd combination but it is one of our favorites.
Ingredients:
You only need 3 ingredients to make this easy and delicious instant pot side dish recipe.
Brown Rice – long grain brown rice not instant rice
Water – I usually use water but chicken broth works great too
Garlic Salt – I love using garlic salt in this recipe as it brings out the flavor in the rice but you can also use salt or minced garlic as well.
How to cook brown rice in the Instant pot
You are not going to believe how easy it is to make brown rice in the instant pot.
First place the brown rice in the pressure cooker and then pour in the water.
Next add in the garlic salt. Place the lid on top of your pressure cooker and set the value to the sealing position on the lid.
Press the manual or pressure cook button and cook for 22 minutes on high pressure. After this cook time, allow the pressure to release naturally from the instant pot.
Remove the lid from the instant pot. Fluff the rice with a fork and enjoy.
What is a natural release?
A natural release is when you leave the valve on the pressure cooker on the lid to the sealing position after the cooking time. Then the Instant Pot releases the pressure naturally without you doing anything at all.
When the pressure has been fully released from the Instant Pot, the float valve on the lid will drop and you will be able to open the lid at that time.
A natural release allows the cooking to stop gradually and this will make the rice softer and so that it doesn't stick to the bottom of the insert.
A natural release can take 5-20 minutes depending on the ingredients and the amount of liquid that is in the pressure cooker.
What is the water to brown rice ratio?
I use 1 cup of brown rice to 1 ½ cup of water for this recipe. With this ratio, this recipe makes the perfect brown rice every time!
Do you need to rinse rice before cooking?
Ok, to be honest, I generally do not rinse my rice before cooking it in the instant pot (because I'm lazy and don't want to add one more step) and I have never had any issues with the texture or flavor of the rice.
My rice turned out delicious without rinsing.
If you find that the rice is too gummy, then I recommend rinsing rice prior to cooking it in the instant pot.
To rinse, place the rice in the strainer and then run water through the rice until the water comes out clear.
How to Make Ahead:
I love making a big batch of brown rice (just double the recipe) on the weekend to eat with our dinners and lunches throughout the week. After it cooks, let it cool at room temperature and then store it in an air tight container in the refrigerator for 5-7 days.
And if I don't finish it off during the week, I just freeze the leftovers for a future meal!
Can you freeze cooked brown rice?
Yes, you can freeze cooked brown rice. I love freezing cooked rice to heat up in no time at all for our dinners. You can find all my tips and tricks including how to reheat frozen rice in this post dedicated to How to Freeze rice.
This rice can be stored in the freezer for up to 3 months.
How to season Brown Rice
Brown rice is pretty bland without any seasonings. However, with just a few seasonings and brown rice will taste amazing. Here are a few of ideas.
Add Parmesan Cheese, milk and Garlic
Add Garlic and Soy Sauce
Add in Ground Beef for a One pot meal
See How to Season Brown Rice for more ideas.
What to serve with this Brown Rice:
Here are a few of my favorite recipes that I love to make or serve with this brown rice recipe.
Print your recipe below:
Brown Rice Pressure Cooker Recipe
Looking for instant pot recipes? Try this brown rice pressure cooker recipe. Pressure cooker brown rice is ready in half the time of traditional cooking!
Instructions
Place brown rice in the pressure cooker.

Pour in water and add in the garlic salt.

Add lid to pressure cooker and make sure the valve is set to sealing.

Press the manual button and move the time to 22 minutes.

Allow the pressure to be release naturally from the instant pot.

Remove lid. Fluff with a fork and enjoy!
Recipe Notes
Note: If the rice is still wet once you open the lid, allow the rice to sit for 5-10 minutes for some of the water to steam off before serving.  
Nutrition Facts
Calories
229
kcal
,
Carbohydrates
48
g
,
Protein
5
g
,
Fat
2
g
,
Saturated Fat
1
g
,
Sodium
1170
mg
,
Potassium
170
mg
,
Fiber
2
g
,
Calcium
25
mg
,
Iron
1
mg
More easy rice recipes: