Learn how to season brown rice for a flavor packed side dish. Once you know the best seasonings to add, it is so easy to make.
Does brown rice taste good?
Brown rice is a tasty side dish that often gets a bad rep. Many people do not care for the taste of brown rice due to its earthy and wheat like flavor.
However, brown rice that has been seasoned appropriately is so delicious and makes a versatile side dish.
What can I add to brown rice to make it taste better?
The key to making brown rice taste great is seasoning. It also helps to add this early on so the rice can soak in all that wonderful flavor.
There are several seasonings and add ins that you can use to take brown rice up a level. Some ideas we love include: garlic powder or garlic salt, salsa, bouillon cubes and even eggs and veggies.
Any of these options would make brown rice taste amazing. Whether you plan to use a rice cooker or skillet, these ideas will make brown rice so delicious.
How do you season rice for cooking?
There are several ways to do this. You can use broth instead of water to boil the rice.
Other options include adding seasoning to the rice as it boils or sautéing it first in seasonings. If you brown the rice with olive oil and seasonings prior to adding the liquid and boiling, it will enhance the flavor.
How to season brown rice:
Once you try these easy ways to season brown rice, you will be a fan of brown rice. It is so easy to jazz up plain rice and turn it into a really delicious side dish.
After these tasty ideas, everyone will love brown rice.
1. Cook in Chicken or Beef Broth
Substitute chicken broth or beef broth for the water. Just use equal parts broth to the cups of water normally used.
2. Season with Garlic Salt
Garlic really enhances the flavor of rice. You can add this to the water and rice or sauté the seasonings and dry rice prior to adding the liquid.
3. Make Spanish Rice
The salsa in this recipe combined with the other seasonings makes this a flavorful side dish.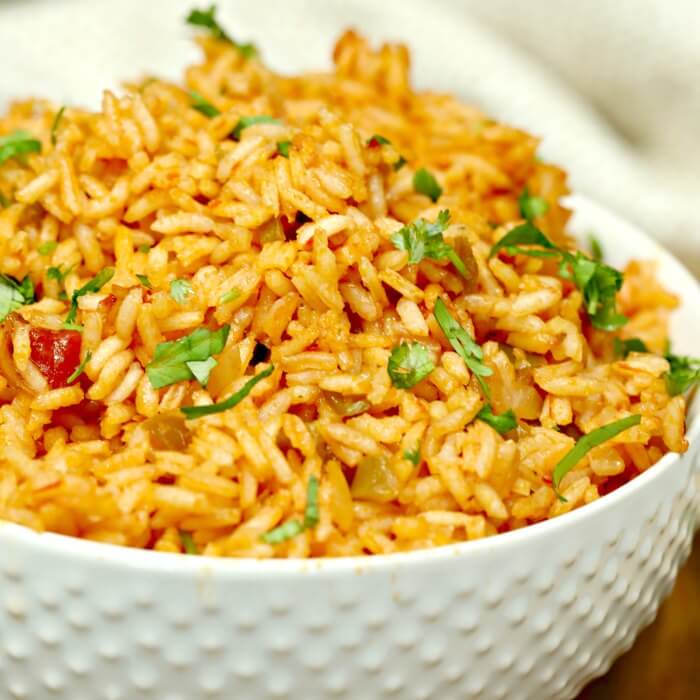 Easiest Spanish Rice Recipe
This recipe for homemade spanish rice tastes just like the restaurants.Try this easy Spanish rice recipe. Learn how to make spanish rice.
See the Recipe
4. Make Cilantro Lime Rice with Brown Rice
You can cook brown rice with cilantro and lime juice (or lemon juice) for the perfect side dish for Mexican Monday.
Cilantro Lime Rice
Try Cilantro lime rice recipe for an easy side dish. Cilantro lime rice is so quick to make. Everyone will enjoy Cilantro Lime Rice recipe.
See the Recipe
5. Make Fried Rice
Use leftover brown rice and quickly make Fried rice. This is an easy way to use leftover cooked rice for a stir fry.
Easy Fried Rice Recipe
Enjoy this easy Fried Rice Recipe in less than 10 minutes making it perfect for busy weeknights.  Make this rice in less time than it takes to get take out.
See the Recipe
6. Stir in Salt and pepper
It may sounds simple, but a lot of salt and tons of pepper goes a long way. We call this peppered rice at my house. Like I said, lots of pepper
7. Add in Ground Beef for a One pot meal
Brown the ground beef first and add to the rice with liquid. Bring to a boil and then reduce heat until rice is tender.
8. Add in Sliced Sausage
This is a great way to add flavor to brown rice. I like to sear the sliced sausage first and then add to the rice.
9. Add Garlic and Soy Sauce
Be careful with the soy sauce. A little goes a long way.
10. Add Parmesan Cheese, milk and Garlic
Seems like a weird combination, but a little bit of milk with the parmesan cheese and garlic is a tasty cheesy combination
11. Make Dirty Rice
In less than 45 minutes, this one pot meal goes from stove to table. It is the best way to stretch your meat budget and so delicious.
Dirty Rice Recipe – Simple and Easy One Pot Meal
This Dirty Rice Recipe is simple and perfect for busy weeknights. The beef and veggies blend for the best flavor and make the rice so hearty and delicious.
See the Recipe
12. Make Shrimp Fried Rice
Turn brown rice into a complete meal when you add shrimp and veggies.
Shrimp Fried Rice Recipe
Skip takeout and make this delicious Shrimp Fried Rice Recipe at home in minutes. The shrimp and veggies have the best flavor to make the perfect meal.
See the Recipe
13. Sir In Red beans and Sliced Sausage
Red beans and sausage make brown rice anything but bland. Your family will love this rice recipe.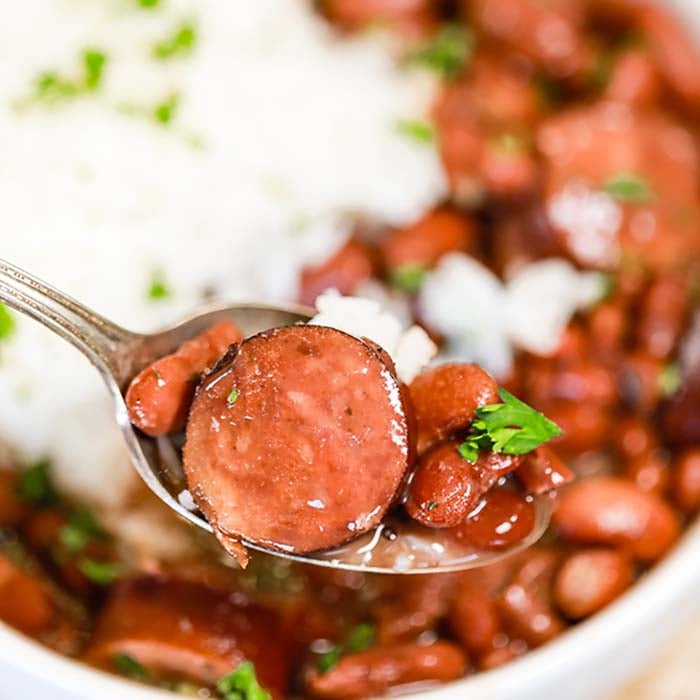 Crock Pot Red Beans and Rice Recipe
Crock Pot Red Beans and Rice Recipe is a one pot meal full of flavor and budget friendly. This meal is so delicious with the sausage, beans and rice.
See the Recipe
14. Add Chicken and Cheese for an easy skillet dinner.
This one pot meal is really tasty with brown rice. The cheese combined with the chicken is amazing.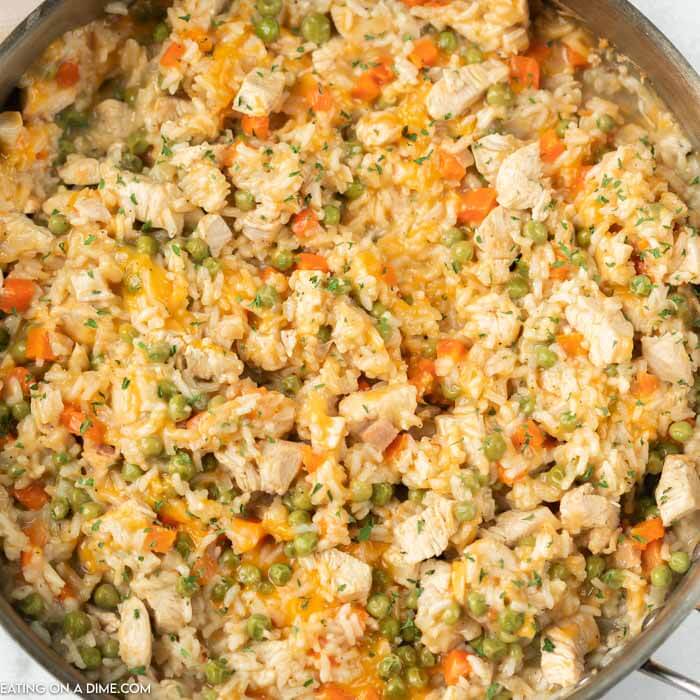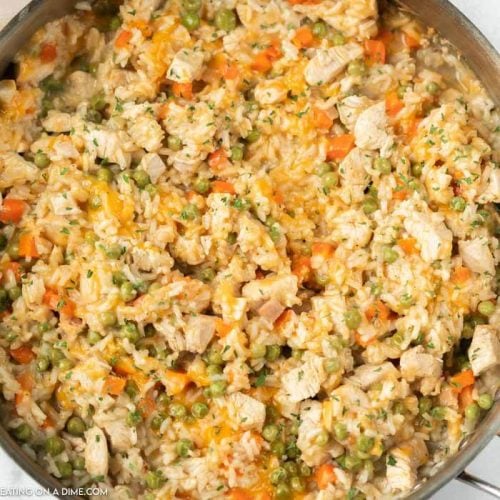 Cheesy Chicken and Rice Skillet Recipe
Cheesy Chicken and Rice Skillet Recipe is a delicious one pot meal idea. In just 30 minutes, this cheesy chicken dish can be on the table.
See the Recipe
15. Stir in a Soup
Stirring in brown rice, instead of white, into a soup is a great way to make your soup better. The brown rice will instantly take on the flavor of the soup.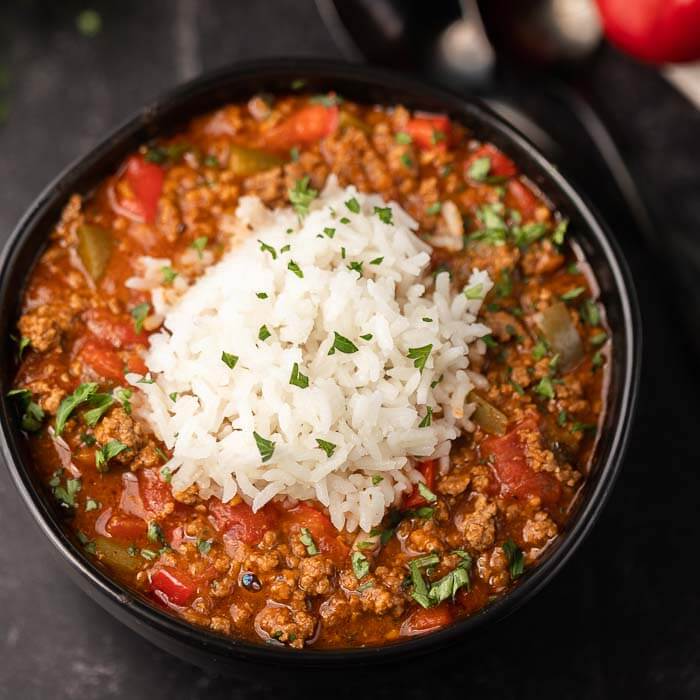 Crockpot Stuff Pepper Soup
Crockpot Stuffed Peppers Soup is so easy to make and tastes delicious. You will love this stuffed pepper soup crock pot recipe.
See the Recipe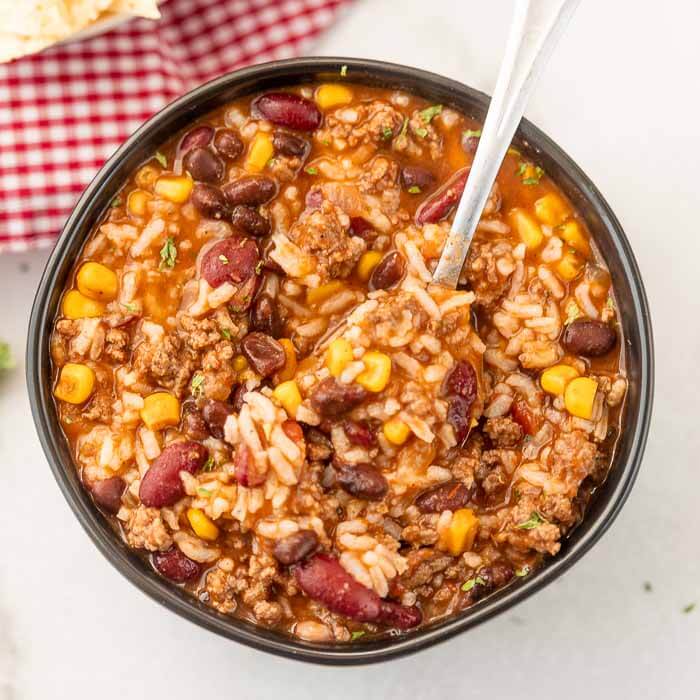 Crock Pot Taco Rice Soup Recipe
Need a budget friendly soup? Try Crock Pot Taco Rice Soup Recipe made from leftovers. The slow cooker does all the work and dinner is ready fast.
See the Recipe
16. Stir in Buffalo Sauce
Kick up the flavor and add buffalo sauce. We normally add about ½ cup but you can reduce that for less heat.
17. Mix in Black Beans
This simple add in really bulks up brown rice and makes it so flavorful. No one will miss the white rice.