This post may contain affiliate links. If you make a purchase through links on our site, we may earn a commission.
Skip takeout and make this delicious Shrimp Fried Rice Recipe at home in minutes. The shrimp and veggies have the best flavor to make the perfect meal everyone will go crazy over.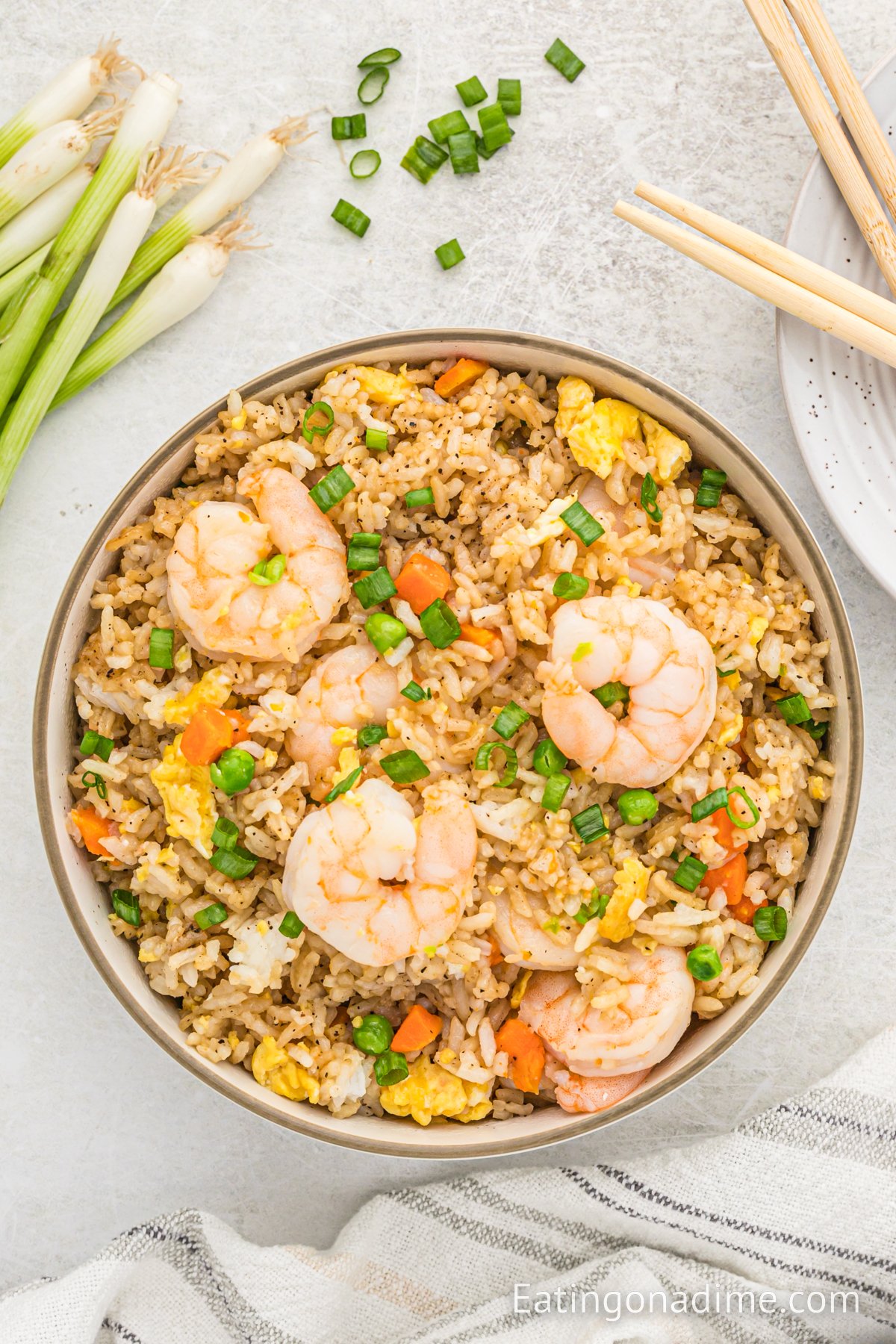 Easy Shrimp Fried Rice Recipe
We absolutely love to get Chinese food and fried rice is a favorite around here. It can get really expensive though for a large family eating out and throw in some shrimp and it is even more!
I thought why not learn to make it at home? Rice is such an inexpensive ingredient and really goes a long way. Plus, this recipe is so simple to make. This Chinese Fried Rice takes less time to cook than if you went to the Chinese Restaurant.
The flavoring is much better and the ingredients are simple. This recipe for shrimp fried rice is packed with flavor and so amazing that you will not be tempted to order out. Your kids will love this meal.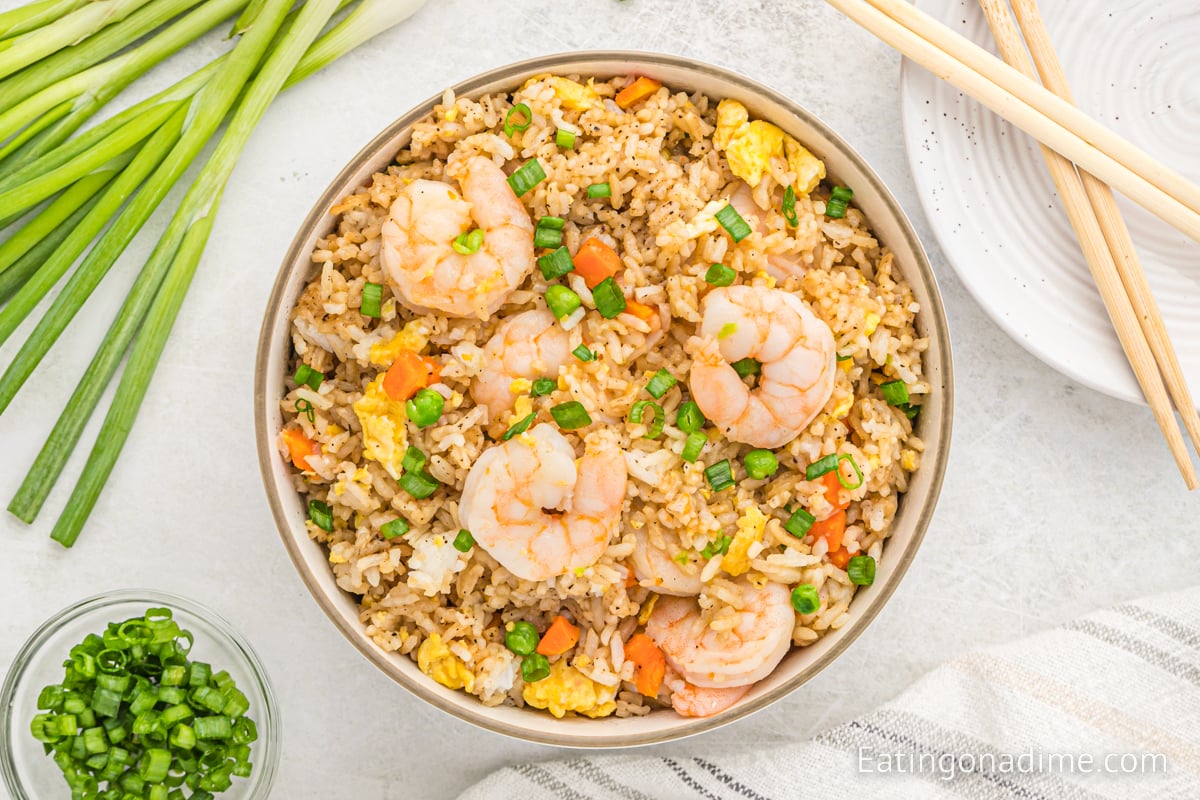 What is Fried Rice?
Fried Rice is one of those meals that you can make as a complete meal or as a side. You can add in protein such as shrimp, chicken, or pork. Fried rice is best made with leftover cold rice in a wok, skillet or on a griddle.
The ingredients that fried rice is usually made with is frozen peas and carrots, soy sauce, and scrambled eggs. Fried rice is simple to make and the ingredients can be changed to what you have on hand.
Easy Shrimp Fried Rice Ingredients:
Shrimp
Eggs
Sesame Oil
Vegetable Oil
Rice
Soy Sauce
Salt and Pepper
Peas and Diced Carrots
Green Onions
How to Make Shrimp Fried Rice Recipe:
Cook Shrimp and Vegetables – First you need to cook the shrimp and veggies. I like to do this together and it only takes a few minutes.
Scramble Eggs – Slide your shrimp and veggies to the side so you can scramble the beaten eggs.
Stir Cooked Rice and Seasoning in – Add the rice and stir in seasonings. Make sure to combine thoroughly.
Heat Thoroughly – Make sure everything is heated through in skillet on medium high heat. Top with green onions and stir to combine.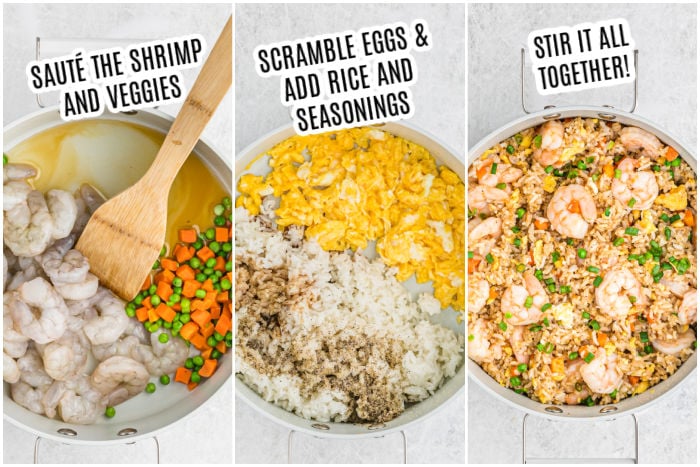 Serve and Enjoy – It is that simple to make shrimp fried rice at home.
How long is Shrimp Fried Rice good for?
As long as you store the fried rice in an airtight container, it can keep for several days in the fridge. Although, I will say it never lasts that long around here because we eat it so quickly. It is that good.
We all love it so much that we rarely even have leftovers.
What type of Shrimp do I use?
The perfect shrimp to make with shrimp fried rice is the large, jumbo or colossal size shrimp. We buy the shrimp that is already peeled and deveined. But you can cook shrimp with the peel on. I like to keep things easy, so I look for the shrimp that is already peeled.
We prefer to buy shrimp that is uncooked, but you can also heat cooked shrimp in the skillet. This recipe can be made with raw or pre-cooked shrimp. If you use pre-cook shrimp, cook the shrimp for 1-2 minutes per side to heat them through.
Shrimp Stir Fry Tips:
Use Leftover Rice – I find that it's best to use leftover rice for this recipe. Make sure that the rice is cold as it's easier to sauté on the grill when it's cold.
Refrigerate Leftovers – This recipe is best served fresh but you can refrigerate any leftovers in an airtight container for up to 3 days.
Top with Green Onions – I love topping the shrimp fried rice with sliced green onions before serving.
Shrimp – We recommend buying shrimp that is already peeled and deveined.
What goes with Shrimp Fried Rice?
There are many sides that you can fix with Shrimp Fried Rice. Since this recipe for shrimp fried rice is a complete meal, you can keep it simple or add more protein or vegetables.
Egg Drop Soup
Egg Rolls
Simple Green Salad
Steamed Vegetables
Cooked Salmon
Tips for Shrimp Frying Rice:
Rice – If you don't have any leftover rice, you can still make this recipe. You can easily use a couple of pouches of the ready to serve rice. They work perfectly and mix well with the other ingredients.
Frozen Vegetables – No need to worry if you don't thaw out the frozen peas and carrots. I usually just throw them in the skillet with the oil and garlic and they cook perfectly.
Add In Vegetables – We have added in some edamame, bean sprouts, and mushrooms for added flavor. Chopped broccoli would also taste amazing.
Change the Protein – If you don't like shrimp, you can easily substitute for chicken or pork.
Use Different Oil – You can easily use avocado oil, canola oil or coconut oil instead of the vegetable oil in this recipe.
Change the Protein – You can change the protein to salmon, shrimp, pork are all great option.
Gluten Free – If you want to make this gluten free, use Cauliflower Rice.
Oyster Sauce – Another sauce you add in is oyster sauce.
How to Store Leftovers:
Storing leftover shrimp is easy to do. Place in an airtight container and place in the refrigerator. Shrimp stir fry rice recipe will last about 3 to 4 days if stored correctly.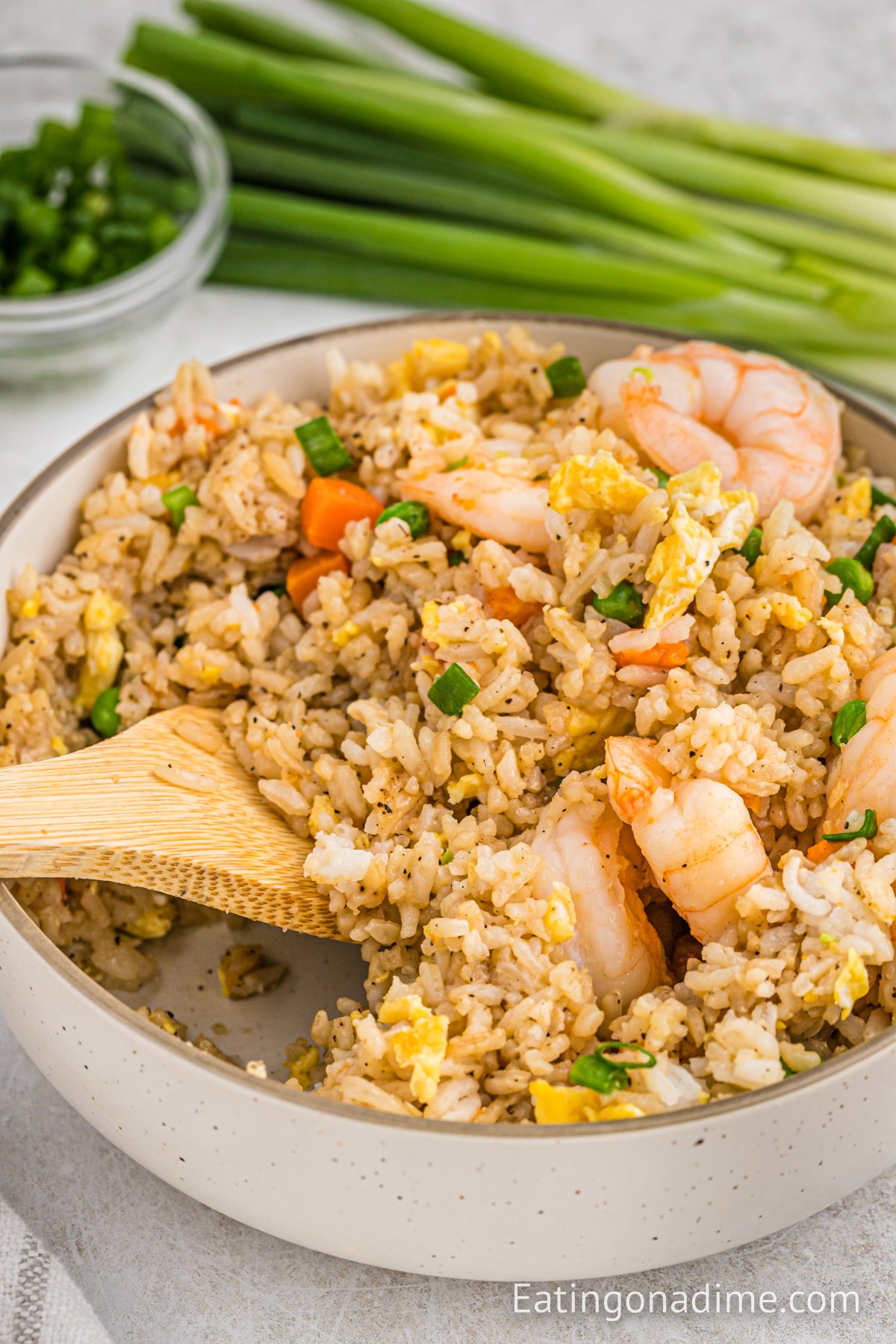 How to Reheat:
When you ready to reheat the homemade shrimp fried rice you can remove the shrimp and reheat the rice. Once the rice is close to be heated, add the shrimp back in with the rice and heat.
This keeps the shrimp from overcooking and getting mushy.
Freezer Friendly Meal Idea:
Homemade shrimp fried rice can easily be frozen if you have leftovers. Place in a air tight freezer container and place in the freezer. It will last about 3 months in the freezer.
Once you are ready to serve again, just thaw out in the refrigerator overnight. This will make an easy weeknight. Just heat and serve.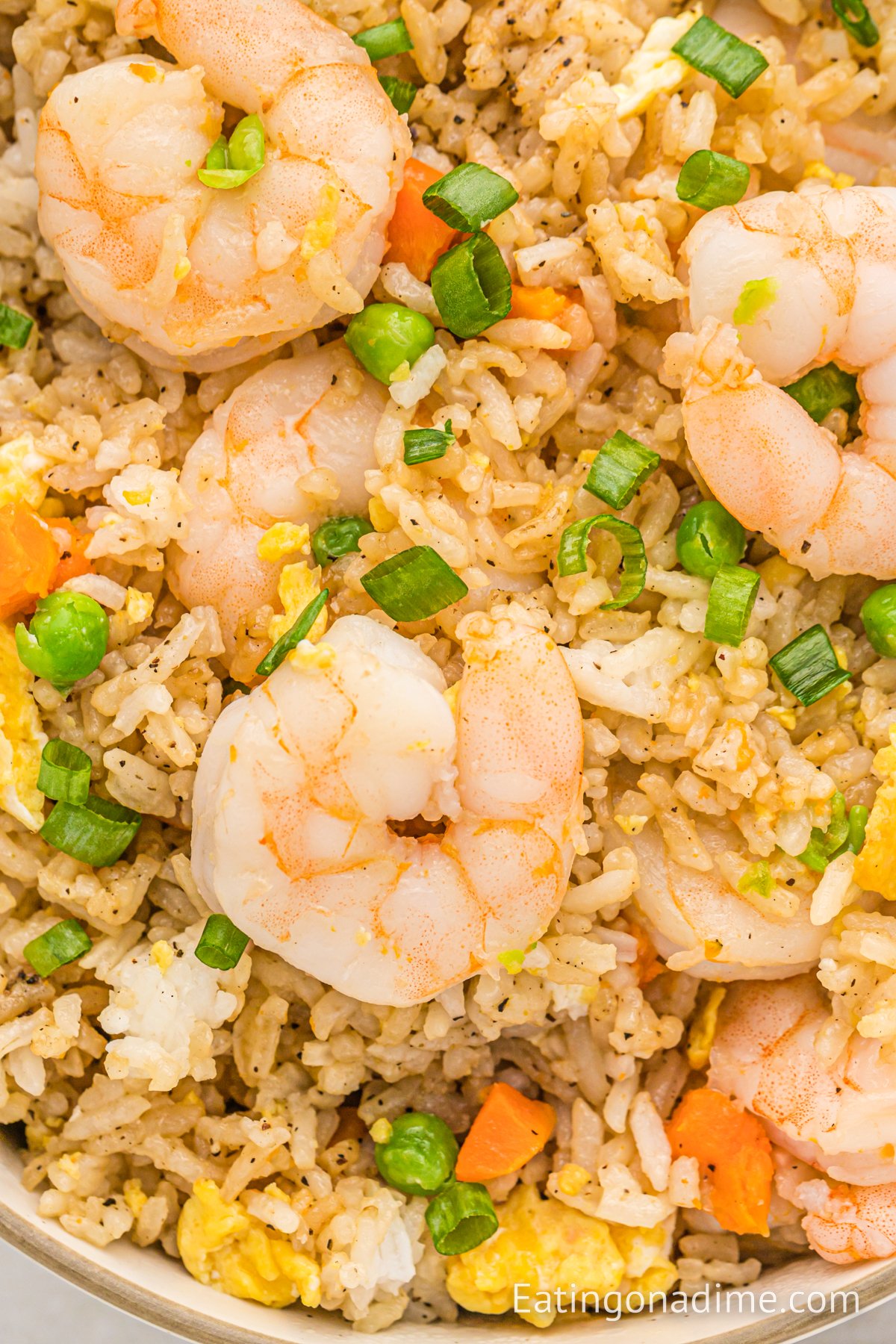 What is the Best Rice to use?
When we make this shrimp fried rice, we usually use white rice. But you can use brown rice or even cauliflower rice if you wanting a low carb option.
If I know that I am making shrimp fried rice during the week, I will prepare the rice the night before so it is ready to heat.
Budget Friendly Recipe:
When we have meat leftover from another meal, my go-to second meal to make is fried rice. I like to stock my freezer with frozen vegetables and I always have leftover rice in the fridge, or rice in the pantry.
Not only is this recipe tasty but it is budget friendly too. Rice is so inexpensive and helps to stretch other more expensive ingredients you might add.
We like to call this cook once eat twice. We are very busy during the week, so I can make this shrimp fried rice in about 15 minutes and head out the door.
Easy Shrimp Stir Fry Recipe:
This homemade Shrimp Fried Rice Recipe is so quick and easy and everyone will love it. You will love how easy clean up is and the entire recipe is super easy. If you love to get Chinese take out as much as we do, give this recipe a try.
Not only will you save money but time as well. Since we have been making this recipe, no one even asks to get take out anymore. It is that good and everyone really enjoys it.
I think your family will love it too.
Why we Love this Recipe:
Easy Ingredients – We eat a lot of Asian inspired meals so the ingredients are staple in our pantry. But if you don't have them, they can easily be purchased at the store.
One Pan – Everything is heated and cooked in one skillet. No need to use separate pans.
Family Favorite – If you are looking for a meal that everyone will love, this recipe is always my families favorite.
Main Dish – This shrimp fried rice can be served by itself because the carbs, vegetables, and protein. But you can easily add a side salad or serve it with some soup.
Print this Shrimp Fried Rice recipe below:
Shrimp Fried Rice Recipe
Skip takeout and make this delicious Shrimp Fried Rice Recipe at home in minutes. The shrimp and veggies have the best flavor to make the perfect meal.
Ingredients
1

lb

large shrimp

(raw, detailed and devained)

3

larges eggs

light beaten

2

tablespoon

sesame oil

2

tablespoon

vegetable oil

4

cups

cooked rice

3

tablespoon

soy sauce

1

teaspoon

salt

1

teaspoon

pepper

1/2

cup

frozen peas and diced carrots blend

Green Onions

sliced
Instructions
Heat the vegetable oil and the sesame oil in a large skillet over medium high heat.

Then add in the shrimp and carrots and peas blend in the skillet and sauté them for about 3-5 minutes or until the vegetables are soft and the shrimp are cooked through (pink).

Remove the shrimp and vegetables from the skillet to a separate plate. Then pour in the eggs.

Scramble the eggs. Push the eggs to one side of the pan.

Then add in the rice, soy sauce, salt, and pepper to the skillet. Sauté the rice for 3-4 mintues until slightly browned and combined with the seasonings mixture. Then stir in the scrambled eggs, vegetable and shrimp.

Stir for a few minutes until rice is heated through.

Top with sliced green onions.
Recipe Notes
*Refrigerate the leftovers in an airtight container for up to 5 days.  
Nutrition Facts
Calories
356
kcal
,
Carbohydrates
36
g
,
Protein
24
g
,
Fat
13
g
,
Saturated Fat
5
g
,
Cholesterol
272
mg
,
Sodium
1547
mg
,
Potassium
237
mg
,
Fiber
2
g
,
Sugar
1
g
,
Vitamin A
4550
IU
,
Vitamin C
8.3
mg
,
Calcium
147
mg
,
Iron
3
mg
More Easy Chinese recipes:
More shrimp recipes: