Tender juicy shrimp, vegetables and noodles make this Shrimp Lo Mein so flavorful. This homemade stir fry is easy to make with a simple sauce.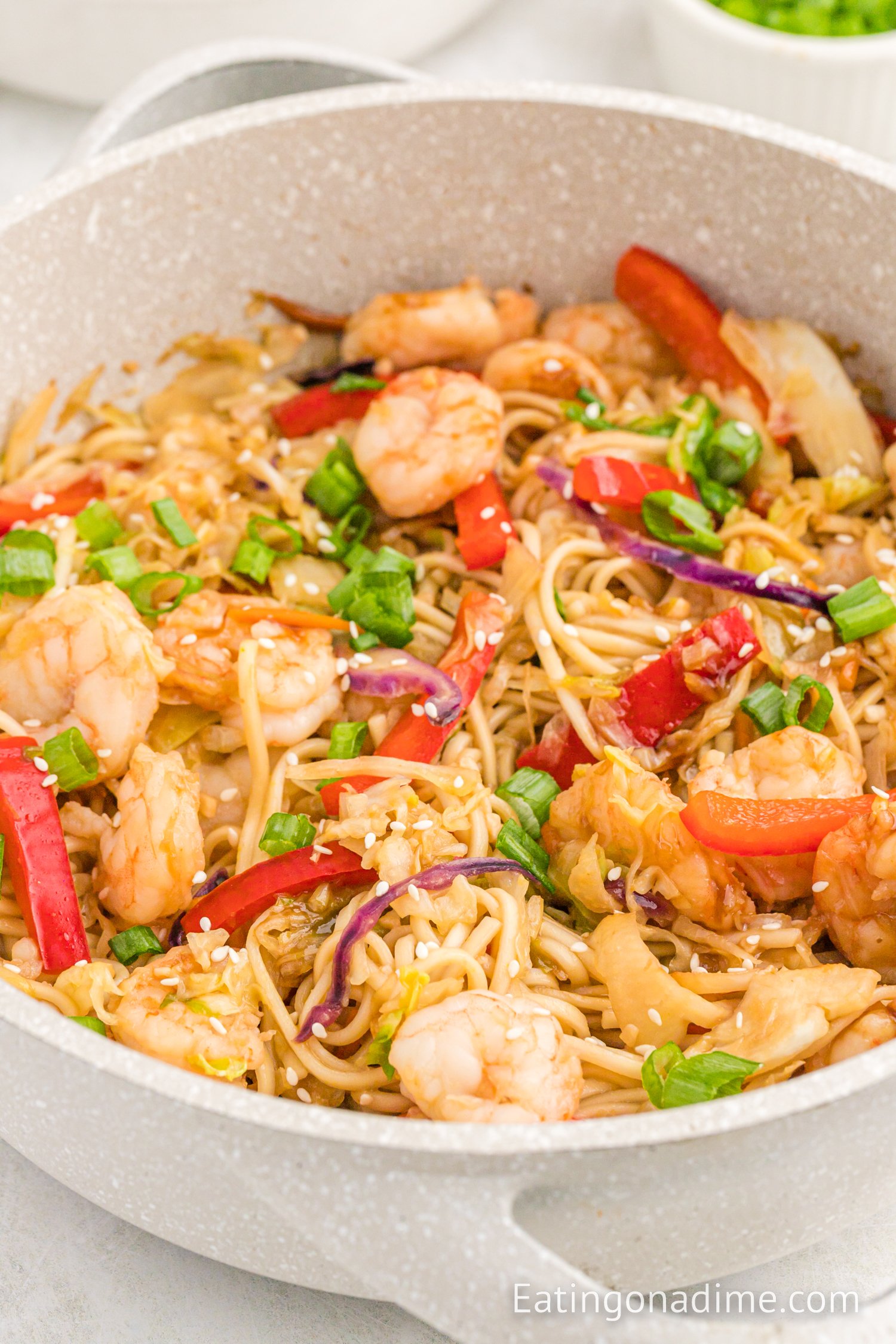 Shrimp Lo Mein Recipe:
This Shrimp Lo Mein Recipe is made with tender noodles, juicy shrimp and vegetables. Combining the ingredients with simple seasoning are all tossed in a easy sauce.
This Chinese inspired recipe is so flavorful and easy to make. The shrimp is cooked to perfection and then mixed with the tender vegetable. This lo mein recipe is customizable as you can make Crock Pot Chicken Lo Mein Recipe.
Skip takeout and make this Shrimp Lo Mein at home. It is a quick, easy meal and healthy too. The delicious dish is a very popular menu item at our local Chinese restaurant and now I can make it taste better at home.
What is Shrimp Lo Mein?
Shrimp Lo Mein is a shrimp stir fry that is made with noodles that are cooked tender. We added shrimp with this Lo Mein recipe but you can easily make this with chicken or just vegetables.
Ingredients:
Raw Shrimp, peeled, deveined with the tails removed
Coconut Oil
Coleslaw Mix (or finely diced cabbage)
Lo Mein Noodles
Red Bell Pepper, sliced
Ground Ginger
Minced Garlic
Soy Sauce
Hoisin Sauce
Water
Brown Sugar
Sesame Oil
How to Make Shrimp Lo Mein:
Combine Ingredients – In a small bowl whisk together the soy sauce, hoisin sauce, water, brown sugar and sesame oil. Then set sauce aside.
Prepare Noodles – Cook the noodles based on the package instructions to al dente and set aside.
Heat Coconut Oil – Then heat the coconut oil in a large skillet over medium high heat.
Cook Shrimp – Add the shrimp, season it with the salt and pepper and cook for 2-3 minutes until the shrimp just turns pink (watch closely so that it doesn't overcook).
Set Cook Shrimp aside – Then remove the shrimp from the pan to a separate plate and set aside.
Heat the Vegetables – Then add the coleslaw mix and red bell pepper to the pan (add more oil if needed). Cook these vegetables for 3-5 minutes until they are soft. Then add the ginger and add the garlic to the pan and cook for 1 more minute.
Add Shrimp and Noodles – Next stir in the shrimp and the sauce. Cook for 2-3 minutes. Then stir in the noodles. Toss to combine all the ingredients.
Serve and Enjoy – Remove the pan from the heat and then the shrimp lo mein is ready to serve and enjoy!
What's the Difference between Shrimp Lo Mein and Shrimp Chow Mein?
The difference between Lo Mein and Chow Mein is how the noodles are prepared. Chow Mein noodles are cooked to a crisp in with the other ingredients. Lo Mein noodles are cooked separately and then mixed in with the other ingredients.
Where Can I find the Lo Mein Noodles?
The Lo Mein Noodles can be found at your local grocery store in the Asian section. You can also find fresh or frozen lo mein noodles at an Asian Market if you have one near by.
If you are still unable to find traditional lo mein noodles any type of long noodles will work. Egg noodles will also work.
Tips for Making Shrimp Lo Mein:
Shrimp – You can use pre-cooked shrimp, but just cook until it's heated through so you do not over cook the shrimp.
Noodle Options – If you cannot find lo mein noodles in your area, you can use ramen noodles or spaghetti noodles instead.
Add in other Vegetables – You can easily add in other thinly sliced vegetables. We have tried zucchini, mushrooms, corn, and chopped spinach. Broccoli would also be an easy vegetable to add in.
Sauce Ingredients – The lo mein sauce is easy to make with simple Asian ingredients. If you cook a lot Asian inspired dishes, you probably already have all the ingredients. You can also add in oyster sauce if you prefer.
Cooking Noodles – After cooking the noodles, we do not recommend draining or rinsing them. The starch that is on the noodles when combined with the other ingredients helps the sauce to be thick.
Cooking Shrimp – Don't overcook the shrimp. When you initially cook the shrimp, cook them until they have a slight pink color. They will finish cooking once they are mixed in with the other ingredients.
What Can I Top the Shrimp Lo Mein with?
There are many different items that would taste amazing added to the Shrimp Lo Mein. We like the extra crunch it gives, so we recommend not skipping on adding an extra topping.
Chopped Peanuts
Fresh Bean Sprouts
Chopped Cilantro
Red Pepper Flakes
How to Store Leftovers:
Shrimp Lo Mein makes a great lunch the next day. Store the leftovers in an air tight container in the refrigerator. If we have a lot left over, I will place it in individual containers so my husband and I can have it for lunch the next day.
The flavor is amazing the next day as the ingredients marinate in the sauce. This gives the shrimp, noodles, and vegetables so much flavor.
What type of Skillet do I use?
When making this Shrimp Lo Mein I like to use a Wok or a large skillet. We recommend any type of pan that will get hot enough to cook the shrimp and the vegetable thoroughly.
You want your vegetables to be crisp tender and your shrimp to be slightly pink. Having a hot skillet allows the ingredients to cook quickly and evenly.
What type of Vegetables can be added?
This recipe is one that I make when I need to use up vegetables that may be close in getting bad. I try to prepare my vegetables for the week by clean and chopping everything so it can easily be tossed in a meal.
These are some of my suggestions for this recipe:
Snow Peas
Carrots
Water Chestnuts
Cabbage
Mushrooms
Broccoli
Zucchini
Bok Choy
How Long is Shrimp Lo Mein good for?
Refrigerate the leftovers in an airtight container for up to 3 days. We recommend putting in individual containers for lunch the next day. If you have a large serving leftover, I like to reheat in a large skillet.
Serving Shrimp Lo Mein:
When we are serving Shrimp Lo Mein, we like to serve it very quickly after it is cook. This is when the vegetables are perfectly crisp and the shrimp is very juicy. Since this Shrimp Lo Mein is a one pot meal, a simple salad would be great to serve with this.
You can also serve spring rolls or egg rolls if you prefer.
How to Reheat Shrimp Lo Mein:
When you want to reheat your leftovers, we recommend taking the shrimp out of the Lo Mein mixture. Heat the Lo Mein and then add the shrimp back in for the last 30 seconds.
This will keep your shrimp from being chewy and tough to eat.
Print Recipe here for Shrimp Lo Mein:
More Stir Fry Recipes: