Skip take out and make this easy Ground Chicken Fried Rice recipe. It is so delicious and budget friendly with hardly any prep work.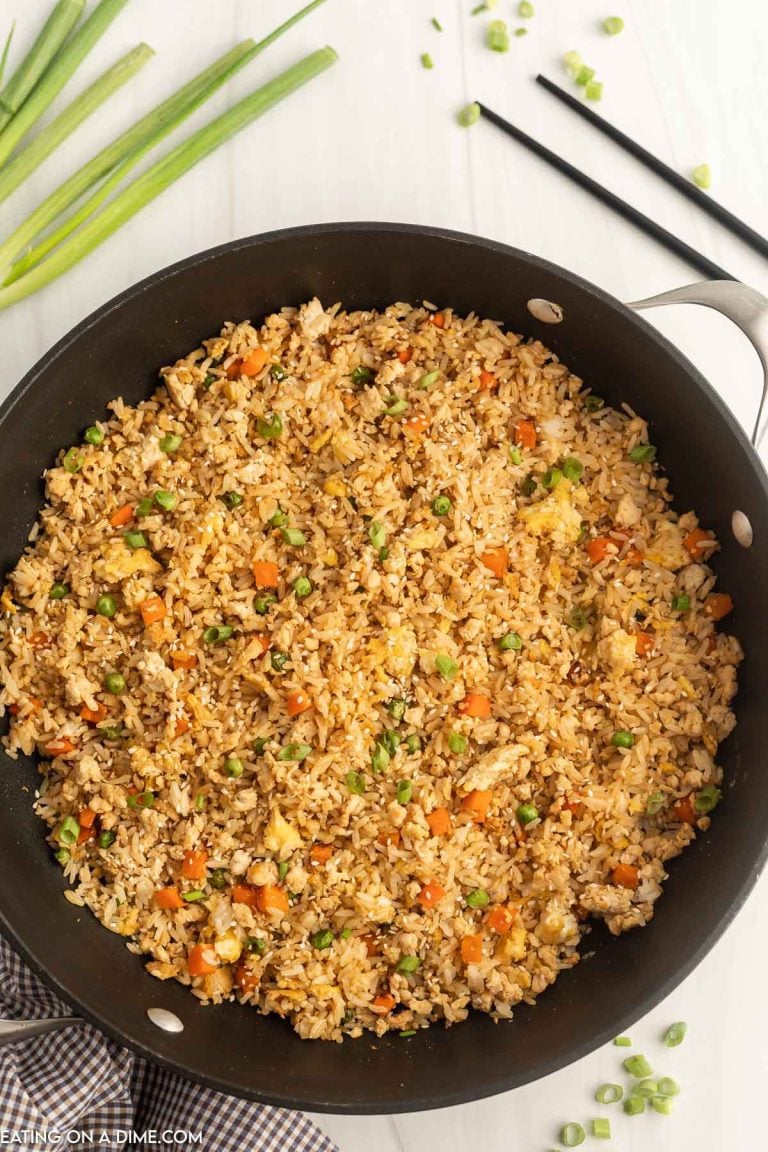 Easy Ground Chicken Fried Rice recipe
This is such an easy recipe and really tasty. With the rising cost of just about everything, this recipe is a delicious way to stretch your budget. The rice and veggies stretch the ground chicken into a wonderful meal.
Everything is seasoned perfectly. We use leftover rice to make this recipe and it is so quick and easy. The vegetables taste great, and you can easily adapt it to whatever you have.
What is chicken fried rice?
It is a simple but tasty dish made with rice. The other ingredients include ground chicken, vegetables and eggs. Everything is stir -fried together with seasonings until cooked through.
Ingredients:
Ground Chicken
Ssesame oil
vegetable oil
frozen peas and diced carrots blend
large eggs (lightly beaten)
Cooked rice
soy sauce
salt and pepper
green onions (sliced)
How to make fried rice with ground chicken:
Step 1. Cook the ground chicken. In a large skillet, sauté the ground chicken in the sesame oil and vegetable oil over medium heat until the chicken is cooked through for approximately 4-6 minutes. Once the chicken is cooked, transfer the chicken to a separate plate and set aside.
Step 2. Add in the peas and carrots. Next add the frozen peas and carrots blend to the pan and sauté for approximately 2 minutes on medium high heat .
Step 3. Scramble the eggs. Slide the vegetables to one side of the pan and pour in the eggs into the pan on the open side. Scramble the eggs.
Step 4. Combine the chicken and seasoning. Then add the chicken back to the pan. Next add in the rice, soy sauce, salt and pepper to the pan.
Step 5. Cook until combined and heated through. Sauté for 3-5 minutes until rice is heated through and chicken is warmed back through.
Step 6. Add the green onion and serve. Top with sliced green onions and serve immediately. Enjoy!
What to serve with chicken fried rice?
This dish is really a complete meal. From the rice and vegetables to the chicken, it all comes together for a great meal.
If you want to serve it with something else, I would keep it simple.
Some ideas include:
Steamed Broccoli – Only 3 minutes in the microwave.
Side Salad – Use your favorite salad greens to make a simple salad.
Wonton Soup. This is always a favorite.
How to store leftovers:
Refrigerate the leftovers in an airtight container for up to 5-6 days. If you need to store it longer, you can freeze the rice. Simply, place inside a freezer bag or container.
Then freeze up to 3 months. When ready to serve, thaw overnight in the fridge and heat in the microwave or stove. If the rice seems dry, you can add a little bit of water during the reheating process. Only add a small amount at a time so that you do not risk using too much water.
How to reheat:
Heat the rice in the microwave for 45 seconds and continue cooking until heated through.
If you meal prep, go ahead and put the leftover rice in individual containers. Having everything portioned will make it easy to grab these for easy lunches and dinners.
Do you Cook the Rice before Frying it?
Yes, the rice should be cooked before frying it. Leftover rice works best in fried rice recipes. You can use white rice, long grain rice or brown rice.
Tips for the Best chicken fried rice:
Cold Rice. The rice should be cold before frying for the best texture. We use leftover rice and it tastes great.
Ground meat. The rice should have ground chicken evenly throughout the rice. Make sure to break it into small pieces as it cooks so it doesn't result in larger pieces.
Rice varieties. White rice is best but you can use any variety you prefer.
Can I use other protein options in fried rice?
This recipe is so versatile and very easy to adapt for what you have on hand. We love ground chicken but it is so easy to change the protein.
You can use leftover meat or whatever you can get on sale. Chicken breasts, chicken thighs or a combination of both is tasty.
Shrimp, tofu, ground turkey or ground beef make other delicious options. We have also used leftover Rotisserie chicken to make this easy chicken fried rice recipe.
It is so simple to shred the leftover chicken and use for the rice. Since it is already cooked it saves a step and a little time.
Recipe Substitutions and Additions:
Low sodium soy sauce. Substitute this low sodium variety if you are concerned with sodium.
Vegetables. Bulk up this recipe with even more veggies. Some ideas include red, yellow or green bell peppers, onion, corn and zucchini.
Cauliflower rice. Reduce the carbs in this recipe and use cauliflower rice instead of white rice. It will take on the flavor of the other ingredients and taste great.
Seasoning. Change the seasonings for something new. If you like garlic, it is amazing in this recipe. You can use powder, fresh or minced.
Meat free. Skip the meat and enjoy this dish with just veggies. It is still flavorful and tasty.
Chicken fried rice with ground chicken is an easy meal.
We love everything about this meal. From the minimum expense to the flavor packed ingredients, this meal is a great dinner option. Everything comes together quickly and easily.
The entire dish can very easily be made using leftover ingredients. It is one way I create something new to serve my family when it's really leftovers. They have no idea and love it!
Print this Ground Chicken Fried Rice recipe below:
More fried rice recipes: