This post may contain affiliate links. If you make a purchase through links on our site, we may earn a commission.
I love soups especially in the Winter and Fall months. This Easy Crockpot Stuffed Pepper Soup Recipe is one of my all time favorites! It have all the flavors of traditional stuffed peppers without all the work.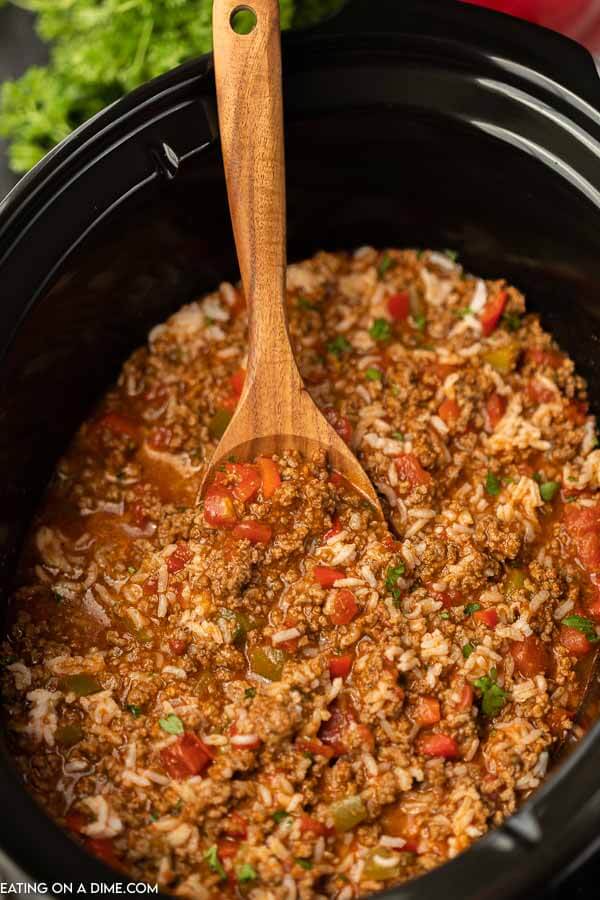 Slow Cooker Stuffed Pepper Soup
This crockpot stuffed peppers soup recipe is a quick and filling dinner. If you like the traditional stuffed peppers recipe, but don't want to do all the work, then this recipe is for you.
My family loves this meal! If you love stuffed peppers as much as I do, I know you will love this easy stuffed pepper soup. This is one of my all-time favorite soups! I love that I can throw everything in the crock pot and dinner cooks while everyone is at work and school.
It is so comforting and packed with flavor without a lot of work.
If you only have an instant pot and need a quick dinner, try our Instant Pot Stuffed Pepper Soup recipe. Using my instant pot has been a game changer for our busy nights. You can have dinner on the table in about 30 minutes.
You need a good Crock Pot for this recipe:
If you are in the market for a crockpot, I really like this crockpot. I use this all the time and it's great. My favorite feature is that you can lock the lid down. This is awesome for when you need to take the crockpot somewhere.
I love using my crock pot for these slow cooker recipes. We love using our crock pot for soups, side dishes, or get togethers and everything in between.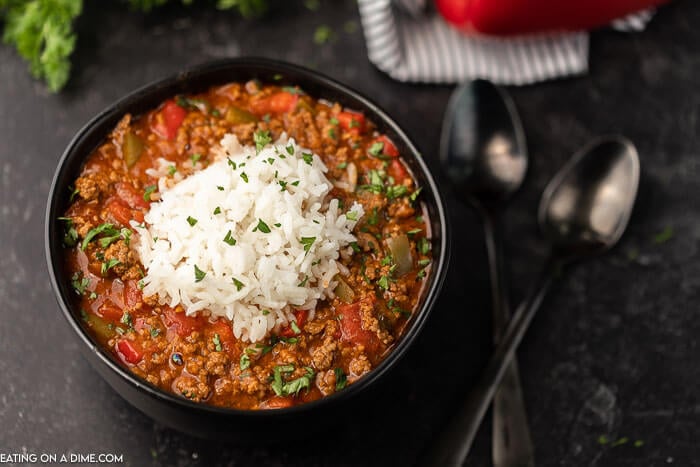 The kids love this Stuffed Peppers Soup Crockpot recipe!
There are times that my family wants crock pot traditional stuffed peppers. It is so easy to make them in the crock pot. But when I started making it in the soup form, my family loved it even more!
It is so full of flavor. Even my pickiest eater loves stuffed pepper soup. If you think yours kids will be afraid of this soup, you need to try it anyway. This is one of my favorite leftover rice recipes. We use leftover rice to make a second dinner!
I love that I can hide the peppers and onions because when cooked in the crock pot they are soft and nobody knows they are eating them. I love it when I can sneak in vegetables.
Ingredients:
Ground Beef
Onion
Red Bell Pepper
Green Pepper
Diced Tomatoes
Tomato Sauce
Beef Broth
Oregano
Garlic Salt
Worcestershire Sauce
Salt and Pepper
Rice
How to make Crockpot Stuffed Pepper Soup:
You are not going to believe how easy this recipe is to make. It tastes like it took tons of work like stuffed peppers but I promise it's simple to create!
First place everything (except the rice in the crockpot). Then stir to combine thoroughly.
Next cover and cook on low for 6 to 8 hours. Cooking times might vary based on your crockpot.
While the soup is in the crock pot, cook rice based on the package directions.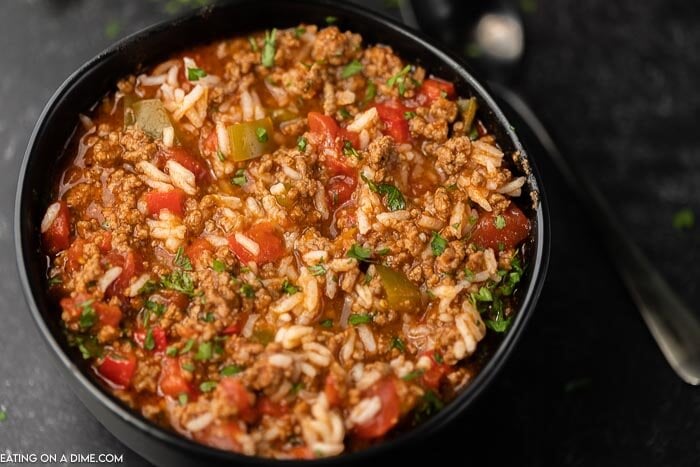 After this cook time, stir the crockpot stuffed peppers soup before serving. The bell peppers will be soft and delicious.
Spoon the soup into a bowl and top with a spoonful of the cooked rice or you can mix the rice right into the crock pot.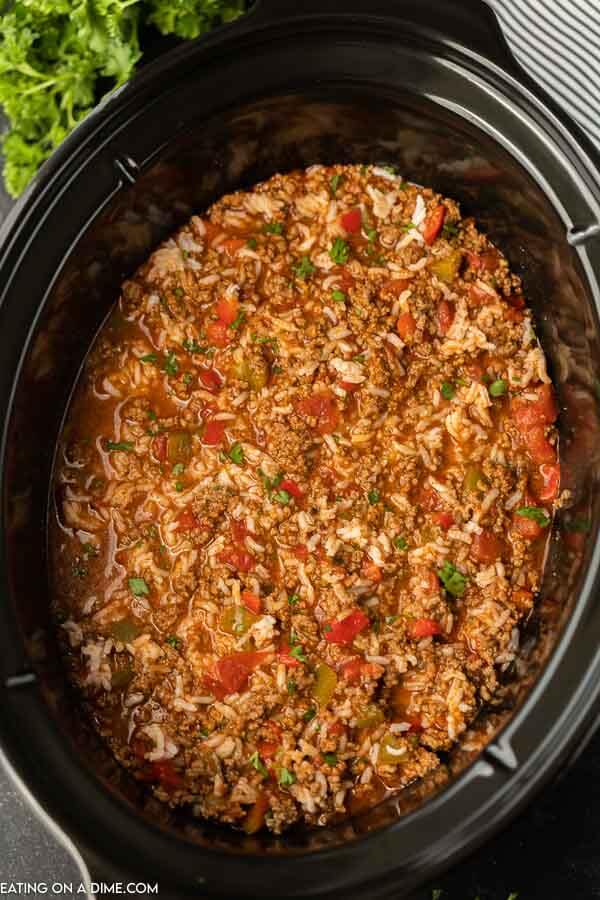 Storing Leftovers:
Storing leftovers is so easy! You can definitely freeze any that you have left over.
To freeze, let the left overs cool completely. Then store in your freezer in an air tight freezer bag. I heat it up on the stove top (after defrosting) in a large pot when I'm ready to serve this recipe again. It's easy to freeze and the leftovers taste great too!
I also like freezing individual containers for an easy lunch. My husband loves going to work with a container of Crock Pot Stuffed Pepper Soup for lunch.
By the time lunch comes around, it is thawed and ready to eat. He has a good lunch and doesn't have to have fast food.
Variation Ideas:
This delicious crock pot recipe is very versatile. It's easy to change it up to make sure it's the perfect soup recipe for your family.
You can make it healthier by chopping up cauliflower and use it instead of rice if you are following a low carb diet. Even though I think that this recipe is pretty healthy and low in saturated fat. Brown Rice works great too!
Check out my easy Cauliflower rice recipe. My kids ate it with rice last week, but I used cauliflower to get my extra veggies in.
Also, you can easily change the flavor by using different types of meats in this recipe. Try making it with ground sausage, ground chicken or ground turkey as well.
If you want to add a little spice to you can add in some slice jalapeno to this soup.
This the main reason I love this soup. The options are endless. You can use whatever you have in your freezer to make this delicious soup recipe.
Print this stuffed pepper soup crock pot recipe below:
Crockpot Stuff Pepper Soup
Crockpot Stuffed Peppers Soup is so easy to make and tastes delicious. You will love this stuffed pepper soup crock pot recipe.
Instructions
Place everything (except the rice in the crockpot).

Cover and cook on low for 6-8 hours or on high for 3-4 hours.

Spoon into a bowl and top with a spoonful of cooked rice.

Enjoy!
Recipe Notes
Refrigerate the leftovers in an air tight container for up to 5 days. 
The peppers are soft in this recipe.  If you prefer firm bell peppers, add them in for the last hour of the cooking time only.  
Nutrition Facts
Calories
482
kcal
,
Carbohydrates
62
g
,
Protein
21
g
,
Fat
16
g
,
Saturated Fat
6
g
,
Trans Fat
1
g
,
Cholesterol
54
mg
,
Sodium
1609
mg
,
Potassium
963
mg
,
Fiber
4
g
,
Sugar
9
g
,
Vitamin A
1274
IU
,
Vitamin C
57
mg
,
Calcium
89
mg
,
Iron
4
mg