This post may contain affiliate links. If you make a purchase through links on our site, we may earn a commission.
My entire family loves it when I make this Stuffed Cheesy Bread Recipe. It only takes 15 minutes to make and it is definitely a house favorite.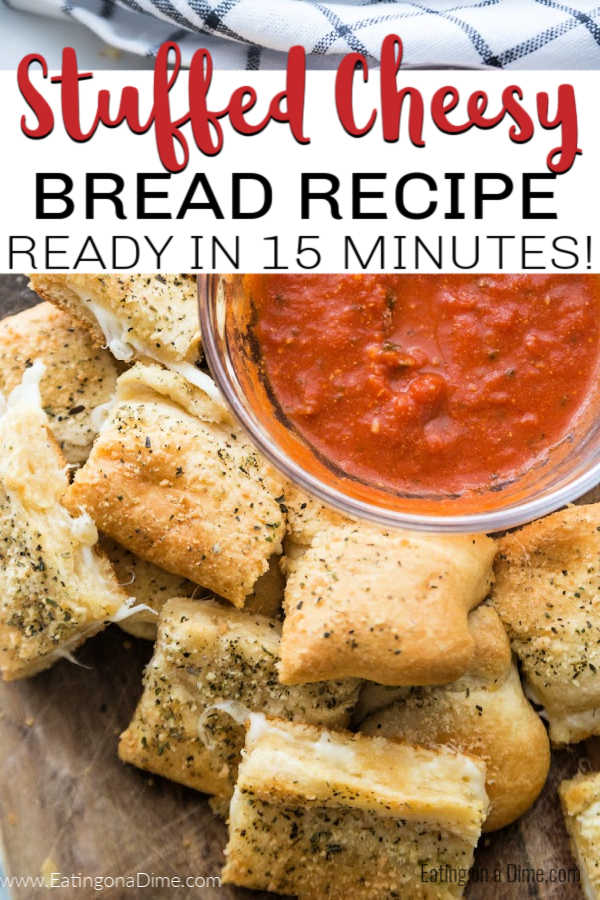 Easy Stuffed Cheesy Bread:
This stuffed cheesy bread recipe is very easy to make. For a lot of recipes, you have to make the bread from scratch. They requires all sorts of crazy ingredients (yeast, flour, cornmeal, warm water, etc) and you have to mix them together until they are smooth and elastic
Then you have to let the dough sit in a large bowl forever to get it to rise probably. Homemade dough and bread can be complicated to make.
Thanks to General Mills Pillsbury Crescents, I can still enjoy stuffed cheesy bread but in only 15 minutes. I promise, once you try this recipe, you'll never go back to the complicated way again!
Ingredients to Make Cheese Stuffed Bread:
You only need 4 ingredients to make this recipe. It's easy to throw together and my kids love helping me this as well!
General Mills® Pillsbury Crescents®
Mozzarella cheese
Italian Season
Handful of parmesan cheese
I bet you already have most of these in your pantry or in your refrigerator. Ok, now that you have everything you need to make this recipe, let's continue to learn how to create this stuffed cheesy bread recipe.
How to Make Cheesy Bread Recipe:
Step 1 – Prepare Oven – First preheat then oven to 375 degrees. Then lay the crescent rolls out on a baking sheet. Don't separate the rolls, you'll want to leave it all as one piece. You can press the seems together if you want to make sure that it doesn't separate while it's cooking.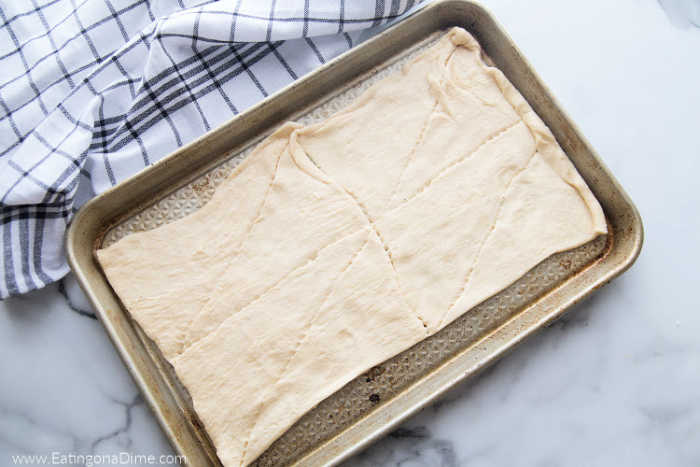 Step 2 – Top with Cheese – Next spread out the mozzarella cheese onto the crescent roll dough. Some recipes requires you to sprinkle each square with ½ cup of cheese. However, I'm never that exact and it's delicious every time.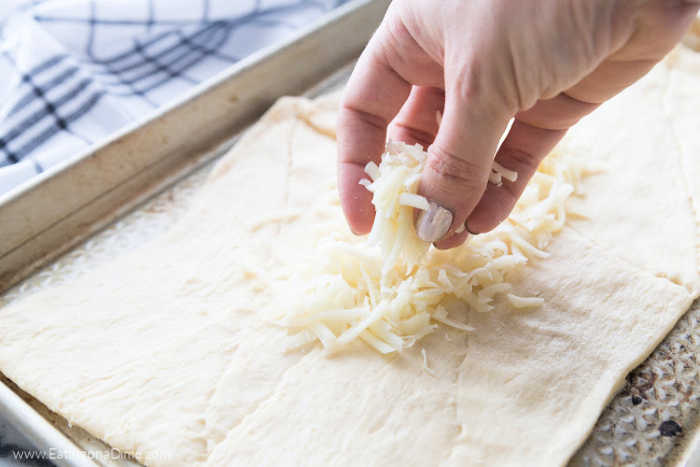 Step 3 – Fold up Sides – Then fold up the sides of the bread to make a long top. Seal the edges by pressing the dough together with your fingers.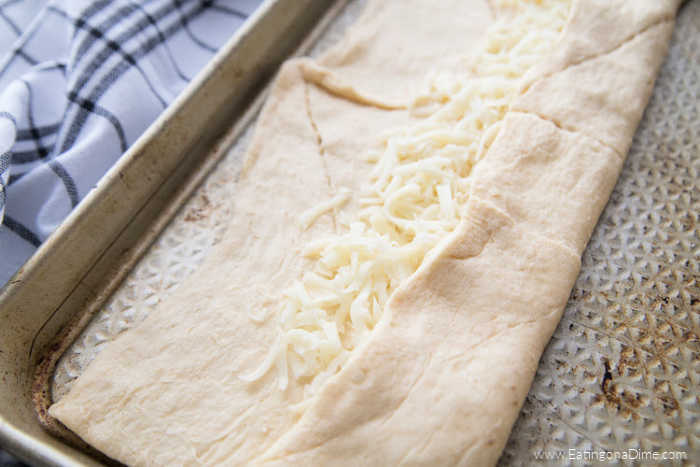 Step 4 – Top with seasoning – Next sprinkle the bread with the Parmesan cheese and the Italian Seasoning.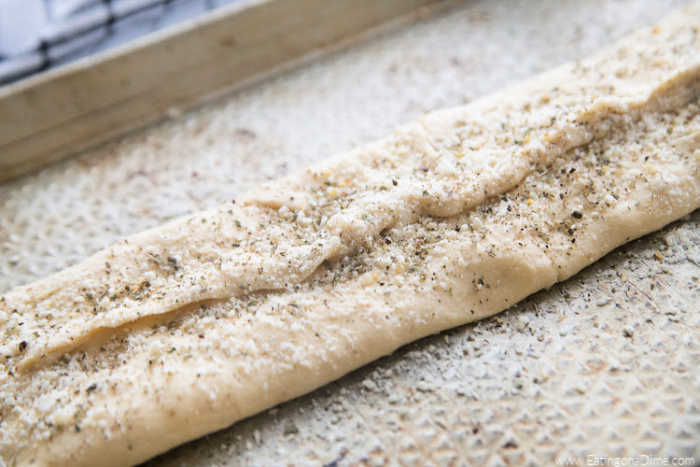 Step 5 – Cook Bread – Then cook according to direction on the Crescent rolls can until the bread is a beautiful golden brown color. There is no need to cover with aluminum foil.
Step 6 – Slice into Strips – Once it is cooked. Allow it to cool for just a few minutes. We sliced it into strips and make almost like breadsticks. The kids devoured them.
I really think that this bread was completed gone in less than 30 minutes in my house.
What to Serve with this Stuffed Cheesy Bread:
I love serving this cheesy bread with my favorite dipping sauces. Here are a few options for you to try. Also, you can double this recipe and serve it with multiple dipping sauce options for your next party or get together.
I love serving this bread on a beautiful platter with ½ cups of each of this dipping sauces along next to it. Everyone is impressed when this is out at parties.
Dipping Sauces to try:
Recipe Variations Ideas:
This recipe is very versatile and there are tons of ways to switch it up. You can easily make it your own or make it your family's favorite cheesy bread recipe.
Shredded Cheese – We used mozzarella cheese but feel free to use different types of cheese. Pepper Jack Cheese can be added for a little kick to the cheesy bread.
Bacon – If you have leftover cooked bacon chop up a few pieces and sprinkle inside the bread. Bacon bits can also be used.
Slice Jalapenos – Add in slice jalapenos or dice up some jalapenos for to put inside the bread. It would also be delicious served over the top.
Pepperoni – Add some slice pepperonis in the bread for a pizza style cheesy bread.
Change the Seasoning – Feel free to change the seasoning to what you prefer. Garlic Salt, minced garlic, garlic powder or dried parsley are good additions.
Melted Butter – You can brush the top with melted butter or olive oil.
Stuffed Cheese Bread Tips:
Bread – When rolling the store bought bread on the baking sheet, keep the crescent roll dough together. Press the dough together to make one whole sheet.
Baking Sheet – We like to recommend spraying the baking sheet with cooking spray to prevent the bread from sticking. You can also line with parchment paper.
Cheese – Use just the right amount of cheese. You do not want to overload the bread so that the cheese stays in the cheesy garlic bread.
How to Store Leftovers:
Store leftover in the refrigerator in an air tight container. The leftover will last about 3 to 4 days.
How to Reheat:
Reheat the leftovers in the oven or air fryer to make the crust crispy again.
Print Stuffed Cheesy Bread Recipe Here:
15 minutes Stuffed Cheesy Bread
You just have to make this Stuffed Cheesy Bread. You can have it ready in 15 minutes and it tastes amazing! It is great served with your favorite soup.
Instructions
Preheat oven to 375 degrees.

Place the crescent rolls out on a pan.

Don't separate. You can press the seams together if you want.

Spread out the mozzarella cheese.

Fold up the sides of the bread to make a long top. Seal the edges.

Sprinkle with Parmesan cheese and the Italian Seasoning.

Cook according to direction on the Crescent rolls can.
Recipe Notes
This recipe is mouthwatering good and pairs perfectly with so many comfort food favorites.
Nutrition Facts
Calories
109
kcal
,
Carbohydrates
11
g
,
Protein
1
g
,
Fat
6
g
,
Saturated Fat
3
g
,
Cholesterol
2
mg
,
Sodium
243
mg
,
Sugar
2
g
,
Vitamin A
25
IU
,
Calcium
19
mg
,
Iron
0.4
mg
Find more delicious recipes to make with your Pillsbury Crescents.
This is a sponsored conversation written by me on behalf of Pillsbury. The opinions and text are all mine.
More Easy Appetizers
More Easy Bread Recipes: