This post may contain affiliate links. If you make a purchase through links on our site, we may earn a commission.
Rice is such a tasty and inexpensive side dish. Jazz it up quickly and easily to make this tasty Cilantro Lime Rice Recipe. The entire family will enjoy it.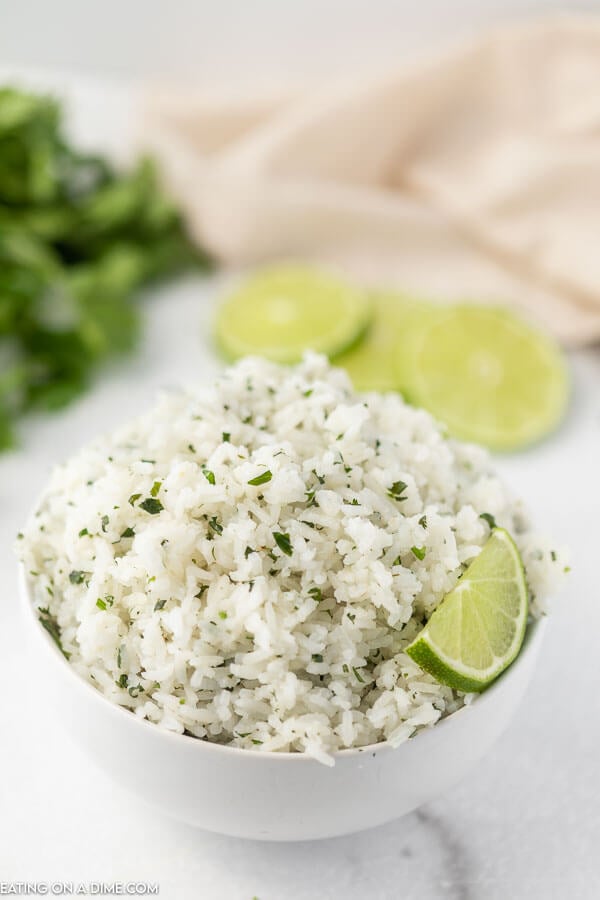 Copycat Chipotle Cilantro Lime Rice Recipe:
We love making rice. It is an easy side dish that can be added to almost any dish. This Copycat Chipotle Cilantro Lime Rice is a great way to jazz up plain white rice.
The combination of the Cilantro and Lime adds so much flavor to white rice. We love adding it to our burrito bowls or as a side to our favorite taco recipe.
The best part is that it is easy recipe to make with very little ingredients. Rice is an inexpensive side dish that is very filling and easy to make.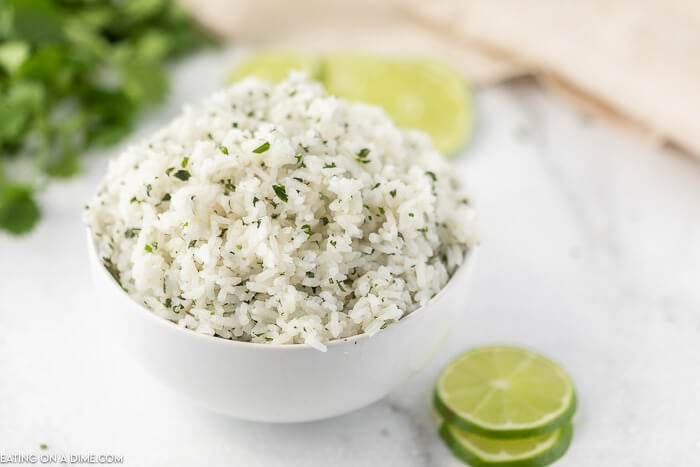 How many cups of rice will 1 cup uncooked rice make?
1 cup of uncooked white rice makes about 3 cups of cooked white rice
1 cup of uncooked brown rice makes about 4 cups of cooked brown rice
What is the difference between brown and white rice?
White rice has always been the popular choice of rice eat. My family prefers white rice over brown rice.
Brown rice is whole grain that has fibrous bran and gem. It is loaded with fiber, minerals and vitamins which makes up the bran and gem.
While the White Rice is still a crowd pleaser, all the minerals and fiber are removed while it is processing.
One of biggest difference also is that brown rice takes longer to make.
Do you use Cilantro Stems?
Yes, you can. The stems have a lot of flavor. When making this recipe, I tend to use the leaves and some of the stems.
When chopping the cilantro, I focus on chopping the top of the cilantro bunch. I love the texture of the cilantro leaves.
Cilantro rice is such a quick and delicious side dish idea!
Cilantro Rice is a Crowd Pleaser!
You will love the lime flavor. Sometimes, we make burrito bowls with this delicious rice. Just set out different bowls of meat and toppings. Let your family choose what they like and you have burrito bowls!
Put about ½ cup rice in each bowl. It's a great way to stretch the meat and feed a crowd. This is also really great for parties. You can't go wrong with rice because it's so easy and inexpensive.
I love cilantro lime rice with just black beans. Yum!
Ingredients:
How to make Cilantro Lime Rice Copycat Recipe:
Prepare your Rice – In a medium saucepan add the rice. Combine 3 cups of rice with 6 cups water. Bring to a boil. Before adding the rice to the pan, I like to rinse the rice.
Cook the Rice – Once you have a boil, reduce heat and cover. Cook the rice for 15 minutes or 20 minutes until rice is tender.
Add Seasoning – Remove from heat. Add garlic salt and chopped cilantro.
Squeeze the Lime – Squeeze the fresh lime over rice. Stir.
Serve and Enjoy – Add lid and let sit for 5 minutes. Season with salt and pepper and serve.
Variations:
Use Chicken Broth – Feel free to substitute chicken broth for water. It is totally optional but adds a lot of flavor.
Add some Oil – You can add in some olive oil for extra flavoring.
Double the Recipe – This is a double recipe. It will make a lot of rice. I do this, because you can then freeze the rest so you have an easy side dish later.
Rice Cooker Option – You can also use a rice cooker but I find it just as easy to boil on the stove top.
Add Lemon – Adding some lemon add so much flavor. The lime and lemon juices combined makes this rice next level.
Type of Rice – For this recipe, we use long grains rice. We like that after cooking long grain white rice it turns out light and fluffy. Basmati Rice is the kind I like using. Jasmine rice is a good alternative.
Fresh Cilantro – It is best to use fresh cilantro. Use the dried cilantro is tasteless and will not work in this recipe.
Fresh Lime – For the best lime taste, use fresh squeezed lime. I like adding lime zest to my rice.
What to serve with rice?
Here are some of our favorite recipes to serve with this Cilantro Rice:
How to freeze rice?
It's very simple process to freeze rice. Learn how to freeze rice and you can take it out of the freezer for a quick side dish.
Anytime I make rice, I always double to recipe. Having my freezer stocked with meals and side dishes saves me so much time and money. Check out How to Reheat Rice.
What about Cilantro Lime Brown Rice?
Yes, you can substitute brown rice for the white rice. We love it just as much! It is a nice change then the traditional white rice.
Since brown rice loaded with so many health benefits, I tend to make brown rice.
Can you make Cilantro Lime Rice in the Instant Pot?
Instant Pot Cilantro Lime Rice is a quick and easy way to get cook your rice. We love using our instant pot. In about 5 minutes you can have an easy side dish on the table.
Using a pressure cooker has been a game changer for my family. From freezer to instant pot, your family can have a homecooked meal in very little time using the instant pot.
How to Store Chipotle Cilantro Lime Rice:
I really like to meal prep for the week. It saves me so much time and money. This cilantro lime rice is perfect make ahead of time. My husband and I prepare our individual containers and fill each one up with cilantro rice, a protein and a vegetable.
It saves the hassle in the morning trying to figure out what to take for lunch. The lunch is already prepared and he can just grab and go. My kids love it when we have a container leftover.
How to reheat:
It is easy to reheat this rice. Make sure to store in a microwave safe dish to easily reheat. We usually reheat in the microwave for about 1 minute intervals until rice is reheated.
Squeeze a fresh lime over the top of your freshly heated rice to freshen up the flavor. We think it taste better the next day.

Print this Chipotle cilantro lime rice recipe below:
Cilantro Lime Rice
Try Cilantro lime rice recipe for an easy side dish. Cilantro lime rice is so quick to make. Everyone will enjoy Cilantro Lime Rice recipe.
Ingredients
3

cups

dry long grain rice

6

cups

water

1/2

tablespoon

garlic salt

1

lime

1/2

cup

cilantro

(chopped)
Instructions
In a medium size pot, combine 3 cups rice with 6 cups water. Bring to a boil.

Once you have a boil, reduce heat to low, cover and simmer for 20 minutes until most of the water is absorbed.

Remove from heat. Add garlic salt and chopped cilantro.

Squeeze the lime over rice. Stir.

Add lid and let sit for 5 minutes.
Recipe Notes
*Refrigerate the leftovers in an air tight container for up to 5-7 days. 
*You can also freeze the rice in a freezer bag for up to 2-3 months.  
Nutrition Facts
Calories
171
kcal
,
Carbohydrates
38
g
,
Protein
3
g
,
Fat
1
g
,
Saturated Fat
1
g
,
Polyunsaturated Fat
1
g
,
Monounsaturated Fat
1
g
,
Sodium
299
mg
,
Potassium
62
mg
,
Fiber
1
g
,
Sugar
1
g
,
Vitamin A
48
IU
,
Vitamin C
2
mg
,
Calcium
19
mg
,
Iron
1
mg
More easy rice recipes: