Learn how to freeze rice and save time and money. We have been doing this for awhile now and it helps so much during busy weeknights.
Can you freeze rice?
Did you know that you can freeze rice?? I buy rice in bulk all the time and freeze it. It is a game changer!
Instead of paying for the overpriced Minute rice, I buy regular plain brown rice. It is healthier and much cheaper. However, I don't always have the time to wait 40 minutes for rice to cook.
Can you freeze and reheat cooked rice?
Yes! It is very simple and such a time saver. Keep reading to see just how easy this is.
How to Freeze Rice
So… I cook double or even triple of what I need and then I freeze the rest. Freezing rice is a huge time and money saver for my family. I get the convenience of boxed "minute" rice without paying the extra money.
It is a win-win!
Let's learn all about freezing rice!
Once you try this, you will be hooked. It saves so much time and money.
How to freeze cooked rice:
1. Cook the Rice Like Normal
Basically you need to buy a bag of rice, any rice will do (brown or white). Follow the instructions on the bag. I boiled our rice in homemade chicken stock and water, but you don't have to. It takes about 20 minutes to cook the white rice and 40 minutes to cook brown rice.
You can also make Instant Pot White Rice Recipe if you prefer the pressure cooker. We also sometimes make Crock Pot Rice. Both of these options would allow you to make a big batch of rice to freeze without much effort.
If you prefer brown rice, we have an easy Brown Rice Pressure Cooker Recipe here.
Once the rice is cooked, season it to your liking. I always season our rice with garlic salt (yum).
2. Allow the rice to cool completely.
Once the rice is done, allow it to cool completely. This is VERY important. You never want to freeze warm or hot things.
3. Place into individual freezer bags and freeze.
Then separate the rice into individual freezer bags (according to what your family would eat). Label the bags, and place in your freezer. You have now frozen your rice.
We love to use these for freezer cooking: JOKARI Hands-Free Baggy Rack Storage Bag Holders. These are not necessary, but make it so much easier to put the meals together.
Freezing cooked rice is that easy!
After a long day, you can just grab this from the freezer and go. It really is such an easy side dish and it also makes delicious fried rice.
This saves a ton of time and helps your budget as well.
How do you reheat frozen rice?
When you are ready to eat your rice at a future dinner, just pull directly from freezer (no need to thaw). Run some water over the freezer bag to loosen the bag from the frozen rice.
Dump the rice into a microwave safe container. Place a small amount of water in the dish -approximately a ¼ cup. Cover.
Microwave until hot -about 4 to 5 minutes.
How do you reheat frozen rice without a microwave?
If you prefer to not use the microwave, you can heat the rice on the stove. Just put a small amount of water in the bottom of a pan and add the rice. It will not take much water.
How to cook frozen rice on stove:
Cover and cook on low heat until the rice is heated all the way through. You may need to break apart the rice with a fork every once in awhile.
Now you know how to reheat frozen rice!
Then Enjoy! It is that simple! You will wonder why you never did this before. It is so easy and delicious.
Freezing rice will not only save you some money on your monthly grocery bill it will also save you a lot of time in the kitchen! 🙂
Learn how to season brown rice quickly and easily.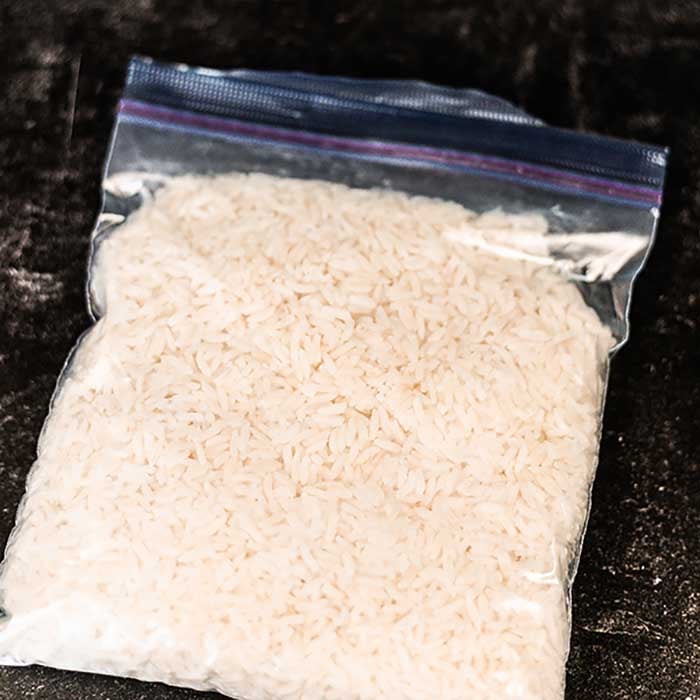 How long can you freeze rice:
Typically rice can be frozen for up to one month. Any longer and the rice will began to lose its flavor and start to harden as it loses moisture.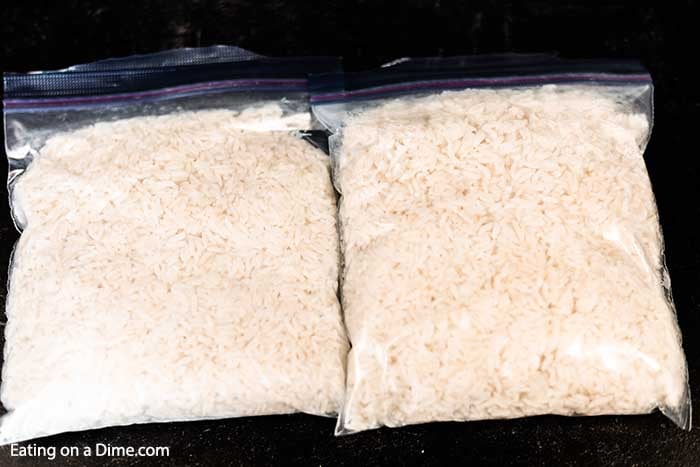 Now that you know how to freeze rice, get started today!
I love to grab the rice from the freezer in the morning and when we come home it is all ready to enjoy. We do this for lots of meals and it helps put together a quick meal.
It is so easy and helpful for busy weeknights. You can also use brown rice. Learn how to cook brown rice in the microwave for a quick side.
We have also used this Delicious Cilantro Lime Rice Recipe. There are lots of delicious options.
Freezer meals or even side dishes like rice really help during busy weeks. Anything I can do to prep things ahead and make dinner time easier is a big help around here.
You will love the time it saves you. It also saves money too. No need to buy those convenient minute rice packs when you get easily just grab a bag from the freezer.
It takes hardly any time at all to reheat. This is truly just so handy and really frugal. Let us know once you try it and how it goes for you.
More Freezer Recipes:
Make sure you check out these other delicious homemade recipes: