Try this Freezer Breakfast Burritos Recipe for an easy meal on busy mornings that everyone will enjoy. Loaded with eggs, cheese and more for the perfect breakfast on the go or at home.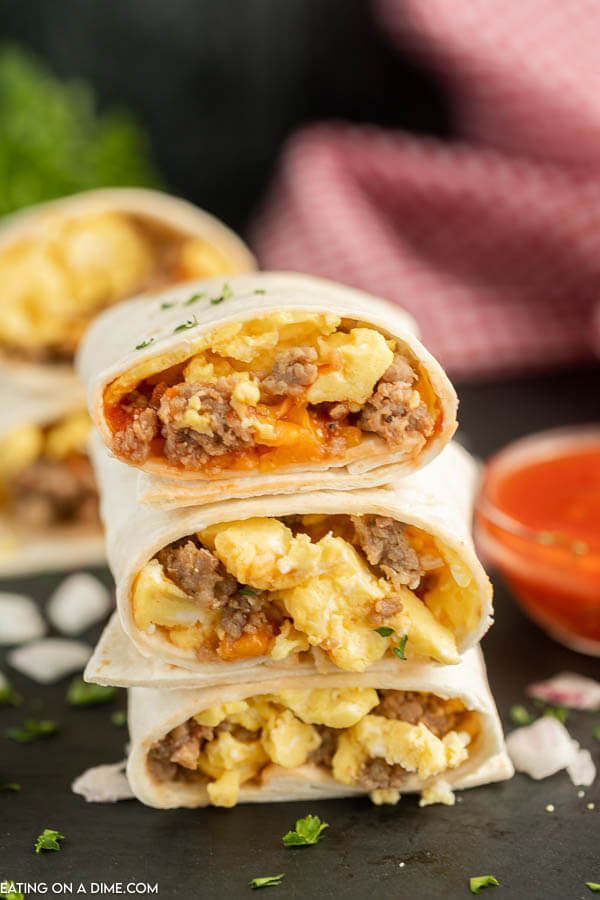 Easy Breakfast Burritos Recipe
Breakfast burritos are so easy to make. They freeze great and taste delicious!
In just under an hour of work, you can have 20 burritos in your freezer ready for a ton of easy breakfasts. We loves these because it is so easy to heat them up while getting ready and then eat them on the go if needed.
I can't tell you the times this freezer meal has saved us on busy mornings. Whether it has been trying to get to school, early morning ball games or even church.
Having these delicious burritos in the freezer has been such a blessing. You will be so glad you made these.
Freezer Breakfast Burritos:
You just set up an assembly line and it is really that simple to make your burritos! Less than an hour of work and you have a freezer full of easy breakfasts! We cook the eggs, sausage and anything else we add and then assemble the burritos.
My entire family loves these! I have even made simple egg and cheese burritos for the kids. They are so easy to customize to everyone's taste. Everyone will enjoy this breakfast idea.
Ingredients Needed:
It is so simple and that is all you need to put together these amazing breakfast burritos.
Eggs
Flour Tortillas
Sausage
Shredded Cheese
Salsa (optional)
How to Make Breakfast Burritos:
Cook the Sausage – Brown the breakfast sausage in a large skillet and just put it aside.
Make the Eggs – Next, scramble the eggs. Season with salt and pepper while you are preparing the eggs. Set aside in a bowl.
Prepare the vegetables – If you are adding in peppers and onions, you can add them to the egg mixture. Cook until the vegetables until soft.
Layer Ingredients in a tortilla – Make your assembly line and layer your ingredients on each tortilla.
Freeze – Once all breakfast burritos, prepare to freeze or refrigerate.
How to Freeze Breakfast Burritos:
Once you have all the burritos completed, place the burritos on a baking sheet lined with parchment paper. Freeze for at least 1 hour and then move them to a freezer bag to store.
Tips for Breakfast Burritos:
Use Fresh Tortillas – When I pick out the tortillas at the store, I try and get the ones that are soft. Then I use those to make these breakfast burritos. It makes it so much easier to roll when the tortillas are soft.
Microwave Tortilla – If you have tortilla that are not soft, or at room temperature you can heat them in the microwave. Place the tortilla between two damp paper towels for about 20 seconds. This should help to be able to roll the tortilla without it cracking.
Don't Overstuff– When preparing the burritos, make sure to not overstuff the burritos. This makes it easy to ensure the burritos closes and no cracking of the tortilla.
Tortilla Size – We use the soft taco size tortilla when we make breakfast burritos. But if you prefer larger size, you can use the burrito size tortillas.
Try Freezer Breakfast Burritos with Hash Browns!
Frozen hash browns go on sale frequently and I always stock up to make these yummy breakfast burritos. We love adding hash browns to our breakfast burritos.
You can get the hashbrowns that are shredded or diced. Prepare the hash browns as indicated on the package and then add them to your assembly line.
This makes the breakfast burrito filling and my kids love the extra potato flavoring.
What to serve with Breakfast Burritos?
Breakfast Burritos are really a complete meal all rolled up in a flour tortilla. But I do like to have a few sides to go with it. Here are some of my favorite sides:
Make a Fruit tray – I love serving a fruit tray to balance out the meal. Strawberries, blueberries and grapes are usually my family favorites.
Guacamole and Salsa – Make some homemade salsa and guacamole for dipping the breakfast burrito in. Sour cream is also a great side for dipping.
Hash browns on the side – You can add hash browns to the burrito or serve them as a side.
What other meat goes good in Breakfast Burritos?
We love using sausage for our breakfast burritos. It fries well when we are preparing the burritos. But you can also use these other options:
Cooked Ham
Cooked Bacon
Use Black Beans
Chicken
Ground Beef or Ground Turkey
Breakfast Burritos are a Crowd Pleaser:
Freezer burritos are the perfect for meal prepping for the week. But they are also make the best brunch idea or wedding shower idea. We love to make a breakfast burrito bar for a get together and everyone can add what they want.
They are also make the perfect camp food idea. It is easy to gather all the items and pack them up for an amazing breakfast idea when you are camping under the stars.
Variation Ideas
Salsa (we used Taco Sauce)
onions
green bell peppers
Frozen Hash browns
mushrooms
spinach
squash
zucchini
tater tots
Basically, you can make this any way you want! It is a great way to use leftovers.
We have used leftover ground beef and ground turkey and even shredded chicken to make the breakfast burritos. There really is no wrong way to prepare these easy freezer friendly breakfast burritos.
I also can sneak in veggies if I finely dice them and the kids don't know they are getting extra vegetables. Saute in a little olive oil in a skillet over medium heat and they have the best flavor.
Make this Sausage breakfast burrito recipe even simpler!
You could even do without the paper towel and foil when you freeze them. Just roll them up and place on a baking sheet.
Place in freezer and allow to freeze completely. Then lay them in a freezer bag.
You can still then have them frozen individually for quick and easy breakfasts! We have even made them for lunch or dinner as we head out the door.
What are you waiting for? Grab your favorite burrito toppings for an amazing breakfast idea.
How long can a Breakfast Burrito stay in the Freezer?
When we make breakfast burritos they are the perfect breakfast idea to freeze. We usually make enough for 2 weeks. But the burrito will stay good for about 3 months in the freezer.
When you place the burritos in the freezer, it is a good idea to label the freezer bag. This makes sure what is in the freezer bag and you eat the ones that need to be eaten.
The best way to Reheat Frozen Burritos:
Simply take the burrito out of the freezer. Wrap the burrito in a damp paper towel. Then reheat in the microwave for about 2 minutes on a microwave safe plate.
It is that simple. If you want, you could place them in the fridge the night before, but it isn't necessary
Print this Freezer Breakfast Burritos Recipe below:
More Quick breakfast recipes