This post may contain affiliate links. If you make a purchase through links on our site, we may earn a commission.
Learn How to Season White Rice with pantry ingredients. Change White Rice from boring to amazing with easy ingredients.
How to Season White Rice:
Long Grain White Rice is a staple side dish for many of our recipes. It is budget friendly and easy to make. We have made it in the instant pot, on the stove top, rice cooker and even in the crock pot.
Without some extra seasoning, white rice can be boring. We love to add in our favorite spices to really jazz it up. It can be as simple as adding butter and garlic to making spanish rice for your favorite Mexican recipes.
Use these easy options to give flavor to a favorite side dish that your family will love.
What can I add to White Rice for flavor?
The options are endless as to what you can add to white Rice. These are some of our favorites:
Add Fresh Herbs – Add in some of your favorite Herbs. We like parsley, cilantro, or basil.
Use Broth – Instead of cooking rice in water, use chicken broth or vegetable broth instead.
Make Cilantro Lime Rice – My kids love when I make Cilantro Lime Rice when we have Taco Tuesday.
Add Soy Sauce – Chicken Fried Rice is a great way to add in some leftover meat and drizzle with soy sauce.
Mix in Salsa – Mixing in salsa with rice is great with some shredded up chicken.
What seasoning to add to White Rice?
There are many different seasoning you can add to white rice. White Rice is very boring without adding some seasoning. It can be as simple as salt and pepper. These are some of the seasoning that we use all the time:
Garlic and Onion Seasoning – When we using seasoning, we use the powdered kind. It really helps with flavoring when add to the rice while it is cooking.
Oregano, Dried Thyme and Dried Parsley – This combination makes the white rice so flavorful.
Paprika – This is a great seasoning as it adds sweetness and little peppery flavor to white rice.
Bouillon Cubes – While the rice is cooking, add in some bouillon cubes for some added savory flavoring.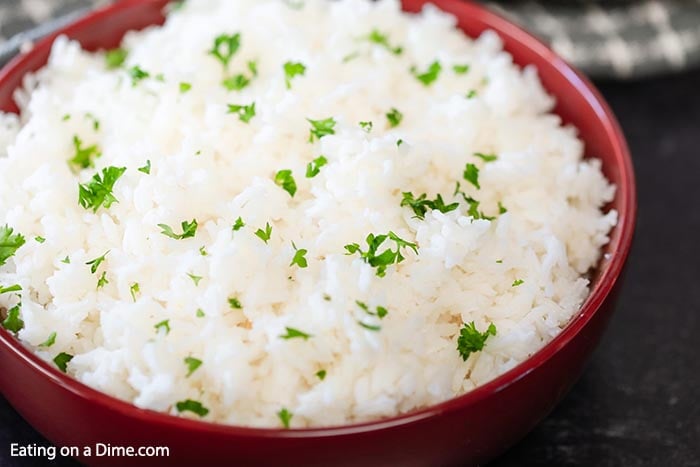 How to Store Cooked Rice?
If you have leftover rice place in an air tight container and place in the refrigerator. It will stay good for up to 3 to 4 days.
Freezing Rice:
Learn How to Freeze Rice so that it saves time and money. When we plan on making rice, we like to double to recipe. We then place in freezer safe bags to use for another meal. We make individual freezer packets but adding 1 cups of rice to each freezer bag.
When you are ready to reheat the rice no need to thaw. Run some water of the frozen rice in the bag. Then place in a microwave safe dish with a little water. Microwave for about 4 minutes and then fluff the rice.
Seasoning rice with your favorite seasoning and serve.
What is the best way to season White Rice?
There are many different ways to season white rice. But my favorite is to seasoning with garlic and butter. I always have these ingredients on hand so it makes it easy to add to boring white rice.
The options are endless to what to add. Use what you have and make it the way your family enjoys it.
How to use Leftover Rice?
There are so many ways to use leftover rice. Rice can be changed to fit the cuisine that you are making. Rice is great for stir fries, seafood dishes, mexican dishes, or your favorite american dishes.
There are some of our favorite and can be changed to your preference. These flavors can be added to brown rice as well.
1. Cilantro and Lime Rice
Cilantro and lime adds so much flavor to rice. This rice perfect for your burrito bowls or as a side to your favorite Mexican Dishes. It only requires a few ingredients and it turns boring rice to the perfect side dish for Taco Tuesday.
Cilantro Lime Rice
Try Cilantro lime rice recipe for an easy side dish. Cilantro lime rice is so quick to make. Everyone will enjoy Cilantro Lime Rice recipe.
See the Recipe
2. Garlic and Butter Rice
Cook your rice with some ½ tsp of fresh garlic and butter to make an amazing side dish. The combination of these ingredients makes this the perfect side dish to any recipe. It only requires a few ingredients and it taste amazing.
3. Cook in chicken Broth
Cooking your rice in chicken broth instead of cups of water really maximizes the flavor. It is an easy switch and one we do often. We always seem to have some chicken broth so it is turns the unflavored white rice to full of flavor. Chicken Broth added cooks perfect rice.
4. Season with Garlic and Parmesan Cheese
Adding Olive oil, Garlic and Parmesan Cheese to white rice it great when you are serving chicken, beef and seafood. These seasoning turns plain rice into a rice your kids will go for seconds.
5. Make Fried rice
Making Fried Rice is my top way to use leftover rice. You can easily add in some vegetables and leftover meat. Add in some soy sauce and you have made a budget friendly meal. Using your own seasoning taste better than take out.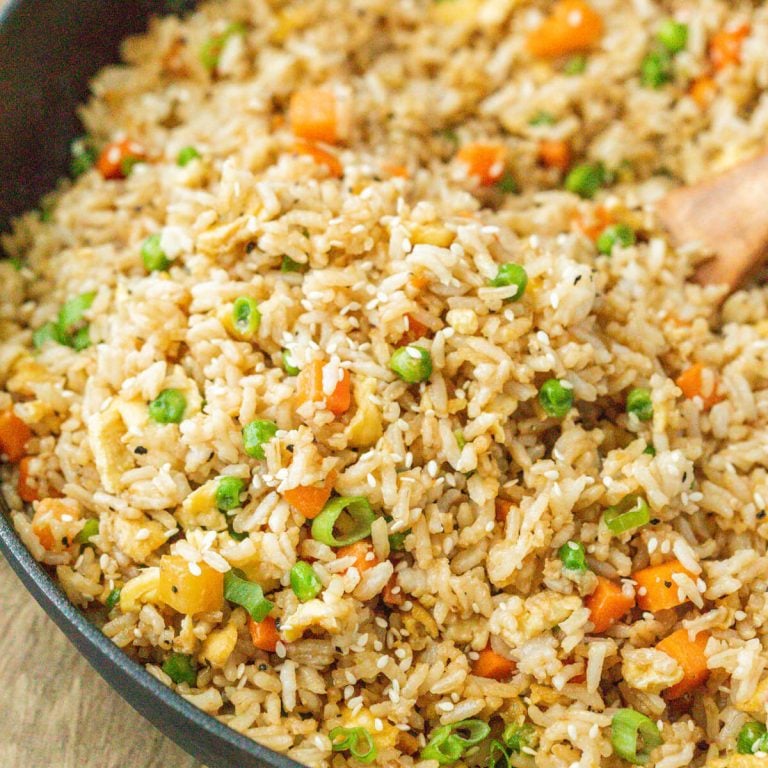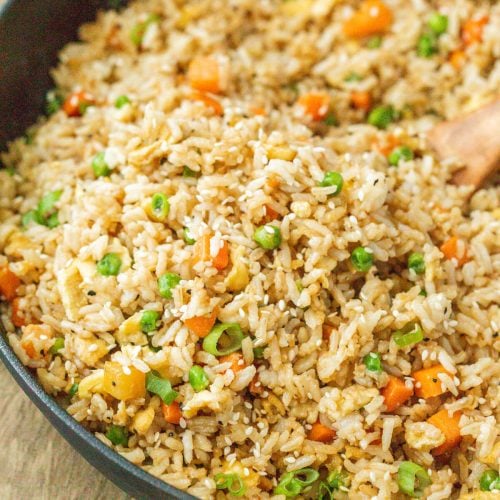 Easy Fried Rice Recipe
Enjoy this easy Fried Rice Recipe in less than 10 minutes making it perfect for busy weeknights.  Make this rice in less time than it takes to get take out.
See the Recipe
6. Make Spanish Rice
All you need is some salsa and cumin to make an easy Spanish rice. Anytime we celebrate Taco Tuesday, spanish rice is always on the menu. When making homemade spanish rice you know exactly what you are adding. The box spanish rice has so many ingredients that you can't pronounce.
Spanish Rice Recipe
This recipe for homemade spanish rice tastes just like the restaurants.Try this easy Spanish rice recipe. Learn how to make spanish rice.
See the Recipe
7. Make Dirty Rice
Add ground beef to rice and vegetables to make an amazing dirty rice recipe. This is the perfect rice for a busy night. It can all be made in one pot which saves me time not having to clean up a bunch of dishes.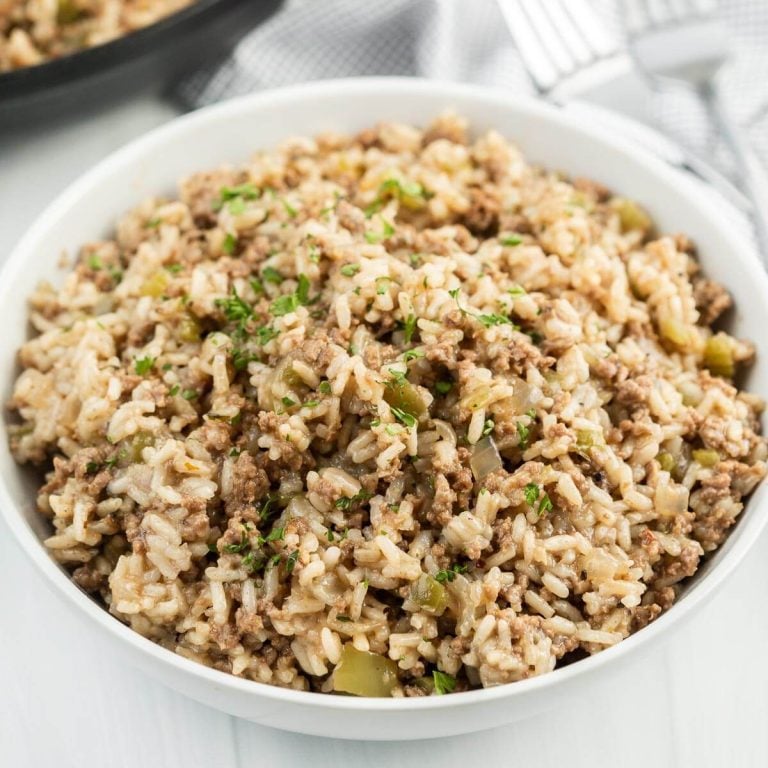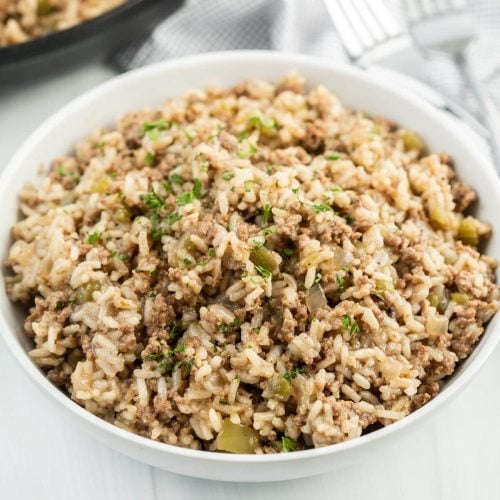 Easy Dirty rice Recipe
This Dirty Rice Recipe is simple and perfect for busy weeknights. The beef and veggies blend for the best flavor and make the rice so hearty and delicious.
See the Recipe
8. Beans and Rice
Stir in black beans, or red beans, for an easy side dish of beans and rice. We have having beans and rice. When we have Meatless Mondays, this is the recipe I make. My family loves it and it is great leftover.
9. Sausage and Rice
For a quick lunch idea, I like to stir in sliced sausage for a quick one pot meal. My kids love it and becomes an easy, frugal meal.
10. Herbs and Butter
Season plain white rice with thyme, paprika, garlic, thyme and onion powder with butter for a delicious herbed butter rice. These easy ingredients are easy to add flavor to plain white rice and to an amazing side dish.
Fresh herbs and butter added to rice enhances the flavor and becomes the perfect side dish or main meal.
Try one of our rice recipes: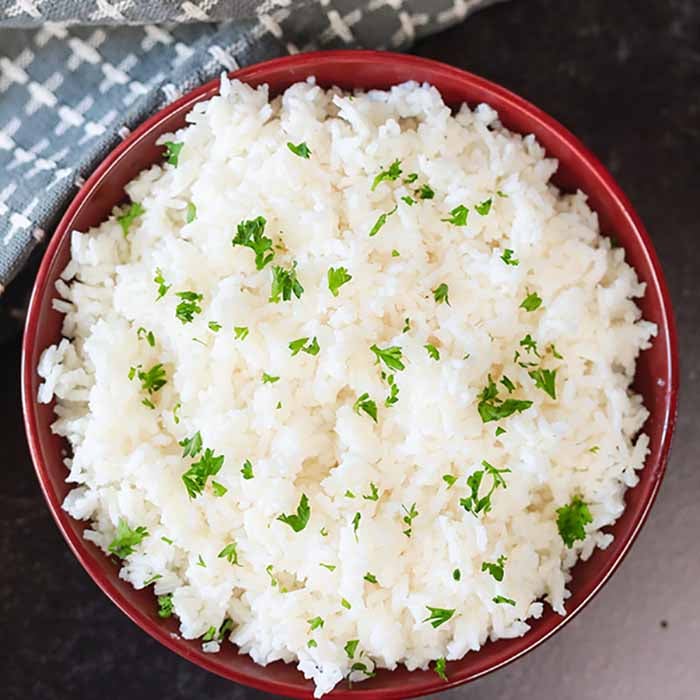 Instant pot White Rice Recipe
Instant pot white rice is so easy and a great way to make a large quantity of rice. We do this all the time to freeze, meal plan and more. It's so easy!
See the Recipe
Crock pot Rice recipe
This easy Crock pot Rice recipe is perfect to cook rice in huge batches. Then you can freeze it for later which saves you even more money.
See the Recipe
More Cooking ideas