Instant pot white rice is so easy and a great way to make a large quantity of rice. We do this all the time to freeze, meal plan and more. You will love how simple this and how much time and money you save.
Instant Pot White Rice Recipe
Rice is one of the easiest side dishes to make and you can save a ton of time by using the instant pot. We showed you how to make instant pot rice brown recipe and this white rice in instant pot will give you perfectly cooked rice every time.
Once you make it this way, you will love it! Gone are the days of waiting forever on rice to cook thanks to the pressure cooker.
In just minutes, you can have a side dish that goes with a bunch of different recipes. It is perfect for any meal! We also love our Easy Dirty Rice Recipe.
What is the ratio of water to rice in an Instant Pot?
The rice to water ratio is 1 to 1. This means if you are making one cup of rice you will add one cup of water.
Make sure you measure correctly so your rice doesn't get sticky or is uncooked. I always use the same measuring cup that I measure out for the rice and use the same one for the water.
Ingredients needed for Instant Pot White Rice:
White Rice
Salt
Cold Water
How to cook white rice in the Instant Pot:
First, make sure to rinse your rice first.
Put everything into the Instant Pot. Make sure the water is covering all the rice.
Add the lid and make sure to set the valve to the sealing position. Setting it to sealing makes sure the rice is cooked properly.
Set the pressure and in just minutes, you will have the best rice.
Fluff and serve rice with a fork.
Notes – Another option is to use chicken broth instead of water in this recipe. It is optional but tastes amazing and gives it amazing flavor.
How long does white rice take in the Instant Pot?
White rice cooks on high in about 4 minutes in the instant pot. Cooking times will vary. It will depend on your Instant Pot model and whether you select the pressure cook button on the manual button.
How to have fluffy Rice?
Make sure you rinse your rice first before cooking. I like to use a finely mesh strainer to really make sure that the water runs thoroughly through the rice.
Rinsing the rice helps make it a delicious fluffy rice.
Always use a natural release:
When the rice is finish cooking it is important to do a natural release for 10 minutes. This is the best way to get the perfect rice. The natural release could take up to 10 to 15 minutes. During this time do not touch the rice.
This is the key to getting the perfectly, fluffy cooked rice.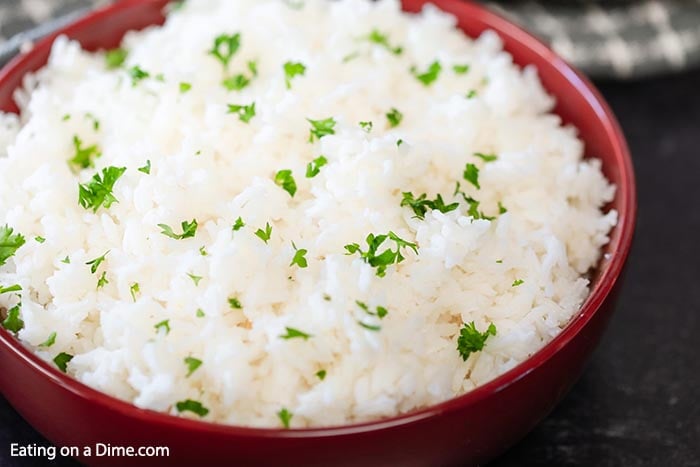 Instant Pot Recommendation:
I am using an 8 quart Instant pot but you can use a 6 quart. I personally have an Instant Pot and so far I am loving it.
It is perfect for frozen food or meals that normally take a while. You can toss everything in and have dinner ready in no time at all. Those days when you forget to take something out of the freezer or wait until the last minute for dinner, the instant pot is your saving grace.
No worries if you don't have an instant pot yet, you can make this Crock Pot Rice Recipe.
How to Freeze rice.
You can save even more time and learn how to freeze rice and you can make dinner time even easier. I love to grab the rice from the freezer in the morning and when we come home it is all ready to enjoy.
Make a big batch of rice in the pressure cooker and freeze it into small portions that you can use for dinner time. Rice is the perfect side dish to many recipes so this will save you so much time.
How to store White Rice:
We love leftover rice. Most of the time we do freeze it but I also like to have a batch in the refrigerator. It makes for a quick side for leftovers.
I just leave it in air tight container for 2-3 days. See How to Reheat Rice.
Add your favorite Seasoning:
There are many different seasoning to add to white rice. Here are some of our favorites.
My family loves Pepper Rice. It is as simple of adding salt and pepper to cooked rice.
You can sauté rice in some butter or olive oil.
Add some garlic salt or season salt.
You can also mix in some salsa.
See How to Season White Rice for more ideas.
Tips for the best White Rice in the Instant Pot:
There are so many ways to have delicious seasoned brown rice here and they work just as well for white rice. You can learn how to season brown rice or white rice quickly and easily.
The Instant Pot can cook at least 6 cups uncooked rice but you do not want to overfill the pressure cooker. This is a lot of rice!
You can make 10 cups of cooked rice from 2 cups of uncooked rice. This is a lot of rice but a great way to meal plan and freeze for later.
Try this easy Instant pot white rice:
Forgo rice cookers and just use your electric pressure cooker. We love instant pot recipes so ours gets a ton of use. This one gadget does so much and cuts down on clutter because you don't need a ton of different things. The pressure cooker does so much!
Once you try instant pot rice, you might want to try different types of rice. Jasmine rice or brown rice are delicious. You will never make stove top rice again once you start making rice in the instant pot. You can cook the rice in no time at all!
In less than 20 minutes, have tons of rice to use for lots of meals!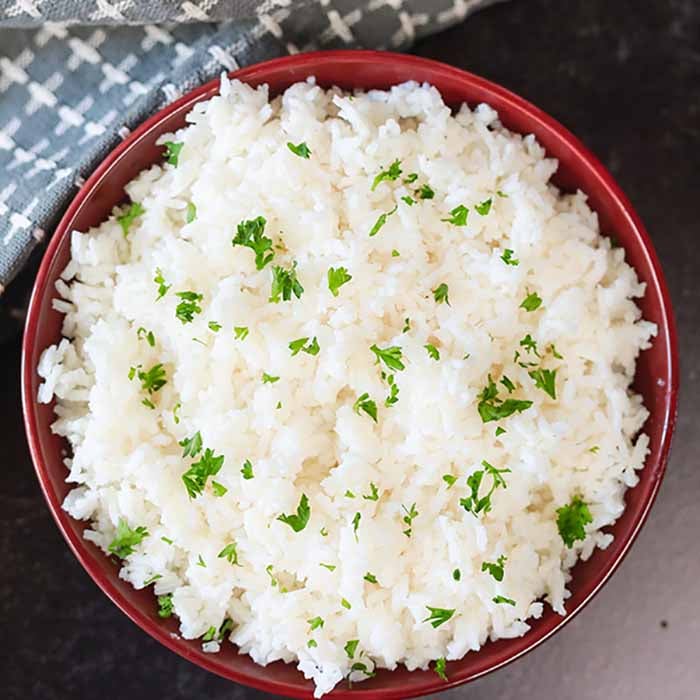 What can I serve with Instant pot white rice:
Instant pot White Rice Recipe
Instant pot white rice is so easy and a great way to make a large quantity of rice. We do this all the time to freeze, meal plan and more. It's so easy!
Ingredients
3

cups

white rice

3

cups

water

1

teaspoon

salt
Instructions
Place everything in the Instant pot.

Add the lid and set the valve to sealing.

Set the pressure for 3 minutes.

Allow it to do a natural release for 15 minutes. Then do a quick release.

Fluff with a fork and serve.
Recipe Notes
It tastes amazing if you use chicken broth instead of water.
Nutrition Facts
Calories
338
kcal
,
Carbohydrates
74
g
,
Protein
7
g
,
Fat
1
g
,
Saturated Fat
1
g
,
Sodium
398
mg
,
Potassium
106
mg
,
Fiber
1
g
,
Sugar
1
g
,
Calcium
30
mg
,
Iron
1
mg
More Instant Pot Side Dishes: