This post may contain affiliate links. If you make a purchase through links on our site, we may earn a commission.
If you are looking for a new recipe, this Pineapple Chicken Recipe is incredible. The pineapple and chicken come together for the best flavor. The meal is so easy that you can even make it during busy weeknights.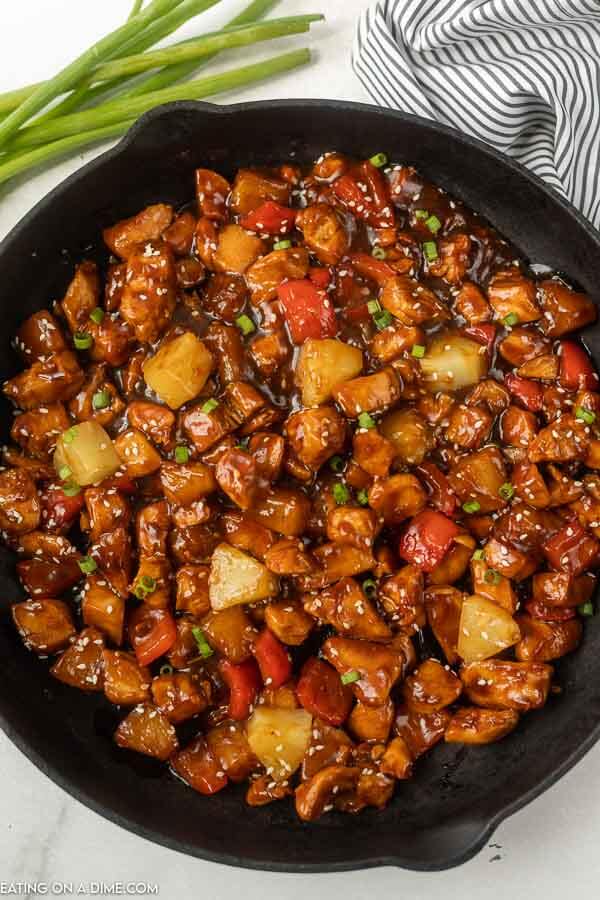 Pineapple Chicken Recipe
This quick and easy pineapple chicken recipe is so easy and requires very little work. Everyone will be impressed with how delicious this turns out. The entire family will absolutely love it.
The chicken is so tender and the pineapple juice makes the best broth. The combination of sweet and savory makes a great meal. It is so simple with canned pineapple and comes together really fast.
My family loves this so much they prefer this meal to takeout. I could literally eat the sauce by the spoonful. It is so amazing.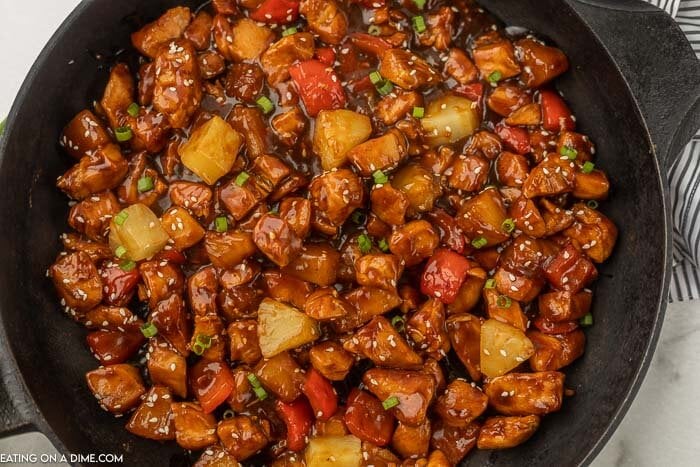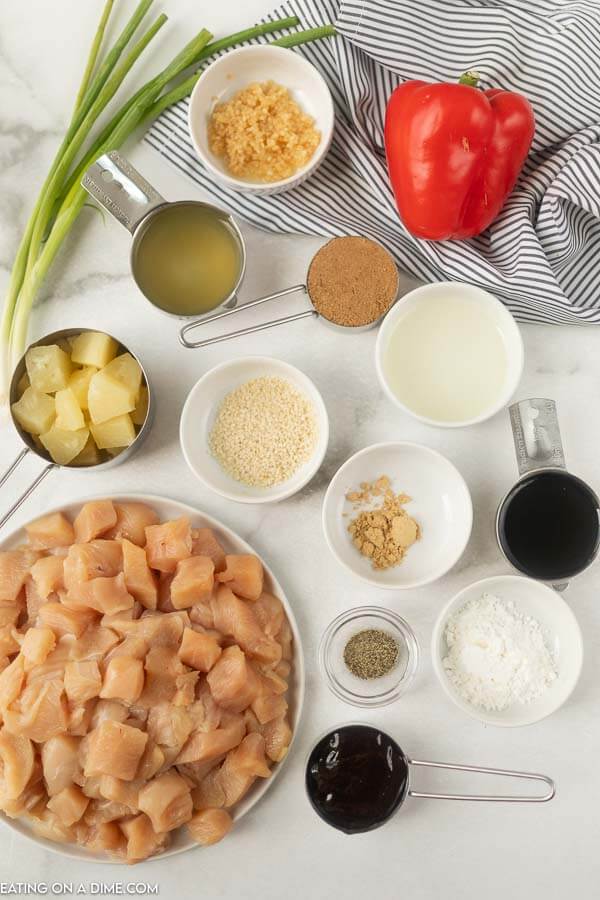 Ingredients
Boneless skinless chicken breasts
vegetable oil (or olive oil)
salt and pepper
red bell pepper
pineapple chunks
minced garlic
ground ginger
pineapple juice
soy sauce
chicken broth
hoisin sauce
brown sugar
cornstarch
sesame seeds
green onion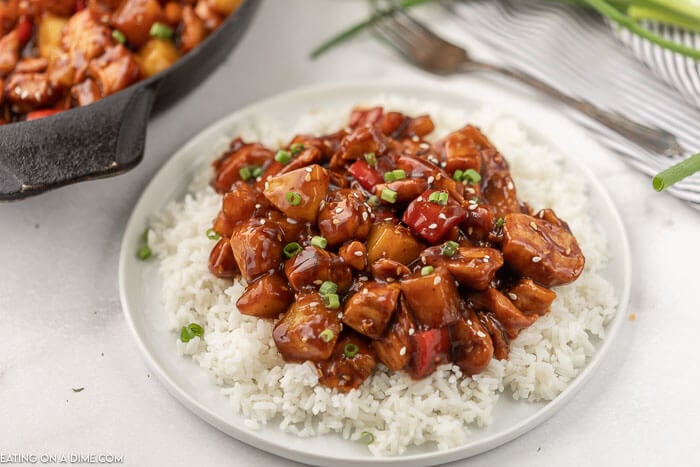 How to make pineapple chicken:
First, get out a large skillet and add the olive oil over medium high heat. We used a cast iron skillet because they cook so evenly. However, use what you prefer.
Then add the chicken to the pan. Season with the salt and pepper.
Next, cook the chicken for about 4 to 6 minutes or until it is fully cooked. Be careful not to overcook the chicken.
Once you have cooked the chicken, add the red bell peppers and juicy pineapple. Cook this until the bell peppers are tender. If you like the bell peppers crispier, reduce the cook time. It is easy to adapt based on preference.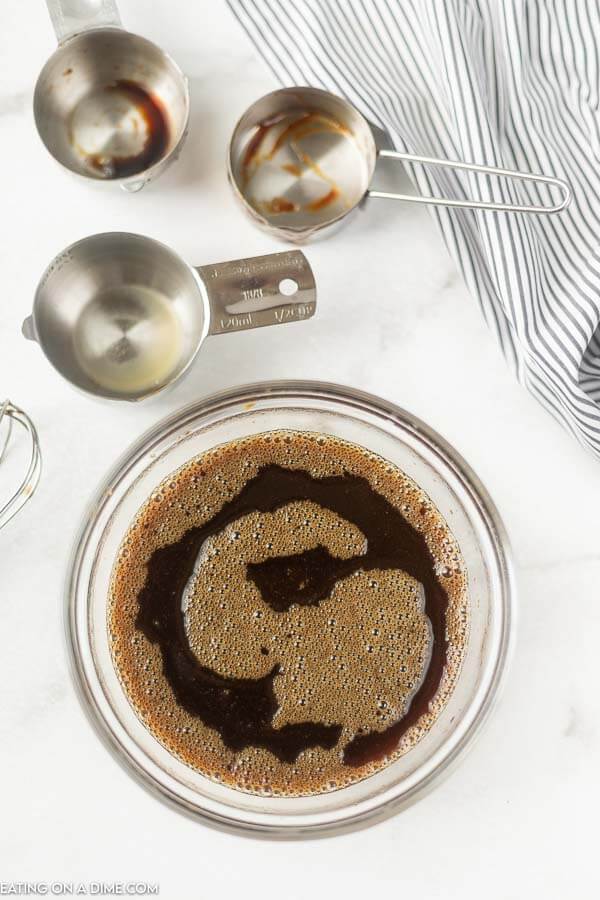 Use a small mixing bowl and combine the pineapple juice, soy sauce, broth, hoisin sauce, brown sugar and cornstarch. Combine this until well blended and you don't see any clumps.
Add the liquid to the skillet and allow to simmer for a couple of minutes until thickened. Stir regular to prevent from burning. As soon as it has thickened, remove from the heat.
Garnish with sesame seeds and chopped green onion. This is optional but adds to the flavor and looks pretty too. You can also sprinkle red pepper flakes on top for a sweet and spicy taste.
Keep reading for the full recipe and detailed cook time.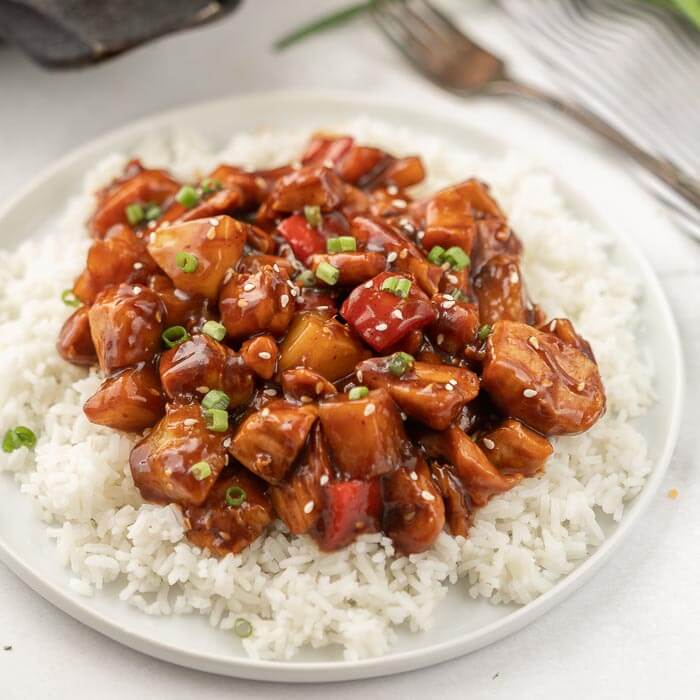 Crockpot Cooking Method
Combine the soy sauce, pineapple juice, broth, hoisin sauce, brown sugar and in a bowl. Mix until well combined.
Next, put the chicken in the slow cooker. Pour the soy sauce mixture all over the meat.
Then cover and cook on low for 4 hours or high for 7 to 8 hours.
Once everything has finished cooking, use a small bowl and add the cornstarch to 2 tablespoons of water. Combine and pour into the crockpot.
Whisk the sauce together and let this simmer in the crock pot until it has thickened to your preference. Then turn the slow cooker to warm.
Tip: It is not necessary but you can sear your chicken in a skillet prior to putting in the crock pot if you prefer.
Slow cooker pineapple chicken is perfect for those days when you will be away. It is super easy in the skillet but the crock pot is great for when you need to come home to dinner ready.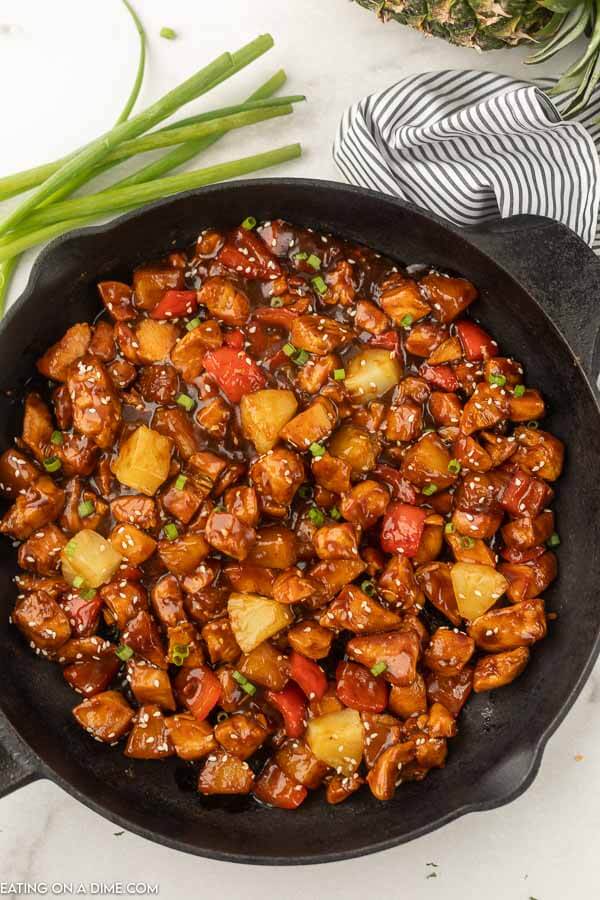 What to serve with pineapple chicken:
Rice. The delicious sauce is so tasty over white or brown rice. We even freeze rice to make this meal even easier during the week. If you have an instant pot, try making instant pot rice for a quick side.
Fried Rice. Only 10 minutes and this easy fried rice comes together fast.
Steamed Broccoli. You can add an easy vegetable side dish in minutes thanks to this recipe.
Variations:
Substitute boneless chicken thighs for chicken breasts. It is an easy way to save money and just as delicious.

I have even mixed both together and it was good. My family never even noticed the difference.
You can use fresh pineapple or canned pineapple in this recipe. Also, we used pineapple chunks but tidbits, crushed or even rings would work. Just use what you have.
Add more vegetables. Toss in a handful of other bell peppers such as yellow and green. I think diced onion would be good as well. If you want to make this a one pot meal, add frozen broccoli to the mixture.
Make it Gluten-free. Use a gluten free soy sauce or a coconut aminos is a a great alternative.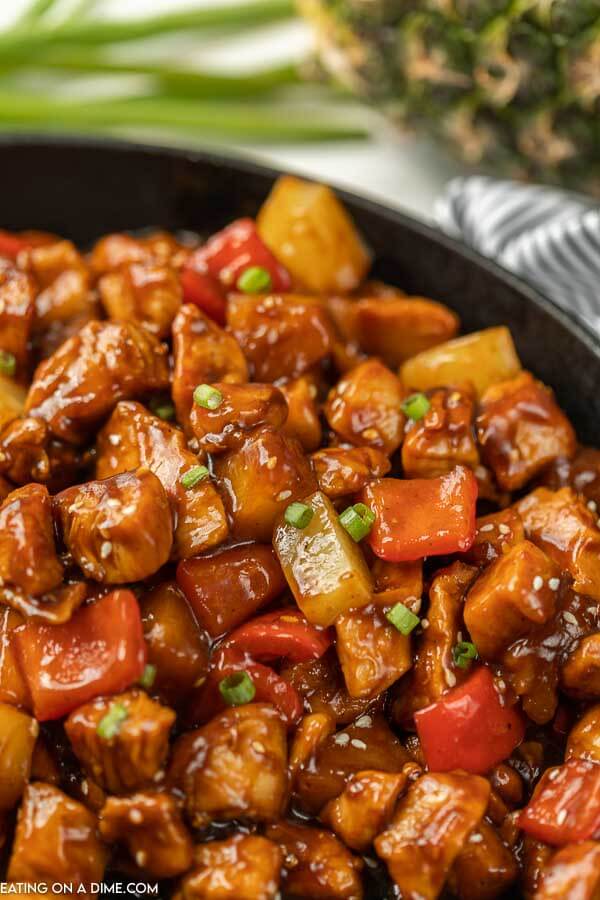 How to store leftovers?
Place inside an airtight container or bag. Store in the fridge up to 4 days.
Reheat in a skillet or in the microwave until heated through.
It makes a great lunch to enjoy later in the week. Everyone fights over leftovers.
Pineapple Chicken Make-Ahead Instructions
This is a great recipe for meal prep. Just toss the ingredients uncooked into a freezer bag.
Freeze up to 3 months until ready to cook. Thaw overnight in the fridge and cook the next day. No worries if you forget to thaw it. Just toss it right in the crock pot and cook on low for 8 hours.
If you have trouble getting it out of the bag, run water on the outside of the bag and it should come right out.
It really isn't any trouble to double this recipe. I normally make one for dinner and the other for the freezer. Then I have another great meal to use on a busy day.
Since you already have all the ingredients out, it is very simple to make 2 portions.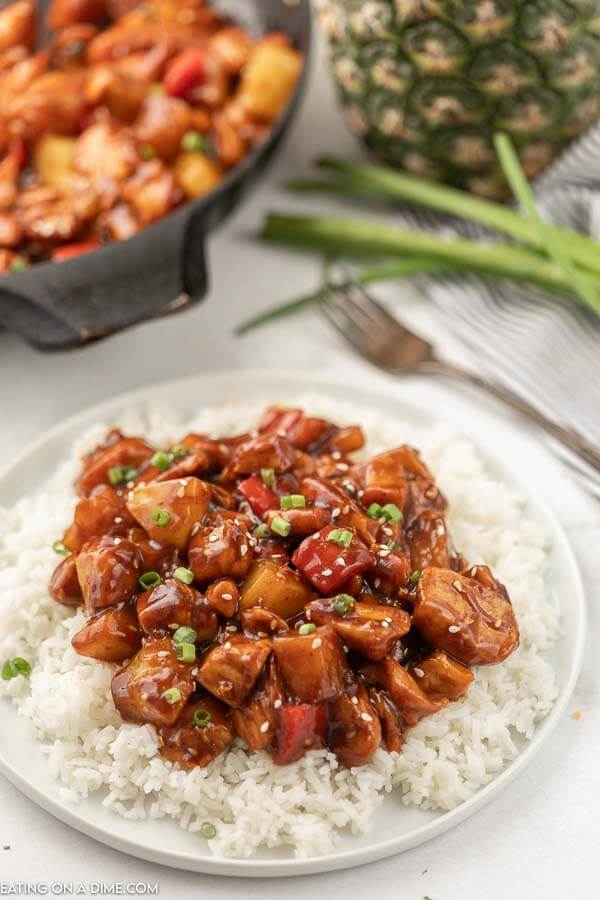 Skip takeout and make this recipe.
It is super easy and goes from stove to table in about 30 minutes. You can't get takeout in that amount of time. You can also use the crock pot version for days you will be way.
Plus, this recipe is so much better and you will save money. Try this and see just how simple it is. Your entire family will love it for a great meal without much work.
Print easy pineapple chicken recipe:
Pineapple Chicken
This delicious Pineapple Chicken Recipe is so simple and easy. The chicken is so tender and flavorful. Try Hawaiian Chicken Recipe today!
Instructions
Heat the oil in a large skillet over medium heat. Add the chicken and season it with the salt and pepper.

Cook the chicken for 4-6 minutes stirring occasionally until the chicken is cooked through. Then add in the red bell pepper and pineapple and cook for 3-5 minutes until the pepper is tender.

Then in a small bowl, combine the pineapple juice, soy sauce, chicken broth, hoisin sauce, brown sugar, minced garlic, ground ginger and cornstarch. Whisk until all the ingredients are thoroughly combined.

Pour this mixture into the skillet and bring to a low simmer and cook for 1-2 minutes until the sauce has thickened. Remove from heat once the sauce has thickened to your prefer.

Serve topped with the sesame seeds and green onions. Enjoy!
Recipe Notes
You can use chicken thighs instead of chicken breasts in this recipe if you prefer.  
I love serving this as is or over white rice. 
Refrigerate the leftovers in an air tight container for up to 5-7 days.  
Nutrition Facts
Calories
150
kcal
,
Carbohydrates
20
g
,
Protein
11
g
,
Fat
3
g
,
Saturated Fat
1
g
,
Polyunsaturated Fat
1
g
,
Monounsaturated Fat
1
g
,
Trans Fat
1
g
,
Cholesterol
27
mg
,
Sodium
913
mg
,
Potassium
314
mg
,
Fiber
1
g
,
Sugar
16
g
,
Vitamin A
526
IU
,
Vitamin C
25
mg
,
Calcium
36
mg
,
Iron
1
mg
More easy chicken recipes: