This post may contain affiliate links. If you make a purchase through links on our site, we may earn a commission.
Creamy Tomato Basil Soup Recipe is so creamy and delicious for a flavor packed soup everyone will love. Once you try this healthy creamy tomato basil soup, you won't ever go back to the canned version.
Creamy Tomato Basil Soup Recipe
Tomato soup is such a classic soup and something everyone enjoys. If you have been buying store bought soup, you have to give this Creamy Tomato Basil Soup Recipe a try.
It is so easy to make and tastes so much better than anything you can buy at the store. The soup has such an amazing and rich flavor from starting with fresh tomatoes, heavy whipping cream and more.
Each bite is so delicious and the best comfort food. The soup is light enough to enjoy year round but hearty enough for even picky eaters to enjoy.
You can't go wrong with this recipe and our family loved this soup. Don't let the thought of making tomato soup from scratch scare you off.
It is very simple. I promise.
Ingredients for the tomato basil soup:
tomatoes
tomato juice
fresh basil
heavy whipping cream
butter
salt and pepper
How to make creamy tomato basil soup:
First, put the diced tomatoes with juice in a large pot. We used a stock pot over medium heat. Allow the tomatoes to simmer for 30 minutes stirring occasionally.
Next, p

uree the tomato mixture and basil leaves. Then pour the puree back into the stock pot.
Make sure the stove is still set to

medium heat. Add the heavy cream and butter.
Finally, season with salt and pepper

. You do not want the soup to boil but heat it so the butter melts and everything is well combined.
Keep reading for the full recipe.
What goes with tomato basil soup?
Crackers are simple but delicious. I like to crumble them in the soup.
Top with parmesan cheese. This melts into the soup and tastes amazing.
The broth is so delicious that you will want something to dip into the soup and get every last drop.
Once you try it, you will see what I am talking about. It has the best flavor and incredibly easy to prepare.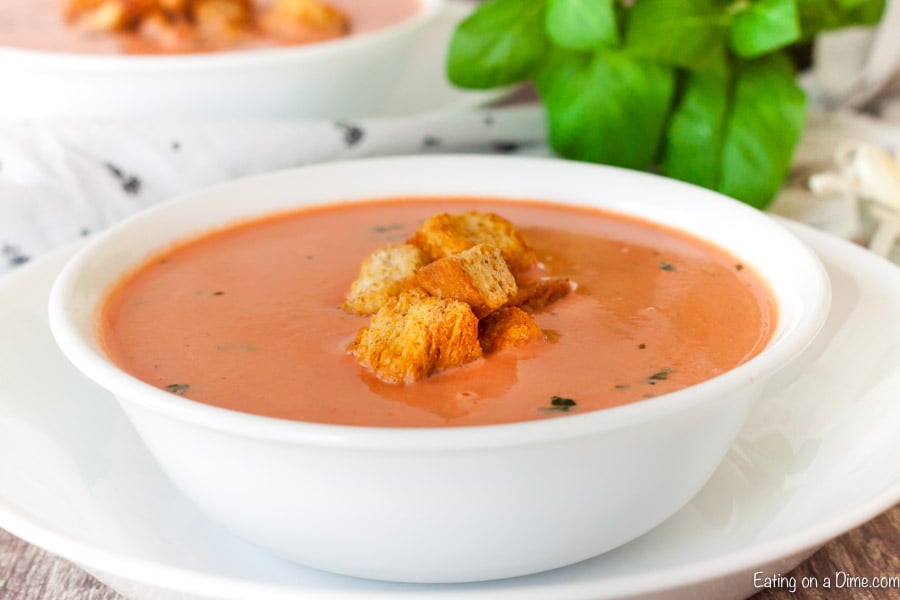 TOMATO SOUP VARIATIONS:
Use fire roasted tomatoes for a little heat to the soup.
Add red peppers to jazz up the soup.
Skip the cream if you prefer tomato soup without milk.
Try adding veggies such as carrots to the soup mixture.
Bacon is always a good idea. Try topping the soup with crispy bacon and cheese.
Try canned tomatoes instead of fresh and try different variations. This is a great way to easily get a few flavor.
Vegetable broth or chicken broth can be added if you need to thin out the soup.
Onions give this soup even more flavor if you want to add the onions to the mixture. Garlic is another flavorful ingredient if you want to combine onions and garlic.
HOW DO I REHEAT CREAMY TOMATO SOUP?
Reheat on low stirring frequently. You do not want this soup to boil because of the heavy whipping cream in this recipe.
HOW LONG CAN YOU KEEP TOMATO BASIL SOUP IN THE FRIDGE?
Tomato soup should last 3-4 days in the fridge if stored properly and continuously refrigerated. Just make sure to place inside an airtight container.

Can you freeze this soup?
Yes, you can freeze this soup. I like to put the soup in small pre-portioned containers or bags so that I can easily grab for quick lunches and dinners.
Simply place the ingredients in a freezer bag and then reheat on low when ready to enjoy. We love easy ideas for meal time around here and this soup is a family favorite.
Since we often freeze small containers of leftovers to enjoy for quick lunches during the week, it saves us time and money. It is such a time saver and really tasty.
Note- If you do a lot of freezer meals, consider grabbing this JOKARI Hands-Free Baggy Rack Storage Bag Holder. These are not necessary, but make it so much easier to put the meals together for the freezer.
It is like having an extra set of hands in the kitchen. We love having meals in the freezer and this is one of our favorites to have on hand in the freezer.
It is so delicious and freezes well. I think the flavor is amazing in this soup and we all love it either way.
Homemade Tomato Basil Soup Tips
You can use an immersion blender with this soup recipe. This gives the soup that creamy texture you want. It helps to really blend the tomatoes and get that amazing texture like creamy tomato basil soup panera recipe.
Do not let tomato soup boil. The cream will curdle and you don't want this to happen.
We don't strain the seeds but you can if you prefer. This would be easiest using a fine mesh strainer.
Make extra for later. We actually try to make extra soup so we will have leftovers to freeze. It is super easy and perfect for quick lunches or dinners later in the month.
What types of tomatoes to use:
Roma tomatoes are best to make tomato soup. They are not too watery so make a very flavorful and rich soup.
If you do not have Roma tomatoes, use another small plum tomato. You do not want to use heirloom tomatoes or salad tomatoes because of the excessive water they produce.
How to thicken tomato soup:
Make a cornstarch slurry. Add a tablespoon of cornstarch to a cup of cold water. Blend and add to the soup after it has finished cooking.
Stir the soup so that everything is well combined and simmer a few minutes. The soup should thicken nicely.
This is the best tomato basil soup recipe.
It sounds so fancy to make tomato and basil soup from scratch but it so very simple. You will love this recipe.
There is just something about enjoying a big bowl of tomato basil soup recipe that is the best comfort food. You can use fresh tomato or canned roasting tomatoes in this soup. It is so versatile and either work just fine.
We love simple recipes like this. I keep recipes like this on the regular menu plan rotation because I know the entire family will enjoy these meals.
Easy recipes like this keep my family happy and my grocery budget in good shape. This is how I keep our grocery budget reasonable.
Don't be hesitant to try making this delicious soup from scratch. It is so easy and really tasty.
If you are looking for comfort food that is so easy to make give this recipe a try.
Print Creamy Tomato Basil Soup Recipe:
Creamy Tomato Basil soup
Creamy Tomato Basil Soup Recipe is so delicious for a flavor packed soup everyone will love. This healthy creamy tomato basil soup is so easy and tasty.
Instructions
Place tomatoes and juice in a stock pot over medium heat.

Puree the tomato mixture along with the basil leaves, and return the puree to the stock pot.

Place the pot over medium heat, and stir in the heavy cream and butter.

Season with salt and pepper.

Heat, stirring until the butter is melted. Do not boil.

Serve.
Nutrition Facts
Calories
522
kcal
,
Carbohydrates
29
g
,
Protein
7
g
,
Fat
45
g
,
Saturated Fat
28
g
,
Cholesterol
149
mg
,
Sodium
1165
mg
,
Potassium
1389
mg
,
Fiber
5
g
,
Sugar
19
g
,
Vitamin A
3275
IU
,
Vitamin C
83
mg
,
Calcium
210
mg
,
Iron
5
mg
More easy soup recipes: