This post may contain affiliate links. If you make a purchase through links on our site, we may earn a commission.
I love a classic soup recipe to enjoy in the Fall and Winter. This Crockpot Chicken Vegetable Soup is packed with tons of nutritious vegetables and can be prepared in minutes in the crock pot.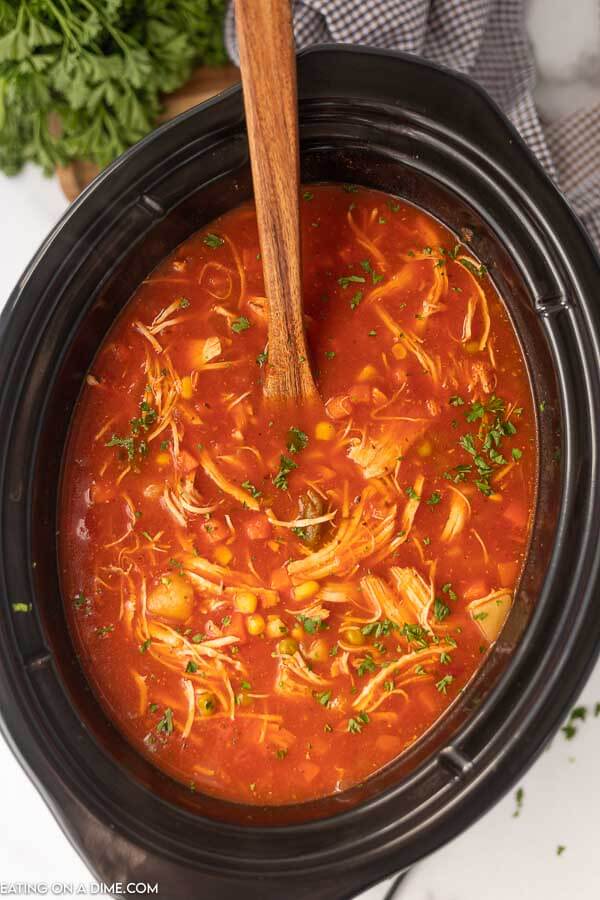 Slow Cooker Chicken Vegetable Soup Recipe:
Are you ever in the mood for soup but still want something light? This crock pot chicken vegetable soup recipe does just that. It is packed with flavor with hardly any work!
Crock pot chicken and vegetable soup is a light soup, but still quite flavorful. We serve it with our Homemade Cornbread Recipe or our Easy Homemade Dinner Rolls Recipe for the perfect meal combination.
Both the cornbread and the rolls taste wonderfully dipped in this crock pot chicken vegetable soup recipe. I think you will love it just as much as my family does.
Crock Pot Chicken and Vegetable Soup Recipe is amazing:
By combining chopped chicken breasts and frozen veggies with a few seasonings, you can create one flavorful crockpot chicken vegetable soup.
This soup is packed with flavor because of the simple ingredients. To be honest, I'm still surprised how delicious this is every time I make it.
We love making this because it is both healthy and comforting on a cold day. It is dairy free, gluten free and the crock pot does all the work.
This recipe can be made in an electric pressure cooker as well. Just follow this recipe for Instant Pot Chicken Vegetable Soup here. However, you choose to make it, I know you'll love this flavor packed soup recipe!
Ingredients:
Chicken Breasts, diced
Onion, Chopped
Potatoes
Package of frozen vegetables, I use the carrots, corn and green beans mixtures
Crushed Tomatoes
Tomato Sauce
Water or Chicken Broth
Italian Seasoning
Salt and Pepper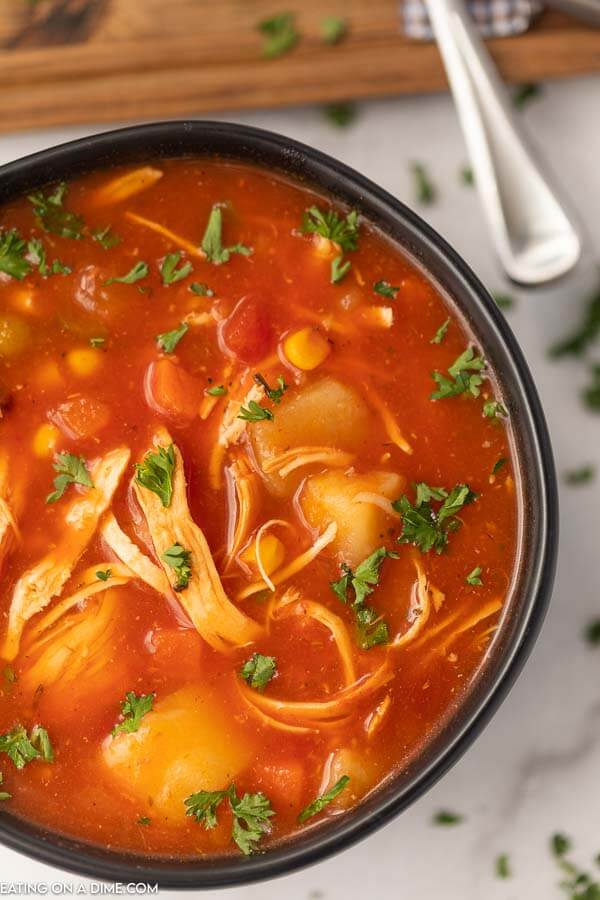 How do you Make Crock Pot Chicken Vegetable Soup:
Ok, let's great started with how to make chicken soup in slow cooker. Making this soup in the crock pot allows it to let it do all the work. Just dump all the ingredients in and go about your day. Now that is my type of recipe.
Step 1 – Combine Ingredients in Crockpot – First, place the diced chicken at the bottom of the crock pot. Then combine all of the ingredients in the crockpot.
Step 2 – Stir to combine and cook – Once all the ingredients have been added, stir to combine. Next cover and cook in the crock pot and cook on low for 6 hours or high for 3.
Step 3 – Serve and Enjoy – When it's ready to be enjoyed, serve with freshly grated parmesan cheese and your favorite rolls.
How Long does Soup take to Cook in Slow Cooker?
Most of my soup recipes take approximately 6 hours on low or 3 hours on high to cook in a slow cooker. If the soup does not include any meat or chicken (vegetables only), then you would want to reduce the cooking times.
Can I use Frozen Chicken Breast?
Yes, you can use frozen chicken breast for this recipe. Cooking time may need to be increased a bit but I have used frozen chicken breast and it turned out delicious. Once the chicken is cooked, remove from the soup and shred the chicken.
Add the chicken back to the soup and serve.
What to Serve with Chicken and Veggie Crockpot Soup?
French Bread – Make some toasty garlic bread for the perfect side with this soup.
Breadsticks – These garlic cheese bread sticks are perfect dipping into your soup. This also allows you to get the very last drop of the soup.
Roasted Vegetables – Roast some broccoli or asparagus for a tasty side with this soup.
Can I prepare ahead of time?
Yes, this soup is perfect to be made ahead of time. There is little prep work that needs to be done. That is why we like using frozen or canned vegetables for an easy dump and cook recipe.
If I am serving this for a crowd, you can prepare ahead of time and place in the refrigerator or freeze. Then when you are ready to serve, pour back into the slow cooker and serve after heated thoroughly.
Recipe Tips:
Chicken – Before placing the chicken in the slow cooker, we recommend dicing it up. But you can put the chicken in whole and then shred it once it is done cooking.
Dutch Oven – If you prefer you can make this chicken soup in a Dutch oven on your stove top. Cooking soup in a pot is an easy way to make this soup.
Chicken Soup Recipe Variations:
Chicken – We used chicken breast for this recipe. But you can also use leftover chicken or rotisserie chicken to make this soup.
Vegetables – Feel free to change the vegetables in this recipe. We used frozen but you can use fresh vegetables. Onions, carrots and celery combined with the other ingredients make for a delicious soup.
Diced Tomatoes – You can mix in diced tomatoes instead of crushed tomatoes.
Change the Seasoning – Instead of using an Italian Seasoning blend, you can mix the soup with fresh herbs. You can also add in olive oil.
How to Store Chicken Soup Leftovers:
Store your leftover chicken soup in individual containers and place in the fridge. This soup will stay fresh for about 4 days. We think the soup taste even better the next day as the ingredients really marinate together.
How to Freeze Chicken Vegetable Soup:
This soup is perfect to freeze before you cook it. Simply place all ingredients in a freezer bag and freeze until your ready to eat. Then the day that you are ready to eat it, you can place the frozen ingredients in the instant pot for a quick dinner.
Another idea is to freeze after you cook it. Then you can reheat it for a quick dinner. We love easy meals like this so we can get healthy dinner on the table so we can enjoy family time.
It is also great to put the cooked soup in individual containers for a quick lunch. Learn how to freeze soup has been a game changer in my house. Now I usually make a double batch on purpose to have to extra to freeze.
Easy Chicken and Vegetable Soup Recipe:
This soup is the perfect soup to warm up to on a cold day. It is loaded with delicious ingredients that can be changed to what you have on hand.
Serve this soup with your favorite crusty bread for an easy weeknight meal.
Print the Crock Pot Chicken and Veg Soup Recipe below:
Crockpot Chicken and Vegetable Soup
Easy Crock pot Chicken Vegetable Soup recipe is packed with flavor. Only a few ingredients to make so try crock pot chicken and vegetable soup today!
Instructions
Place all of the ingredients in a 6 quart crock pot.

Stir to combine the ingredients in the crock pot.

Cover and cook on low for 6-8 hours or on high for 3-4 hours.

Remove chicken, shred and mix it back into the crock pot.
Recipe Notes
You can almost make this recipe with frozen chicken breast.  If you use frozen chicken, increase the cook time by 1 hour if cooking on low or 30 minutes if cooking on high.  
Nutrition Facts
Calories
186
kcal
,
Carbohydrates
34
g
,
Protein
13
g
,
Fat
2
g
,
Saturated Fat
1
g
,
Trans Fat
1
g
,
Cholesterol
18
mg
,
Sodium
1185
mg
,
Potassium
1132
mg
,
Fiber
6
g
,
Sugar
7
g
,
Vitamin A
3338
IU
,
Vitamin C
32
mg
,
Calcium
86
mg
,
Iron
4
mg
More Vegetable Soup recipe:
More easy crock pot soup recipes: