I love a classic soup recipe to enjoy in the Fall and Winter. This crockpot chicken vegetable soup is packed with tons of nutritious vegetables and can be prepared in minutes in the crock pot!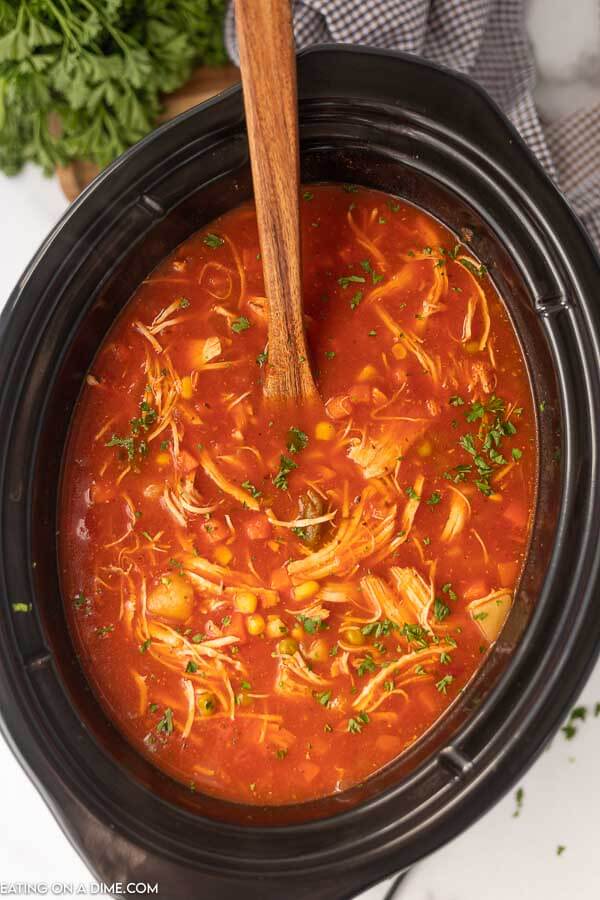 Slow Cooker Chicken Vegetable Soup is easy AND delicious!
Are you ever in the mood for soup but still want something light? This crock pot chicken vegetable soup recipe does just that. It is packed with flavor with hardly any work!
Crock pot chicken and vegetable soup is a light soup, but still quite flavorful. We serve it with our Homemade Cornbread Recipe or our Easy Homemade Dinner Rolls Recipe for the perfect meal combination.
Both the cornbread and the rolls taste wonderfully dipped in this crock pot chicken vegetable soup recipe! I think you will love it just as much as my family does!
Crock pot chicken and vegetable soup recipe is amazing!
By combining chopped chicken breasts and froze veggies with a few seasonings, you can create one flavorful crockpot chicken vegetable soup!
This soup is how packed with flavor. To be honest, I'm still surprised how delicious this is every time I make it.
Can you make chicken soup in a slow cooker?
Yes, you can definitely create any of your favorite soup recipes in a crock pot. This is my preferred way to make soup.
Cooking a delicious soup on low in the crock pot is delicious. The meat or chicken becomes tender and the flavors are combined perfectly since they cook together all day.
In addition, it's a lot less work to make soup in a slow cooker versus on the stovetop. Just dump in the ingredients into your crock pot and then you are free to do whatever you want while the soup is cooking.
Slow cooking is definitely life changing! I love cooking this creamy chicken vegetable soup recipe in my crock pot. .
This recipe can be made in an electric pressure cooker as well. Just follow this recipe for Instant Pot Chicken Vegetable Soup here. However, you choose to make it, I know you'll love this flavor packed soup recipe!

What is needed to make slow cooker chicken vegetable tomato soup?
My favorite thing about this Crockpot Chicken Vegetable Soup recipe is that a lot of the veggies are frozen so there is not a ton of chopping and dicing that is needed to prepare this delicious chicken vegetable soup crock pot recipe.
Chicken Breasts, diced
Onion, Chopped
Potatoes
Package of frozen vegetables, I use the carrots, corn and green beans mixtures
Crushed Tomatoes
Tomato Sauce
Water or Chicken Broth
Italian Seasoning
Salt and Pepper
I know what you're thinking. Where is the bay leaf in the list of the ingredients? I do use bay leaves in a lot of my recipes; however, I have tried it in this recipe with and without and have found that it's really not needed.
So save your bay leaves for your next soup recipe!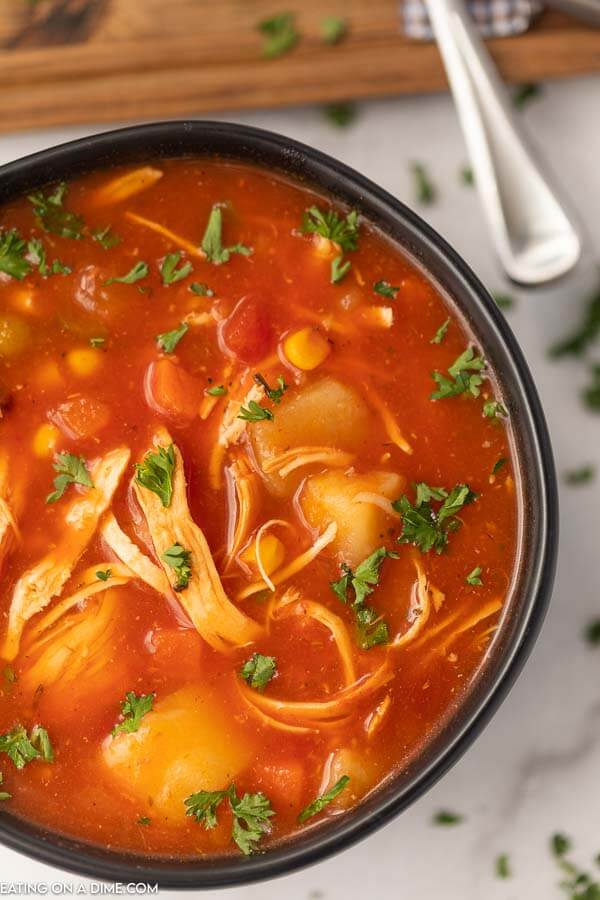 How do you make crock pot chicken vegetable soup?
Ok, let's great started with how to make chicken soup in slow cooker. I promise, it's not hard and thanks to the crock pot, you don't have the watch it. Just dump it all in and go about your day. Now that is my type of recipe!
First, place the diced chicken at the bottom of the crock pot. Then combine all of the ingredients in the crockpot.
Once all the ingredients have been added, stir to combine. Next cover and cook in the crock pot and cook on low for 6 hours or high for 3.
That's it. I promised it was easy. When it's ready to be enjoyed, serve with freshly grated parmesan cheese and your favorite rolls.
How long does soup take to cook in slow cooker?
Most of my soup recipes take approximately 6 hours on low or 3 hours on high to cook in a slow cooker. If the soup does not include any meat or chicken (vegetables only), then you would want to reduce the cooking times.
Since the chicken is diced for this recipe, 6 hour on low works perfectly every time to create this delicious soup recipe.
Can you put raw chicken in soup?
Generally, when I prepare this creamy chicken and vegetable soup slow cooker recipe, I use fresh diced chicken as it's cooks more evenly. 
However, if you only have frozen chicken available, this can be used in this recipe as well.
I love that you can put frozen chicken or meat in the crock pot to cook as well. 
I would follow the recipe exactly but after the cook time, I would remove the chicken from the slow cooker, dice or shred the cook chicken based on your preference and then mix in back into the soup prior to serving.
In addition you can use whatever type of chicken that you have for this recipe. 
You can make chicken thigh soup slow cooker recipe or slow cooker chicken soup whole chicken by using just chicken thighs or an entire chicken in this crock pot soup recipe.
Best Slow Cooker
I have two favorite crock pots. One is the programmable 6 quart crock pot. It is awesome and very nice on the budget. I love that it will seal closed so you can transport it for parties and tailgates.
That means one more less pan to cook for most recipes. This has become my new favorite crock pot just because of that one feature!
Also, since I tend to be a little lazy in the kitchen (are you?), I highly suggest using crock pot liners to make cleaning the crock pot a breeze! These are a lifesaver for our family! Make sure you leave a comment and let us know your favorite slow cooker to use for your favorite recipes.
Print the crock pot chicken and veg soup recipe below:
Crockpot Chicken and Vegetable Soup
Easy Crock pot Chicken Vegetable Soup recipe is packed with flavor. Only a few ingredients to make so try crock pot chicken and vegetable soup today!
Ingredients
2

Boneless Skinless Chicken Breasts

1/2

onion

(chopped)

3

potatoes

peeled and dice

16

oz

frozen mix vegetables

28

oz

crushed tomatoes

(can)

14.5

oz

tomato sauce

(can)

4

cups

chicken broth

1

Tbsp

Italian Seasoning

1

tsp

salt

1/2

tsp

pepper
Instructions
Place all of the ingredients in a 6 quart crock pot.

Stir to combine the ingredients in the crock pot.

Cover and cook on low for 6-8 hours or on high for 3-4 hours.

Remove chicken, shred and mix it back into the crock pot.
Recipe Notes
You can almost make this recipe with frozen chicken breast.  If you use frozen chicken, increase the cook time by 1 hour if cooking on low or 30 minutes if cooking on high.  
Nutrition Facts
Calories
186
kcal
,
Carbohydrates
34
g
,
Protein
13
g
,
Fat
2
g
,
Saturated Fat
1
g
,
Trans Fat
1
g
,
Cholesterol
18
mg
,
Sodium
1185
mg
,
Potassium
1132
mg
,
Fiber
6
g
,
Sugar
7
g
,
Vitamin A
3338
IU
,
Vitamin C
32
mg
,
Calcium
86
mg
,
Iron
4
mg
More Vegetable Soup
Try these other easy crock pot soup recipes: