Crock Pot Italian sausage tortellini soup recipe is an easy and delicious one pot meal. Each bite is creamy and delicious for the best comfort food that can be ready with very little effort.
Crock Pot Italian sausage tortellini soup recipe
We love soup and this Crock Pot Italian Sausage Tortellini recipe is so filling and delicious that everyone will really enjoy it. The sausage is so hearty and gives it the best flavor from being slow cooked all day.
The ingredients come together for such an amazing soup with a rich broth that makes every bite so tasty. It is so creamy and delicious and So good!
If you loved our Crock Pot Spinach Tortellini Soup, you will love this slow cooker sausage tortellini soup. Everyone loves cheese tortellini and it is the perfect ingredient to use in soup.
The cheese in the tortellini combined with the rich broth make each bite so flavorful. Plus, it is just so easy to make!
Some of the kids are not huge fans of spinach and they will eat it in this soup. It is that good!
What to serve with sausage and tortellini soup?
Everything you need for a great meal is in the slow cooker. Just add some crusty bread and that is all you need to go along with this soup.
We love Garlic Bread Cheese Sticks Recipe and it is perfect for dipping into the soup and getting every last drop. It is so good!
You might also like this Easy Homemade Dinner Rolls Recipe  with the soup. If you do not have time to make bread, grab some french bread from the bakery. Yum!
We also like to serve the soup with a simple side salad. Soup and salad make an easy but delicious meal idea!
Make sure you have a good crock pot to make this sausage spinach tortellini soup.
If you are in the market for something new, I really love my Ninja cooker. The nice thing about this is you can brown the meat in the same slow cooker which is so convenient.
It is so handy to just have the one pan to clean. It has become of my favorite kitchen appliances.
I also really like this crockpot as well.  I use this all the time and it's great.
My favorite feature is that you can lock the lid down. This is awesome for when you need to take the crockpot somewhere.
I often use the slow cooker to take dishes to potluck events and this feature is amazing! There are several others on sale here.
Another favorite is this programmable crock pot  for when I am am not at home all day. I love coming home to a nice meal ready and waiting!
If you want to save yourself even more time (don't we all?) then I really recommend these Crockpot liners.  They make clean up a breeze. Instead of scrubbing and washing the pot, you can just toss the liner. It is practically no clean up… seriously, no clean up at all.
You can also make this soup on the stove top if you prefer.
What ingredients do you need to make tortellini soup with sausage?
Italian cooked sausage
onion
carrots
minced garlic
pepper
Italian seasoning
chicken broth
cheese tortellini
 fresh spinach
heavy cream
How do you cook frozen cheese tortellini?
You are going to love just how easy this soup is. It is perfect for busy weeknights.
Everything goes into the crock pot but the tortellini, spinach, and heavy cream.
Cover and cook. Right before serving,  add the tortellini, spinach and heavy cream.
Let everything heat through and enjoy! We love to add Parmesan cheese on top.
Keep reading for the full recipe.
It is that simple to make Cheese tortellini soup with sausage and spinach!
How long will tortellini soup last?
The soup will typically last 3-4 days in the fridge.
Does tortellini soup freeze well?
You can freeze this soup but I wouldn't add the tortellini, spinach and heavy cream until ready to cook.
This easy tortellini soup is versatile and frugal!
Try other types of tortellini in the soup. Other tasty options include mushroom, meat and more.
You can add cream cheese for a creamier and thicker broth. If you try this, make sure to wait to add the cream cheese until when you add the spinach.
This recipe is so easy to use what you have on hand. I often just use what I already have or what is on sale at the grocery store.  We are fans of using what we already have.
We love simple recipes like this. I keep recipes like this on the regular menu plan rotation because I know the entire family will enjoy these meals.
In fact, I cut our grocery bill by 50% off by following these 8 Tips for for Saving Money on Groceries by Menu Planning! Save that money for a family vacation or maybe just some wiggle room in the budget.
Slow cooking makes it easy!
Get dinner on the table fast and feed a crowd with this easy sausage tortellini soup.
This meal is budget friendly and easy to prepare. It is the perfect meal to serve for large crowds and everyone will love it!
From family gatherings, holidays, family dinner and more, this is a great meal! You can put this together in just minutes with very little work.
Tips to make Tuscan tortellini soup slow cooker:
This recipe like many calls for diced onions. Another time saving tip is to use a small food chopper or food processor to quickly and easily chop the onions.
If you do not have one of these, I highly recommend them. They are such a time saver and you can get the veggies really fine if you have children that are picky.
I usually just chop the entire vegetable and freeze what I don't need. It's so nice to be able to just take the diced onion out of the freezer for recipes.
This is how I meal prep. It's so quick and easy and helps get dinner on the table fast.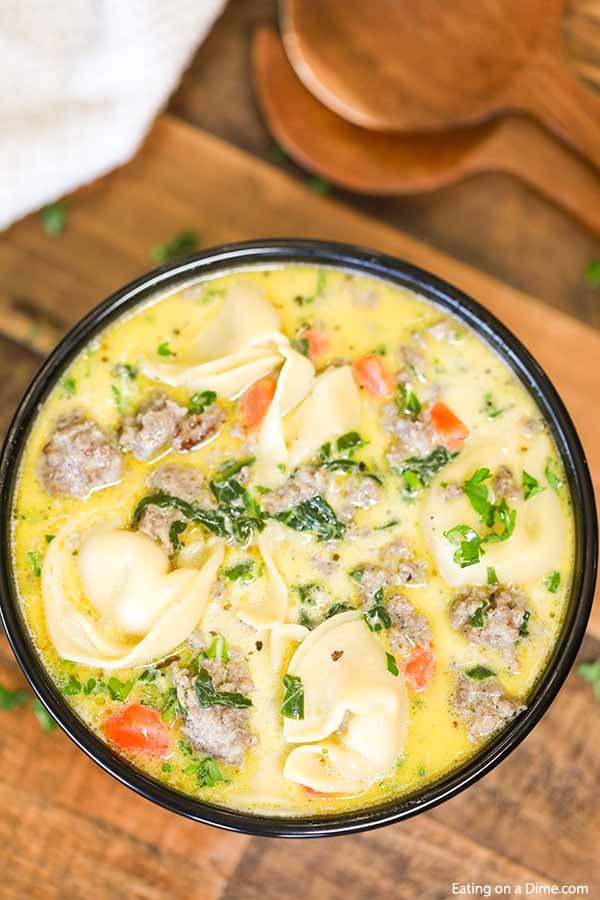 Everyone loves this easy sausage tortellini soup.
Our family loved this soup and it just so easy. You can also make it on the stove top using medium high heat.
We have tried hot Italian sausage to spice things up a bit and also added tomato sauce and Italian seasonings for a change.
Sausage tortellini soup really is the best!
Let us know if you try tortellini soup with spinach!
Print this crock pot creamy sausage tortellini soup recipe below:
Crock Pot Italian Sausage Tortellini Soup Recipe
Crock Pot Italian sausage tortellini soup recipe is an easy and delicious one pot meal. Each bite is creamy and delicious for the best comfort food.
Keyword:
Crock Pot Italian Sausage Tortellini Soup Recipe
Ingredients
1

lb

Italian sausage

browned and cooled

1/2

onion

diced

2

large carrots

peeled and diced

1

tablespoon

minced garlic

1

teaspoon

pepper

1

teaspoon

Italian seasoning

5

cups

chicken broth

16

oz

cheese tortellini

6

oz

fresh spinach

chopped

2

cups

heavy cream
Instructions
Add everything but the tortellini, spinach, and heavy cream.

Cover and cook for 3-5 hours on low.

Stir in the tortellini, spinach and heavy cream about 15 minutes before ready to eat.

Stir and serve. Great with parmesan cheese on top.
Nutrition Facts
Crock Pot Italian Sausage Tortellini Soup Recipe
Amount Per Serving
Calories 824
Calories from Fat 549
% Daily Value*
Fat 61g94%
Cholesterol 195mg65%
Sodium 1008mg44%
Potassium 657mg19%
Carbohydrates 42g14%
Protein 29g58%
Vitamin A 7221IU144%
Vitamin C 12mg15%
Calcium 222mg22%
Iron 4mg22%
* Percent Daily Values are based on a 2000 calorie diet.
Try these easy crock pot soup recipes:
Try these other crock pot recipes: