If you love traditional veggie soup, you will go crazy over this Creamy Vegetable Soup Recipe. It is packed with veggies but so creamy and delicious plus ready in just minutes!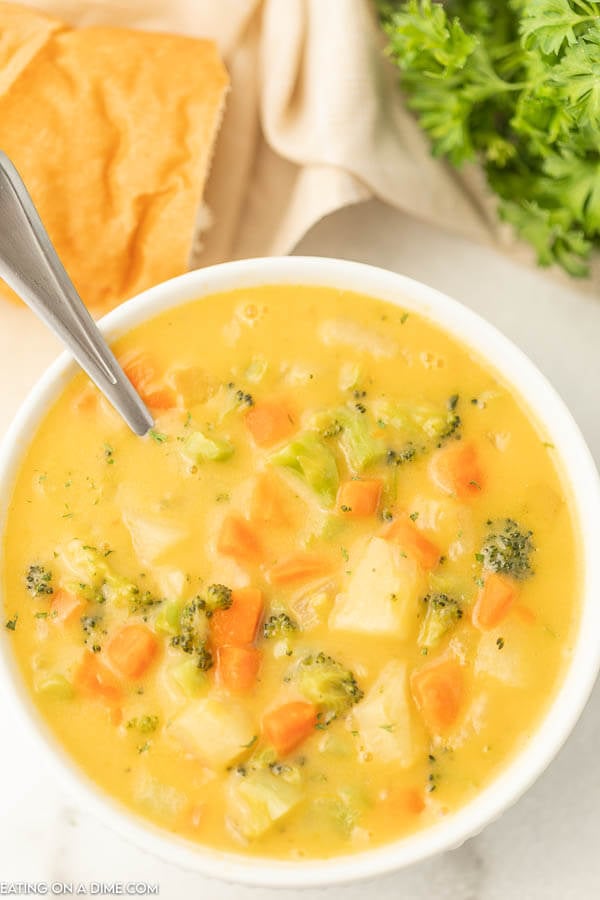 Creamy Vegetable Soup Recipe
We love vegetable soup and it is the perfect dish for Meatless Monday. However, I wanted to jazz it up a bit and this recipe does the trick. Classic vegetable soup gets taken up a notch with this creamy and tasty soup. It is comfort food at it's best and each bite is just amazing.
I love using what I have and creating new recipes. This Creamy Vegetable Soup without cream is so easy and you probably already have what you need.
It is sure to be your new favorite vegetable soup recipe! Plus, you will love how easy it is to prepare. You might also like Stuffed pepper soup.
One Pot Creamy Vegetable Soup:
We love one pot meals. This vegetable soup is ready in less than 30 minutes and it is warm and comforting on a cold fall day. The best part about one part meals is easy clean up and more family time.
We are a busy family and serving this soup ensures that my family is having a good home cook meal.
The best vegetables to use:
This recipe calls for potatoes, carrots, celery and broccoli. However, I am a huge advocate of using what you have on hand.
Other ideas include: cauliflower, peas, green beans, sweet potato, red peppers or whatever you like! Make this soup your own and it is sure to be a family favorite. You can even use frozen vegetables to save time in this Vegetable Soup recipe. Feel free to do this and use what you have.
When cutting up your vegetables, make sure they are similar in size. This makes sure that they are all cooked at the same time.
Money saving tips:
We are always looking for ideas to make meal prep and dinner time easier around here. Life is crazy with 8 kids and anything I can do to save time is a winner in my book.
Many of the recipes we make call from chopped onion or green peppers. I use a small food chopper or food processor to quickly and easily chop onions. If you do not have one of these, I highly recommend them. You can also freeze onions and also freeze peppers to save so much time in the kitchen!
I usually just chop the entire vegetable and freeze what I don't need. It's so nice to be able to just take the diced onion out of the freezer for recipes. This is how I meal prep. It's so quick and easy and helps get dinner on the table fast.
What can I add to soup to make it creamy?
To make this soup creamy all you need to do is melt the butter and mix with the flour and milk. You can also blend with a immersion blender. This makes the soup so creamy without having to add heavy cream. Once adding the creamy mixture to the broth and vegetables, it makes the best soup everyone will enjoy.
Gluten Free – Replace the flour with cornstarch, but use half the amount it calls for.
Dairy Free – Replace the butter for vegetable oil and use almond milk or coconut milk instead of regular milk.
Creamy soups always make for a great dinner. It just feels good for the soul.
Cheesy Vegetable Soup Recipe:
It truly does not get any easier than this simple soup recipe. A few veggies and other ingredients quickly come together for the absolute best recipe.
Ingredients:
butter
chopped onion
carrot
celery stick, finely chopped
minced garlic
chicken broth or vegetable broth
potatoes, peeled and chopped into bite size pieces
flour
water
milk
broccoli
shredded cheddar cheese – I like to shred my own instead of using pre-shredded as it melts more evenly.
How to make Creamy Vegetable Soup?
1. Melt the butter in a large pot or a Dutch Oven over medium heat. Add onion and sauté until translucent. You can use olive oil instead of the butter if you prefer.
2. Add carrots, and celery and cook over medium high heat until tender.

3. Add garlic and cook an additional 1-2 minutes.
4. Add potatoes and chicken broth, bring to a boil, and cook until potatoes are slightly tender.
5. Mix flour with water, add, and simmer until soup is slightly thick to the desired consistency. 6. Add milk and broccoli and simmer 15 minutes or until broccoli is just tender and soup is heated through. Cooking times could vary.
7. Stir in cheese and allow to fully melt.
Then taste test it and add more salt and pepper if needed.
Side Ideas:
We love having a side when we serve any type of soup. In my opinion, you just need something else. Here are some of our favorites:
Serve this tasty soup with saltine crackers for a quick meal or crusty Italian bread if you have a loaf on hand. I try to always keep a loaf in the freezer. When the bakery marks loaves down, I buy a few for the freezer. This is so handy to have this on hand and for a great deal too.
This vegetable soup is just the best and you can't go wrong with crusty bread. We also love to add more shredded cheese to this delicious soup right before serving.
Try Creamy Vegetable Soup Recipe today!
Easy recipes like this keep my family happy and my grocery budget in good shape. This is how I keep our grocery budget reasonable. By shopping when things are on sale I save money on groceries and it really helps our budget.
Saving money and feeding a big family can be accomplished. Once I find a meal everyone loves and it is frugal friendly, I keep it on the regular menu plan rotation! It is hard to to please everyone but this soup is always a hit and that is a mom win for sure.
Try making this for dinner tonight.
Print Recipe for Easy Creamy Vegetable Soup Recipe below:
More quick soup recipe: