I can honestly say that this homemade cornbread recipe is one of my all time favorites.  It's so easy to make and tastes better than any of the pre-made mixes! I've made different recipes multiple times and have perfected this recipe for the best homemade cornbread.
Easy homemade cornbread recipe
You are going to love this easy homemade cornbread recipe. Making cornbread from scratch isn't as hard as you might think.
In fact, it is super easy to make, it tastes much better than store bought cornbread and it will save you money.
Check out this video
I remember the first time I made this recipe.  I was surprised by how easy it was to prepare.  Trust me, you can definitely make this and your entire family will be impressed with the results!
The best easy cornbread recipe.
We do call this the best corn bread recipe, because well…. it is! After a few years of making different recipes and trying new ones, I definitely call this the best corn bread recipe.
It is a slightly sweet but also buttery cornbread recipe that I know your family will love.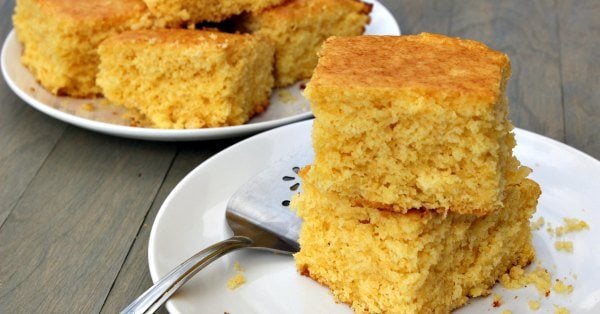 Easy Cornbread from scratch:
Seriously gals…. (and guys) we love this cornbread from scratch.
However, if you don't like all the work in cooking from scratch but you still want the flavor of cooking from scratch, check out my post on how I actually make my own homemade cornbread mixes to make my life a little easier in the kitchen.
They are easy to assemble and you get the taste of this easy homemade cornbread recipe without all the extra work.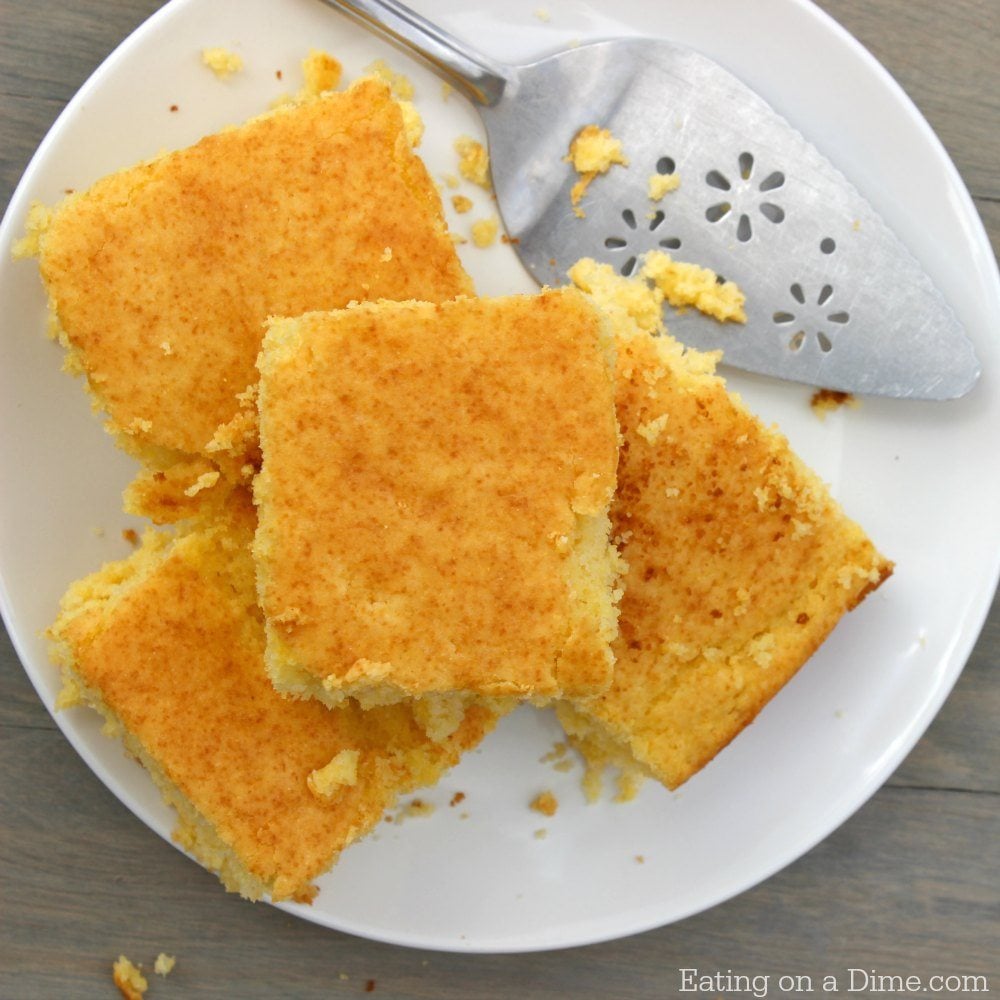 What do you need to make this simple cornbread recipe?
The ingredients for this recipe are not overcomplicated.  If you already love to bake, I bet you already have most of these items in your pantry!
1 cup all-purpose flour
1 cup yellow cornmeal
½ cup white sugar
1 teaspoon salt
3 teaspoons baking powder
1 egg
1 cup milk
1/3 cup vegetable oil

Can I use water instead of milk in homemade cornbread?
If you are all out of milk, you can definitely use water instead of milk in this recipe.
I would recommend that if you are using water that you also add 1 1/2 teaspoon of butter to ensure that your cornbread is soft and moist.  Yum!

How to make homemade cornbread:
First preheat the oven to 400 degrees.  Then spray a 9X9 baking pan (I love these on sale) with the non-stick spray of your choice or lightly grease the pan with butter or shortening.
The next step is so easy, you won't believe it!  Simply combine all the ingredients together in a large bowl and stir well.  I usually use a hand mixer but you can stir it by hand as well.
How to make cornbread continued:
Then pour the batter into your prepared pan and bake for 20-25 minutes until the cornbread is golden brown.  A toothpick inserted into the cornbread will be clean when removed when it's done!
Allow to cool, and then cut.
Serve this cornbread topped with a little bit of melted butter.  I also love making my own Homemade butter to serve with this delicious corn bread.
What kind of baking dishes can I use for this cornbread from scratch?
There are 3 different types of pans that can be used for this recipe.  I usually use a metal or glass 9X9 baking dish.
However, you can also use a cast iron skillet for this recipe.
When using a cast iron skillet, warm up the skillet by putting it into the oven while it is preheating.  Then follow the rest of the original recipe and allow to cool for 10-15 minutes until cutting this cornbread recipe.
This recipe can also be made in muffin tins to make cornbread muffins.  If making muffins, you'll need to reduce the cooking time to 12-14 minutes.
I like making muffins when taking corn bread to a party so no one has to worry about cutting it to serve it.
This Buttery Cornbread recipe tastes great.
I'm telling you – try making cornbread from scratch. I think you are going to love it. This slightly sweet and oh so buttery cornbread recipe is exactly what you need at your next dinner.
If you are surprised by how easy this recipe is, I hope you try some of these other great bread recipes.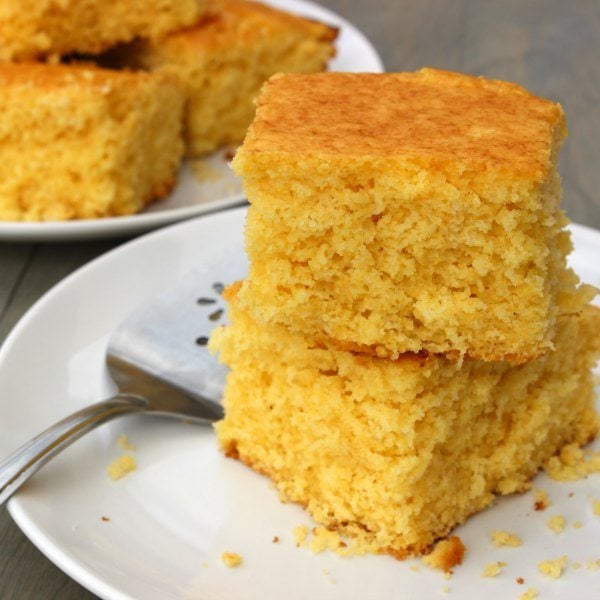 Easy add-ins for this easy homemade cornbread:
I love that this recipe is so versatile.  This easy recipe is a base cornbread recipe and you can add in your favorite ingredients to make this recipe your own!
Honey is a great addition to this recipe, if you like sweet cornbread.  All you have to do is add 1/4 cup of honey to the ingredients and mix it in before baking.  Simple and delicious!
If you prefer spicy foods, I recommend that you add chopped jalapeños prior to baking.  You can easily remove as much seeds to give this homemade corn bread recipe the prefect amount of spice.
Cheese is also a great add in for this recipe.  I love making cheddar cornbread.  Mix in approximately 1/2 cup of your favorite cheese to all the other ingredients.
Print this homemade cornbread recipe below:
Homemade Cornbread Recipe
Looking for an easy homemade cornbread recipe? This is the best corn bread recipe where you can make cornbread from scratch easily.
Keyword:
Homemade Cornbread Recipe
Ingredients
1

cup

all-purpose flour

1

cup

yellow cornmeal

½

cup

white sugar

1

teaspoon

salt

3

teaspoons

baking powder

1

egg

1

cup

milk

1/3

cup

vegetable oil
Instructions
Preheat oven to 400 degrees.

Spray 9x9 pan (I love these on sale) with non stick spray.

Combine all ingredients into a bowl. Stir well.

Pour into your prepared pan and baked for 20 to 25 minutes.

Allow to cool, and then cut. Serve with our Homemade butter recipe.
Recipe Video
Recipe Notes
This is also amazing in a cast iron. Heat up the cast iron skillet in the oven. Then pour in the batter and bake according to the directions. 
Nutrition Facts
Homemade Cornbread Recipe
Amount Per Serving
Calories 255
Calories from Fat 90
% Daily Value*
Fat 10g15%
Cholesterol 20mg7%
Sodium 279mg12%
Potassium 248mg7%
Carbohydrates 36g12%
Protein 4g8%
Vitamin A 70IU1%
Calcium 93mg9%
Iron 1.4mg8%
* Percent Daily Values are based on a 2000 calorie diet.
I hope you make this buttery cornbread recipe today.  I promise, you will not regret it!

Try these delicious meals to serve with cornbread:

Once you see how easy it is to learn how to make homemade biscuits, you will love to make these all the time.
More easy cornbread recipes