There is nothing better than delicious chili in the Fall and Winter months.  This easy crock pot chili recipe is easy to throw together and the slow cooker does all the hard work!
This slow cooker chili recipe is simple to make but packed with tons of flavor!
With winter quickly approaching, chili is something my family looks forward to and this classic crockpot chili recipe is exactly what they want.
Since we make it with half ground turkey and my frozen beans, it is actually quite healthy! If you are trying to reduce your saturated fat, this recipe is great made with ground turkey or ground chicken.  You are going to love this easy slow cooker chili.
You won't believe how easy it is to make.  Just dump it all in, and come home to dinner smelling delicious!
Now that I brown my ground beef or turkey before I freeze it, making it in the crockpot is a breeze. I know your family is going to love it too.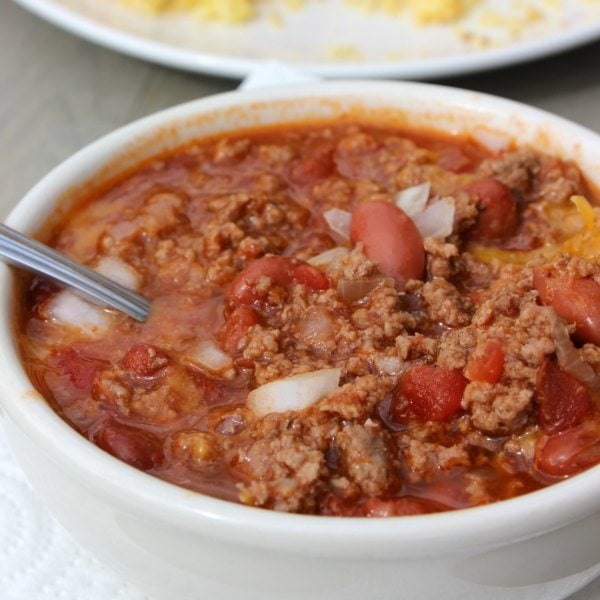 You'll need a great crock pot to make this thick chili recipe crock pot.
I use my crock pot a ton.  Probably 3-4 times a week at a minimum.  So trust me when I say that I have tried a ton of different crock pots.
My all time favorite slow cooker so far is the Ninja cooker.  My family uses this one frequently because you can brown the meat in the same slow cooker for recipes that need that, like this one!
This slow cooker is perfect for this recipe because you can brown the ground beef or turkey in the ninja cooker and then throw all the other ingredients in and simply change it over to the slow cooking feature.  It's a complete game changer!
If you need a new slow cooker, I would definitely take a look at one of these first. They are awesome!
It cuts down on pans to clean and makes slow cooking even more simple. It has become of my favorite kitchen appliances.
If you are not interested in that one, then I would recommend that you use a programmable crock pot.  This one is great for when you're not at home during the day.  There is nothing better than coming home to a nice meal ready and waiting for you!
I also really like this crockpot.  My favorite feature on this slow cooker is that you can lock the lid down. This is awesome for when you need to take the crockpot somewhere.
I often use the slow cooker to take dishes to potluck events and this feature is amazing! There are several others on sale here.
I also like to use crock pot liners to make clean up a breeze. These are worth every penny and save a ton of time.
Trust me! Buy the crock pot liners if you don't already have any because they will save you so much time when it's time to do the dishes.
What do you need to make easy slow cooker chili?
2 pounds of ground beef or turkey
2 cans of diced tomatoes or crushed tomatoes(2-14 oz cans)
1 can (14 oz) of tomato sauce
4 tablespoons of chili seasoning (I love using my homemade chili seasoning)
1 teaspoon of garlic salt
1/2 onion chopped (can be frozen)
2 cans of kidney beans (I use mine from the freezer as I love making my own "canned" beans).  If you do not use canned beans, you will need to add some salt to your recipe as well.
shredded cheese or sour cream to serve (optional – but it tastes amazing on this recipe so I definitely recommend them!)
Can you make your own chili seasoning mixture?
The short answer on this one is YES, definitely!  I love making my own chili seasoning mixture.  It not only saves money but I love knowing exactly what's in my food.
It really is easy too.  It's a mixture of common spices like chili powder and cumin.  I promise that it's not overcomplicated.
If you enjoy making your own seasoning mixes, I hope you check out our homemade taco seasoning, homemade fajita seasoning and homemade ranch dressing mix recipe as well!
How do you make quick crock pot chili?
This recipe is easy to make.  I love slow cooking because it requires little prep work and the crock pot does all the hard work!  Woohoo!
First you need to brown your beef or turkey. Since I brown mine before I freeze it I just tossed it in the crockpot frozen.
Next toss everything on top in the crockpot (except for the cheese and sour cream).
Do you need to drain canned beans for this chili recipe?
For this recipe, I generally do not drain the kidney beans that are used in this easy crock pot chili as I find that it does not change the recipe or flavor if they are drained or not.
However, if you are going to use black beans instead of kidney beans (which would taste great too), I recommend that you drain and rinse the black beans prior to adding them to your slow cooker.
How long should you cook this best chili recipe in the crock pot?
I cook this easy chili recipe on low for 6-8 hours or high for 3-4 hours depending on how your crock pot cooks.
This chili recipe is pretty thick as I love a thick chili in the winter time.  Once it has cooked, if you would like it to be thinner, I recommend adding 1 cup of beef broth to the crock pot for approximately 30 minutes.  Stir occasionally until the chili is the consistency that you would prefer.
After this cooking time, top this chili with cheese, sour cream, and even some chopped green onion.  Yummy!
What to serve with crockpot chili healthy recipe?
I love serving this easy crockpot recipe with some homemade cornbread.  Here are a few delicious options that you can choose from.
Did you know that I also make my own homemade cornbread mix to make preparing cornbread even easier?  I love having these cornbread mixes on hand so I can whip up some delicious cornbread in no time at all!
You can see my homemade cornbread in the background of my picture below. My kids love to crumble up the cornbread and mix it into their crockpot chili.  If you haven't tried it, I hope you do as it taste amazing!
If your family does not like cornbread, this recipe is also great served with crushed up tortilla chips on top.  It adds a nice crunch to this easy and delicious chili.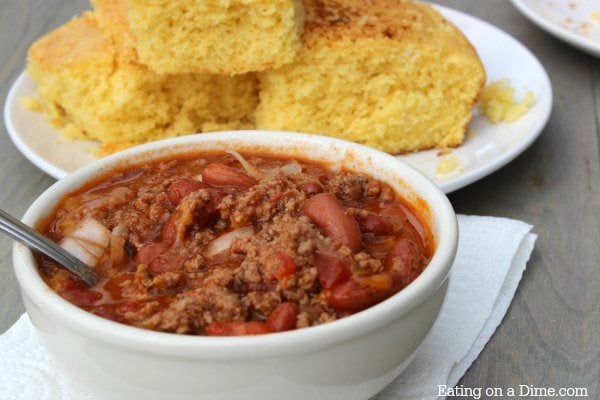 How to change up this crockpot chili recipe?
One of my favorite things about crock pot recipes is that they can easily be alter to fit the needs of your family and this best crockpot chili recipe winner for dinner is no different!
If you like spicy chili, I would recommend adding approximately 1/4 cup of green chilis to this recipe or you can add your favorite hot sauce to add a delicious kick to this already easy and yummy recipe.
If you are needing more vegetables for your family and you, adding them to this easy crock pot chili is easy and simple.  I have often added bell peppers or carrots if I have them on hand to add even more nutrients to this already healthy recipe.
Can you make this slow cooker chili recipe without beans?
If your family or you do not like beans, you can make a crock pot chili no beans recipe.  I love this Easy Keto Chili Recipe.  It is Keto and low carb friendly and doesn't include beans in the recipe.
Also, if you do not include the beans in this recipe, you can make chili in slow cooker without browning meat this meat first.  I would add all the ingredients to the crock pot except for the beans.
Before the last hour of the cook time, I would break up the meat and then allow it to continue to cook for the last hour.  Making chili without having to brown the meat first will save you even more time in the kitchen!
Print this Easy Crock Pot Chili Recipe below:
Crockpot Chili
Quick and easy Crockpot Chili Recipe - Try this easy slow cooker chili recipe that the entire family will love. Easy Crock pot recipes.
Ingredients
2

pounds

ground beef or turkey

(2) 14

oz.

cans of diced or crushed tomatoes

(1) 14

oz

can of tomato sauce

4

tablespoons

chili seasoning

(you can make your own -recipe to come- or use a half of a packet)

1

teaspoon

garlic salt

1/2

onion chopped

(can be frozen)

2

cans

kidney beans

(you can use yours from the freezer -if you use beans from the freezer, you will need to add salt (canned beans have a ton of salt))

shredded cheese or sour cream to serve
Instructions
First you need to brown your beef or turkey. Since I brown mine before I freeze it I just tossed it in the crockpot frozen.

Toss everything on top in the crockpot (except for the cheese and sour cream)

Cook on low for 6-8 hours or high for 3-4 hours.

Serve with cheese, sour cream, and even more chopped onions if you would like. Serve with cornbread. Yum!
Recipe Notes
Chili in the crockpot is just what your family needs when the cold weather comes in!
Nutrition Facts
Crockpot Chili
Amount Per Serving
Calories 627
Calories from Fat 288
% Daily Value*
Fat 32g49%
Cholesterol 107mg36%
Sodium 1016mg44%
Potassium 1667mg48%
Carbohydrates 46g15%
Protein 41g82%
Vitamin A 2870IU57%
Vitamin C 19.1mg23%
Calcium 131mg13%
Iron 10.2mg57%
* Percent Daily Values are based on a 2000 calorie diet.
Be sure to check out more of our delicious Crock Pot Recipes here.
Take your chili to the next level when you make this delicious Crock Pot Chipotle Chili Recipe.
I hope you try more of our chili recipes!
Try more Crock pot recipes: